Lake Michigan is the ultimate all-American lake, quite literally! It's the only one of the Great Lakes located exclusively within the United States, so boaters can enjoy a hassle-free crossing and avoid dealing with Canadian customs. So whether you're looking to explore the bustle of Chicago or relax on the calm sandy beaches of Beaver Island, you're sure to have a blast boating on Lake Michigan.
How long does it take to cross Lake Michigan by boat?
Lake Michigan is not your average lake. Although it's not quite as large as Lake Superior, Lake Michigan is still a massive body of water, boasting a length of 321 miles and a width of 118. Standing on one end of the lake, you will see a seemingly endless expanse of blue water. However, although it may look never-ending, crossing the lake is an entirely doable adventure.
Depending on where you're crossing from, the type of boat you are traveling in, and the weather, the journey from one end to the other can take anywhere from 20 to 2.5 hours.
For those looking to sail, traveling at 5 knots (5.75 mph), you can expect to cross in about 10-20 hours. This leaves you plenty of time to enjoy the open water and sunshine. However, a motorboat going 20 knots (23 mph) can make the same journey between 2.5-5 hours for those looking for speed. For either type of boater, remember that safety should be your top priority, so be sure to check out the dockwa blog to see our safe boating guides.
When is the best time to boat on Lake Michigan?
For boaters looking to enjoy the waters of Lake Michigan, it's important to note that there are better times to visit than others.
The winter months in the Midwest can be brutal. Chicago, the Windy City, usually sees a high of 32 degrees in January. Not exactly the best boating weather. However, boating on Lake Michigan becomes a beautiful activity as the warmer months roll around. So, what are the best times to visit this all-American lake?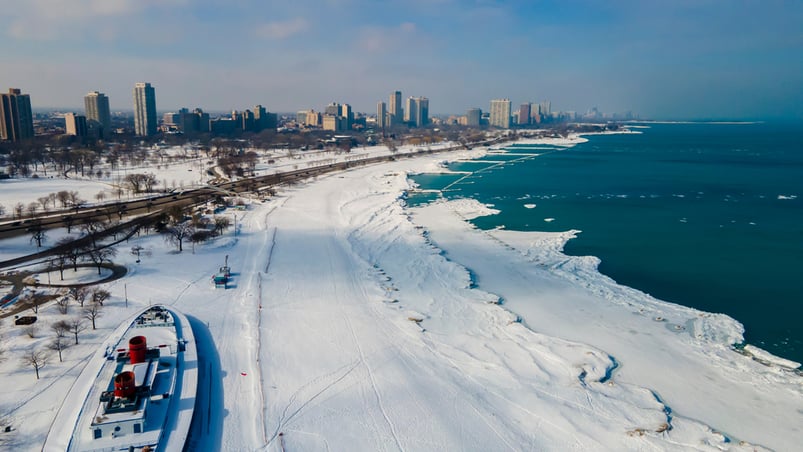 Peak boating season on the lake is between May and October. With the best months being June through August. With safety being the top priority, always remember that the best time to go boating is when you've checked the weather and water conditions. An easy way to do this is to visit noaa.gov to ensure you do not get caught in a storm or too large waves.
What size boat do you need to cross Lake Michigan?
For most freshwater lakes, small boats can handle a day out on the water. However, as we said before, lake Michigan is not your average lake. Due to its size and fluctuating weather conditions, you should aim for a larger vessel, hovering in the 23-foot range to safely cross Lake Michigan. Technically, a 16-foot vessel can handle the lake on a calm day, but going up against rough rogue waves will become a safety concern.
For a comfortable and safe crossing, a larger boat is better. Waves on Lake Michigan rarely get larger than four feet in the summertime, so boats within the 23-28 foot range should be able to weather the conditions. However, the maximum wave height you should brave with smaller vessels is 2.5 feet, and you're sure to be in for a bumpy ride. And as always, never take on more than you and your boating skills can. A day on the shore is far better than getting caught in weather conditions that you and your boat are not ready to handle.
Check out these examples below for the best boat sizes to cross Lake Michigan:
Seven Popular Lake Michigan Boating Destinations
The 3rd largest of The Great Lakes, 5th largest lake globally, and the largest freshwater lake entirely within the US, Lake Michigan boasts many attractions for boaters. Most of the lake is bordered by the coasts of Wisconsin and Michigan, with smaller portions belonging to Indiana and Illinois.
The various regions of Lake Michigan are known for different things, from the bustling city of Chicago to the rural and scenic shore towns of the Northwestern tip. In addition, hundreds of marinas can be found along the shores and harbors, catering to the needs of any boating enthusiast.
Ready to explore the Lake? Here are our top Lake Michigan cruising destinations:
Located in the charming town of St. Joseph, Michigan, just 54 miles from Chicago, this marina offers boaters a beautiful and relaxing stay along Lake Michigan. With transient dockage provided throughout the season and access to ship store, fuel docks, in-ground pool, and air-conditioned bathrooms with showers, visitors can relax and explore the city's attractions. Check out the Warren Dunes State Park for a unique view of the shore and the Silver Beach Carousel in the historic Silver Beach Amusement Park.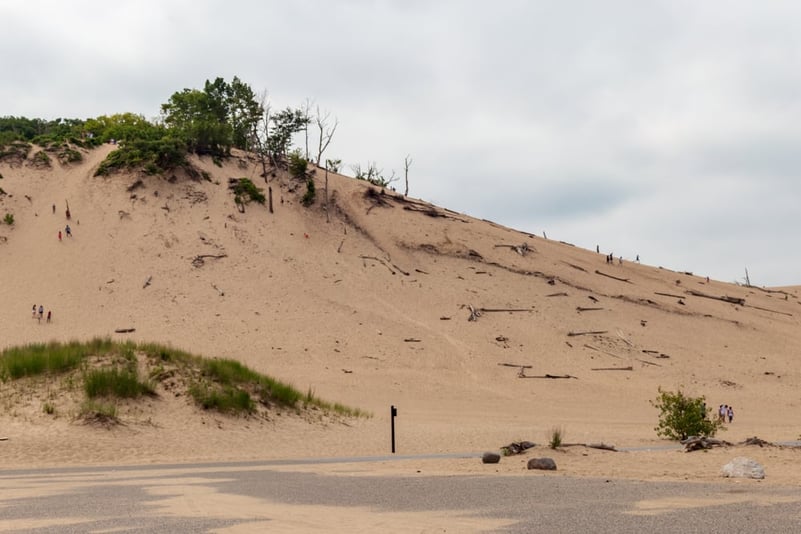 This historic marina is located along the shores of Portage Lake and Lake Michigan in Onekama - Northwest Michigan. With a deep water marina capable of handling vessels up to 100', Portage Point Marina offers boaters outstanding resort amenities to make their stay one-of-a-kind. Enjoy facilities like showers, laundry, WiFi, a cafe & bar, and a salt-water infinity-edge pool & hot tub.
Beaver Island
Known as America's Emerald Isle, Beaver Island, is a gorgeous stop for boaters looking to enjoy the beauty of Lake Michigan. Located 35 miles from Charlevoix, Michigan, this island offers visitors the chance to relax and pristine beaches and explore the lighthouses that dot the coast. Although no longer in commission, the Whiskey Point Lighthouse and Beaver Head Lighthouse offer excellent viewing points of the gorgeous coastline. Visitors can also pitch tents along the tranquil green forest of the Beaver Island State Forest Campground.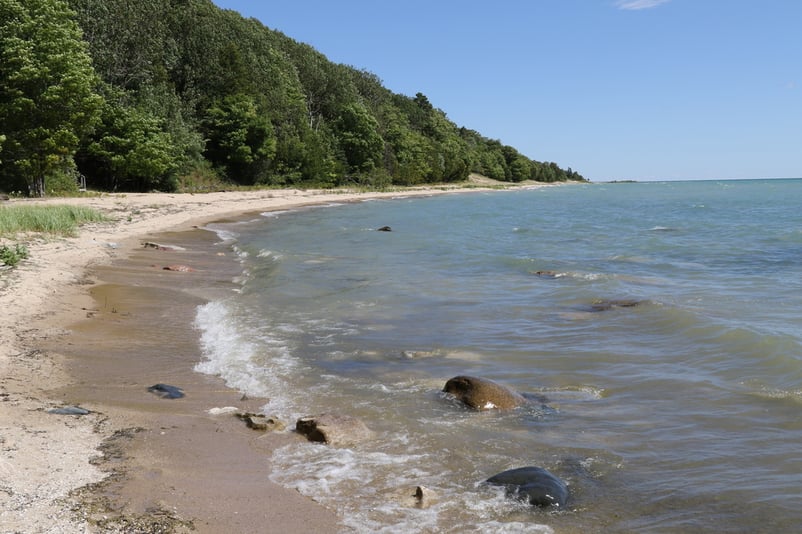 Bay Harbor Lake Marina is located in Bay Harbor Lake and adjoining the pristine waters of Lake Michigan, offering superior amenities and services to both seasonal and transient boaters. The marina has 111 slips for vessels up to 185' and drafts up to 12'. The dock design includes floating docks with adjustable cleats. The marina has been a certified Michigan Clean Marina.
The Village of Bay Harbor offers unique boutique shopping, dining, ships store, salon services, yacht dealers, lodging, and premier events steps away from the docks. In addition, boaters can enjoy biking along 26 miles of Little Traverse Wheelway extending from Charlevoix to Harbor Springs. Also on site is a 27-hole Championship Golf Course with stunning views of Lake Michigan.
As the name suggests, Leland Township Harbor, known as Fishtown, is an adorable fishing village located on the Leland Penninsula. Long, sandy beaches stretch North and South of the Harbor, with Whaleback Natural Area Bluff framing the southern coast, and the spectacular, protected Clay Cliffs jutting up to the North. In addition, you can see the North and South Manitou Islands of the Sleeping Bear Dunes National Lakeshore on the horizon. The water is clear and refreshing for both boating and swimming. Fishing is excellent in the Manitou Passage, as Leland is recognized as one of the best fishing ports in Michigan.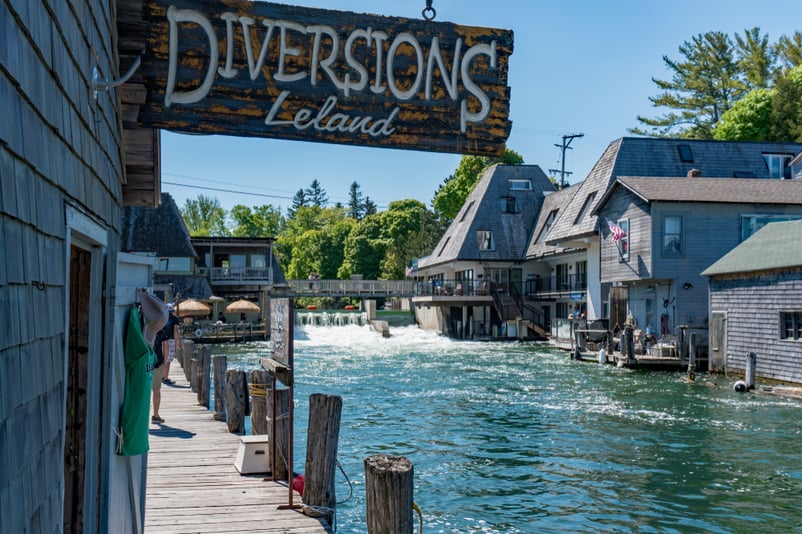 Harbor Centre Marina is Wisconsin's premier boating gateway, ideally located mid-state in beautiful Sheboygan, Wisconsin. Harbor Centre Marina is equipped to accommodate boats of all shapes and sizes and is centrally located on Sheboygan's lakefront, just a short walk from downtown, the historic Riverfront, and South Pier Entertainment District. Established in 1993, Harbor Centre Marina has earned the reputation as the "premier destination marina" on Lake Michigan and consistently delivers the highest quality boating services.
Diversey Harbor is located in the heart of Lincoln Park, sheltered within Lake Shore Drive. Diversey Harbor has a friendly and lively reputation. The Lincoln Park Zoo and the Peggy Notebaert Nature Museum are within walking distance of the harbor. Wrigley Field is a 10-minute drive away.
The harbor is also the home to the Diversey Yacht Club. Diversey has 719 slips and can accommodate boats from 25'-50' in length. Transient docking is available. There is a fuel dock at Diversey Harbor located at the Diversey Yacht Club with gas and diesel fuels. Additionally, there is a 2-lane launch ramp with parking for approximately 67 vehicles with trailers. Waste pump-out equipment is provided on a no-charge basis. The harbor monitors channels 9 and 16, and the switch to/working channel is 69.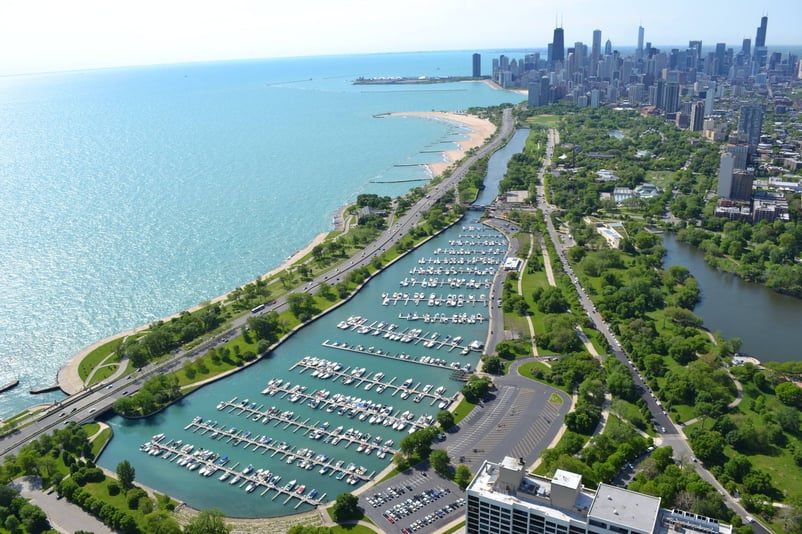 Safety tips for boating on Lake Michigan
Boating on Lake Michigan can be a fun outing for the whole family. However, with any boating activity, it is essential to make sure that safety is your top priority. In addition to the basic boating safety tips we outlined in our boater safety guide, make sure you are aware of weather and water conditions before embarking on your adventure in Lake Michigan. While you there, stay green by adhering to environmentally friendly boating practices!
Once again, even though it is a lake, it still has waves and strong currents that can become dangerous if you are not prepared. So here's a quick checklist before you head out:
Make sure you won't get in any trouble with the Coast Guard or DNR (flairs, lifejackets, proper lighting, etc.)

Bring extra gas.

Bring extra lines.

Always bring more food and water than you think you need.

Make sure your radio works.

Bring extra blankets.
Are you ready to go boating on Lake Michigan?
Now that you have your Lake Michigan destinations to explore, there's no time like the present to book your Midwest adventure! This summer, create your float plan by booking with Dockwa to find popular marinas for docking and mooring all along Lake Michigan. Happy wandering!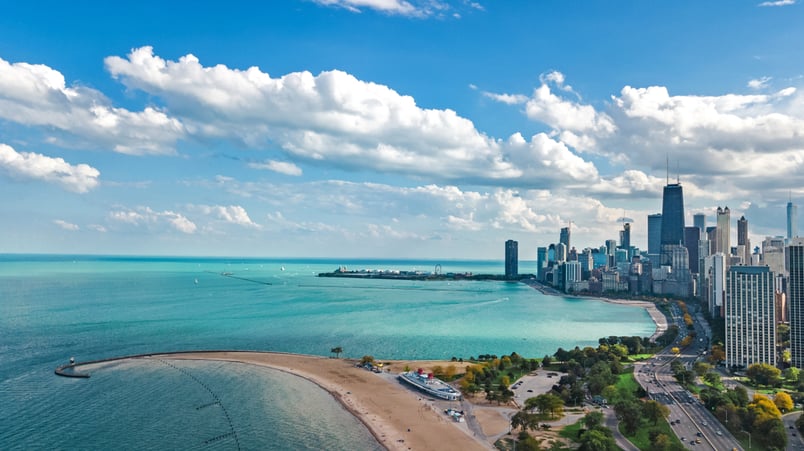 Check out our other blog posts to get an inside look at our favorite destinations, marinas, liveaboards, and tips for boaters. Then, join the conversation on Flipboard, Facebook, Twitter, and Instagram.