We've all been there, but luckily for you, Dockwa's has always made finding dining on the docks easy; just look for the restaurant icon under amenities! Rather than heading inland in search of a quick bite, head to one of the almost 400 marinas on Dockwa that have dining options literally steps away from the docks.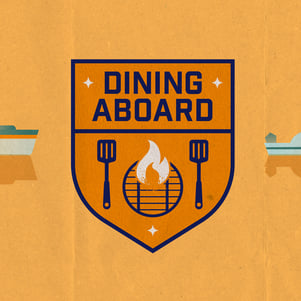 Below are over 60 of the best marina restaurants in the Northeast, Chesapeake Bay, South, Midwest, West, and Caribbean for our foodies with all budgets and tastes in mind!
Selection Criteria
We selected the following marinas and their restaurants based on the following criteria:
They have more than ten reviews and a four-star or more rating on Marinas.com.

There is a four-star or more rating on Open Table, Trip Advisor, Yelp, or Google. However, some restaurants' ratings are averages if they have multiple, consistent scores on two or more of the previously listed sites.

Marinas must be available to book through Dockwa.
Jump to Region: Northeast | Chesapeake Bay | South | Midwest | West | Caribbean
Jump to State: Maine | Vermont | Massachusetts | Rhode Island | Connecticut | New York | New Jersey | Maryland | Virginia | North Carolina | South Carolina | Florida | Illinois | Ohio | Michigan | Wisconsin | Washington | California | British Virgin Islands | Puerto Rico
Northeast
The New England region is home to some of America's first states, and the historical imprints of that time can be found throughout, especially regarding its foods. The English mainly influenced northeastern cuisine as the earliest Puritan settlers migrated from eastern England. If you love fresh seafood, especially shellfish, there's no better region in America than the Northeast.
Maine
Iris Eats at Safe Harbor Great Island
An average of 5 stars on Yelp and Google
Iris Eats serves what the chef and owner, Elyse Dana calls "comfy gourmet." The menu features reimaged childhood classics, like the "Isle au Haut," a version of a Monte Cristo breakfast sandwich with surprise ingredient blueberry jam, or the "Northhaven," a "Fluffernutter" sandwich that combines Chex mix, peanut butter, and marshmallow spread on toasted brioche bread.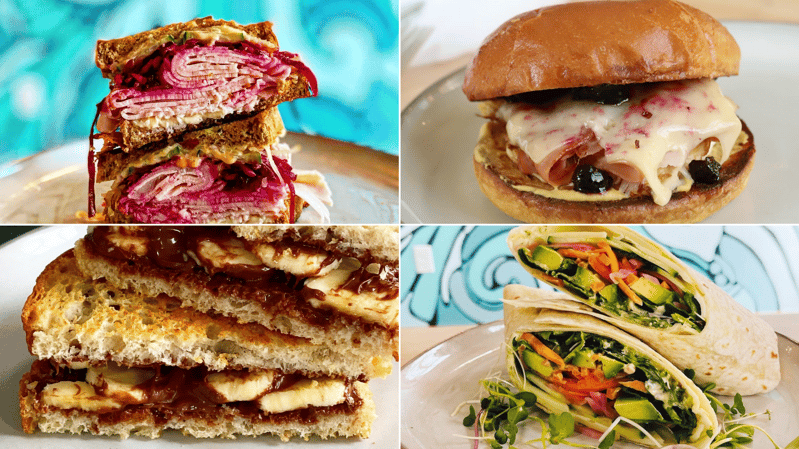 Pilot House Restaurant at Sebasco Harbor Resort
An average of 4.3 stars on Yelp, Google, Open Table, and Trip Advisor
The Pilot House at Sebasco Harbor Resort offers the most spectacular coastal view and food, celebrating and updating regional American heirloom recipes in Maine.
Diamond's Edge Restaurant at Diamond's Edge Restaurant & Marina
4 stars on Trip Advisor
Diamond's Edge is a one-of-a-kind dining experience. Here you'll find more to enjoy than just the spectacular view overlooking the cove. Their tantalizing menu of creative and artfully prepared seafood dishes includes standouts like a classic Maine Lobster Roll, Summer Vegetable Ravioli, and New England Fishermens Stew with clams, lobster, and swordfish, haddock, and salmon.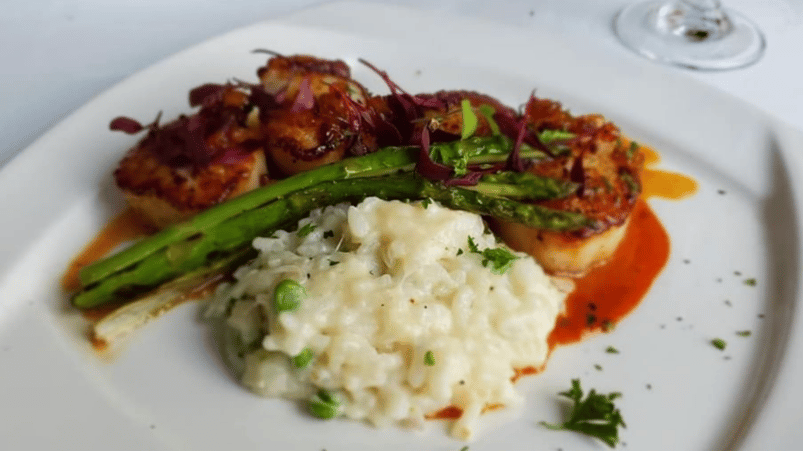 Coveside Restaurant at Coveside Restaurant & Marina
4.3 stars on Google
Enjoy a delicious meal with spectacular views overlooking the sailboats in the Cove from every seat in the house in their spacious dining room or on the deck!
The Dolphin Marina & Restaurant
4.6+ stars on Yelp, Google, and Trip Advisor
The Dolphin Marina and Restaurant offers unrivaled views of Casco Bay and its many islands and the very best in waterfront dining. Open seasonally, April-November, the restaurant is a popular destination for locals and visitors traveling by land and by sea. They're known for their specialties like fish chowder, lobster stew, and blueberry muffins.
Vermont
Spot on the Dock at Ferry Dock Marina
4.2 stars on Google
Are we the only ones who think it's a good sign when a restaurant doesn't accept reservations or call-ahead seating? Seating is available on a first-come, first-serve basis at Spot on the Dock, but there's a fantastic lounge with full service to eat in or drink while you wait for your table.
Massachusetts
The Black Dog Tavern at The Black Dog Wharf
4 stars on Trip Advisor
The Black Dog Tavern is rich with local history! In 1969, after scarfing down a dry, packaged, store-bought donut and a bitter cup of coffee, Captain Robert Douglas picked up a pencil and began sketching on a paper napkin. The result was a restaurant overlooking the beach at the head of Vineyard Haven Harbor, where locals and visitors could meet and eat for decades to come.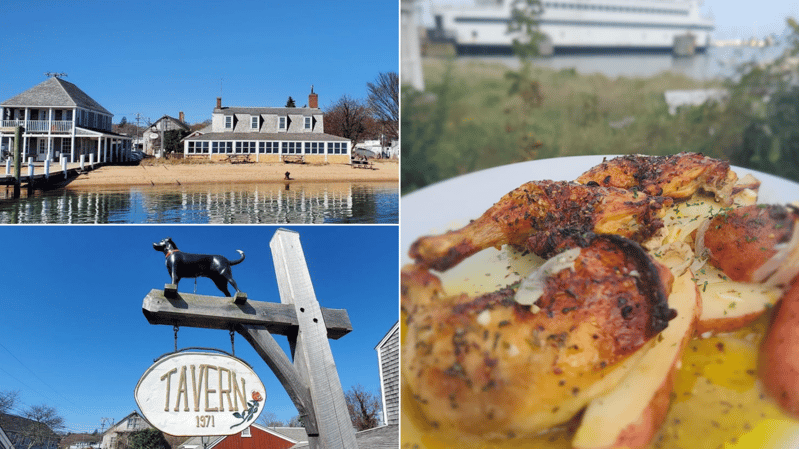 Mile Marker One at Cape Ann's Marina Resort
4.6 stars on Open Table
Whether you're looking for a romantic dinner date, a fun girl's night out, or a laid-back spot for the entire family, Mile Marker One, a local's favorite waterfront restaurant and bar, will have what you are looking for! Try one of their local trap-to-table lobster dishes from their family-owned fishing boat, delivered fresh to the marina docks daily.
Topper's at The Wauwinet at Nantucket Boat Basin
5 stars on Open Table
Perfect for romantic dinners, gatherings, and seaside meetings, Topper's offers breathtaking views of Nantucket Bay and its award-winning menu and wine cellar. Executive Chef Kyle Zachary incorporates fresh, local ingredients, while sommelier Jason Irving assists you in pairing your dinner with exceptional wine.
Showfish Newport, The Pineapple Club, and The Firepits at Gurney's Newport Resort & Marina
An average of 4.1+ stars on Open Table
Gurney's Newport has a wide variety of waterfront eateries, from ingredient-driven menus featuring healthy bites to locally-sourced dishes. At Showfish Newport, they spin fresh fish, ripe vegetables, and hand-selected specialties into one-of-a-kind dishes. The Pineapples Club has been transformed into the ideal place to sip, swim & relax. Lastly, The Firepits at Gurney's Newport offers guests a unique setting to enjoy fine libations, light bites & entertainment while watching the sunset.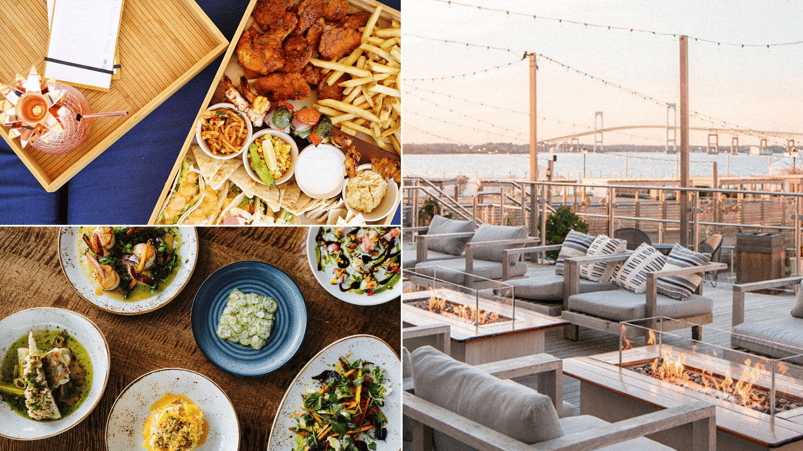 Belle's Cafe at Safe Harbor Newport Shipyard
4.6 stars on Open Table
Belle's Café is one of Newport's "best-kept secrets." Belle's is the perfect spot to enjoy inside or outside dining in the spring, summer, and fall.
Safari Room Restaurant and Bar at Goat Island Marina
4.3 stars on Open Table
The Safari Room Restaurant and Bar at OceanCliff provides extraordinary culinary experiences indoors and outdoors while offering panoramic views of Narragansett Bay.
Connecticut
Dockside Brewery at Dockside Marina
4.4 stars on Google
Dockside is more than just a craft brewery and waterfront Biergarten. Above all else, it's a gathering place, a fun, local haunt that aims to embrace, grow and strengthen our surrounding community simply by bringing people together.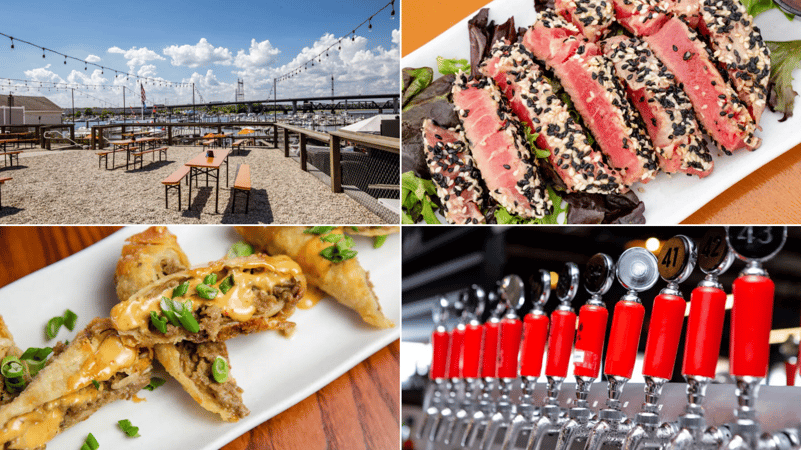 Fresh Salt at Saybrook Point Marina
4.5 stars on Trip Advisor
Fresh Salt works closely with local farmers and artisans to ensure the quality of locally grown ingredients from the sea, land, and soil. The chef transforms these fresh and seasonal ingredients into beautifully inspired dishes with a straightforward approach.
L'Escale at Delamar Greenwich Harbor
4.7 stars on Open Table
The iconic L'Escale restaurant bar, or "port of call" for seasonal Mediterranean cuisine, is designed to transport the ambiance of Provence to the Gold Coast of Connecticut. The restaurant's intimate decor, waterfront terrace, and exquisitely designed menu by award-winning Executive Chef Frederic Kieffer will deliver the Côte d'Azur right to your table.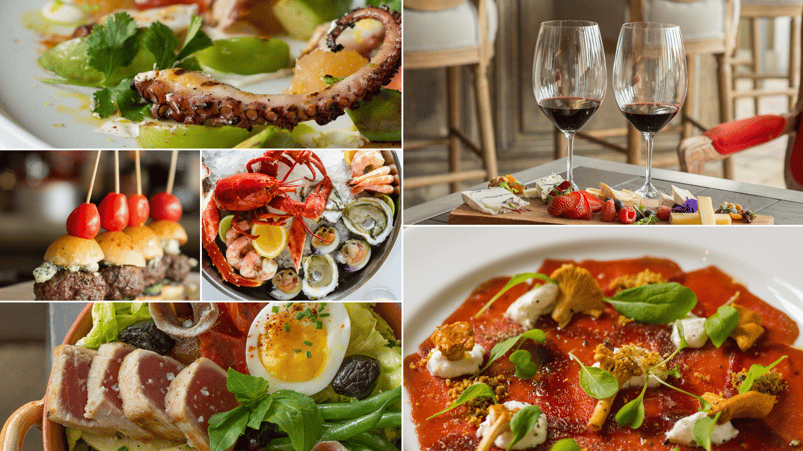 New York
Salt Shelter Island at The Island Boatyard & Marina
An average of 4.5 stars on Open Table and Google
Salt was designed as a "come as you are" restaurant focusing on fresh and local foods that anyone can enjoy. They treat locals like celebrities and celebrities like locals!
Flynn's Fire Island at Flynn's Marina & Restaurant
4 stars on Google
At Flynn's, the party never stops! The waterfront eatery & nightclub offers seafood & American fare, live music, dinner cruises, and more all summer long.
Windamere at Strong's Water Club & Marina
An average of 4 stars on Yelp, Google, and Trip Advisor
Enjoy this unique waterfront dining destination, inspired by the historic 1890s Windamere. Expect a fresh, creative farm-to-table experience, warm hospitality, and inspiring views.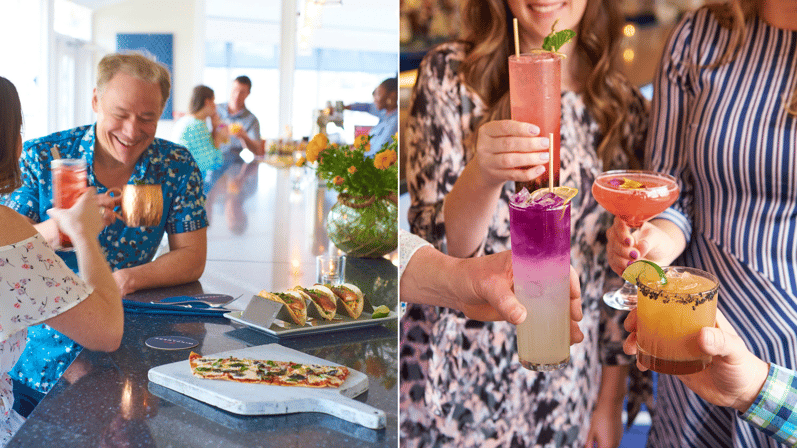 New Jersey
Liberty House at Liberty Landing Marina
An average of 4.4 stars on Open Table and Google
Boasting city-chic, metropolitan views of the Manhatten skyline, Lady Liberty, and more, Liberty House is one of the most iconic NJ restaurants. Executive Chef Ken Trickilo has created a diverse menu, focusing on a unique combination of farm-fresh ingredients, flavorings, and spectacular presentation.
Chesapeake Bay
As one of the most iconic boating locations on the east coast, Chesapeake Bay's reputation for breathtaking sunsets, abundant fishing grounds, and significant nautical history draws boaters from all over the country to see the sites. Additionally, Chesapeake Bay's culinary scene is a melting pot of cultural cuisines and regional favorites, so even the pickiest eaters won't have a hard time finding a spot to dine. You'll find no shortage of seafood (or Old Bay spice) with oysters, rockfish, shrimp, and crab at the center of Chesapeake Bay's favorite dishes.
Maryland
Ketch 22 at Herrington Harbour South
4.4 stars on Google
With over 20 years of experience in the restaurant industry, the owners of Ketch 22 treat the restaurant like it's an extension of their home. They strive to give every customer who visits a great experience that ensures they'll want to return again and again!
4.4 stars on Open Table
Sitting at the base of the Chesapeake Bay Bridge, Libbey's Coastal Kitchen features creative dishes curated from fresh, local ingredients rich in Eastern Shore tradition. In addition, the restaurant renovated its upstairs dining room this winter and expanded its downstairs private event space.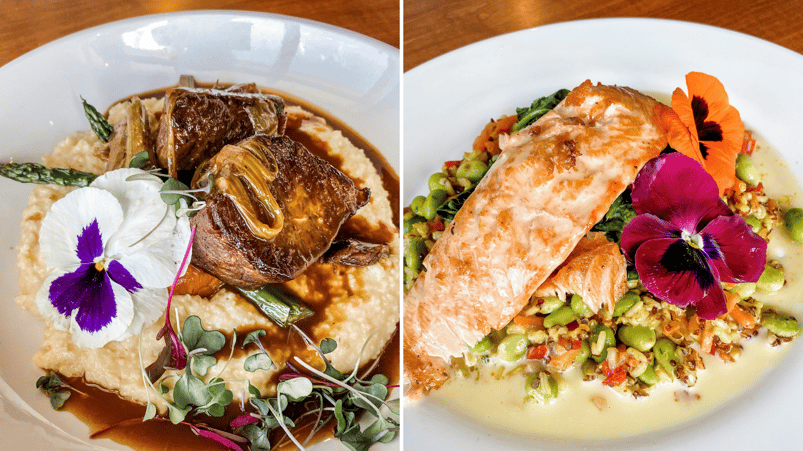 Osprey Point Restaurant at Osprey Point Marina
An average of 4.7 stars on Open Table, Trip Advisor, and Google
Featuring American cuisine, Osprey has a reputation for being the best and the most romantic dining experience in Kent County. They pride themselves on having a fresh seasonal menu, high-quality ingredients, and a chef that puts care into preparing every meal.
Chesapeake Inn Restaurant at Chesapeake Inn Restaurant & Marina
An average of 4.6 stars on Open Table and Google
The Chesapeake Inn Restaurant & Marina is a family affair. In 1996, Mr. Giuseppe Martuscelli opened the restaurant with his son Gianmarco. Over the years, the Chesapeake Inn has become an eastern shore go-to spot for special events, live entertainment, and dining.
Virginia
​​Chesapeake Restaurant & Terrace at Tides Inn Marina
An average of 4.4 stars on Open Table and Google
The Chesapeake Restaurant & Terrace is where New England seafood meets southern comfort. This season, Chesapeake is getting a new look with refined touches indoors and out.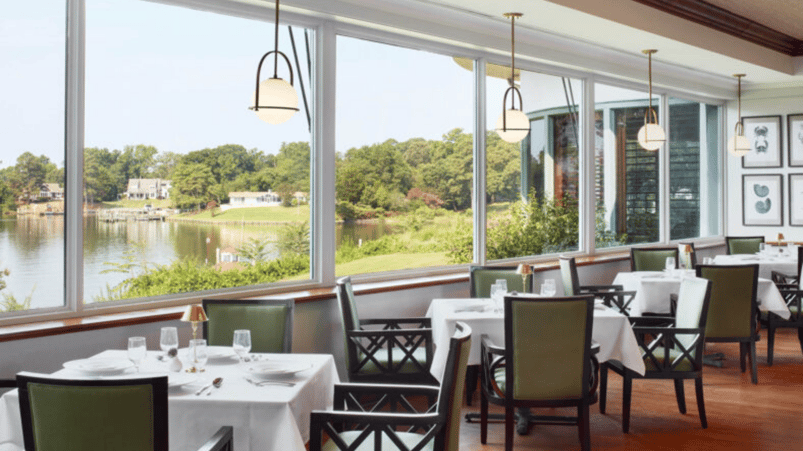 The Restaurant At Smithfield Station
An average of 4.5 stars on Open Table and Google
Nightly, Smithfield Station's talented chefs prepare mouth-watering specials from the area's freshest offerings of pork, fish, and Smithfield Ham. The Station's most requested specialty dish, the "Norfolk Combo," consists of locally sourced blue crab, scallops, and shrimp sautéed in a white wine garlic sauce. It's a must!
South
Widely known for their warm demeanor and "Southern hospitality," the South is rooted in deep history and rich culture. Here, you'll find cuisine that is soul-warming comfort food at its best, but let's get one thing straight: Not all Southern food is soul food, but all soul food is Southern.
Influenced by Tidewater, Appalachian, Lowcountry, Cajun, Creole, and Floribbean foods, Southern-style home cooking, or "down-home" cooking, is built on simple, satisfying, comfort foods that minimize food waste and highlight classic ingredients. Likewise, soul food is an ethnic cuisine traditionally prepared and eaten by African-Americans in the Southern United States. Both make up the iconic, quintessential recipes you'll find when traveling down South.
North Carolina
Joseph's Italian Bistro & Chop House at Safe Harbor South Harbour Village
4.8 stars on Google
Overlooking the Intracoastal Waterway at South Harbour Village, Joseph's offers delicious Italian Cuisine and a comprehensive array of premier wine and spirits.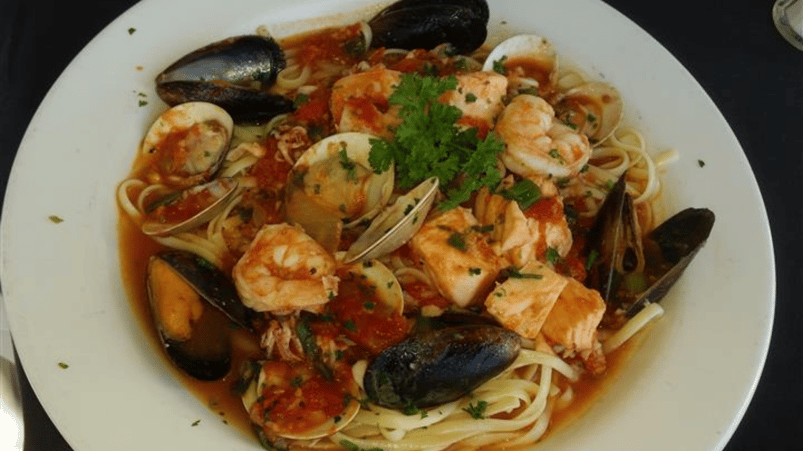 Coinjock Marina Restaurant at Coinjock Marina
4.5 stars on Google
Coinjock Marina Restaurant has been a favorite of locals and traveling yachtsmen alike since 1978. Overlooking the Intracoastal Waterway, Coinjock Marina Restaurant provides a dining experience with a great view of yachts and sailboats plying the waterway, serving only the freshest local seafood available and a legendary 32oz prime rib.
South Carolina
Ela's On the Water at Shelter Cove Marina
4.4+ stars on Open Table and Google
Ela's on the Water is an award-winner waterfront restaurant featuring exceptional water views, fresh catch seafood, prime cut steaks, and a sophisticated atmosphere.
The Black Marlin, Carolina Crab Company, and Sunrise Cafe at Palmetto Bay Marina
An average of 4.5+ stars on Open Table, Trip Advisor, and Google
Palmetto Bay Marina has terrific restaurants to choose from, morning, noon, or night. Start your waterside dining experience at The Black Marlin and try their Signature Food Network-approved appetizer, Sushi Nachos. Carolina Crab Company is a cozy, intimate restaurant offering excellent seafood in one of the original fishing marinas of Hilton Head Island. If you have brunch on your brain, Palmetto Bay Sunrise Cafe is a casual cafe serving favorites like Biscuits N' Gravy, Stuffed French Toast, and Crab Cake Eggs Benedict.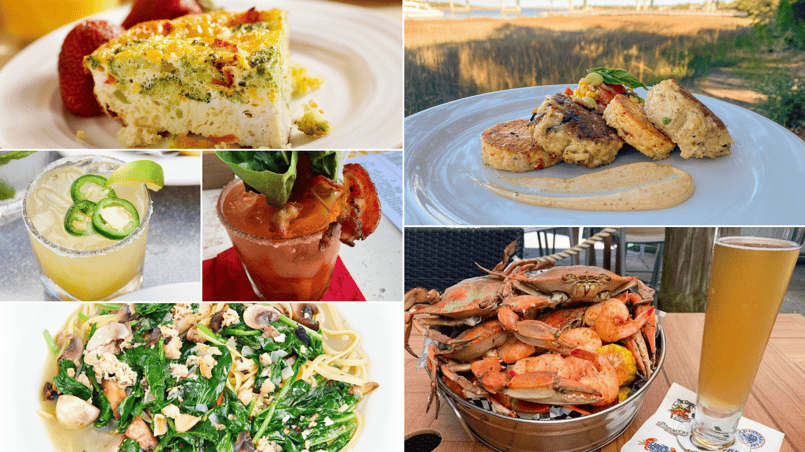 Dockside Restaurant at Lady's Island Marina
An average of 4.6 stars on Trip Advisor and Google
Dockside Restaurant is a casual, waterfront seafood restaurant overlooking the docks. Enjoy the views and the most delicious, freshly prepared seafood.
Links, Coast, Fraser's Tavern, and The Quarterdeck at Harbour Town Yacht Basin
An average of 4.3+ stars on Open Table, Trip Advisor, and Google
The Harbour Town Yacht Basin at The Sea Pines Resort is a favorite of Dockwa's for many reasons. Links, Coast, Fraser's Tavern, and The Quarterdeck, add four more. Indulge your appetite for exceptional dining at Links, an American Grill, and enjoy indoor and outdoor seating overlooking Harbour Town Golf Links. Specializing in fresh, local sea fare, Coast is a beautifully appointed restaurant with stunning oceanfront views. Fraser's Tavern, the resort's newest dining option, includes a wide selection of freshly smoked barbecue, unique salads made with locally sourced ingredients, and craft beer. And finally, the all-new Quarterdeck offers 270-degree sunset views overlooking Harbour Town Yacht Basin, Calibogue Sound, and the famed 18th hole of Harbour Town Golf Links, making it one of the most sought-after dining venues on Hilton Head Island.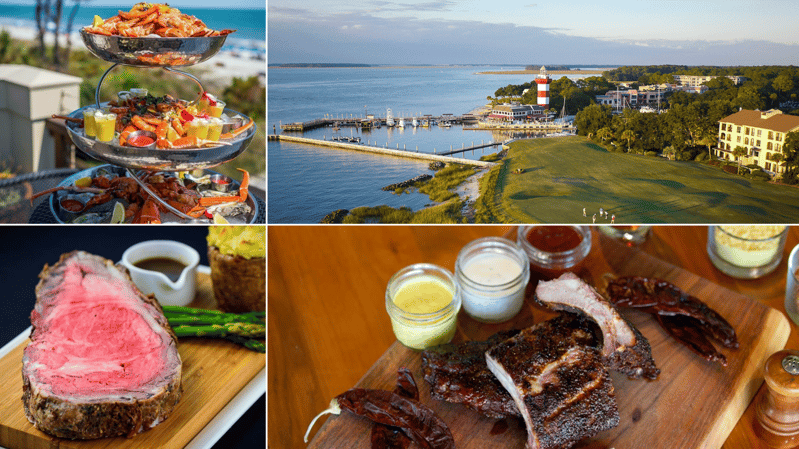 On the Edge Bar and Grill at Dockside Marina and Resort
4.2 stars on Google
Whether you're craving surf and turf or a burger, once you tie up, you're steps away from the food paradise that is On the Edge Bar & Grill. Great local bands also provide music for entertainment and dancing.
Mama Foo Foo at Halifax Harbor Marina
4.4 stars on Google
Mama Foo Foo provides Daytona Beach locals and tourists a new type of nightlife environment to create a captivating and fun escape from everyday life by creating a hospitable and fun outlet to enjoy great cocktails and fantastic food.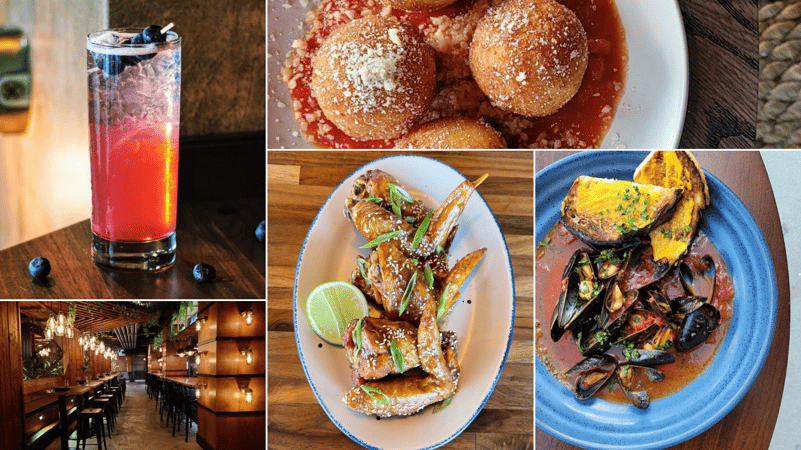 Portofino and The Tavern & Whiskey Bar at Longboat Key Club Moorings
An average of 4.3+ stars on Google
Dining at The Resort at Longboat Key Club is an experience unto itself. Portofino Ristorante & Bar specializes in classic Northern Italian cuisine. Savor Longboat Key's freshest seafood, handmade pasta, and wood-fired brick-oven pizzas. The Tavern is committed to creating a "Farm to Table" dining experience that changes seasons. Their talented chefs showcase the Gulf Coast's freshest produce, dairy products, and native seafood.
Matt's Stock Island and Salty Oyster Dockside Bar & Grill at The Perry Hotel & Marina
An average of 4.5+ stars on Trip Advisor and Google
In a place where fresh seafood is abundant, The Perry Hotel & Marina does it best. At Matt's Stock Island Kitchen & Bar, much love and care go into every dish. It was founded on a straightforward principle: what grows together goes together. The Salty Oyster is a cozy outdoor restaurant and bar, just a key lime's throw away from your boat and the marina.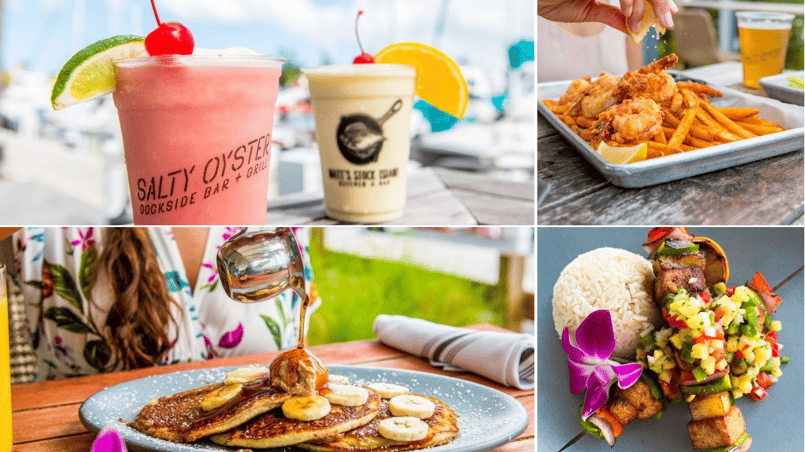 Pier 22 at Twin Dolphin Marina
4.5 stars on Open Table and Google
Pier 22 is a landmark waterfront dining destination that shares an illustrious past with the downtown community. Their magnificent waterfront views, charming ambiance, and scratch-cooked meals have given rise to a new narrative.
Vibes Restaurant at Fusion Resort
4.4 stars on Google
Vibes offers a full liquor bar and tapas-style menu with views overlooking the Intracoastal Waterways. Watch the dolphins frolic in the water and boaters passing by at the Treasure Island restaurant.
The Flamingo Grill at The Boca Raton
4.5 stars on Google
The Flamingo Grill offers a fresh take on the midcentury American grill. Evoking South Florida's golden age, The Flamingo Grill invites guests to drink and dine in a timeless, social setting as charismatic service captains deliver an unparalleled culinary experience that is intimate and energetic.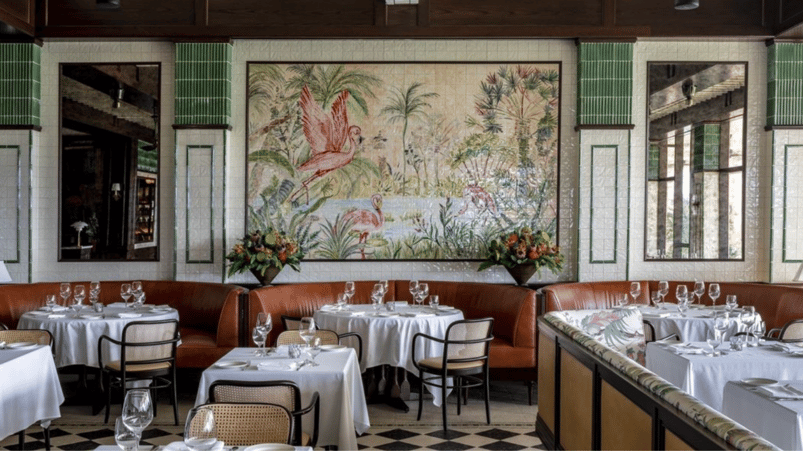 Midwest
Made up of countless small towns that come together to form what some call "America's Heartland," the Midwest is known for its industry, farming, and residents with friendly, down-to-earth attitudes. Here, "American" food shines. Everyday Midwestern home cooking generally showcases simple and hearty dishes that utilize locally grown produce and farmed meat. You'll find dishes influenced by Central, Northern, Eastern Europe, and Native North America.
Illinois
Nessie's at Lithia Springs Marina
4.6 stars on Google
Whether fishing for the big catch, cruising with friends through the coves, or tanning on your upper deck, look to Nessie's to be your refueling station during your time at Lithia Springs Marina.
4 stars on Trip Advisor and Google
Party is, literally, their middle name! So kick back with a cold one, relax with a Mai-Tai, play some games, and take in the sights of Chicago's Riverwalk at Island Tiki Hut.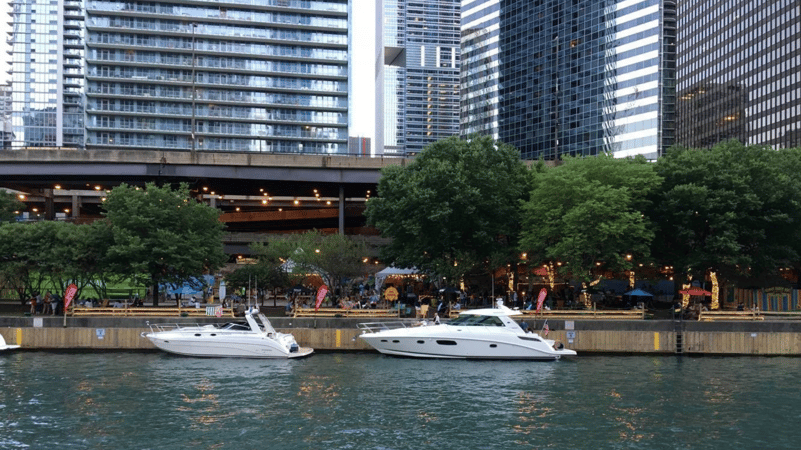 Ohio
Dockers Restaurant at Portside Marina
4.4 stars on Google
There is no place better on Kelleys Island to enjoy a cocktail or meal than at Dockers Waterfront Restaurant and Bar. Their men will please all appetites with selections ranging from snacks to full-course meals.
Michigan
Knot Just a Bar, Maple & Batter, and Nomad at Bay Harbor Lake Marina
An average of 4+ stars on Google
The Village at Bay Harbor is a magical place for vacationers, visitors, and residents alike! Knot Just a Bar is located right on the marina in Bay Harbor, with beautiful views and plenty of indoor and outdoor seating. The newly renovated Maple & Batter serves tasty pancakes and other hearty breakfast options, gourmet coffee, and specialties if you're looking for brunch. Nomad will provide delightful cuisine and an excellent libation menu year-round. It's a great vibe and gathering place for friends and family.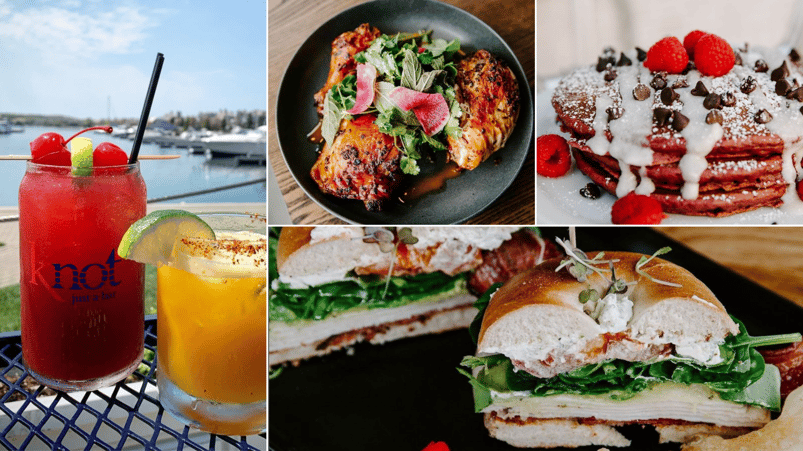 Wisconsin
Ships Wheel at Kaps Marina
4 stars on Google
The Ship's Wheel is the perfect location to relax, listen to music, eat, drink, and watch the passing sailboats on Detroit Harbor. Try their Friday Prime Rib or Baby Walleye Fry!
Reefpoint Brew House at Reefpoint Marina
4.2 stars on Google
Reefpoint Brew House offers the best views of Lake Michigan while serving classic American dishes in a cozy environment.
West
The West Coast offers a wide range of fresh ingredients and international cuisines. But, of course, you're probably already familiar with Californian cuisine. The state is a food haven, with dishes heavily influenced by Mexican, Asian, and Mediterranean cuisine, displaying the state's somewhat lighter and more health-conscious mindset. But, head north to fellow west coast states like Washington or Oregon, and you'll find other local delicacies, like salmon, razor clams, geoduck, oysters, and Dungeness crab.
Washington
The Fireside at Port Ludlow Marina
4.5 stars on Open Table
Treat your senses to a delicious meal at the Fireside. Savor the bounty of the local farms, artisan meats, and cheese, and celebrate the best the Pacific Northwest offers. The Fireside is an ideal setting for Farm-To-Fork, locally sourced food. The dinner menu changes daily to reflect this region's best with local, seasonal ingredients.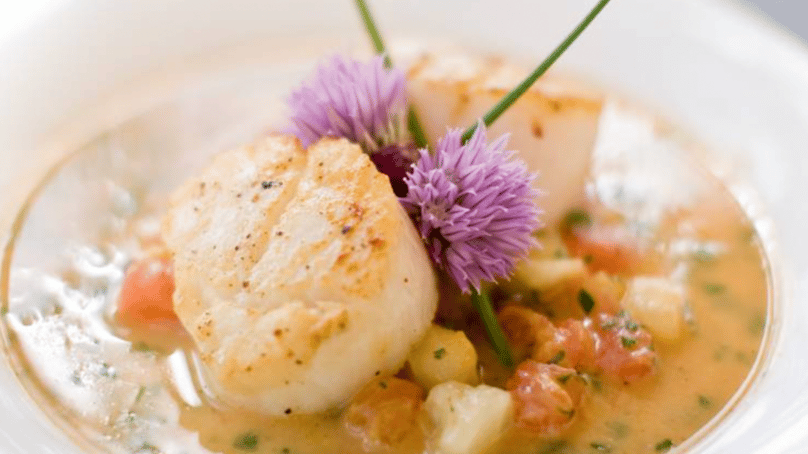 Palisade Restaurant at Elliott Bay Marina
An average of 4.5 stars on Trip Advisor and Google
Palisade has always had the right ingredients, but they've created a new range of dishes, updated the atmosphere, and rededicated themselves to provide the best service in Seattle. These pieces add up to the best all occasion experience in town.
McMillin's Dining Room at Roche Harbor Resort & Marina
An average of 4.5 stars on Open Table, Trip Advisor, and Google
McMillin's Dining Room is an island fine dining tradition. McMillin's Dining Room is a beautiful place to enjoy famous Roche Harbor hospitality. A Northwest menu populated with fresh products from local waters and farms and 60-day aged Nebraskan prime grade rib eyes cooked daily pairs with our award-winning wine list and handcrafted cocktails for a memorable dining experience on the water's edge.
Captain Whidbey's at Captain Whidbey Inn
4.3 stars on Google
The Restaurant at Captain Whidbey offers a fresh and a reimagined menu full of locally sourced ingredients and Pacific Northwest delights.
California
Crown Landing at Loews Crown Isle Marina
An average of 4.1 stars on Open Table and Trip Advisor
You'll find inventive chef-driven fare, distinct character and flavors, and enviable marina views at Crown Landing, one of Loews Coronado Bay Resort's most popular restaurants. In the spirit of Californian cuisine, the restaurant offers one-of-a-kind, locally-inspired food, and beverage offerings. Enjoy handcrafted cocktails, an assorted wine list, or a selection of bottled and draft beer from San Diego's top craft breweries.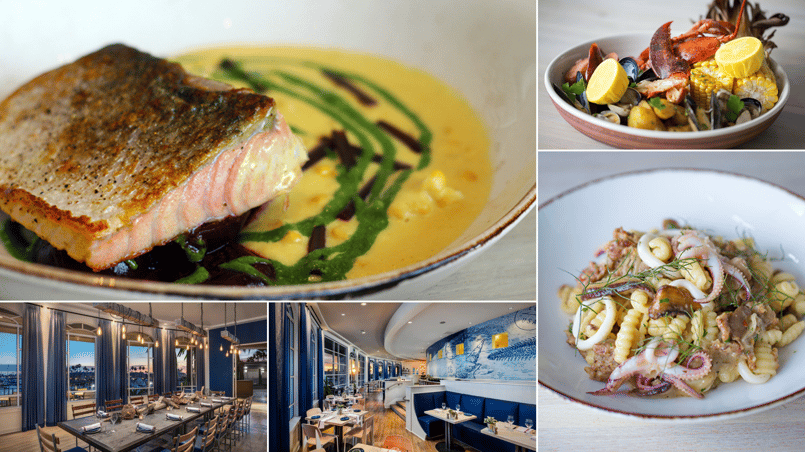 Pier 29 at Safe Harbor Ballena Isle
An average of 4.1 stars on Open Table and Google
Nestled between the Ballena Bay Yacht Harbor and the panoramic San Francisco Bay, Pier 29 Waterfront Restaurant & Bar is a reputable local eatery with a history of good food, friendly service, and a comfortable atmosphere.
Caribbean
In the Caribbean (West Indies), you'll find the most unique dishes. Their food is influenced by African, Creole, Cajun, Amerindian, European, Latin American, Indian/South Asian, Afghan, Middle Eastern, and Chinese cuisines that blend unique spices, fresh herbs, fresh seafood, or livestock. It's the world's true melting pot!
The British Virgin Islands
Cardamom & Co. at Scrub Island Resort, Spa & Marina
4.3 stars on Open Table
Our signature fine-dining restaurant features breathtaking views overlooking the marina and neighboring islands. Take a culinary journey of the spice trade and how it influenced the Caribbean through flavorful creations featuring indigenous ingredients.
Marina 308 at Marina Pescaderia
4.5 stars on Google
Marina 308 is the perfect location for a bottle of wine or cocktails with friends and family under the beautiful sunsets of the West Coast. Enjoy our creative appetizers, or dinner featuring the fresh catch of the day, in a laid-back yet vibrant ambiance.
Ladis at The Yacht Club Marina at Palmas Del Mar
4 stars on Google
Ladi's brings traditional Puerto Rican cuisine to one of the most exclusive resort communities in Puerto Rico, Palmas del Mar. Ladi's Place is a must-visit as they offer the freshest seafood, fantastic sunset views, live music, and excellent service.
Did we miss your marina? Shoot us an email at marketing@dockwa.com with the name of your marina, its restaurants, and a short description. We'll add you to our list if the information matches our criteria!

Check out our other blog posts to get an inside look at our favorite destinations, marinas, liveaboards, and tips for boaters. Then, join the conversation on Flipboard, Facebook, Twitter, and Instagram.