Beyond that, drinks and meals are communal, not to mention snorkeling, paddleboarding, and kayaking equipment to explore hidden bays and islands. So why not plan a weekend or weeklong trip with members of your local boating community and travel to new, exotic locations together? When you're sharing resources, it's a lot easier than one would think.
So much about your time on the water is social, and "flotillas" are perhaps the best example. A flotilla is defined as "a fleet or cargo of ships or boats," but today, boaters use the term to describe rafting parties with friends, sandbar meetups, and hanging out on the docks for lunch.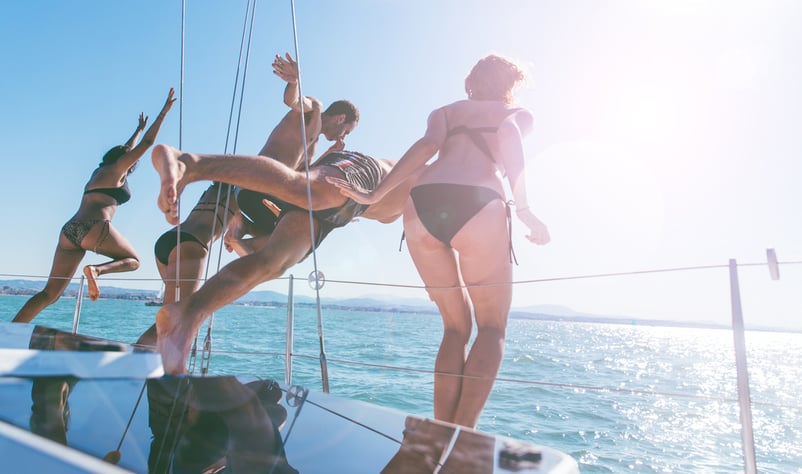 Nine Tips for Planning a Flotilla
Here are some tips for planning your next flotilla adventure with friends.
Pick a spot and a timeframe. If you're heading to a popular location during its peak season, remember that some activities or places you'll want to visit may be busy and crowded. If it's just a day trip, make sure to factor in the time it will take to get you to and from the destination. If you're going to spend half the day traveling, you may want to consider extending your trip overnight. Of course, that will require more planning, but you'll have more options for exploring.

For day trips, keep it easy and casual. Make one person the organizer to avoid miscommunication. Agree on a location and make sure everyone knows how to get there.

Decide if your group is traveling together as a flotilla. This is the safer option for extended trips since you'll have immediate friends who can help in case of a breakdown or other problems. Remember to create a float plan as well. It's the best safety measure you can take.

Plan activities in advance. Are there kayaks, SUPs, PWCs, floaties, fishing gear, etc., available for the group to share?

What's on the menu? Are you bringing food or stopping to eat? Is one boat more suited to be the galley for the entire group, or will the food duties be spread amongst the vessels? Again, you'll want to plan this.

Before leaving the dock, ensure each boat has enough fuel with at least a 20% reserve.

Rafting boats can be a bit tricky. Usually, the largest boat anchors first, and then the others tie up on either side. Make sure you have at least one person handling the lines and bumpers on each boat. Remember, bumpers between boats don't line up the same way as between a craft and a dock, so you must adjust their position and height.

How will you communicate between boats? Cell phones won't always be an option depending on the destination, so everyone might need a VHF radio.

If it is a day trip, make sure you return before dark. Chart plotters display the sunset time for precisely this reason. If you stay overnight, ensure it is safe to remain rafted or consider re-anchoring individually.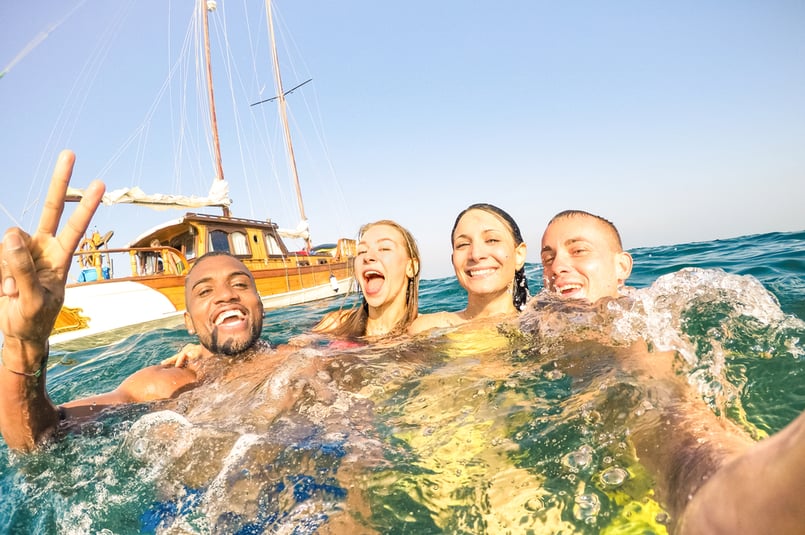 There's an App for That
Aflote takes the natural social aspects of boating up a notch. Now you have one place to meet new friends, share your location, plan trips, and help visiting or new boaters find information about your homeport. And that's only a fraction of the features.
Integrating popular applications like Dockwa and Marinas.com, aflote gives you access to critical information, bookings, and boat safety functionality to make your time on the water more enjoyable and more social.
Shannon Law, Founder, @afloteapp #afloteapp
Aflote is a practical resource and social club for watercraft. Discover new harbors, knowledge share, and meet like-minded paddleboarders, kayakers, PWC owners, powerboaters, and sailors through our interactive map. Download the app on your iOS or Android device today.
Be sure to check out our other blog posts to get an inside look at our favorite destinations, marinas, and tips for first-time boaters. Join the conversation on Flipboard, Facebook, Twitter, and Instagram.