At Dockwa and aflote, a knowledge sharing resource for nomadic boaters, we have you covered! If Florida is your homeport, then you know the Caribbean makes for the perfect extended holiday destination. Traveling from marina to marina makes for a perfect getaway in paradise.
Whether you have a week or a month on the water, you will find dazzling destinations for your Caribbean adventure. And to make it easy for you, we've ordered them by accessibility.
Turks and Caicos Islands
A jewel in the Caribbean, the island of Providenciales offers some of the most spectacular white sand beaches in the world. Step foot on Grace Bay Beach, Leeward Beach, Taylor Bay Beach, Sapodilla Bay Beach, or Long Bay beaches, and you'll realize you've found paradise.
Several beaches here offer vibrant reefs close to shore and are perfect snorkeling sites to see coral, fish, stingrays, starfish, conch, and turtles. The Bight Reef (also known as Coral Gardens) and Smith's Reef are dazzling places to start.
WHERE TO DROP YOUR HOOK
Grace Bay
The world-famous Grace Bay is located on the northeast coast of the island of Providenciales. This pristine beach is the hallmark of the Turks and Caicos Islands and the recipient of many awards and accolades.
Grace Bay currently holds the World Travel Awards World's Leading Beach Destination, and second place in Trip Advisor's Best Beaches. Over the previous decade, Grace Bay has taken first or second place in these two competitions 19 times.
Grace Bay is breathtaking, featuring clear turquoise water and soft white sand. What you won't find are rocks, seaweed, or pollution. An extensive barrier reef is located about a mile (1.6 km) offshore and protects Grace Bay from the ocean swells of the Atlantic, keeping the beach calm and safe.
Grace Bay Beach is home to most of the luxury resorts on Providenciales, and much of the boat and water sports traffic that takes place near Providenciales occurs in the shallow waters between the beach and barrier reef.
Puerto Rico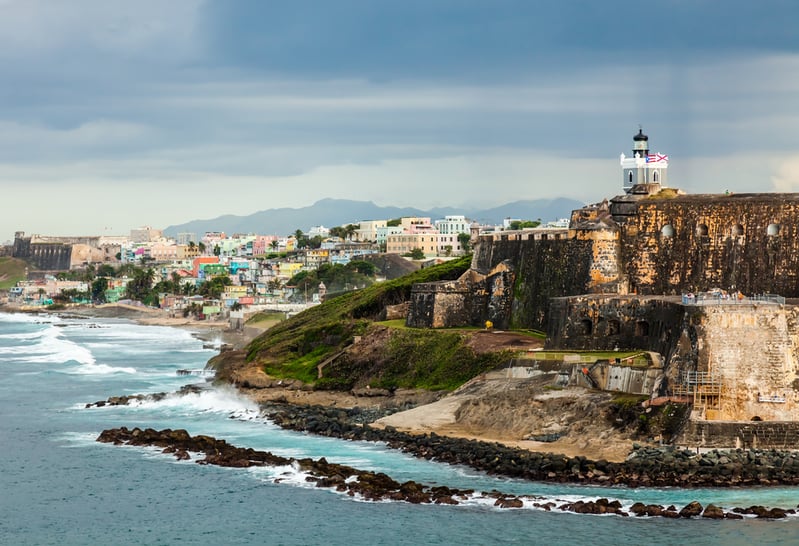 A central hub, Puerto Rico is a preferred location for sailors wanting to leave their vessels in the Caribbean all year round. For example, many facilities haul boats out for repair and storage during hurricane season. In addition, being a US Territory means you'll benefit from US prices and many big box stores for equipment and provisioning.
PROVISION
The Yacht Club Marina at Palmas Del Mar
Part of the Palmas Del Mar community, this marina offers all the amenities you could ever need, including:
A beautiful pool

Full concrete docks

A fuel station and in-slip high-speed fuel

Ladis Restaurant, a Seafood family-style restaurant

Coco's at The Yacht Club, the primer boutique in the area

A chandlery store

A business center

Laundry

24/7 security at the entrance to the resort, the marina, and controlled gates at all dock access points from land.
WHERE TO DROP YOUR HOOK
Bahila Salina Del Sur
Many of the bays dotting the coast of Vieques see very few visitors, and often you'll have your private paradise. Vieques is home to herds of wild horses, and you can often see them playing in the surf. So close to BVI but a lot less popular, it's easy to see the appeal of these small, secluded islands.
PROVISION
Located on the south coast of Puerto Rico, Marina de Salinas sits in the Caribbean Sea, with mangroves that line the beautiful beach. This is a popular spot for short-term stays and a 'hurricane hole' in the off-season.
British Virgin Islands
The British Virgin Islands is a British territory that's part of a volcanic archipelago in the Caribbean—comprised of four main islands and many smaller ones. It's known for its reef-lined beaches and as a superb yachting destination. The largest island, Tortola, is home to the capital, Road Town, and rainforest-filled Sage Mountain National Park.
WHERE TO DROP YOUR HOOK
Cane Garden Bay
Cane Garden Bay offers solid protection from NE to S winds by providing both anchorage and mooring buoys. You'll also find several bars and restaurants with a fantastic Caribbean atmosphere.
Great Harbour
Great Harbour provides shelter from W to NE wind and anchorage and mooring buoys. On shore, there is a wide selection of bars and restaurants. Arrive early to get a buoy.
PROVISION
Home of Pirates Bight Bar, Restaurant, and Gift Shop, Norman Island is perhaps most famous for being the inspiration for Robert Louis Stevenson's novel Treasure Island. Norman Island has a rich history of being a hiding spot for pirate booty.
Scrub Island Resort, Spa and Marina
Scrub Island's Marina is a jewel in the sparkling Caribbean Sea. Scrub Island's marina offers 55 deep-water slips for short or long-term docking, including five specifically for larger mega-yachts up to 160 feet in length.
US Virgin Islands
A territory of the United States since 1917, the U.S. Virgin Islands comprises four principal islands, St. Croix, St. John, St. Thomas, and Water Island, plus 50 smaller islands, cays, and islets that are part of the Caribbean archipelago.
The U.S. Virgin Islands is also a leader in sustainable tourism with a commitment to protecting and preserving its natural environment and cultural heritage.
WHERE TO DROP YOUR HOOK
Fredericksburg Cove
Offering both mooring buoys and anchorage, Fredericksburg Cove is a popular destination, so you'll have to hustle to get a spot on the more sheltered east side.
The sand/clay bottom makes for a great anchor hold. The small dinghy dock at Waypoint Charters at Haulover Cut is handy for local restaurants like HookLine, French Quarter Bistro, Sea La Vie, and Oceana. It is also close to supermarkets and the customs office.
Anguilla
Tourism only took off here a few decades ago, yet with its gorgeous beaches and thriving music scene, Anguilla is home to some of the region's most alluring resorts and restaurants.
Fewer tourists make for a more intimate experience, but you'll still be able to enjoy plenty of water and shore activities.
WHERE TO DROP YOUR HOOK
Road Bay
Being the only point of entry for sailboats and the only free anchorage on the island, Road Bay is the busiest harbor in Anguilla.
You'll find plenty of boats anchored for customs and immigration, but Road Bay generally offers calm waters with minimal swell coming in from the east. The main town has several excellent restaurants but is still very quiet by Caribbean standards.
Little Bay
Suitable anchorage for wind and swells from the east, Little Bay is picturesque and very quiet. There are also mooring buoys for boats under 55 feet.
St Kitts and Nevis
WHERE TO DROP YOUR HOOK
Pinneys Bay
Well protected from waves and wind from the east, Pinney's Bay offers access to the customs office, bars, and restaurants on the beach.
Pinneys Bay offers both anchorage and mooring buoys with access to a dinghy dock (or pull-up on the beach) to access amenities. You can also rent a car to explore the extensive local sights.
Aflote is a practical resource and social club for watercraft. Discover new harbors, knowledge share, and meet like-minded paddleboarders, kayakers, PWC owners, powerboaters, and sailors through our interactive map. Download the app on your iOS or Android device today.
Be sure to check out our other blog posts to get an inside look at our favorite destinations, marinas, and tips for first-time boaters. Join the conversation on Flipboard, Facebook, Twitter, and Instagram.