Labor Day Activities, Recipes, and Music for Boaters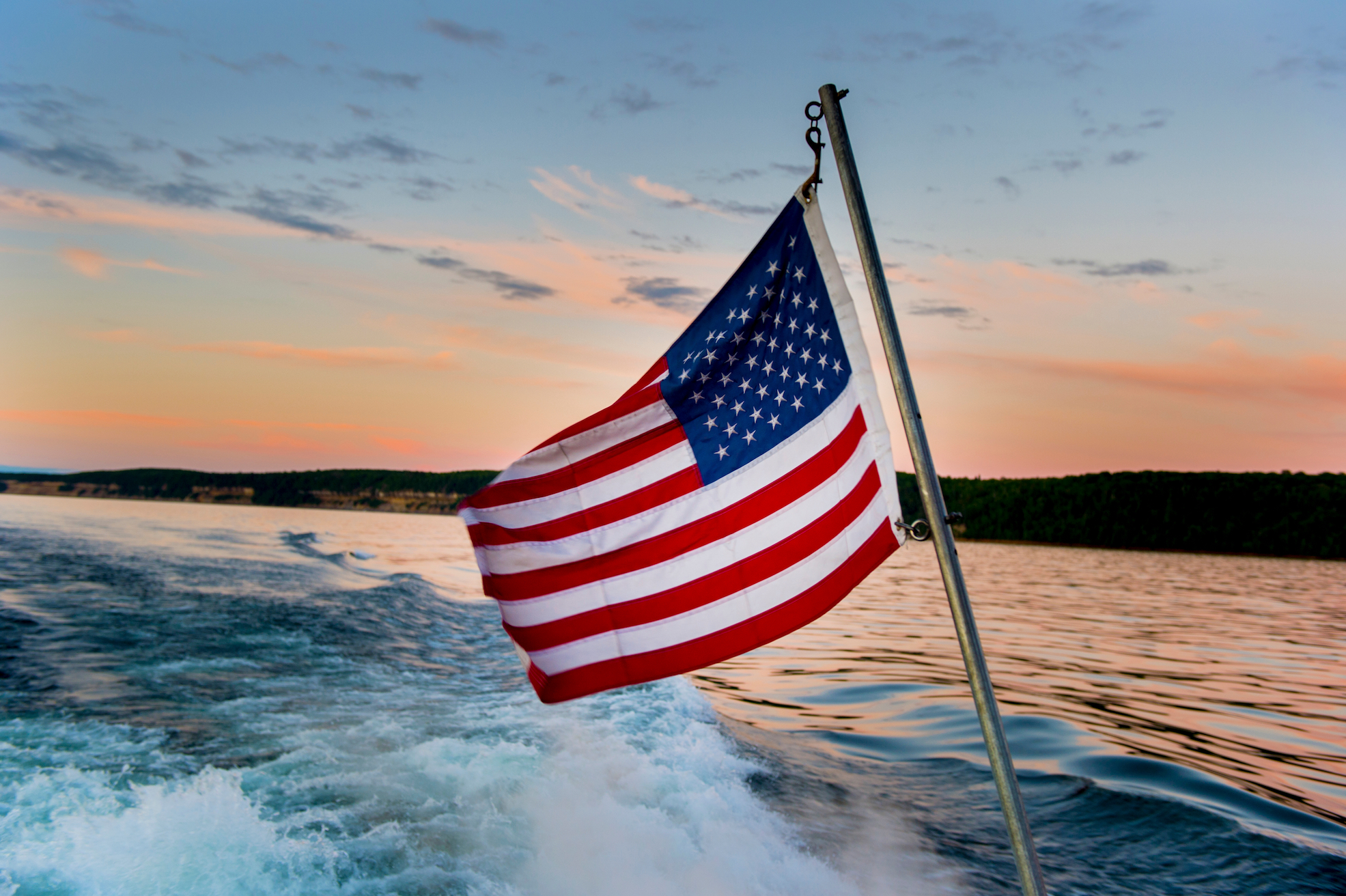 If you live in an area that gets cold in the fall and winter months, Labor Day for boating and sailing enthusiasts alike means it's time to start thinking about winter storage and winterizing your boat.
We're not going to bore you with those details in this article. Instead, to relish what little time we have left this year with our boats, we've curated a list of activities, recipes, and music to liven up your end-of-summer boating rituals. End this season with a bang!
Labor Day Boating Activities
The best Labor Day activities are the ones that are spent outdoors! Below you'll find a few things you can do during the final three-day weekend of the summer.
Go for a hike
Take your boat to a marina with hiking and trails nearby. Tie up and enjoy a trek through nature and soak up what's lefts of the warm weather days before summer's end.
Camp by the lake or on an offshore island
Think bonfires, scary stories, and some quality time with your family. Don't forget the s'mores! We swap out regular chocolate in our house and use Reese's Peanut Butter Cups or drizzle on some tahini.
Get lobster by the water
Arguably, the best part about being so close to the water is the access to great seafood restaurants. So search for a marina with a restaurant onsite or ask around for some suggestions nearby. It's a great way to get to know the staff and the area. Sit outside and enjoy the sunset!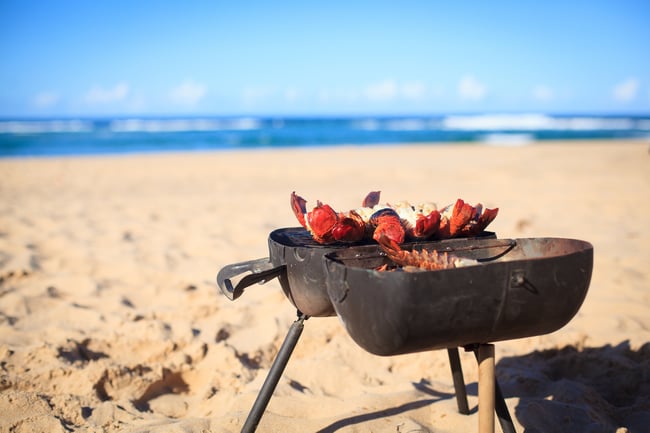 Watch fireworks from the beach (or on the harbor)
Escape the noise, exhaust, and hoards of people by watching the firework from your boat. Check your town or city's website to find a show near you.
Organize a "cookout" on your boat
Nothing brings people together quite like a barbecue. If you decide to make your boat the venue and you're without a kitchen, grill, or portable stovetop, check out the recipes below to have a boat-proof cookout. Make it a potluck and encourage your guests to bring a dish or cocktails too!
Labor Day Recipes
You can't host a gathering or party without food. So, rather than serving your boat guests the same old chips and dip, try out one of the simple and unique recipes below. They've been boat-tested and travel well. It's one less thing to think about as you prepare for your weekend festivities.
Japanese Yakitori-Style Chicken Wraps
For your main, make Japanese Yakitori-Style Chicken Wraps. Japanese Yakitori is basically a sweet-savory chicken skewer. Of course you could just serve the skewers, but with a few extra ingredients, they'll make excellent sandwich wraps you can assemble right on your boat. This recipe serves four.
Ingredients:
For the chicken
½ cup soy sauce

1 tablespoon finely grated fresh ginger (or 3 medium finely grated garlic cloves)

2 tablespoons sesame oil

¼ cup maple syrup

1½ teaspoons apple cider vinegar

2 pounds boneless, skinless chicken thighs, halved lengthwise

Toasted sesame seeds (optional)
For the sandwich
Four, 10-inch tortillas

1 cup each shredded green and purple cabbage

1 cup shredded carrots

1 medium to small red onion, thinly sliced

2 green onions, thinly sliced

2 jalapeño peppers, sliced into thin rings

Juice from 2 limes

1/2 teaspoon garlic powder

1/2 teaspoon salt

16 ounces sour cream
Preparation:
To prepare the chicken, stir the soy sauce, ginger, and oil together. In another bowl, combine 3 tablespoons of the mixture with the maple syrup and vinegar. Toss the chicken in the remaining soy sauce mixture.

Scrunch the chicken onto metal skewers and place it onto a rimmed baking sheet. Broil the chicken until browned (about 12 minutes), flipping once halfway through. Lightly brush the maple mixture onto the chicken, then broil until the edges are lightly charred (2 to 3 minutes per side).

Remove chicken from the oven and drizzle on the remaining soy-maple mixture. Sprinkle with sesame seeds if using.

To assemble the sandwich, in a large bowl, combine the cabbages, carrots, onions, jalapeños, lime juice, garlic powder, salt, and sour cream. Toss until the vegetables are equally coated.

Remove the chicken from the skewers once cooled. Add the slaw and chicken to the tortilla, then wrap the sandwich, tucking in the sides. Slice in half and secure with sandwich picks.
Rice Noodle Salad with Shrimp and Cucumbers
You could also try this Rice Noodle Salad with Shrimp and Cucumbers. In this recipe, vegetables, herbs and chopped peanuts add color and texture to tender rice noodles, while pepper and chilies add spice. The dressing packs a sweet yet umami-rich punch. This recipe serves four.
Ingredients:
8 ounces rice noodles

1 cucumber, halved lengthwise, seeded and thinly sliced into crescents

1 medium shallot, halved and thinly sliced

1 cup roasted peanuts, finely chopped

6 tablespoons lime juice

1 Fresno or Thai chili, minced

3 tablespoons fish sauce

2 tablespoons light brown sugar

1 pound cooked shrimp, chopped

1½ cups chopped fresh cilantro, or mint
Preparation:
Cook rice noodles in accordance to its package instructions. Drain in a colander and rinse under running cold water until cooled. Transfer into a large bowl and set aside.

In the colander, toss the cucumber and shallot with a teaspoon of salt. Let the vegetables drain for about 5 minutes discarding any excess liquids. Add the cucumbers, shallots, peanuts, lime juice, chili, fish sauce, sugar, shrimp, cilantro and 2 teaspoons of pepper to the noodles. Toss and combine the ingredients.
Sea Salt-Topped Lemon Rosemary Shortbread
For dessert, round out your meal with our friends, Newport Sea Salt Co.'s Sea Salt-Topped Lemon Rosemary Shortbread. This buttery, sweet, yet bright and herbal shortbread is tender, rich, crumbly, and irresistible. The dough, which comes together in a food processor makes this recipe a breeze to make.
Ingredients:
2 cups all-purpose flour

2/3 cup granulated sugar

1 tablespoon finely chopped fresh rosemary

1 teaspoon fleur de sel

1 cup (2 sticks) unsalted cold butter, cut into 1-inch chunks

1 to 2 teaspoons rosemary, chestnut or other dark, full-flavored honey (optional)

Zest of 1 lemon

1 teaspoon of vanilla
Preparation:
Heat oven to 325°F. In a food processor, pulse together flour, sugar, rosemary, and salt. Add butter, honey (if desired), a teaspoon of vanilla, and the lemon zest. Pulse to fine crumbs and a few more times until the crumbs start to clump together. Don't over-process; the dough should not be smooth, but instead a soft, almost crumbled sand).

Press dough into an ungreased 8-9 inch square baking pan for thicker bars or spread it into a 9" x 13" x 2" glass baking dish for thinner but equally yummy bars with the option of more to share!

Prick dough all over with a fork, and sprinkle with your pure sea salt. Bake until golden brown, 35-40 minutes for the 9x13 pan and 45-40 minutes for the 8-9 inch pan.

Cut into squares, bars, or wedges. To serve, add a scoop of vanilla ice cream while warm.
Pineapple Margarita
We couldn't leave a cocktail off our menu! This Pineapple Margarita is sweet, earthy and, of course, refreshing. Add Newport Sea Salt Co.'s 'Reef to Rocks' Fire Salt to the rim if you want an added kick. This recipe serves two, but can easily be doubled or tripled depending on the size of your party. As always, drink and boat responsibly.


Ingredients:
For the glass rim
OR
1 tablespoons granulated white sugar, plus more if needed

1 tablespoons chili powder, plus more if needed
For the drink
4 ounces reposado tequila

4 ounces pineapple juice

3 ounces lime Juice

1-2 ounces agave syrup

1 ounces cointreau

1/2 teaspoon turmeric (optional)
Preparation:
Rub a lime wedge around the outer rim of a glass. On a small plate, spoon out the fire salt or combine the chili powder and sugar. Dip the glasses in the salt or mixture until completely coated.

Combine all ingredients for the drink in a cocktail shaker with ice. Shake until cold, then strain into the salt or sugar rimmed glasses filled with more ice.
Not quite your taste? Check out some more cocktails here!
Labor Day Music
You'll find the entire 2022 Labor Day Boating Mix, curated with love by the team at Dockwa on Spotify, but below are a few of my favorite tracks to get the party started. So, whether you're into Country, Pop, Oldies, Rock, Reggae, or R&B, we got the music selection covered. Get a taste below!
Check out last year's mix here!
Be sure to check out our other blog posts to get an inside look at our favorite destinations, marinas, and tips for first-time boaters. Join the conversation on Flipboard, Facebook, Twitter, and Instagram.