So, what is the proper technique for anchoring? Like most things in boating, it depends. Are you dropping the hook for a quick lunch, or are you planning to stay overnight? Do you have a good holding in the area, or are you worried about dragging? What's the bottom like—sand, mud, rock, or reefs?
Lucky for you, Dockwa and our friends over at aflote are here to answer all your questions! Below are instructions on how to anchor your boat and more tips to help you anchor your boat safely and securely each time.
How to Anchor a Boat : The Basics
Check your guidebooks for recommended spots to drop your anchor.
You should look for an area with good holding, away from boat traffic, and sheltered from the wind and waves. When anchoring overnight, it's also a good idea to check the tides. You don't want to be caught in the rocks or sand when the tide goes out! If you're unsure, ask a local marina or boatyard.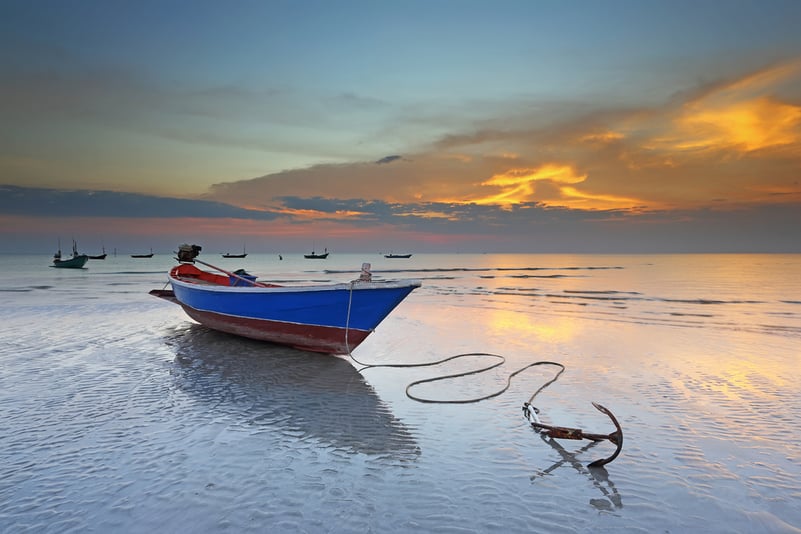 Choose a location protected from wind and waves.
If not, you may need to adjust your position. Drop the anchor slowly, paying out enough line to allow the boat to swing freely. You don't want to anchor too close to other vessels, or you may hit them when the wind changes. Set the anchor by pulling on the rode, the line attached to the anchor, until the boat points toward the wind or waves.
Check your chart plotter and depth finder to avoid sand bars, shoals, and reefs.
These can be tricky to spot from the surface, so it's always best to err on the side of caution. If unsure about the depth, drop a small anchor or buoy to test the bottom first. Then, once you're confident it's safe to proceed, let out more line and set the anchor.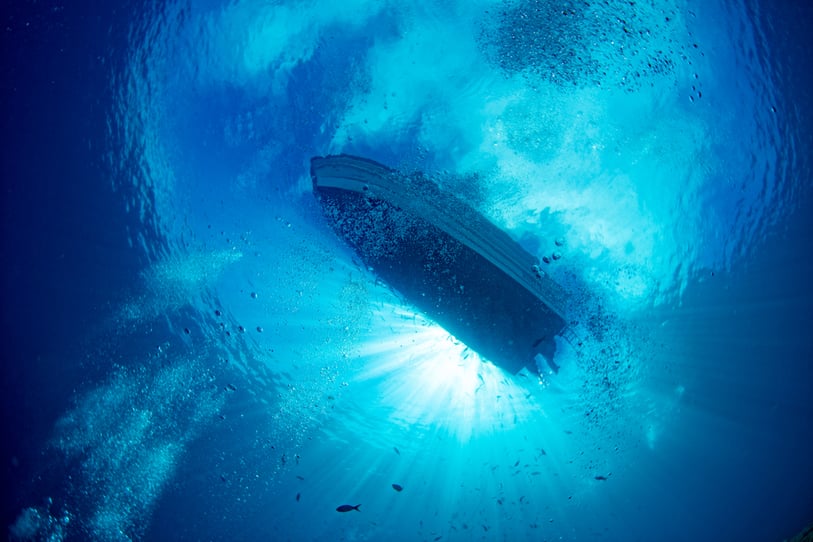 Check the depth to determine the appropriate anchor chain length.
You should generally use 3 to 7 times the water depth as your scope (the ratio of anchor rode to water depth). Anchor rode is available in various materials, including nylon, polypropylene, and chain. Each has its advantages and disadvantages:
Nylon rope stretches under load, which can be advantageous in heavy weather because it absorbs some shocks. It is, however, more likely to chafe and can rot if stored wet.

Polypropylene rope doesn't stretch, so it's less likely to chafe. It's also buoyant, so it's easier to retrieve if needed. However, it can weaken when exposed to sunlight.

A chain is a heavier and more expensive option, but it doesn't stretch or chafe and holds its strength in all conditions.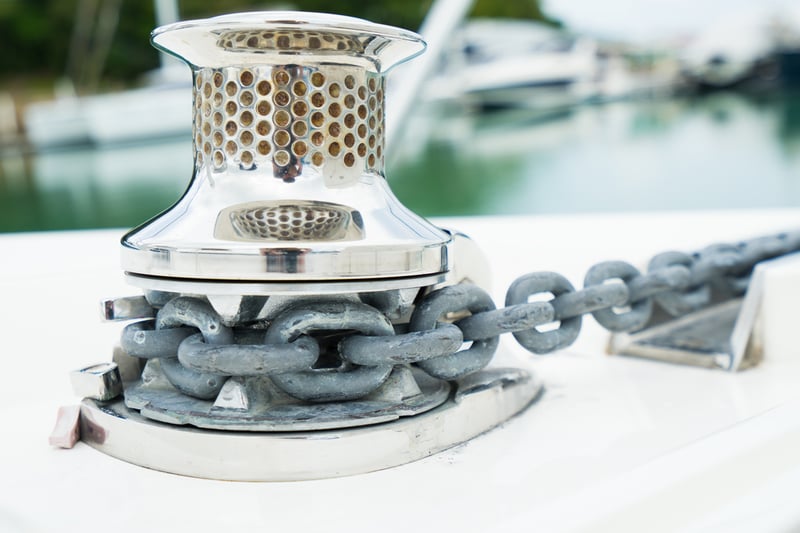 Set the anchor alarm on your chart plotter.
Once you've anchored, monitoring the boat is crucial to ensure it's not dragging. You can monitor your vessel by checking the boat's position relative to nearby landmarks or using a GPS anchor drag alarm.
If the boat does start to drag, increase the scope (the ratio of anchor rode to water depth) by paying out more lines. If that doesn't work, you may need to try a different anchoring technique or move to a different location.
Check the bottom to determine if your anchor type is suitable.
Many types of anchors exist, including Danforth, Bruce, CQR, and Delta. Each class works best in certain conditions. For example, a Danforth anchor is suitable for sandy bottoms, while a CQR anchor is better for clay or weeds. When retrieving your anchor, pull slowly and steadily to avoid damaging the rode or boat.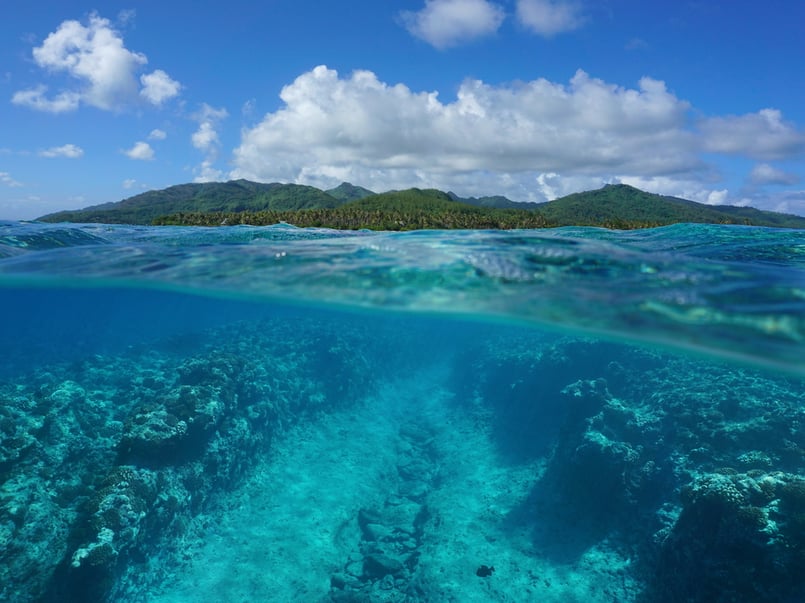 Back onto your anchor to properly set it.
Back onto your anchor to properly set it. Backing onto it will help ensure that the boat points into the wind or waves and that the anchor securely digs in. To do this, reverse your boat slowly until there is a tight line between the vessel and the anchor. Monitor your boat's position and be prepared to adjust as needed.
Create a Plan B for unexpected crowds of changing weather conditions.
Boat anchoring is always subject to the whims of nature, so preparing for anything is essential. For example, if the weather forecast changes or you find yourself in a crowded anchorage, you may need to adjust your plan.
Arrive early for the best choice and most effortless setup.
Anchoring is first-come, first-served, so it's best to arrive early to get your pick of the best spots. This will also give you more time to set up and ensure everything is secure. Be prepared to leave quickly in an emergency, as you never know when you may need to depart swiftly! Make sure your boat is ready to go at a moment's notice, and learn how to release the anchor quickly if necessary. Once you've found a good spot, it's time to drop the anchor.
Dropping Anchor
Now let's get into the nitty-gritty of dropping anchor. After you identify a good spot to drop your anchor–an area with good holding, away from boat traffic, and clear of obstacles like reefs, back your boat into the wind or current until the anchor is directly under the boat.
Next, drop the anchor over the side, ensuring it lands on the bottom in a horizontal position. Lastly, once the anchor is on the bottom, give it a little slack, and cleat off the rode. You're now ready to enjoy your day on the water!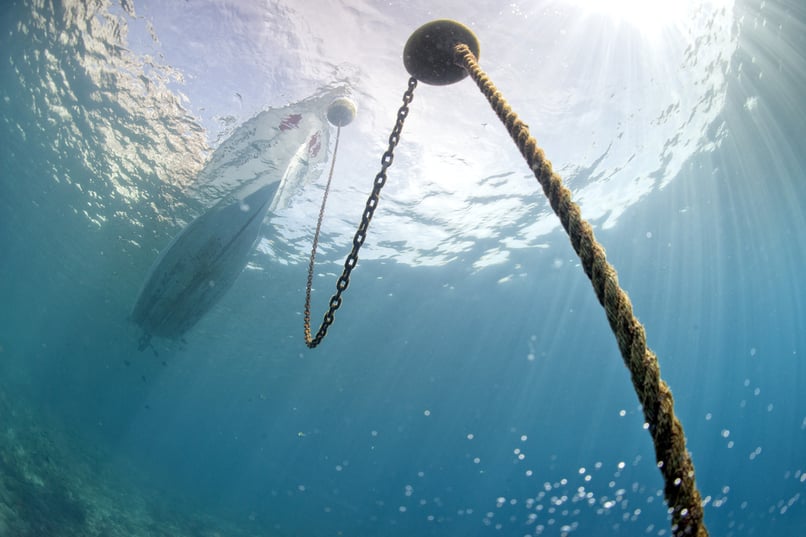 These are just a few boat anchoring tips and techniques to help you get started. Boat anchoring can be a tricky business, but following these simple rules will help you do it safely and securely. With a little practice, you'll be an anchoring pro in no time. Just remember to stay safe, be prepared, and have fun out on the water.
Aflote is a practical resource and social club for watercraft. Discover new harbors, share knowledge, and meet like-minded paddleboarders, kayakers, PWC owners, powerboaters, and sailors through our interactive map. Download the app on your iOS or Android device today.
Shannon Law, Founder, @afloteapp #afloteapp
Remember, the most convenient and efficient way to book a marina dock slip or mooring is through Dockwa.com!
Be sure to check out our other blog posts to get an inside look at our favorite destinations, marinas, and tips for first-time boaters. Join the conversation on Flipboard, Facebook, Twitter, and Instagram.