Matt and Tami grew up down the street from each other in a small town in Connecticut. "She's a year younger than me, so she was always in the grade behind me. Not many people have a story like that, where you can say, 'remember the lunch lady?'" Matt teases. "We went to the same elementary school, the same middle school, the same high school, and eventually the same college. Tami never stopped following me."
The couple graduated from the University of Rhode Island. There, Matt's love for the ocean and being out on the water led him to study Marine Affairs and Oceanography. He joined the U.S. Navy shortly after college, and what was supposed to be a three-year contract became a 20-year career that has taken him, Tami, and their two sons all over the world. Over those 20 years, they developed a love and appreciation for food and different cultures.
Towards the end of Matt's naval career, their family was stationed in Naples, Italy, with NATO. It was here, he says, his family fell into the food culture and began to savor the food that was local, fresh, and in season. Matt and Tami took this concept back home with them once they returned to the United States in Newport, Rhode Island, where Matt finished his career at the Naval War College. Still in an "Italian mode," they began to question where they would source certain products.
"We knew we weren't going to find olive oil and things like that, but we were surprised we couldn't find local sea salt, considering Rhode Island is the Ocean State," Matt said. "We literally have this beautiful coastline, and a great resource called the Atlantic Ocean."
While watching a program on either the Cooking Channel or Food Network, Matt saw a cooking demo on making fresh sea salt. "A light bulb went off, and I said to myself, 'I want to build a sea salt company in Newport,'" Matt recalls.
Once he locked down his recipe, their reef-to-table journey was just beginning. Matt and Tami had to navigate their way through the red tape and legal jargon that came with starting a business.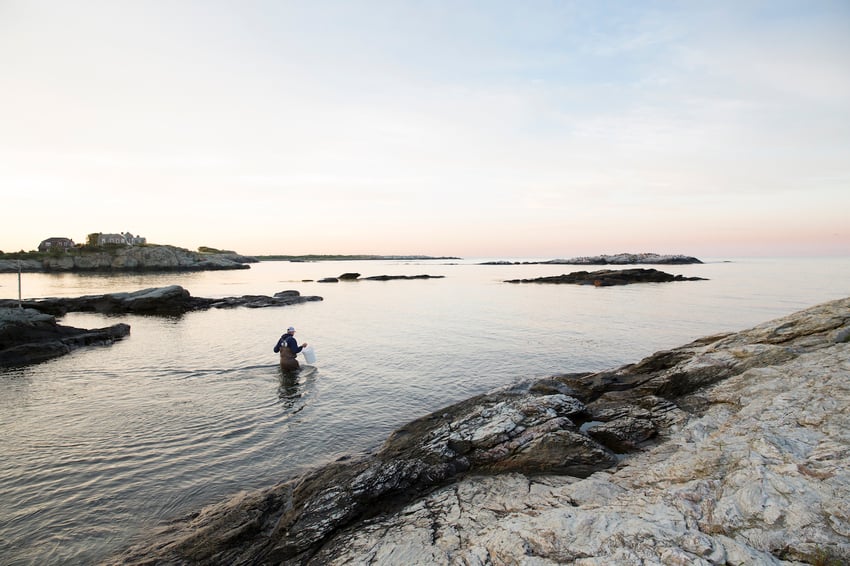 On starting Newport Sea Salt Co….
Matt: We went to the Small Business Association (SBA) of Rhode Island because we had no idea where to take this idea. My background is driving Navy ships, and that doesn't relate to food. I've been eating food and enjoying it all my life, but how do you start a food business? So, we met with the SBA and said, 'this is our idea,' and he didn't think we were crazy. In fact, he liked our "crazy idea."
The gentleman we met with at SBA introduced us to Hope & Main. Hope & Main is a series of commercial food kitchens that small businesses can rent out. 50 or 60 small Rhode Island-based businesses utilize Hope & Main to make their products, and we're one of them.
Tami: In the beginning, we were so hopeful that our company could do solar evaporation, but there were so many roadblocks. We didn't have the resources to build a greenhouse to the specifications of the Department of Health. We had to pivot, and if we wanted to move forward, Hope & Main was our answer.
Matt: Hope & Main is an incredible organization that's helped out many small businesses test their ideas without having the cost of starting a business. They have all the equipment you need, so you don't have to invest hundreds of 1000s of dollars.
When we pitched our idea to Hope & Main, they also thought it was a great idea because there wasn't anyone making sea salt in the area. From there, we connected with the Department of Health. The Department of Health was not hesitant, but they were cautious. We weren't another run-of-the-mill coffee shop or bakery, so they didn't know what to tell us.
I also reached out to the Department of Environmental Management. We source our water from the Brenton Reef area, which has public access. They're monitoring the reef for shellfishing, so they didn't have any issues with me getting my buckets of seawater.
We also have internal precautions we take and worked out with the Department of Health for when we source water. We don't get water during a heavy rainstorm. I source it at high tide, and we filter it several times. It's then boiled for hours. We also had the salt tested when we first started to make sure the source was good.
The FDA considers salt as a GRAS product (Generally Recognized as Safe) because we've been using it since ancient times. As long as you're making it in a certified commercial kitchen and sourcing water from a clean location, Rhode Island is fine. They're comfortable with the fact that we are so small and getting small batches of water at a time.
On running a business with your first mate…
Matt: I like to say I'm the muscle of the operation, and Tami makes it look pretty. She works with our graphic designer as far as packaging and takes the photos for our Instagram. I wouldn't even know how to do it.
Tami: And I couldn't do his part; I can't carry the buckets. It's our company and our business, so we're very gracious and patient with each other as we learn through this process. We have an appreciation for both of our skills.
Matt: It's a total collaboration, but we certainly have our lanes. I'm not going to say, "let me take over Instagram today."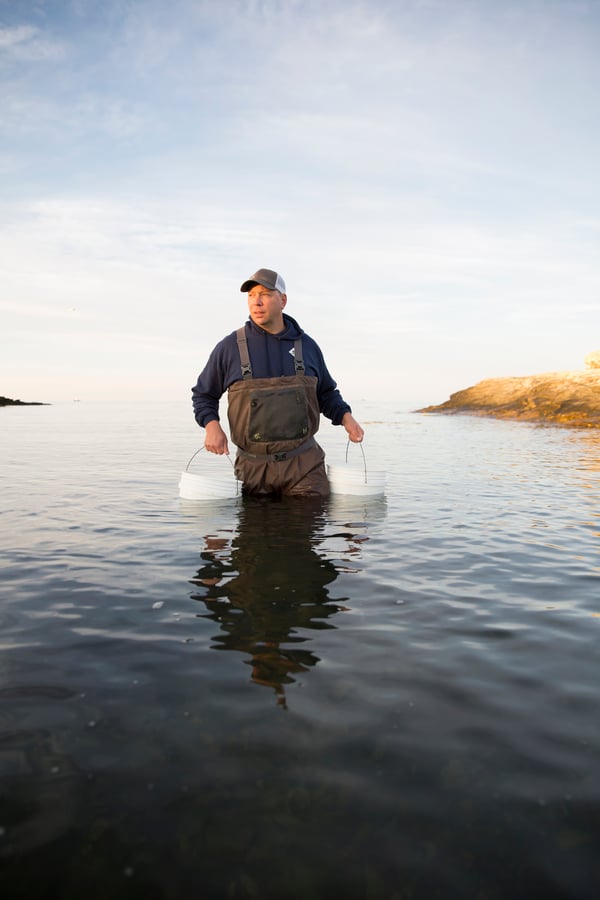 On the process of harvesting and creating sea salt…
Matt: It's time-consuming. Collection day is once a week, and that's about all I can do. Once a week is enough because there's a collection day, a filtering day, and then there's evaporation day and market or delivery days. Before you know it, it's time to get more water because, thankfully, people, vendors, and restaurants are buying our salt. But, it'd be nice to have a day off once in a while.
Tami: People have asked us why we haven't hired someone to help make our salt, but there's a science to it. We've had people visit us in the kitchen, and they're amazed because they thought they could throw water in the pot and boil it. Matt has to explain to them there's a process.
Matt: Making salt is more than just boiling water. Anybody could get a bucket of water and boil it down. If you do, you're not going to get the nice flaky finishing style salt, and you're going to get a mushy end product. With a lot of research, trial and error, we've figured out there are different phases. There are many nuances to this craft to get those nice flakes a chef would sprinkle onto a fillet of steak.
Tami: Even I'm like, "What are you doing? What's your trick?" It's like there's a secret spot on his spoon that once the water gets to a certain level, he knows it's time for the next step. There are so many things he's taught himself over the years.
Matt: There are only a handful of other people doing this up and down the east and west coast. Some are solar evaporating in the states that allow solar evaporation to take place. Others do the fire method that we use. Each way is a little bit different, and you will end up with a diverse product as far as crystal shape, size, and texture. It's fascinating how there are so many variations. It's like meatloaf; everyone's got their recipe, there's not just one.
On their customers and success…
Tami: Our favorite part is the farmer's market and connecting with our customers. We've built relationships over the past four years, and they keep coming back and staying salty with us. We get to find out what they're creating at home, from their cocktails to their baked goods.
Matt: The markets are fun because you interact with many people, and they ask many questions. People don't know where their salt comes from. It's always fun to see how other people utilize our salt.
We also sell to restaurants, and some of the chefs we work with use it on their dishes or specialties. We collaborate with someone who makes crackers and salted butter. One of the local restaurants here was using our salt for the rim of their margaritas. Next week, I deliver 10 pounds of our salt to a brewery. They're making a beer with our salt. It's fun to taste and test out the finished products.
It's a lot of work, but we love the times where we can kick back and say, "Wow, we made this," and it makes whatever we're having delicious. A chef at one of the local wineries here goes through seven pounds of our salt every other week. He makes pretzels, which he calls the Newport Sea Salt Pretzel, to go with freshly brewed beer. Once or twice a year, we'll sample the pretzels and have a beer. It's satisfying to know we made the salt and we get to enjoy it in a nice restaurant.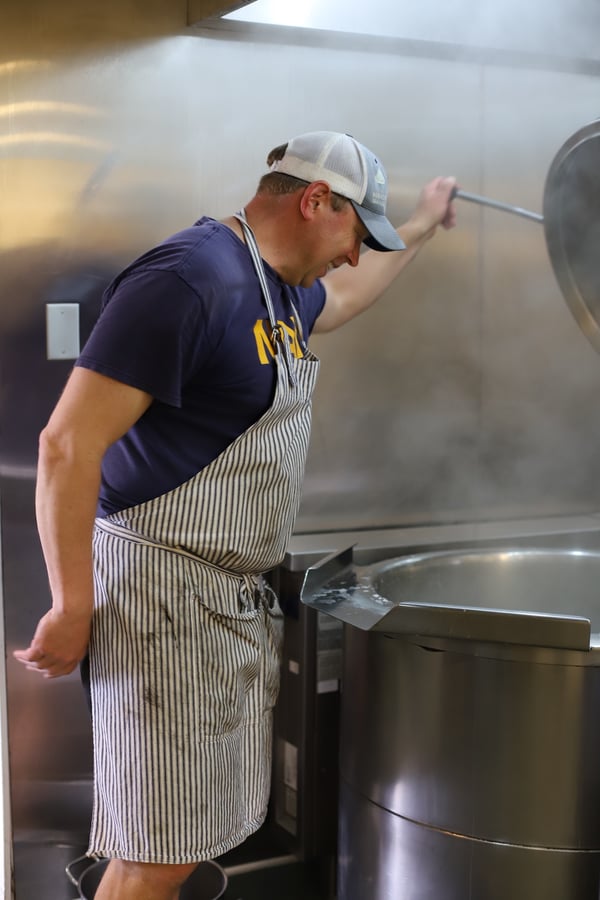 On their plans to expand…
Matt: The pandemic put us in an awkward place. When the restaurants and farmer's markets shut down, we pivoted and hit the "GO" button on our online shop. So, when the people we had established a following with over a couple of years couldn't find us at the farmer's markets, they could see us online.
Tami: We're getting a lot of event inquiries for weddings and party favors. It's nice to see things are coming back.
Matt: We're working on a garlic-roasted salt. Another one we're thinking about is called "Herbs de Provence." Because we're so small, there's only so much salt to go around. We have to navigate it carefully.
Tami: I would always bring chocolate chip cookies to the farmer's market. Over the years, our customers have written, verbalized, or thrown money at me to take the plate away, just to say I should be selling them. With COVID, I didn't abandon the plan, but I had to put it to the side, but we got approval from the Department of Health to start making and selling the cookies. We're calling it "The Baker and Sea Salt Maker Chocolate Chip Cookies."
On the importance of salt…
Matt: A lot of people take it for granted and don't realize what sea salt is. I like to use the analogy of salt being like oysters or wine, whereas depending on where you source your water from, salt isn't going to taste the same, look the same, or have the same texture. An oyster from one side of the bay will taste different from the oyster on the other side of the bay, or wine from the grapes at one side of the mountain tastes different on the other side of the hill. The environmental factors, the minerals on the shoreline, play into its taste, texture, and color. You've heard of pink Himalayan or the gray, Celtic sea salts, black Hawaiian salts, and it's all the minerals and stuff from the location.
Everyone has concerns regarding where their food comes from, and salt is the most basic foundation for any dish. It's an overlooked product, and yet, whether it's a sweet or savory dish, there's always salt.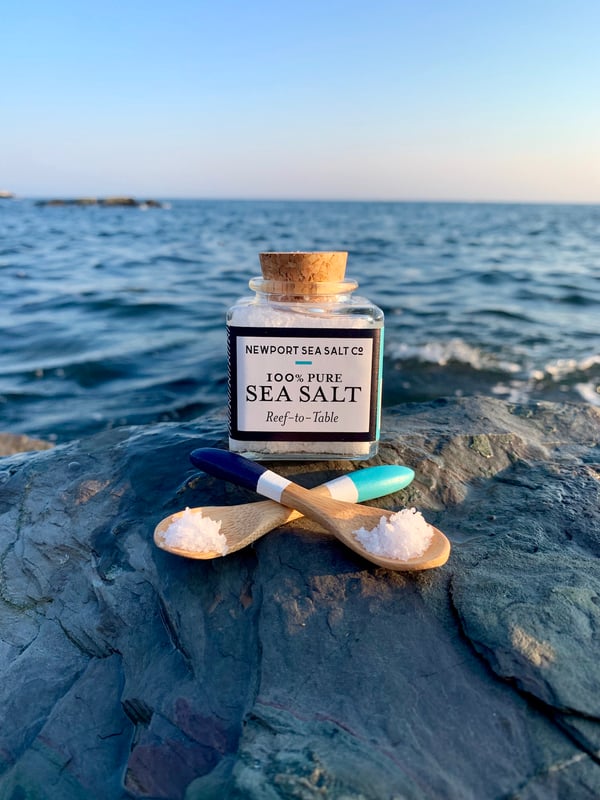 Photography provided by Newport Sea Salt Co.
Want to see more of the Newport Sea Salt Co.? Visit their website and follow @newportseasalt on Instagram and Facebook, and @newportseasaltco on Pinterest.
Quotes have been edited for clarity. Stay up to date with our first mates series and more on our blog and join the conversation on Facebook, Twitter, and Instagram.