The truth is, unsurprisingly, it depends. The pros and cons of your options will vary depending on your location, the type of boating you do, and how often you plan on getting out on the water. We've put together the key factors to consider when deciding how and where to store your boat.
Dry Stack Vs. Wet Slip: Definitions
Dry stack: Your boat will be stored out of the water on vertical stacked racks, outdoors or indoors. Cranes and lifts transport the vessels from the water to the rack, and vice versa. This form of storage only accommodates power boats.
Wet slip: Your boat will be stored in the water for the entirety of the season, in either uncovered or covered slips. This form of storage accommodates sailboats as well as power boats.
Indoor vs. Outdoor Storage
One of the main factors that will influence your decision when settling on a storage type is convenience. Consider your boating habits and ask yourself these questions:
Is 24-hour access to your vessel important to you?
Dry stack storage relies on the operating hours of the marina, so plan your early morning fishing trips or late night cruises accordingly. Wet slips permit the convenience of hopping aboard and untying your lines at any time, including during a marina's off-hours when it's closed.
If your vessel stays on a mooring, then you'll likely rely on a launch service that operates within the marina's daily schedule. Perhaps owning a dinghy is a feasible option and you have a spot on the dock to keep it, which would allow access to your boat regardless if it's tied to a mooring or not.
Do you regularly hook-up to shore power?
Wet slips often supply electrical pedestals to keep your batteries charged. So that's going to be a key decision factor for you.
How spontaneous are you in planning trips?
Dry stack storage requires you to call the marina in advance so they can raise your boat off the rack with a marina bull (named after the two "horns" that lift the boat) and launched in the water.
Depending on the facility, you may only need a lead time of thirty minutes, others might be longer. When you arrive, your boat should be waiting in the water for you.
When you're finished, most facilities will rinse the hull, flush the engine with fresh water and, if applicable, reattach the cover before stowing away again.
Pro Tip: Some dry stack facilities use apps that boaters can directly request specific times for their boat to be launched. Make sure to ask your marina if they use an app like this to maximize your time.
Depending on your boat's size, where you live in relation to a boat launch, and if you have a vehicle with towing capabilities, keeping your boat on a trailer in your backyard/garage might be the sort of accessibility that fits your fancy when you're feeling spontaneous.
What size is your boat?
Although some dry stack facilities accommodate larger vessels, this method of storing is most common for power boats under 50 feet. Like we mentioned above, if you're able and your boat isn't too large to be pulled on a trailer, keeping it in the yard when she's not in use might be a simple solution that keeps you from relying on a marina.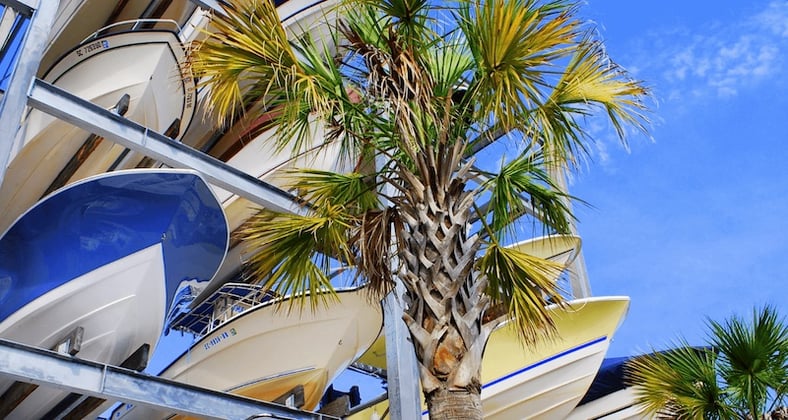 How Do Indoor and Outdoor Storage Affect Wear and Tear on Your Boat?
Regardless of how many times you power-wash your hull or polish the hardware, over time your boat is bound to encounter some wear and tear due to the elements. This is especially true for those boaters who are confronted with hurricanes, salt water exposure, and for boats that stay in the water for most of the year. In part, this is why dry stacked boats are more common the further south you go. Here's the scoop on how storage has a huge impact:
Dry stack storage keeps your boat walled and out of the water, cutting down the speed of deterioration due to exposure to the elements of wind and salt water.

For Northern boaters, heated dry stack facility will protect your boat from the elements of cold.

Vessels stored by dry stack are less likely to need bottom paint — the hull is washed with fresh water every time it is used, so seaweed and barnacles don't have a chance to adhere and grow.

Wet slips, even if they are covered slips, are still vulnerable to barnacles growing on the hull, as well as sun, salt, and wind exposure that over time might cause damage to your boat.

Moorings provide the least amount of protection to your vessel, but boaters in the Northeast often use them because of the short season.

Although not always a concern, it's worth mentioning that dry stacked boats are more secure from theft — not only because they are stored in a gated, sometimes entirely indoor facilities, but due to their height on the rack, access to them significantly decreases.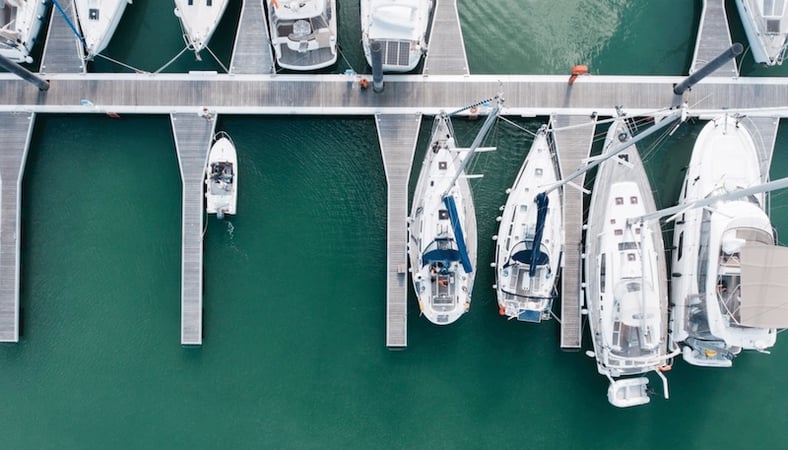 The Price of Indoor vs. Outdoor Storage
In general, the financial difference between wet slip, dry stack, and mooring storage is comparable. Keep in mind that this will vary based on location, size of your vessel, and individual marina policies.
Most often, boaters pay for their wet slips/moorings on a monthly or seasonal basis. The length of your vessel will most likely be the biggest driver of cost increases.
Stowing your boat in the yard or garage on a trailer will be your cheapest option, but isn't necessarily the most convenient. The value of your time might outweigh the financial cost of keeping your boat at a marina.
Marinas charge on a seasonal, monthly, or yearly basis for dry stacked vessels. Sometimes, facilities price out a lower base rate to store on racks — but each time they splash your boat you'll be charged, making this form of storage comparable to wet slips.
Arguably, the money you'll save on maintenance and upkeep will even out the price of a wet slip.
When it comes down to it, no one way of storage is necessarily better than the other. It's entirely dependent on your boating habits, needs, size of your vessel, and what's offered in your area. But asking the right questions can help you narrow down your search.
Ready to search for long-term storage options? You can start your search with your parameters defined by clicking the button below and using the filters to zero in on your needs.
Note: This post was originally published in 2019 and is updated regularly to stay current. The most recent update was July 2021.