At aflote, the world's first knowledge-sharing resource for boaters, we love the waterways of the Sunshine State. So today, we're sharing our favorite Caribbean anchorage destinations. To make it super convenient, we've ordered them by accessibility.
Bimini Islands, Bahamas
Fifty miles from Florida's eastern coast, you'll find Ernest Hemingway's favorite seaside hideaway. With waters teeming with prized Blue Marlin, Bimini exists in a world of its own.
If you depart from Fort Lauderdale or Miami, Bimini is the first landfall and an easy first day. Depending on weather conditions, the trip should take about six hours at eight knots.
Provisioning
Resorts World Marina is an excellent choice if you need a stop on dry land. They can accommodate vessels up to 100 ft. and offer plenty of shops and restaurants within walking distance.
Where to Drop Your Hook
Resort World also has anchorages within a hurricane hole, a protected area far inland that can avoid surges and winds.
Check out North Cat Cay - South if you want something off the beaten track. It offers decent weather protection, but you should check the conditions before departure. Unfortunately, there are no hotels or shops nearby.
Grand Bahama
Nestled among miles of powder-white sands, nature preserves, and emerald-green seas, Grand Bahama Island is located just 55 miles east of Florida. If you depart from West Palm Beach or point north, Grand Bahama is your first landfall in about 9 1/2 hours at eight knots.
Provisioning
Flamingo Bay Marina at Taino Beach offers standard marina facilities such as groceries, showers, bait, and tackle, you also have access to Taino Beach Resort. Check the Concierge Desk for an updated schedule for a listing of weekly activities. In addition, you'll find resort information in the walkway between the Ocean and Coral buildings.
Where to Drop Your Hook
Various cultural experiences and natural wonders make Grand Bahama Island ideal for kayaking, dolphin watching, eco-adventures, jeep safaris, scuba diving, and bike tours.
Abaco Islands
The Abaco Islands are a group of islands and barrier cays in the northern Bahamas, east of southern Florida. Dive sites include Pelican Cays Land and Sea Park with its underwater caves and colorful coral reefs.
Turtles, eagle rays, and sharks populate Walker's Cay National Park in the far northwest. As the boating capital of the Bahamas, numerous marinas line the coast, offering boats access to the Sea of Abaco's shallow, navigable waters.
Those who prefer to explore by land will find charming colonial towns, championship golf courses, and countless hotels, restaurants, and bars.
Marsh Harbor
Fondly known as the hub of the Abaco chain of islands, Marsh Harbor provides a whole host of services to sailors besides mooring and anchorage.
Provisioning
You can look forward to many yachting facilities here, including boatyards, marinas, restaurants, provisioning, and fuel services.
HarbourView Marina is the first marina on the right-hand side when you enter the harbor by boat. The marina has everything you need for a comfortable stay and dockage for small and large recreation vessels.
Where to Drop Your Hook
The approach to the anchorage is broad and easy, located on the south of the channel. The bottom is mostly sand and mud, providing a good hold. Sailors can anchor pretty much anywhere except the channel itself.
Berry Islands
This cluster of cays totals no more than twelve square miles of landmass. Often referred to as the Fish Bowl of the Bahamas, two things are required in The Berry Islands: a boat and a love of water.
Bordered by the Tongue of the Ocean, a deep underwater trench that draws in all sorts of marine life, these waters are some of the most bountiful in The Bahamas.
Great Harbor Cay
This protected bay has every option, including anchorage, a marina, and customs and provisioning. It is also a safe place to ride out storms.
Harbour Island, The Bahamas
Harbour Island is a popular tourist destination home to the famous Pink Sand Beach, a must-see for sailors. The harbor is protected and offers great dive sites, snorkeling, swimming, and easy access to shopping and dining.
Provisioning
On shore, you'll find some of the best provisionings in the region for US-sourced meats and wines. In addition, local fishermen provide a steady supply of fish at reasonable prices.
Golf cart rentals are the transportation of choice, making exploration of the island fun and relaxing. The people are friendly, and the island is easy to navigate.
Where to Drop Your Hook
Bottom Harbour is a 100 percent protected anchorage far enough from Dunmor Town to be quiet but only a 10-minute dinghy ride to shops and restaurants.
Governor's Harbour
Governor's Harbour, the capital of Eleuthera and home to government offices, is the largest town on the island and one of the prettiest. Victorian-era houses built on Buccaneer Hill line the streets, overlooking the harbor, bordering south by a narrow peninsula and Cupid's Cay at the tip.
Provisioning
Just down the coast at Governor's Harbour is the French Leave Resort & Marina. The fixed mega yacht slip can accommodate two yachts up to 160 feet.
Where to Drop Your Hook
In addition, the Marriott Autograph French Leave Resort Hotel offers the 1648 Restaurant and Bar open for breakfast, lunch, and dinner seven days a week.
Check our app to view anchorage occupancy, or better yet, click on a user within the anchorage you are visiting to get more information directly from a source about the harbor. You might even make a new friend for sunset happy hour!
Remember, the most convenient and efficient way to book a marina dock slip or mooring is through Dockwa.com! See you on the water.
Shannon Law, Founder, @afloteapp #afloteapp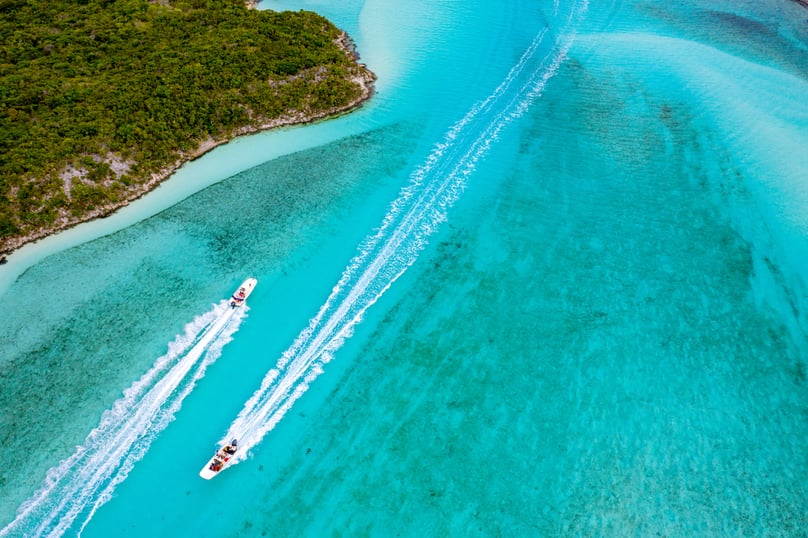 Aflote is a practical resource and social club for watercraft. Discover new harbors, knowledge share, and meet like-minded paddleboarders, kayakers, PWC owners, powerboaters, and sailors through our interactive map. Download the app on your iOS or Android device today.
Be sure to check out our other blog posts to get an inside look at our favorite destinations, marinas, and tips for first-time boaters. Join the conversation on Flipboard, Facebook, Twitter, and Instagram.