The next time you set course for South Beach, we encourage you to go beyond the dock. In this article, you'll find our top choices for marinas, restaurants, and entertainment. With well over a thousand attractions for the luxe traveler to the easygoing visitor and the occasional thrill-seeker in between, we thought we might help you narrow it down.
Marinas
At Dockwa, we host about ten marinas in Miami and its surrounding areas. Here are a few of our favorites located near the heart of the city and South Beach.
Sunset Harbour Yacht Club is within walking distance to major attractions, including Lincoln Road, the Miami Beach Convention Center, the Jackie Gleason Theatre, and Ocean Drive. Plus, SHYC offers a unique equity club membership program where owners and shareholders share prime waterfront real estate. There could not be a better place to enjoy your yacht.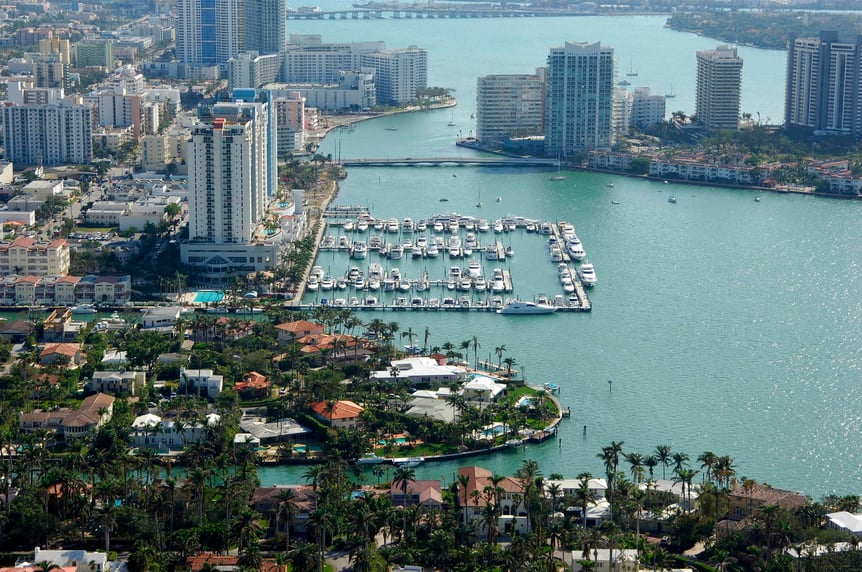 This marina acts as a beacon to pleasure crafts of all sizes and shapes. So, tie up for a day or overnight and climb aboard for high-style fun with Fontainebleau's distinctive restaurants and neon nightlife, or just relax with friends around the Bowtie pool when you rent a pool chair or luxurious cabana.
Vice City Marina is in the heart of Downtown Miami, just two blocks from Brickell City Center. The Marina boasts the best location in Miami, with numerous hotels and restaurants within walking distance.
Restaurants
In addition to the vibrant cultures, stunning views, and overall spirited energy of Miami, it's known as a foodie paradise. Here you'll find some of the best restaurants and fine dining experiences in the world. If you're anything like me, you're not traveling anywhere without a list of restaurants to try. I've listed my preferred picks for your consideration below.
Serena is an open-air rooftop restaurant and bar that channels the enchanting rooftop and patio restaurants of Oaxaca and Mexico City. Located on a vibrant, lushly planted terrace at Moxy South Beach, Serena has a laid-back yet sophisticated vibe that's like none other in Miami.
Go For: Brunch

Menu Highlights: Tres Leches French Toast, Crepas De Cajeta, Short Rib Hash
If you read my weekend guide to Newport, you're already familiar with my love of French toast after a night of deviance. They soak thick-cut pieces of toast in tres leches, which gave its insides a sweet, custardy texture that melts in your mouth. It's topped with fresh strawberries, whipped cream, and maple syrup. I was almost in tears.
You'll find the Crepas De Cajeta on the dessert menu. Though it may seem bizarre to order a dessert for breakfast, all doubt will disperse the minute you take a bite of these roasted banana crepes with a tangy, goat's milk dulce de leche sauce. The Short Rib Hash, however, is a heartier choice if you're not craving something sweet and are leaning more towards a lunch vibe. It's succulent chunks of slow-braised short ribs tossed with caramelized onions, peppers, and tomatoes topped with two eggs and a drizzle of smokey barbecue sauce.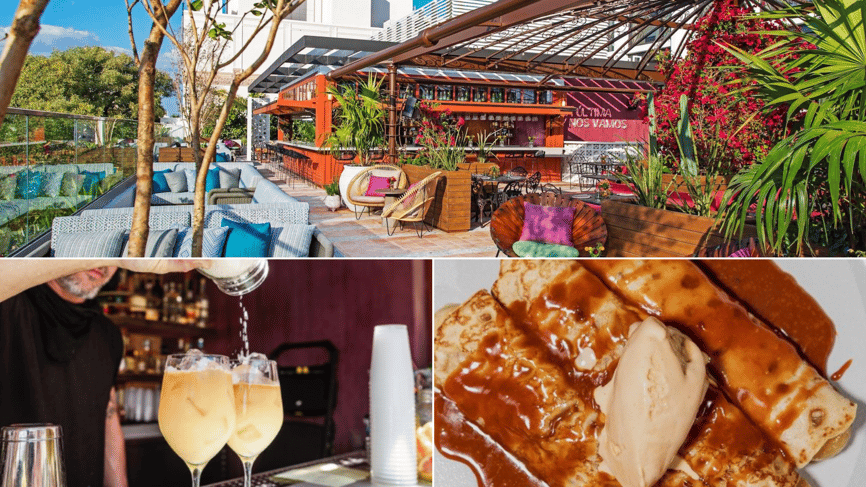 The stunning atmosphere of Gianni's at the former Versace Mansion rivals the best locales in the world to dine. In the history-steeped dining room or under the stars poolside, Gianni's offers a beautiful, unique, lavish experience. In addition, Gianni's offers a delicious blend of Italian-Mediterranean food and wine selections, served in a one-of-a-kind historic setting.
Go For: Lunch

Menu Highlights: Octopus Carpaccio, Spinach & Ricotta Ravioli, Lobster Spaghetti
Lunch at Gianni's is a luxurious experience at a great price point. For $29 (excluding supplementary charges for certain dishes), you get your choice of an appetizer, entree, and dessert. I'd recommend you start with the octopus carpaccio. The thinly sliced octopus with cherry tomatoes, potatoes, and a bracing lemon vinaigrette make it a simple, refreshing way to begin your meal. Then, for your main course, go with the Spinach & Ricotta Ravioli or Lobster Spaghetti. Both filling dishes are made with fresh, house-made pasta.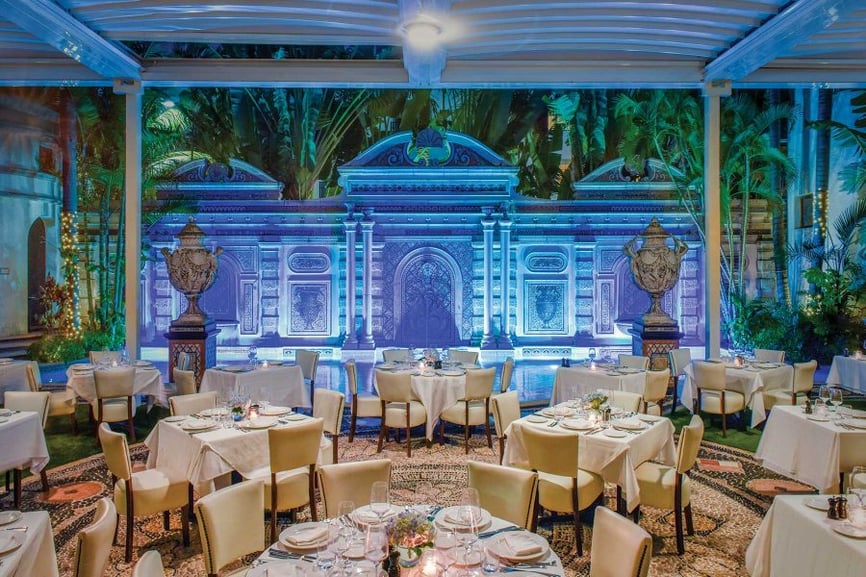 Nikki Beach Miami Beach has established itself as a quintessential South Beach landmark since its inception in 1998. Jetsetters, celebrities, and Miami locals flock to Nikki Beach to soak up the sun on luxurious day beds while enjoying an extensive lunch menu and creative cocktails whose dishes are representative of all the countries Nikki Beach is located in the world.
Go For: Lunch or Drinks

Menu Highlights: Miami Cuban Sandwich, Nikki Beach's Tartufi, World Famous Nikki Beach Mojito, Caipirinha
Combined with live music and a laid-back atmosphere, there is something for everyone's preferred taste and flavor. Nikki Beach does not mislead when they say their menu and cocktails represent the countries of the world.
Depending on what you're in the mood for, the Miami Cuban Sandwich or Nikki Beach's Tartufi pizza are excellent picks. Think juicy, roasted pork, baked ham, briny pickles, and Swiss cheese with a zesty mustard sauce. You're in Miami. Why not the Cuban? The tartufi pizza is earthy, rich, and nutty with white truffle oil, ricotta, mozzarella cheese, mushrooms, and Kalamata olives for a salty tang.
For your beverage option, you can't go wrong with a mojito, especially while lounging out on a day bed or cabana. You can select from a classic, strawberry, mango, or coconut flavor. Caipirinhas are Brazil's national cocktail. The mixture is sugar, lime, and cachaça, a type of Brazilian rum made from fermented sugarcane juice.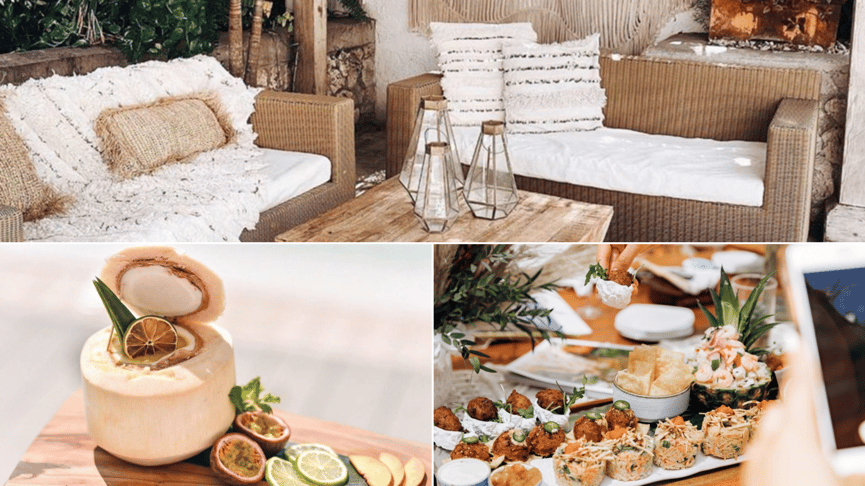 Featuring the acclaimed cuisine of chef Gastón Acurio, La Mar offers diners the chance to explore Peruvian gastronomy's authentic and diverse flavors. With an atmospheric setting overlooking Biscayne Bay and the Miami skyline, the restaurant's contemporary design provides the perfect backdrop for La Mar's signature ceviches, freshly grilled anticuchos, and specialty cocktails.
Go For: Dinner

Menu Highlights: Lomo Saltado, Arroz con Mariscos, Pisco Sour
La Mar is the first and last restaurant you should visit if you've never tried Peruvian cuisine. Peru's Lomo Saltado is a beef stir-fry with red onions, tomatoes, soy sauce, and cilantro, which nods to the country's long history of Chifa cuisine, Asian-influenced dishes. Traditionally in Peru, they serve the meal over French fries. Instead, La Mar serves it over thick-cut, seasoned potato wedges with white rice and choclo, Peruvian corn.
Arroz con Mariscos is one part stir-fry, one part seafood paella, and all parts delicious. It's loaded with shrimp, octopus, and calamari with a spicy yet fruity, ají amarillo chili pepper sauce and criolla, a cooling salsa. To round out your meal, try the Pisco Sour. It's a sour, creamy Peruvian cocktail with a frothy foam.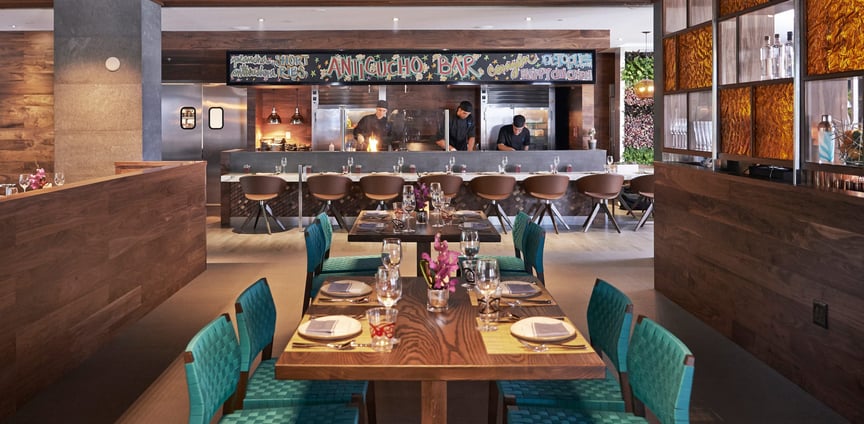 Located in the epicenter of Miami's booming Brickell neighborhood, Komodo is a three-story indoor/outdoor eatery and lounge that combines contemporary Southeast Asian cuisine with a South Florida vibe to elevate the dining and nightlife experience.
Go For: Dinner or Drinks

Menu Highlights: Wagyu Beef Dumplings, Korean Fried Chicken, Peking Duck
Komodo's menu borders on tapas-style dining, so you should consider ordering a few different plates for your table to share. I began my meal with the Wagyu Beef Dumplings, which they coated in a bright, citrus ponzu sauce. Wagyu beef is the most tender, fatty, umami-rich cut of steak you'll ever eat, which is why it usually comes with a lofty price tag. If I ever find myself back at Komodo, I'll have to swing for the 12oz skirt steak because the dumplings were indeed sinful. I followed that up with the crunchy, tongue-tingling Korean Fried Chicken.
When you first walk into Komodo, you'll see the chefs through a glass window preparing the Peking Duck. It's their specialty. I promise that's all you'll be thinking about by the time you reach your seat. You get a whole duck, so it'll easily feed a table of four. Its skin was crispy and crackly while the meat was falling off the bone. It was without a doubt the best meal I had in Miami.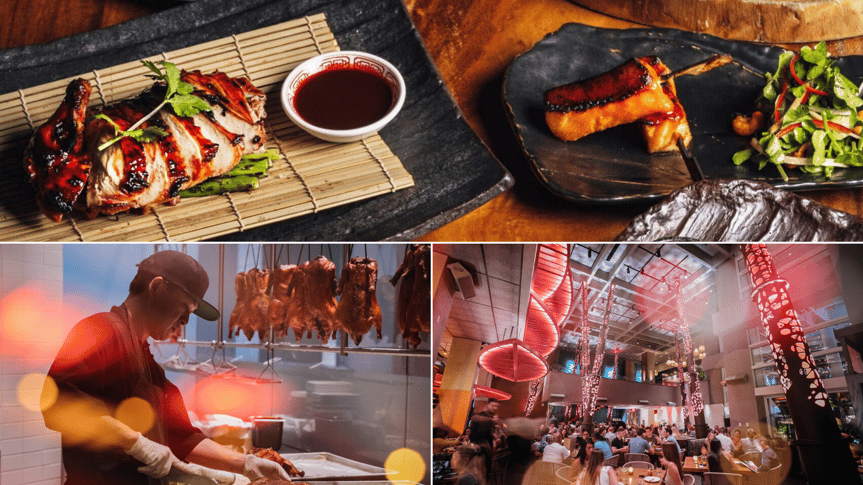 Exploring
Whether you plan to lounge on the beach, immerse yourself in the arts, or rediscover the city after dark, Miami offers a lively affair like no other.
When you visit Miami Beach, Ocean Drive is unavoidable as it's arguably Miami's most iconic street. On one side, you'll find miles of white sand beaches, while the other hosts an array of cafes, bars, restaurants, shops, art deco buildings, boutique hotels, and more.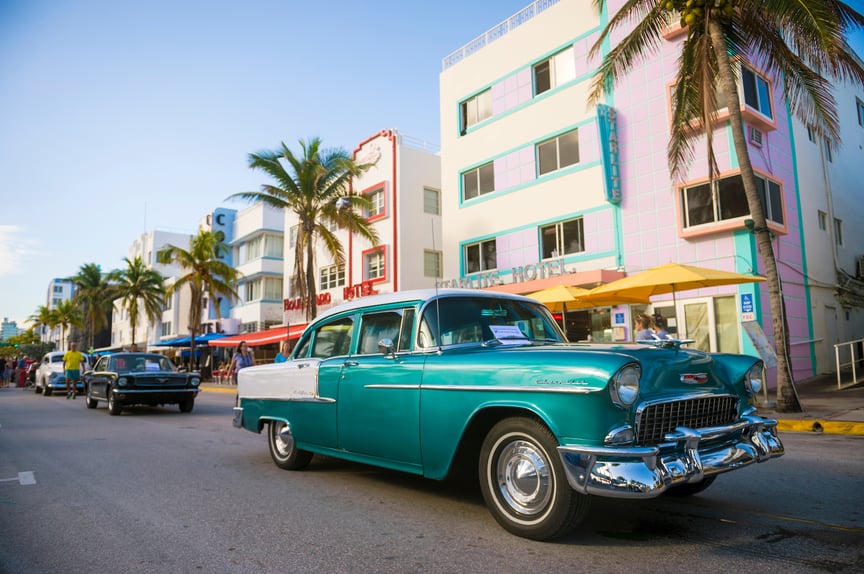 If you're trying to escape the heat, Artchouse is the nation's first innovative art destination dedicated to the intersection of art, science, and technology. From engaging art spaces to an extended reality (XR) mobile app, Artchouse is where curiosity-seekers of all ages experience creative innovation without limits.
Pro Tip: This first-of-its-kind art space features immersive, interactive exhibits.
This sustainable urban oasis is in the middle of the glitz and neon of South Beach. Welcoming visitors from around the corner to around the world, it serves the community as "Miami Beach's Backyard."
Española Way was built to serve as an artists' colony, modeled after romantic Mediterranean villages in France and Spain. Quintessentially bohemian right down to peach-colored paint, the enclave is a cultural gem.
Pro Tip: Española Way is a pedestrian-only street. Be sure to bring proper walking shoes when your dining, shopping, and exploring the road.

It's almost redundant to add a single club to our list, but the Basement provides a unique experience for just about everyone. It's is a cutting-edge "micro-club" and 21st-century homage to Ian Schrager's legendary Studio 54. Here you'll find not only a nightclub but a bowling alley and ice-skating rink all fitted with world-class sound systems, dramatic lighting, and special effects projection.
Stay up to date with our blog and join the conversation on Facebook, Twitter, and Instagram.