This year's boat names honored language, love, family, and tradition. They paid homage to your furry first mates, appeased the gods, helped you ditch work, boasted about your successes, and were downright naughty. Thank you to everyone who submitted! Below you'll find our winners circle and more detail on the stories behind the names further down.
The Winner's Circle
The winners in each category will receive $25 in free dockage, and our grand prize winner, the best of the bunch, won the YETI Panga Backpack 28.
Pawtoon: "One of our loves in life is taking our dogs out on the lake. We never go out without at least one of our pack members, so we named our boat 'Pawtoon.'" –Brigitte B., Fort Worth TX
Charlie's Angel: Charlie's Angel is a 2005 Carver 360 Sport Sedan. We bought her in 2018 and are the third owners. We wanted the name to reflect us personally, so my wife and I decided "Charlie's Angel" was the perfect name for our boat because my name is Charlie, and she is our Angel. –Charlie P. Hixson, TX
Fore Sail: "I have a propensity for selling things, so when I asked my wife Ava what we should name our new Hunter 40.5 Legend, she responded, 'You might as well just name it FOR SALE because you'll sell it within six months.' So I did, 'Fore Sail.'" –Steve M., Fort Worth, TX
Es por Ti: "Being adopted from Guatemala and of Mayan descent, I searched for a name that aligned with my heritage. While visiting Mexico in April, my girlfriend took me to a cafe called 'Es por Ti,' which means because of you. It applies to so many people in my life for whom I am grateful." –Daniel J., Plainfield, VT
TINK: "With its 300 HP Verado engine, our BW Vantage flies just like Tinkerbelle, hence the name TINK. You can almost see a trail of pixie dust in the following wake." –John B., Southold, NY
Severance: "My wife was laid off when we were looking at boats. We decided this was the best use of her severance package. The name started as a joke, but we liked it." –John S., West Islip, NY
Fishizzle: "The boat is a sport fisher. We bought it in Long Beach as 'The Other Woman.' That didn't fly with my wife, a big Snoop Dogg fan. So…" –Shane H., Los Angeles, CA
Nice Aft: "I named the boat after my wife. She smiles when I explain the name to the curious. It has a 50HP outboard on the stern, which is ample for a sailboat." –Raphael K., Philadelphia, PA
Last Call: "I inherited Last Call from my father, who passed away in December. The name fits well. My dad had her out for his 'last call' this past fall, and my brother and I spent our careers in the bar industry. One more call for Last Call!" –Mark D., Comstock Park, MI
Sea Cup: We had two plastic surgeons who specialize in breast augmentations submit entries this year! One quipped, "All my patients ask for a 'C cup!'" –Jordan T., Manhattan, NY | Abraham M., Tampa, FL
Tenacity: "We wanted to adopt a child; however, going through DCF in Massachusetts was not easy; therefore, we turned to an agency in Ukraine. As a result, we adopted our son just before the pandemic began, and now his sister, after escaping the war in Ukraine, is also with us. We had to go through many hurdles, and it took tenacity!" –James C., Marblehead, MA
Escapist: Our boat was named after a character in a book by Michael Chabon' 'The Amazing Adventures of Cavalier and Clay.' The definition of 'escapist' is seeking distraction and relief from unpleasant realities. So it's perfect for a boat! –Murray P., Chicago, IL
The grand prize winner receiving a new YETI Panga Backpack 28 came down to two names, Tenacity and Fore Sail... After much deliberation, hair pulling, and some tears, we landed on the winner… Congratulations to the best boat name of them all...
Fore Sail!
Scroll on to see our runner-ups in each category and the stories behind their names!
Furry First Mates
This category is open to your furry (or feathered) first mates! Dog, cats, birds, horses; you name it. The winner of this category who will receive $25 in Dockwa Dollars is "Pawtoon!"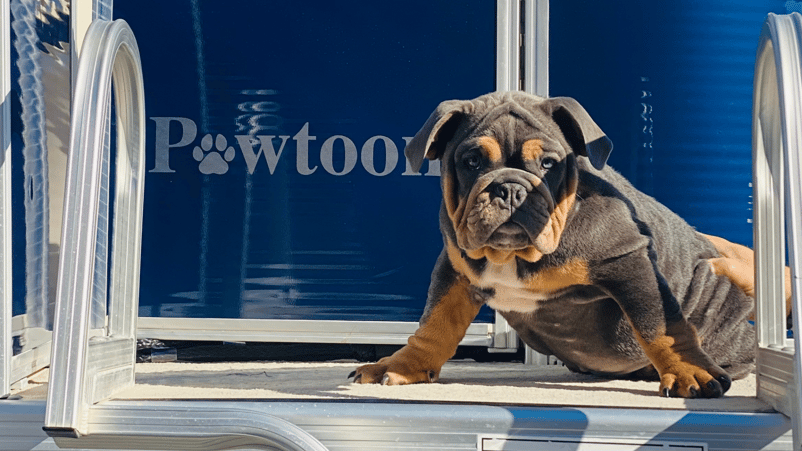 Lazydog: "We were going to name the boat Crazydog after our mini Schnauzer, but after renting paddle boards at a shop in Key West, FL called Lazydog Adventures, we changed the boat name to capitalize on the available logo wear at the paddle board shop." –Bob M., Marshfield, MA
Sea Biscuit: "We were tossing ideas around to find a meaningful and fun simple name. One morning my wife told me the name search was over! She smiled and said, "Sea Biscuit." Our beloved 14.5-year-old Golden Retriever was named Biscuit. We love remembering him with each radio call." –Brian G., Orlando, FL
Stay Golden: "We have two golden retrievers, so we named our boat 'Stay Golden.'" Marc L., Brookline, MA
Soggy Dog: "We had been mulling names for almost a year. We boat with a golden retriever who can't stay out of the water! So when we saw this graphic, it just all came together!" –Anne M., Port Clinton, OH
RINKERBELLE: "My middle name is Isabelle, and my husband calls me Lindabelle. Our dogs are Daisybelle and GracieBelle, and our cats are Lucybelle, Sadiebelle, and Belly Button. Our Rinker boat, of course, had to be Rinkerbelle!" –Linda S., Prescott, AZ
Dog on IT: "We have a beautiful Great Dane named LeeLoo, and she is the dog on it. But the'"IT" is capitalized because the Cap and First Mate are IT geeks." –Michelle B., Atlanta, GA
Lucky Bandit: "Our boat was named after two of our dogs. First, Bandit was a black lab, and Luckie was a puggle, and now we have Sadie, a buggle, bulldog, and beagle mix." –Bill F., West Islip, NY
Noah Genda: "We purchased the boat with this name, intending to change it. However, our best dog ever was named Noah, and we felt it was a sign that he was still very much in our hearts. He was a fantastic boat dog!" –Sarah W., Washington, DC
The Love Boat
Traditionally, naming a boat after the remarkable woman in your life was the norm. In modern times, of course, this translates into naming your boat after a sweetheart of any gender. This year's winner is "Charlie's Angel."

SeaChelle:
"
Traditionally boats and ships were named after Gods and Goddesses. SeaChelle is named after my Goddess Michelle. She is the love of my life and so it's only fitting that our dream vessel is named after her. Since it's a boat 'Mi-Chelle' became 'Sea' Chelle!"

–

Jason M.,

Pasadena, MD
Up Before Dawn: "My wife's name is Dawn and she is not a morning person!" –Chad A., USA
Moesy Along: "My wife's nickname is Moe, which is short for Maureen. Hence, 'Moesy Along.'" –Kevin W., Charlotte, NC
King George V: "When the boat was purchased I offered to name it Marc Ark. My beautiful wife, who did not change her name when we married, objected. She said that it needed to reflect both of us. We are in Maryland, an original colony. So, since my last name is King and hers is George so we settled on King George V." –Marc K., Middle River, MD
Oh Hush' II: "After 25 years of boating with my Southern Belle; I've heard OH HUSH more times than I can count. This was her way of responding (lovingly I might add) to me when I "occasionally " pointed out her coastal accent or how she could handle the boat better." –Bryan T., Beaufort, SC
Auntie Mame: "53 years ago I brought my date to see the play "Auntie Mame." We've now been married for 51 years, so it's only fitting that my second love is named Auntie Mame." –Paul M., Franklin, MA
Yes, Dear: "When we first bought our boat and docked at a marina my wife couldn't get on and off because we were off the dock a little too far. Every time I got back on the dock, she'd ask me for something else, so I answered her every time 'yes, dear' and that's what we named her!" –Richard A., Coram, NY
NanSea's House: "My wife's full name is Nancy C. House. What better name for our Cruiser Yacht than a version of my wife's name? So, we named our boat NanSea's House!" –Ernie H., Punta Gorda, FL
Miss Shell: "Michele is my honey, hence the name 'Miss Shell'." –Ron A., Hoboken, NJ
Nic-Nac: "Named the boat after my wife's nickname." –Alex N., Delray Beach, FL
Very Punny
The boating world is full of puns, which you'll find across all our categories. This category ensures that clever turns of phrase or spellings can share the spotlight even if they aren't about jobs, your pets, and lovers. Our grand prize winner is "Fore Sail!"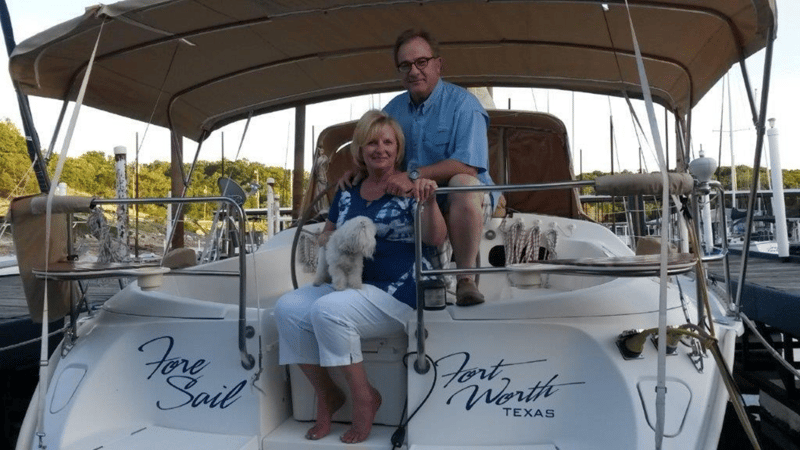 Perridise: "When we purchased our 342 Rinker we tossed around several names. As we drove through our marina I couldn't resist merging our last name with the idea of boating being our own little paradise. And that's how "Perridise" was born." –Donna P., Holbrook, NY
Infinity & Seayond: "Our two boys love Toy Story and Buzz Light Year. Our boat's name is a play on Buzz's catchphrase, 'to infinity and beyond.' We have our own version' 'to infinity and seayond.' We say this almost every time we leave port." –Barry C., Bellmore, NY
Toolbox: "We have spent the last seven years rebuilding, refitting, and re-everything our 1990 Catana 42 catamaran. When it was almost time to launch, my wonderful wife stated this boat is nothing but a big 'Toolbox.' She spoke — so be it!" –Ric S., Fort Lauderdale, FL
Botorhome: "When we first bought our boat, everyone we showed photos to would say, 'it looks like an RV or motorhome.' We came up with the name 'Botorhome' and copied the font from an old Winnebago logo." –Andrea C., Fitchburg, MA
Crewless: "I am a third-generation yacht captain and I've lived my entire life with yacht crews. When I purchased my own boat, I would go out solo. I love having a crew, but it's nice to be alone on the water." –Robert L., Hawthorne, FL
Reel Blessed: "After going over hundreds of names we were sitting at the dinette table of our newly purchased boat and my wife tearfully said, 'we are really blessed.' And it stuck. Hence the name, 'Reel Blessed.'" –Stephan C., Mount Gilead, OH
The Other Woman: "My wife named it! She said that I spent all my time and money on it so it might as well be 'the other woman.' I also have a 34' Baja Cat named, 'The Little Bimbo.'" –Jon S., Lake Zurich, IL
Hardy Bouy III: "Our last name is Hardy and we have two sons. Our boat name is a take-off on the TV show 'Hardy Boys.' All of our boats have been named 'Hardy Bouy,' so our current boat is 'Hardy Bouy III.'" –Daniel H., Whitehall, MI
Tail Gator: "Florida Lobsters are also called 'Tails.' We are a house full of University of Florida Gators who love to hunt for lobsters every year in the Keys. Our boat name and logo came after a long day of catching lobsters showing a Florida gator chomping down on a Florida lobster." –Steve H., Satellite Beach, FL
Reel Tanked: "I love to fish and my wife is a scuba diver, so we do both!" –Mark P., Asheboro, NC
One-N-Done: "My wife named our boat. We think of it as if or when something happens on our boat it will be one and done. No 2nd chances! Subsequently, our dinghy was named Two-N-Thru." –Scott S., Jacksonville, FL
Knot Crazy: "When I went looking for a new boat I wanted to get a sport fishing boat. When I showed my buddy the boat I was looking at he said' 'you're crazy!' That became the mantra. Every time I talked to him he called me crazy. So I kept saying, 'I'm not crazy.' So it stuck." –Jeremy L., New York, NY
The World Traveler
Sometimes, it takes one word in a foreign language to sum up all you hope to get out of boat ownership. Our winner is "Es por Ti!"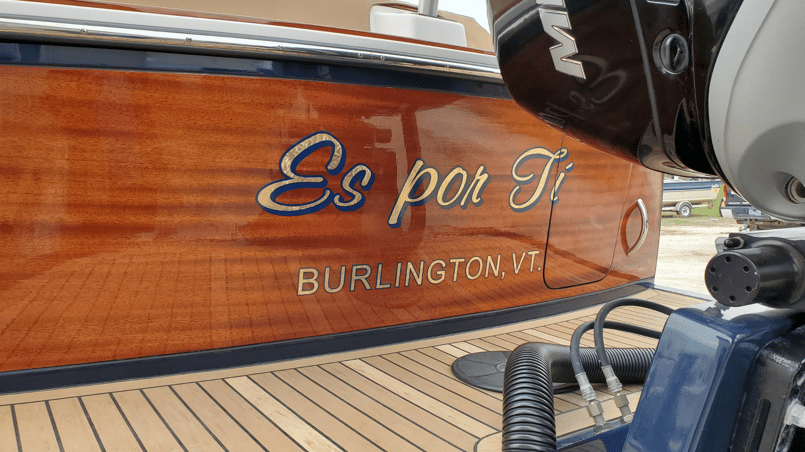 Soirée: "With a nod to its French pedigree and hailing port named after Louis the XVI the name resonated on many levels, not the least of which is: there's no better place for a good Soirée than on the water!" –Martin K., Los Angeles, CA
Sowwanin: "Sowwanin means Wind of Good Fortune in Wampanoag, from the local Massachusetts indigenous tribe." –Andrew S., St. Petersburg, FL
Andiamo II: "Andiamo is 'let's go' in Italian. My father-in-law is Italian and had a boat named Andiamo. He always said, 'Let's go,' when we were boating. Later on, we got a boat and named it Andiamo in his memory, and then last year we bought a second boat, so we named it Andiamo II." –Rick P., Winter Garden, FL
SUYANISQATSI: "SUYANISQATSI (su-ya-nis-qat-si) is from the Hopi language and translates to life in balance living a utopian lifestyle." –Peter M., Athens, GA
Kehlani: "The name means' 'Sea Heaven' in Polynesian and is common in the islands. We first heard the name in Mexico while swimming with a dolphin who now shares the name with our boat." –John S., Philadelphia, PA
Havsdag: "We are travel advisors in the cruise industry and our favorite time on a cruise is the sea day. Since my wife's heritage is Swedish and our Albin Trawler was designed in Sweden we chose Havsdag, which means sea day in Swedish." –Patrick C., Spring Hill, FL
Tot Ziens: "My mother is Dutch and when we say goodbye she replies "Tot Ziens" which translates to 'see you later.' So to honor her we named our boat 'Tot Ziens.'" –Mike S., Kensington, MD
Grata: "My wife and I have always wanted to build a new boat and after years of planning we finally had the opportunity to do so. We are so thankful not only for our boat but for our businesses, friends, and family. The name' 'grata' means thankful in Italian and signifies the feeling in our hearts." –Jay H., Grand Rapids, MI
Euphori: "I am a Norwegian American who loves being on the ocean. Euphori is the Norwegian word for euphoria. I named my boat Euphori because the definition of euphoria is a combination of happiness and excitement and that is exactly what we feel every time we take her out on the ocean. Happy and excited!" –Scott L., Concord, CA
Uisce Beatha: "Uische Beatha is Irish for 'Water of Life' and is pronounced "ishkay baha." Nothing like how it looks. It also translates into 'whiskey' as the Irish monks who invented it called it uisce beatha. The name's a good way to meet people on the docks because they ask how to pronounce it and about what it means. Some people even google it and then come to say hi." –Guy H., Milton, VT
S/V Metanoia: "Metanoia is Greek for a change in worldview, a fundamental reorientation, and changes in latitude and attitude." –Roger L., Abingdon, VA
Fun Sway: "We named our sailboat 'Fun Sway' because it sounds like''Feng Shui'' which is Chinese for wind-water. The goals of Feng Shui are to harness energy in harmony with the environment, just like a sailboat." –Rich and Sue T., Hicksville, NY
Sea Esta: "For us, boating is about unwinding and relaxing. Our boat's name is a play on words. The 'SEA' and a hammock connecting 'ESTA' equals relaxing and stress-free days." –Chris S., Centereach, NY
Gods, Goddesses, Spirits, and Legends
Whether you're looking to the stars, the ancients, or your Sunday service to inspire your boat name, the benefit to naming a boat in this category is that being on the water with it will surely revive your spirit on grey days. Welcome to the Winner's Circle, "TINK."

Mana Kai: "My husband and I became friends through work. One year we discovered that both of our families were vacationing at the same resort in Maui, the Mana Kai (which means power or spirit of the ocean) and we got to know each other's families. When our spouses passed away we named the boat Mana Kai."–Darlene G., Ashburn, VA
Money Matters
These boat names got us laughing, from rolling the dice to rolling up your sleeves to spruce up your on-the-water money pit. Here's an extra $25 to go with your "Severance."

Milk Money: "I am the Engineering Manager at the largest dairy plant in Michigan. So the money to operate my boats comes from Milk. I was actually able to purchase the boat in 2007 with the money I won fishing on the pro Walleye circuit." –Tony T., Detroit, MI
Deficit Spending: "Spending money we don't have for the sheer enjoyment of boating!" –Doug V., Alpharetta, GA
Last Cent: "My grandparent's 1960 Chris Craft was also named Last Cent!" –Richard C., Westerly, RI
A Little Broker: "In 2014 we bought our SeaRay 400. On our maiden voyage back to our dock at Erwin Marine Chattanooga, Tennessee we ran aground and the insurance didn't cover 85% of the claim. Since I am also a broker and 5' 6" the name 'A Little Broker' was perfect." –Douglas L., Chattanooga, TN
Maximum Debt: "Our boat is a Maxum, and after stretching our budget to buy her, we named her Maximum Debt." –Sandra S., Cleveland, OH
Shallow Pockets: "Shallow pockets are about being semi cheap, but spending all our money on a boat. Boat= happiness." –Danielle S., Colchester, CT
Rockefeller: "During Covid, I was transferred to Boston from NYC. I kept my home in NJ and needed a place to live. As my wife always says to me you spend money like Rockefeller I went and bought a liveaboard boat!" –David S., New York, NY
The Musician
A pirate metal band covering the year's hottest sea shanty? Don't mind if we do! "Fishizzle" won for shizzle, my nizzle!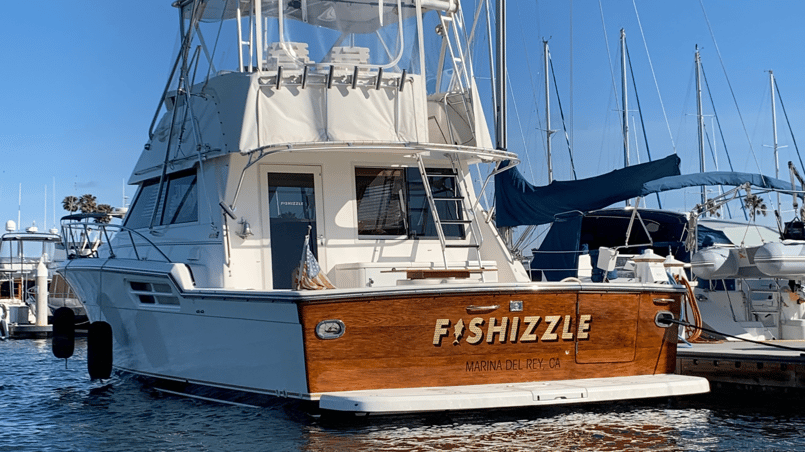 Empty Sky: "We were inspired by a Springsteen song that came out after 9/11 referencing the twin towers that no longer shaped the NYC skyline. We do a lot of offshore fishing so the name is appropriate when we're offshore enjoying the empty sky. It's also a tribute to those who went so tragically and the men and women in uniform that braved that day." –Brett D., Sebastian, FL
Good Company: "A friend wrote a song that inspired us to name our boat on its sentiment. "I could be hard or I could be weak I could be anything you need. Yes, I will always be good company. I could be off or I could be on I could be anything you want. Yes, I will always be. Yes, I will always be good company." –John W., Belfast, ME
Ripple: "This boat cuts water so smoothly that it barely leaves a ripple astern. All our boats have been named with Grateful Dead song titles." –Dave M., Derry, NH
Moor Time: "When we started dating in 1970' "Give me just a little more time" by The Chairmen of the Board was my favorite song. So we thought' 'Moor Time'' was a perfect boat name. It's nautical and now we have more time to do what we love to do, boating!" –Ron and Cathy B., Tampa, FL
Let Time Go Lightly: "She's named for a Harry Chapin song that reminds us to slow down and appreciate the people that really matter at the end of the day." –Bill S., Henrico, VA
Oh My God Becci: "She's named after a Sir Mix a Lot song and video from our childhood, 'Baby Got Back.' The video starts off by saying, 'Oh my God, Becky look at her butt.' In this case, it's Oh my God, Becci look at that boat." –Becci R., Lacey, WA
Satisfaction: "We are big Rolling Stones fans and we are very 'Satisfied' with our boat and our lives." –Cathy K., Roslindale, MA
Beam Reach State of Mind: "We wanted the name to reflect that the boat is our 'happy place.' A beam reach is generally the fastest and the most comfortable point of sail, so we combined it with the reference to the Billy Joel song. On the boat, we are in a 'Beam Reach State of Mind.'" –Graham B., Red Bank, NJ
Key of Sea: "We bought her nameless, and after a couple of weeks (and many libations) my wife was struck with the inspiration: mixing my amateur musicianship with our love of boating. And voila! Key of Sea." –John B., Alexandria, VA
Evermore: "I'm friends with Jimmy Page from Led Zeppelin and he named it after the song 'Battle of Evermore.'" –Bruce N., Miami, FL
Let's Get Nauti
These boat names are certified fresh… And self-explanatory. "Nice Aft" is taking home that $25.

Deez Knots: "When my children were around 8-12 years old, my wife and I would take them on trips to different beachfront resorts. They were instructed to never open the door to our room for anyone unless they knew the password to the room. Our password was 'Deez Nuts...' So we modified the boat name to Deez Knots." –Jason R., Tampa, FL
Weekend Hooker: "My dad and I could only fish on weekends. The boat won the best-named boat in America contest by Boating Magazine. I won a T-Shirt." –Rusty W., Hampton, VA
Nauti Mermaid: "My girlfriend Lora has an affinity for mermaids and has the shape of one. So naming the boat was obvious once I saw her board it!" –Bruce K., Glen Cove, NY
That Woman: "My ex-wife refers to my current wife as 'that woman' even though we meet a year after our split up. So I named my boat after my current wife to piss off my ex-wife, HAHA." –Sean L., Sandusky, OH
A Knotty Girl: "She's got a lot of knots and I believe all vessels are considered female?" –Joe A., Jacksonville, FL
Sea Duck Tif - B'Yatch'ch: "The name came from a joke in a bar to make people laugh and/or to meet new people. However, it was a bit...let's say adult at first. It couldn't go on the back of the boat so I edited it. This is the second rendition of the name." –Roger L., Tampa, FL
Nauti Nites: "We bought the boat to create a business entertaining people with evening cruises in the intercoastal around Ft Lauderdale. And who doesn't enjoy a Nauti Nite!" –Randall W., Dallas, TX
Dirty Oar: "Self explanatory." –John T., Brooklyn, NY
(It's about) Flukin Thyme: "My hubby and I have dreamed about having our own boat for years. Now that the kids are grown we have made it a reality! There's sarcasm in the name along with Fluke (his favorite fish) and Thyme (paying tribute to my 20+ yrs as a chef)." –Doreen G., Providence, RI
Ships & Giggles: "This is our first boat and this was the only name that three women would agree on. LOL" –Joe W., Absecon, NJ
Shep Happens: "My last name is Sheppard so I was tossing around names like 'Shep Ahoy' etc. with friends. I was at my neighbor's for some adult beverages, and as we were winding down, I tripped over some low landscaping edging and cut my head on the corner of the deck, and hence, Shep Happens was born!" –Chris S., Clover, SC
Meet Me at the Sandbar
Party on! Naming your boat after booze, bad ideas, or that time you blew up your budget is all fair game in this category. Pour yourself a glass for this one. This year's winner is "Last Call."

Martinis & Dreams: "My wife and I have been married for just seven years now and we are in our mid-60s. On our first date, my wife introduced me to apple martinis. Since that time we've spent many wonderful evenings drinking martinis and dreaming about the future. We always wanted to have a boat, and that dream came true one month ago!"–Ken and Bobbi H., Southport, NC
Nothing To Wine About: "My wife and I are huge wine lovers so this was a fitting name as we just retired and the first thing we did was buy our boat." –Bart S., Winter Garden, FL
Cask Strength: "Just like a good bourbon: strong and less water! Get it? No water on board!" –Ben S., Seattle, WA
Whiskey Business: "Captain likes to drink all kinds of whiskey and the wife likes Tom Cruise in Risky Business." –Evan K., Easton, PA
Sotally Tober: "We like to drink. So it was appropriate." –Fausto B., Tampa, FL
Champagne For No Reason: "When I first bought my boat I would bring a bottle of champagne out on each trip. When a friend asked about the champagne on the boat, I responded that there's no reason! I just enjoy every day on the water. Thus Champagne for No Reason was born." –Carl B., Chicago, IL
The Workaholic
This category is always fun and filled with new yearly occupations that boat owners have turned into fantastic on-the-water puns. Ironically, the winners of this category also came in a pair. Congratulations to "Sea Cup."

Mayor's Mistress: I'm the Mayor of a small town and our boat is my get away from all the political and local issues of the day." –Ron S., Dalton, GA
Knot Responsive: "I'm a flight paramedic and my wife is a nurse. Most of our patients are not responsive and we are usually not responsive to our cell phones while on the boat. We also like to drink wine until we are, 'Knot Responsive.' (At the dock of course.)" –Gil L., Nashua, NH
SeaQuestered: "There are times during a trial when the presiding judge may sequester a jury. As an attorney, I thought the name SeaQuestered would be appropriate for my boat." –Marc Z., New Rochelle, NY
M Sea: "I've owned a DJ entertainment company for 38 years. We do weddings and events. I am also one of the MCs." –Eddie M., Deer Park, NY
Long Recess: "My wife and I are both former educators. I was a special education teacher and then county superintendent. My wife was an elementary teacher and then an elementary principal. Our last name is Long and we are on a long recess doing the Loop." –Anthony L., Baltimore, MD
ByDesign: "ByDesign has a double meaning! Before I bought a boat I tried convincing my wife that we needed a boat. However, she would never agree and said, "if you buy a boat I get the house!" We got divorced then I bought the boat. It was "by design." It was also appropriate to my profession as I'm an architect!" –Steven S., Deerfield, IL
Screw It: "We own 4 hardware stores. I'm retired. This is a mixed homage to the stores and my new after-career life!" –Karen W., Bridgeport, CT
Reel-Tuh: "My wife is a realtor in Plymouth, Massachusetts." –Daniel S., Plymouth, MA
Time To Fly: "She's a 50' Flybridge Boat, and I am a pilot. So...Time to Fly sounded appropriate!" –Andrew Q., Stony Brook, NY
Decompressing: "I do spinal decompression therapy on patients with herniated discs and back pain. When I'm on my boat I'm doing my own form of therapy and decompressing myself." –Dr. Tim B., Caledonia, MI
Knot STAT: "I'm a physician who gets STAT exam orders all the time. STAT is used in emergencies and means that you need something immediately and cannot wait. On our boat, you can wait and take your time. Hence the name, 'Knot STAT.' It can also mean that you need a knot STAT!" –Steve T., Hendersonville, NC
Knot Sew E'sea: "We've had to overcome a lot of things in life to get ahead, and it hasn't been easy. When my husband's company forced him to retire at an early age he decided to start his own business, Marine Canvas and Upholstery. Hence, 'Knot Sew E'sea.'" –Cynthia R., Bellingham, MA
Blue Pig: "It's a blue boat, and it's kind of a pig. And most importantly, I work in law enforcement. Coincidentally I didn't name the boat, I unknowingly bought it from a fellow police officer." –Adam T., Willimantic, CT
Heartstrings
You may want to break out the tissue box for this category. These boat names are sure to tug at your heartstrings. $25 Dockwa Dollars goes to "Tenacity!"

La Dee Dah: "I have three brown-eyed girls in my life, my wife and two daughters. Our center console is named Brown Eyed Girls. When we bought another boat, the only natural name for a Van Morrison fan is of course - La Dee Dah!"–Axel E., Wilmington, NC
Waltzing on the Water: "I bought the boat from a friend whose father just passed and his name was 'Walt.' My mother's name was Mitzi, and she too had recently passed. The 'tzi' and the 'Walt' together was 'Waltzing,' something Mom use to do with my kids in the kitchen. Hence — Waltzing on the Water!" –Melissa A., Hyattsville, MD
Jenny Ray: "My parents adopted me as a baby. I feel like I've never done anything to honor them for their kindness in giving me a home. My mom is Jenny and my dad is Ray. The name Jenny Ray is my way of telling them they are important to me, even though they passed many years ago." –Julie M., Ogden, UT
Family Dance: "When my daughter was six years old we loved to dance as a family. We passed a rule that no matter what we were doing if someone declared 'Family Dance' we would all drop what we were doing and get up and dance. Hence, 'Family Dance.' –John D., Daufuskie Landing, SC
Our Someday: "During a battle with cancer, we knew that we needed to not keep saying, 'Someday we're going to travel extensively on our own boat.' Hence, this is 'Our Someday!' Cheers!" –Chrissie S., Charlotte, NC
Puzzled: "We got this boat for free and it had 350 gallons or more of water in it when we got it and also had moss and mold from head to toe. Most of the interior panels were rotted out and the engine was a brick. My wife, our autistic son, and I rehabbed this 1993 Dynasty Elan completely." –Brian D., Syracuse, NY
Ty Ty Tango: "We named our boat in honor of my wife's sister who passed away from a battle with breast cancer. Ty Ty Tango was the first restaurant that she worked in after graduating from cooking school." –Steve F., Sag Harbor, NY
Home Again: "I moved to LHC in 1972 with my parents. My future husband moved here in 1980 and we worked together at CAP until 1981. Once the project was complete, we were off to new projects. My Mom and Dad lived here until they passed. We visited every year. We are now retired here in LHC we named the boat 'HOME AGAIN.'" –Patti Y., Lake Havasu City, AZ
The Six Million Dollar Boat: "This 16' 1963 Dorsett was rebuilt and made ready to take my terminally I'll brother fishing in comfort and safety. His own boat project became a no-go. My hope is that when he finishes treatment it will make him stronger (to get to the dock faster then make him better (while he is on board)." –Rick B., Lake Havasu City, AZ
Tan'ya Leaves: "We named the boat for my late father who was a huge old movie buff. The 1940 movie 'The Mummy's Hand,' spoke of these leaves from a plant that was a part of the recipe that brought the mummy back to life. The boat and being on the water were my dad's 'Tan'ya Leaves,' his elixir of life!" –Matthew G., Farmington, MI
Papa Jake: "My granddaughter named it after my husband who passed away in 2014 from pancreatic cancer." –Elaine J., Boston, MA
Miscellaneous
This category is for the boat names we couldn't place but still deserved a spotlight. Our winner is "Escapist."
Simon Sez: "Our last name is Simon and the philosophy in our family is, Simon says: boat, fish, and live life. So of course we needed to name our boat appropriately." –Tara S., Buzzards Bay, MA
Goldilocks: "I recently purchased her under a different name. I have previously owned a Catalina 42 mkII. It was too big for single handed daysailing. I sold her and bought a 14 foot dinghy sailboat. Too small. This new (to me) Catalina 22 Is just the right size. Hence—Goldilocks." –Kevin W., Cross Hill, SC
The WaterBoy: "Captain Bob Boucher could not think of a better name for his boat." –Bob B., Auburn, ME
Just Chil'"Len": "My name is Len, so Just Chil "Len" –Len B., New Orleans, LA
GoLightly: "Golightly is a 12-foot fiberglass Conpass Rainboe. Which is a replica of a wooden beetlecat. She has no motor and only a single sail. She is named after Holly Golightly from Breakfast at Tiffany's. She is owned and sailed by my 7-year-old daughter Scarlett." –Hollis M., Vineyard Haven, MA
Dakota Drifter: "This boat was a salvage/restoration operation. It had a cracked transom and needed major repairs. I completely restored it inside and out. It cruised the Prince William Sound for many years providing a wonderful craft for fishing, glacier cruises, and sightseeing. I'm a North Dakota native, hence the name." –Alan O., Grand Forks, ND
Assisted Living: "We sold our previous boat and decided to downsize. We thought this would be our last boat and were looking for a name that would reflect being our final boat. Hence came the name 'Assisted Living.' We have had a lot of laughs and fun watching people's expressions as they read the name." –Thomas J., Delray Beach, FL
Honey-Luv: "The name was taken by my husband from the movie, "A Weekend in New York." As the story goes, Jack Lemmon is in New York with his wife for business, and every time something goes terribly wrong he would calm her down by starting his sentence off with, "but Honey Luv." –Francie C., Boston, MA.
Congratulations to this year's winners and honorable mentions! Thank you for making our 7th annual Best Boat Names competition the finest yet.
Check out our other blog posts to get an inside look at our favorite destinations, marinas, liveaboards, and tips for boaters. Then, join the conversation on Flipboard, Facebook, Twitter, and Instagram.
The most convenient and efficient way to book a marina dock slip or mooring is through Dockwa.com. We're here to help you have a seamless experience.