Embarking on the journey that is life at sea can be a freeing and exhilarating experience, from the ability to travel freely to the gorgeous views of the open ocean. The liveaboard lifestyle is chock full of adventure! The liveaboard lifestyle can also be a great way to break free from on-land auto and home insurance expenses. However, it can be an expensive and labor-filled endeavor despite the tremendous benefits. Nevertheless, enjoying life aboard a boat can be an easy, simple switch with ample preparation and research. Below are 15 things to consider before living aboard!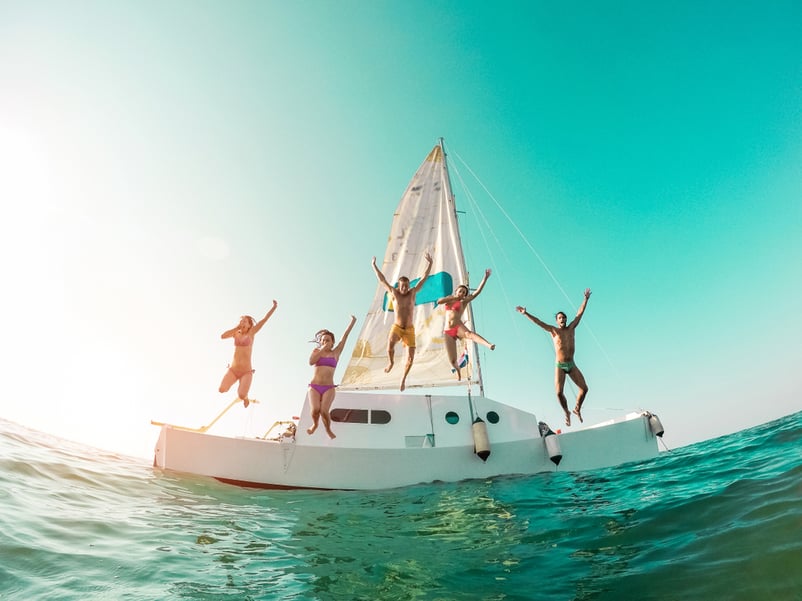 15 Things to Consider Before Living Aboard at a Marina
Liveaboard Slip Fees
In addition to the freedom and adventure that life aboard a boat provides, it can also be a great way to save money and dodge on-land housing expenses. Although you wouldn't be paying rent for a traditional housing unit, you would still need to be aware of the costs of either reserving a slip in a marina or docking at a mooring ball. When considering these costs, it's important to note that docking in a marina with a slip is more costly than simply docking at a mooring ball but offers more amenities and convenient shore access. Depending on the size of your boat and the amenities you are looking for, both docking options can save you money compared to rental and on-land housing expenses.
Boat Utilities
Paired with the cost of docking, which varies in price by location, you should prepare to pay for electricity, fuel, water, sewage, and other utilities that may arise. Whether you are looking to go green and use solar panels or traditional batteries, utilities for living in a marina can typically be around $100-300 per month.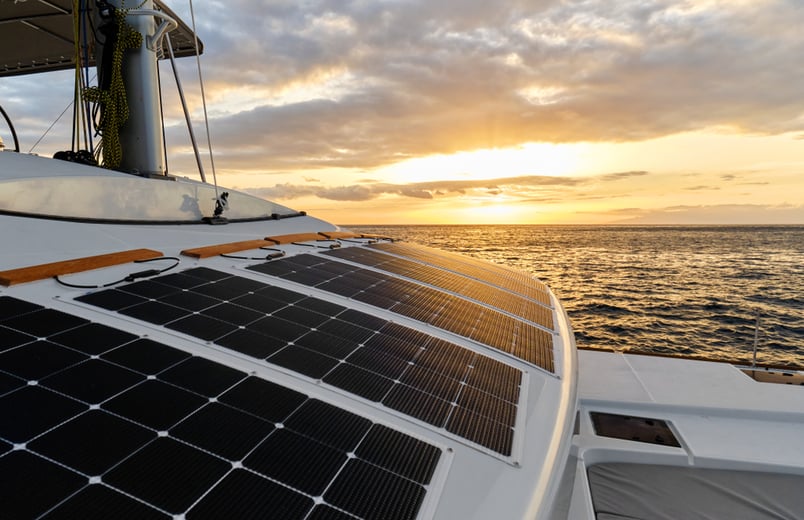 Liveaboard Insurance
Life can be unpredictable sometimes, and life aboard a boat is no different. From storm damage to accidents, liveaboard insurance can protect you from the costly repairs and liabilities that may occur in the event of an accident. When looking at liveaboard insurance, it is essential to consider where you are sailing, the size and condition of your boat, and your sailing experience level. Compared to car and homeowner insurance, liveaboard insurance can be cost-effective, and on average, sailors can spend around $800+ per year on insurance. However, insurance costs can vary from sailor to sailor, so it's important to research which may be right for you.
Boat Mortgage
Let's address the elephant in the room, the most prominent being: boats are expensive. Buying a boat will set you back thousands of dollars. However, like purchasing a home or a car, many people look to loans to supplement their money to buy a boat, paying monthly dues, known as a mortgage. However, unlike purchasing a home, purchasing a boat can be seen as a risky investment for lenders and can thus are challenging to get. Make sure you check out what loans your bank is prepared to offer. The amount of money for the loan you are looking for will depend on the type of boat you are looking to purchase.
Maintenance Expenses
Maintenance expenses add up when living aboard your boat when you factor in fuel costs or polishing and repainting the hull. Therefore, it's important to allocate money to maintain your craft and cover any surprise expenses if anything breaks or needs repairs. The best way to save money down the line is to keep up with your boat's maintenance. From changing the oil and filters in the engine to maintaining the health of your hull, you can save yourself extensive, costly repairs in the future by keeping your boat and wallet happy in the now. A good rule of thumb is to allocate 10% of the value of your boat towards maintenance and repairs.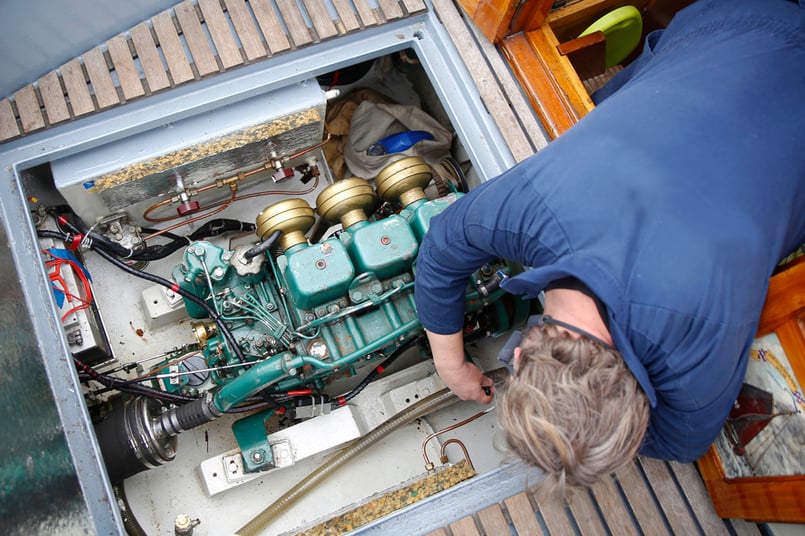 Interior Upkeep
Along with the maintenance costs of living aboard a boat, it is crucial to be aware of the costs associated with interior upkeep. Similar to owning a home, furnishing a boat can become quite pricey. Most vessels use vinyl upholstery, and although these can be pretty durable, they will need to be cleaned and reupholstered over time. Upholstery can usually cost anywhere from $40 to $50 per square yard. With the proper maintenance and cleaning, you can help your interior have a longer life and potentially save money down the road.
Boat Property Taxes
Although there isn't a federal tax on boat purchases, there are plenty of state and local taxes. So regardless of the type of boat you purchase, you should prepare to pay these three main taxes.
Sales Tax: Unless you're purchasing and registering a boat in Alaska, Delaware, Montana, New Hampshire, Oregon, or Rhode Island, then you are going to have to pay a sales tax when purchasing a new vessel, with each sales tax differing from state to state. (Even if you buy a boat in one of those five states, you would have to pay that sales tax upon registration in a new state!)
Use Tax: Unlike sales tax, which applies at the initial purchase, a use tax is typically imposed at the same rate as the sales tax but applied to boats that had not already accrued taxes.
Personal Property Tax: Regardless of the sales and use tax, boaters can expect to pay a personal property tax, just like they would for any other movable asset. However, to encourage boat ownership, some locations have eliminated the personal property tax.
Location - Is There a Waitlist?
Location, location, location! With the growing number of boaters in recent years, securing liveaboard marina space has become more challenging. Some of the most popular marinas even have multi-year waiting lists. However, liveaboard boaters have never had such easy access to marinas around the country as they do now. With Dockwa, boaters can connect with marinas and docks around the country at their fingertips, securing marina slips the modern way.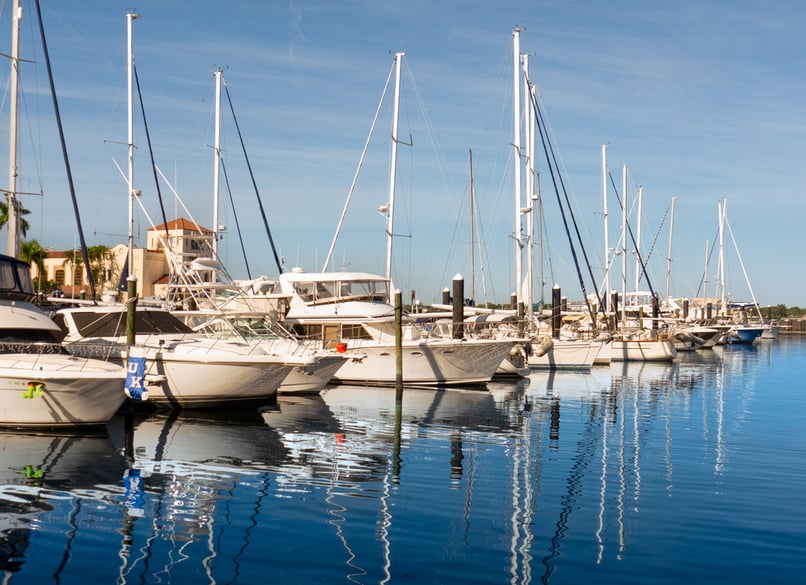 Personal Space
Personal space is not as abundant on a small boat when you're a liveaboard! Unless you're looking at larger luxury yachts, personal space is hard to come by, especially If you're living aboard with a partner. It may be a deal-breaker for some, but for others, it can bring them closer together. So if space is a concern for you, it might be best to look at larger boats rather than smaller ones to ensure you're comfortable along your liveaboard journey.
Comforts, Space, and Connectivity
When you liveaboard, it will take some time to adjust. The cramped quarters may be difficult to adjust to, but you may adapt and grow to love the lifestyle with time. However, comforts such as hot showers, laundry, wifi, and socialization are not readily available except when docking at a marina. When docked, you will have access to restrooms, hot showers, laundry facilities, wifi connections, and water hookups. For anyone living on a boat, the weather must be a consideration. Life aboard a vessel can be challenging during storms or inclement weather as you are more exposed to the elements. However, if you choose to stay in a marina, you will have better protection from the elements than if you were anchored or docked at a mooring ball.
Recommended Space:
25-35 ft. range if you're single
35-45 ft. for couples
40+ ft. for 2 or more people.
Safety and Security
Like any housing choice, safety should be a top priority. Ensure all your safety equipment is updated, including propane sniffers, CO2 detectors, fire extinguishers, and life jackets. You should have a life jacket for every individual aboard, and everyone should be familiar with using it! In addition, consider your safety at marinas, like walking back and forth from your craft. Living aboard a boat can be incredibly safe, and with the proper considerations, you can ensure the safety of your boat and yourself.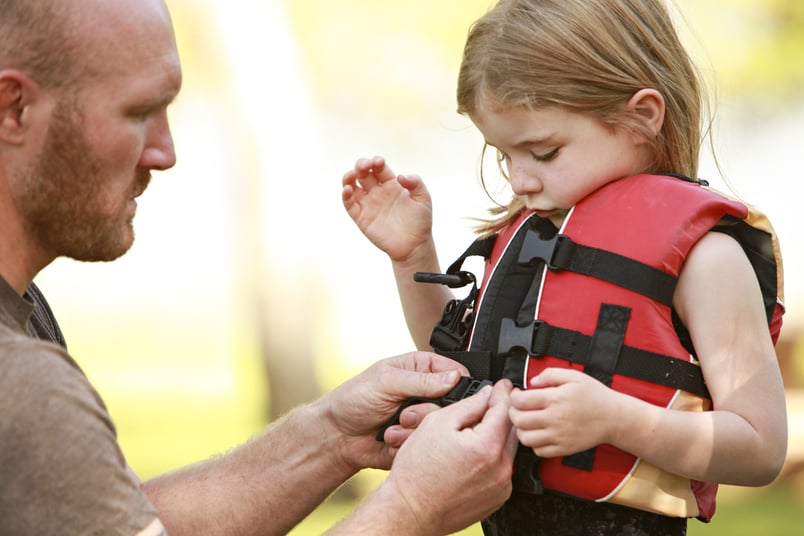 Location and Weather
Choosing your location is incredibly important. Do you prefer the ocean? Or would you rather be on the calm waters of a lake? These are considerations you must take when looking at where you are looking to live aboard your boat. Weather conditions and seasonal changes are significant deciding factors, and you may want to look for locations with more temperate year-round weather. The site will also impact the price of living, including taxes and everyday expenses. Here are some of the best liveaboard cities in the US:
Boating Skills
Before taking the leap, you should know the skills needed to maintain and use a boat. From boat maintenance to operation, you should be confident and capable of weathering different outcomes and accidents should they arise. If you are new to sailing and boating, we recommend that you take lessons before committing to living aboard your boat— as this will save you money and time in potential repairs and help keep you safe. As time goes on and you become more familiar with life on your boat, your boating skills will also increase, but starting with a solid foundation is vital before embarking on your journey.
Rules and Regulations
Living aboard comes with rules and regulations, just like any other living arrangement. Each state and locality has different laws regarding boating and liveaboard boats, so it is essential to familiarize yourself with them before moving onto your vessel. Check out your marina's rules when docked, especially regarding their liveaboards policies. Always observe quiet hours and be courteous to other boaters around you.
What Kinds of Boats Can You Live On?
Picking which boat you want to live on is a massive choice. With considerations of price, style, size, and use, there are many options when it comes to purchasing your boat. Below are a few types of boats more suited for the lifestyle.
Catamarans: Doubled hulled sailboats, known as catamarans, are excellent liveaboard vessels. They are larger than the typical sailboat, allowing for amenities such as a kitchen, a full-size fridge, and more living space. Unfortunately, the extra space comes with a hefty price tag, and these boats can be expensive to purchase and maintain. However, they come with the same advantages of fuelless sailing as a single hull sailboat!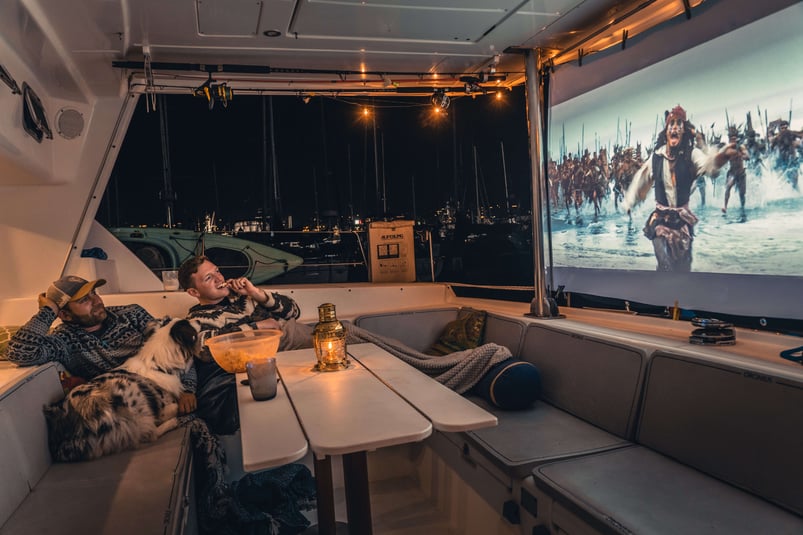 Sailboats: Sailboats are an excellent option for adventure seekers and those looking for an affordable liveaboard experience. These boats are much smaller than others and lack comfort amenities such as full-size fridges, showers, and hot water. However, what they lack in ready comforts, they make up for in flexibility for adventure! (Cut out the cost of fuel too!)
Tugboats and Trawlers: These boats are the most space-efficient and offer more living space for size. They can be seen as the penthouse of liveaboard boats and offer above-water living spaces.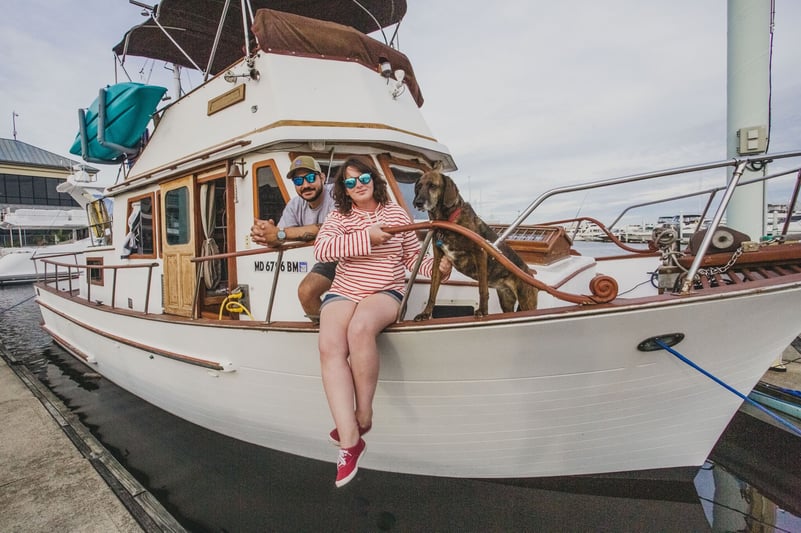 Houseboats: Commonly seen on lakes and rivers, Houseboats can compare these boats to RVs. Usually equipped with a full-size refrigerator and kitchen, these boats are the peak of comfort but will cost more due to their size. These boats are also not as flexible for adventures as others.
Floating Homes: These are permanently moored homes similar to on-land homes in cost and maintenance.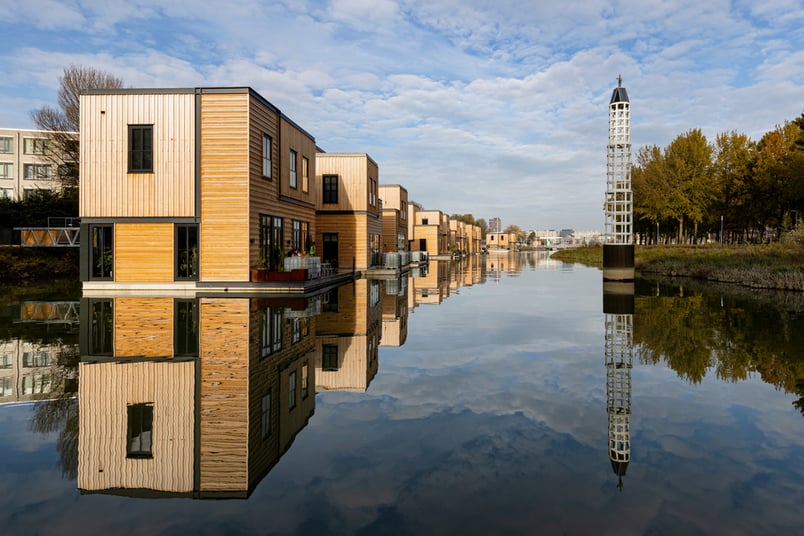 Benefits of Living on a Boat
Liveaboards can be an incredible adventure that allows you to explore new places and meet new people. Living aboard a boat can be an incredibly freeing and fulfilling experience, from the cost of a practical lifestyle to the consistent ability to adventure. The beauty of the ocean and life on the water are definite wins!
Challenges of Living on a Boat
Living aboard a boat is no easy task, from the cramped living spaces to the potential of costs. In addition, it can be challenging to adjust to living on the water and not having ready access to comfort amenities such as hot water and laundry facilities.
Find a Liveaboard Marina Near You
Although it is not an easy step to take, with careful planning and consideration for the requirements of this lifestyle, you can grow to love and enjoy the liveaboard experience. Luckily, with Dockwa, finding spaces around the country to pursue your dreams of a life on the water is now easier than ever!
Be sure to check out our other blog posts to get an inside look at our favorite destinations, marinas, liveaboards, and tips for boaters. Join the conversation on Flipboard, Facebook, Twitter, and Instagram.