Liveaboard: "Never for Granted's" Guide to Babies Aboard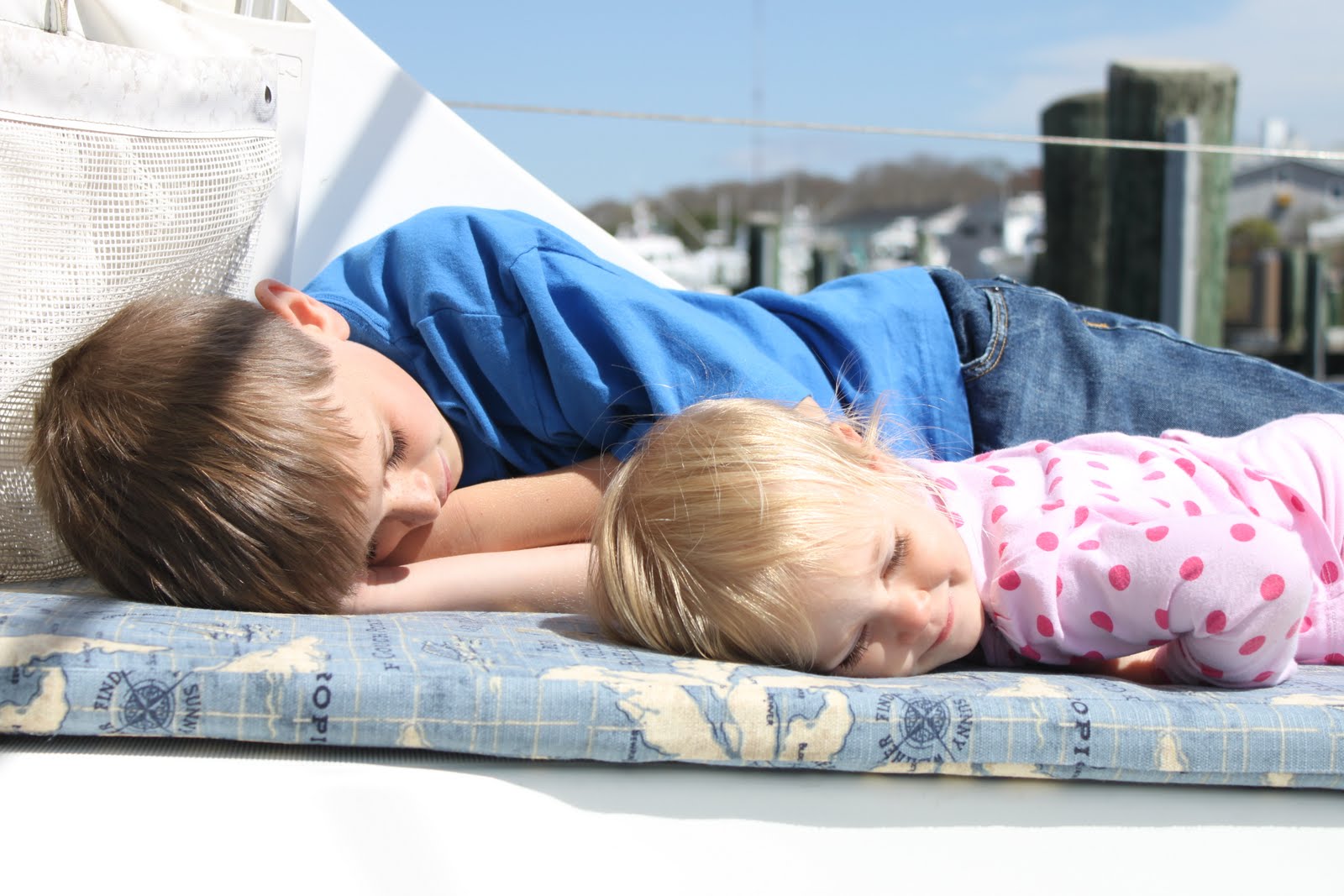 "Forgive yourself for not knowing what you didn't know before you learned it." – Maya Angelou
Admit it. When you first heard the term "liveaboard," a compilation of tropical destinations, nonstop adventure, and fun played in your mind. Your life was suddenly a workless, never-ending vacation complete with unlimited supplies of giant unicorn water floats, that summer reading list you never did get around to, and fruity cocktails with twirling straws. By now, we've seen that although the liveaboard lifestyle can be thrilling and rewarding, it is not without the stress of repairs, maintenance, downsizing, financing, commitment, etc. Now, add a couple of children under the age of ten to the mix, and these stressors could increase tenfold.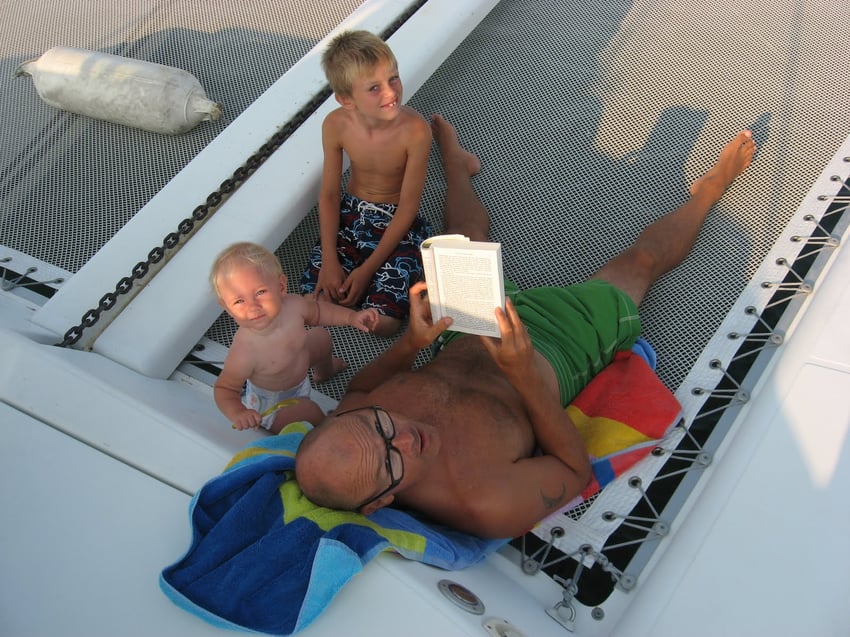 In May 2010, the Brown family, Danielle, Chris, ten-year-old Deason, and barely one Dahlia left their home in Falmouth, Massachusetts, for Fort Lauderdale, Florida. They became the proud owners of "Never for Granted," a Lagoon 410 catamaran. Chris had just retired as a firefighter after getting injured on the job. He grew up sailing, and it had been a lifelong dream of his to sail around the world, which proved to be easier said than done.
"With Deason being in the second grade and Dahlia being so young and portable, in our minds, we thought it was as good of a time as any. However, we soon realized once we bought the boat, it wasn't going to be feasible," Danielle explained. "Especially once I became pregnant with our third."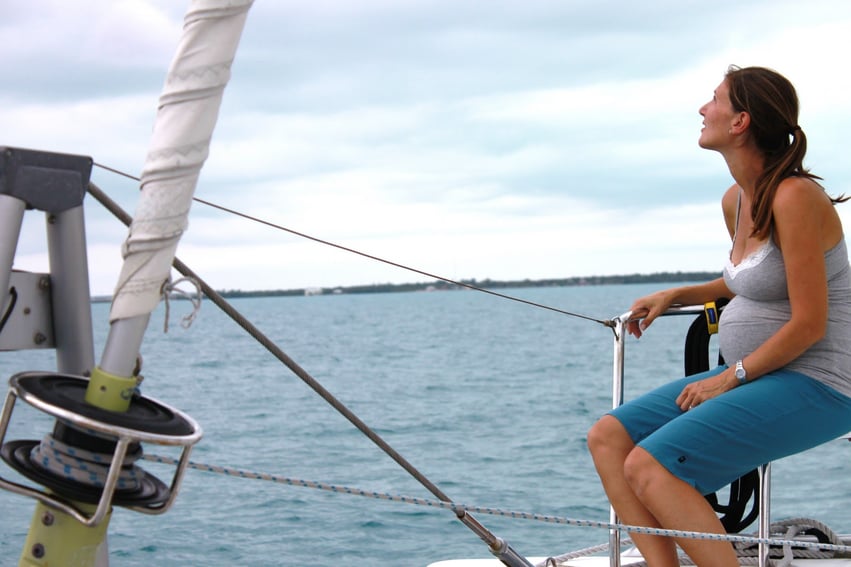 Although the Browns sold the boat in January 2012, Danielle is thankful for all the knowledge and confidence the experience provided to their lives.
"It's impossible to regret because that whole situation gave me so much confidence in myself as a woman and mother," Danielle said. "By stepping outside my box and doing something this extreme, I learned so much about myself. I now know I can do anything."
This week, we spoke with Danielle to hear more about her family's experience and the ins and outs of babies aboard your liveaboard!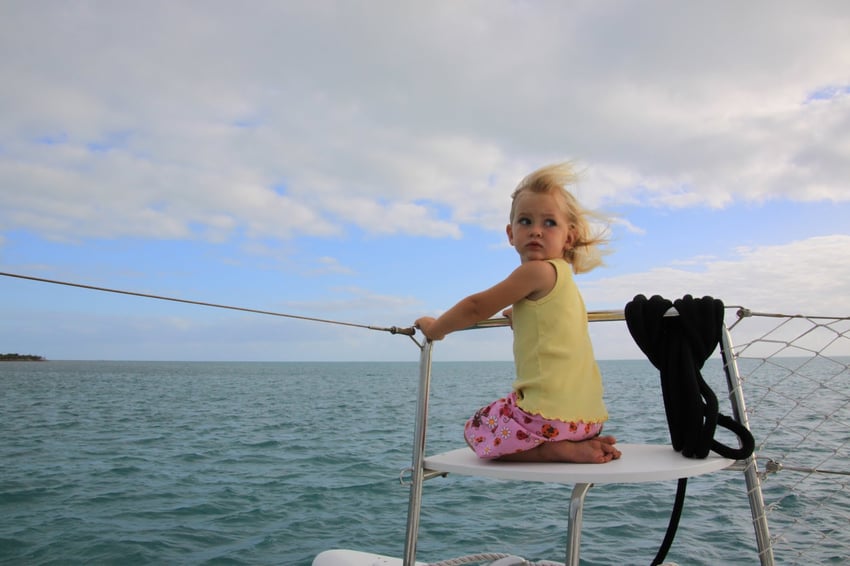 How their boat, "Never for Granted," got its name
My husband and I got married in Las Vegas 21 years ago. Our minister's only advice was to never take the other for granted. We didn't give it much thought as newlyweds, but we realized that it happens over the years, though it's not intentional. It's essential to take a step back and tell your husband or wife how much you appreciate them and everything they do for you, especially as your lives get busy. After my husband's injury, that became even more clear. It's easy to focus on the negative, but it's important to remember not to take all the great things for granted.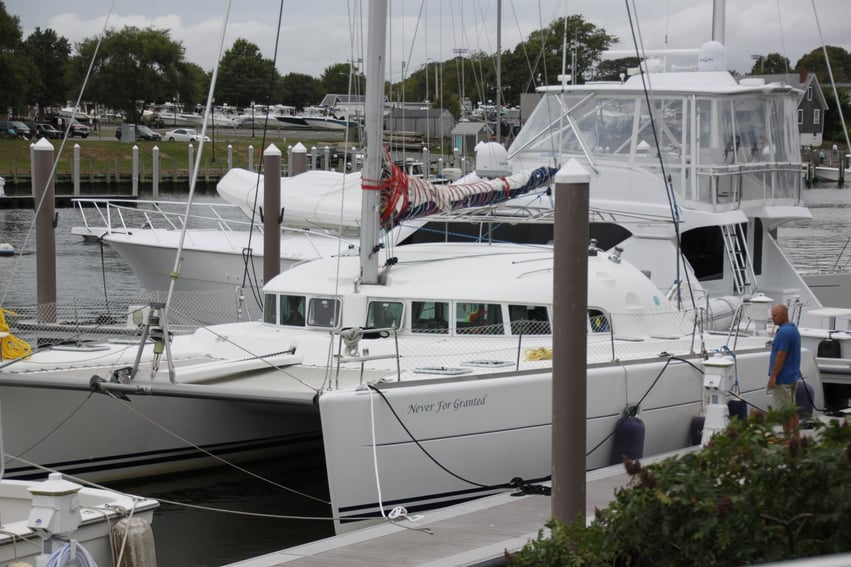 Familial support
Our family was nervous about our decision to live on the boat full time. Back then, even by email, staying in touch was so different. Today, you can update in real-time through texting or social media but staying in touch was expensive and difficult ten years ago.
Another factor was, at the time, we were living in my husband's grandfather's home, which has a rich family history. My husband's grandfather built the house, my husband's father grew up there, and my son was eventually born there. Unfortunately, we had to sell the home to pursue life on the boat, which was sad for the family, but ultimately the beginning of our new journey. Thankfully, when we sold the boat in 2012, the house was back on the market, and we could repurchase the family home. So, in the end, it all worked out.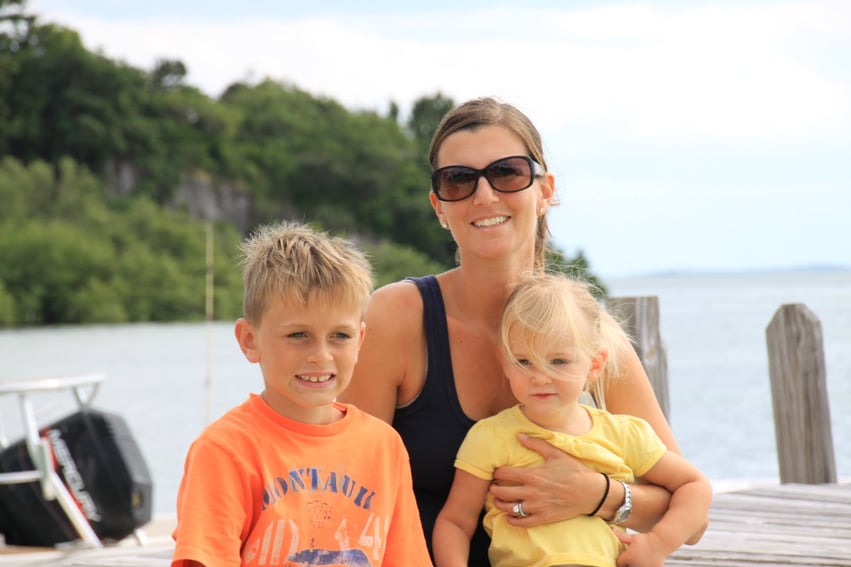 Finding balance and establishing "roles" in their family
I liked the time I got to spend with my family. It was a 24/7 experience, and the more time we spent together, the better we got along. My husband and I never fought on the boat, even during the more stressful and scary times. We understood our roles without talking about them, which kept things simple. It got to the point where we could anticipate each other's reactions in a way that helped us work together.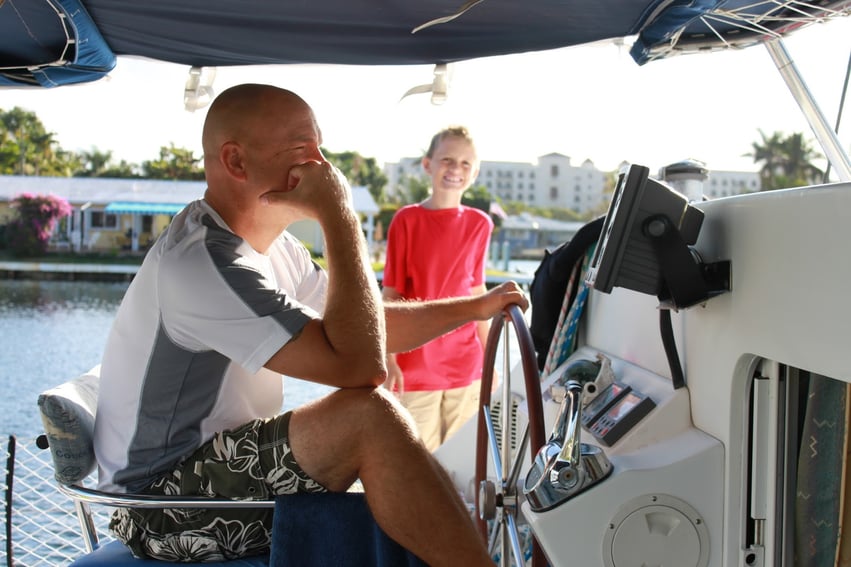 I was confident in my husband and his abilities, as I was dealing with a bit of a learning curve. At the start, I was more inexperienced. We bought our boat in Fort Lauderdale, which was intimidating because of the heavy boating traffic. Talking to other boaters and bridge tenders on the radio would almost give me a panic attack. Other tasks like anchoring, docking, and fueling were nerve-wracking but soon became second nature and everyday practices. I didn't initially anticipate those little details, but with time it got better.
The mundane chores like laundry or cooking became enjoyable for me. I particularly enjoyed the economic side of living aboard. It forced you to be more aware of what you consumed and needed. For example, I'll go to the grocery store and buy a bunch of food nowadays, but it goes to waste if I don't feel like cooking. But on the boat, it might have been a few days before I could get to a grocery store again, so nothing went to waste.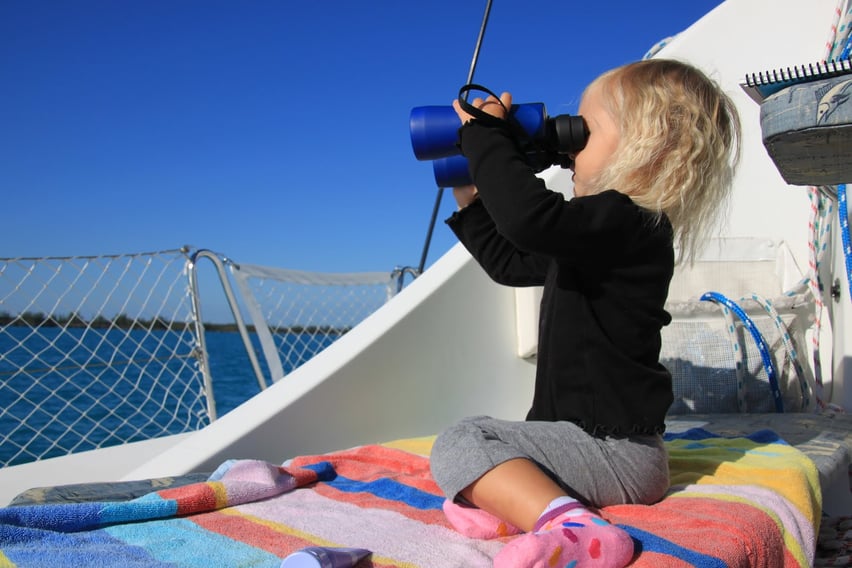 Making friends and exploring communities
We were hopeful that we would meet other boating families along the way, but with the uncertainties of weather, distance, agendas, etc., we didn't get to meet with people we had connected with online. Our son loved being on the boat, driving it, and helping maintain it, but I think he was lonely. We had our daughter, but the age gap wasn't ideal for him.
On one of our trips to the Bahamas, we had initially planned to head to the Exumas, but when we got to Green Turtle Key, we met a family with five kids, and we ended up staying longer. It was great for our son because he got to play with children in the same age group. They would kayak, snorkel, play on the shore, and just hang out on the boat, so that was special for him.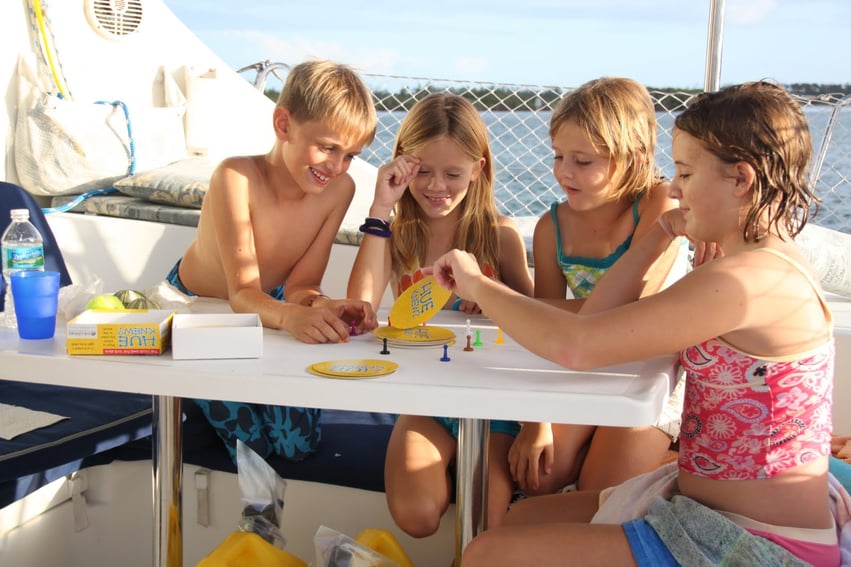 On another occasion, we stopped in Georgetown, a small town in South Carolina, and the people were so lovely and helpful. On our way back to our boat, it started raining, so we probably looked ridiculous, me with all this laundry pushing my daughter in her stroller and my son dragging our cart of groceries behind him. Finally, an older gentleman saw us and offered us a ride back home.
Situations like this made us feel a part of the communities that we stopped in. It was different than if we had just been vacationing. We got to see all the sights that tourists would want to see while becoming temporary community members. Now, that was cool.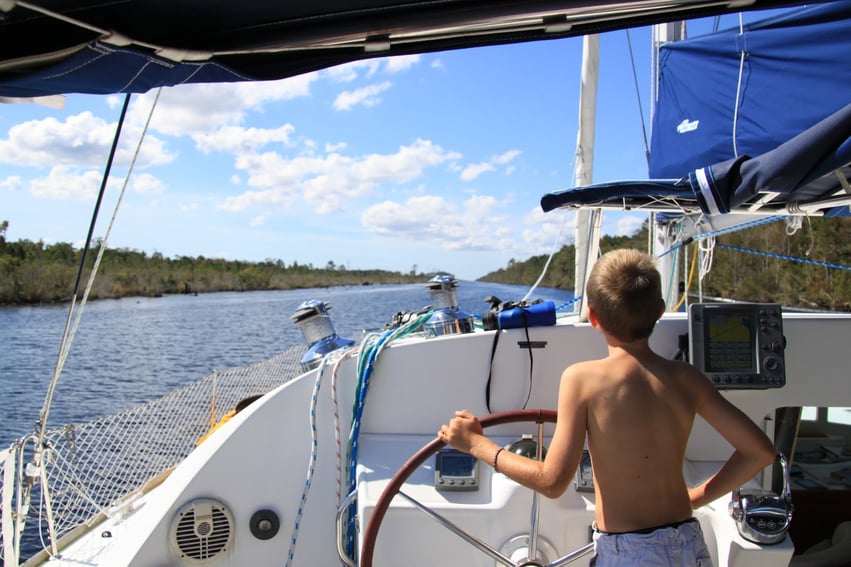 Creating a sense of normalcy
At first, I was worried and stressed about homeschooling Deason, but he made it easy. Every day was simple. We'd wake up, drop anchor, make breakfast, get some schoolwork done, have lunch, etc. Then, if he got bored or a particular day was too hot, he'd go kayaking, or we'd spend some time outdoors. He learned so much every day just through our travels and exploring new places and communities.
You must take it day by day and not worry or put too much pressure on yourself about the structure of things. A lot of Deason's schooling and learning were self-driven. Kids are resilient, and they will create a sense of normalcy for themselves. Deason made a new normal.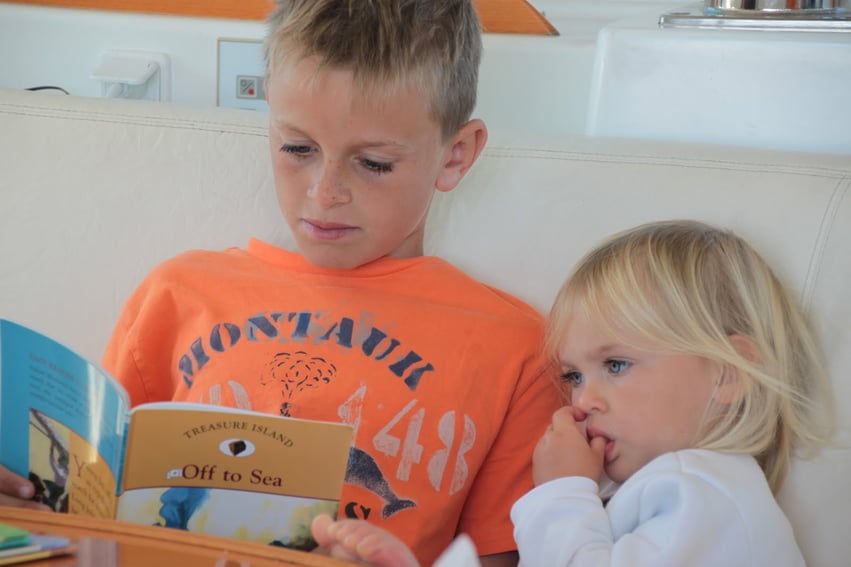 The best and worst of times
One of my favorite memories was when we took a trip to the Bahamas for Christmas. It was bittersweet because we were in such a gorgeous place, but it was challenging to spend Christmas away from home for the first time. We visited my uncle, who was there, and there was a beautiful area for snorkeling right off the beach where you could see these incredible reefs. But again, it was a mixture of emotions because, on the one hand, it was such a fantastic trip, but it was so different from our typical Christmas experience.
That's kind of how boat life felt like, in general. You get to have the most amazing, highest of highs, but it comes with some low lows.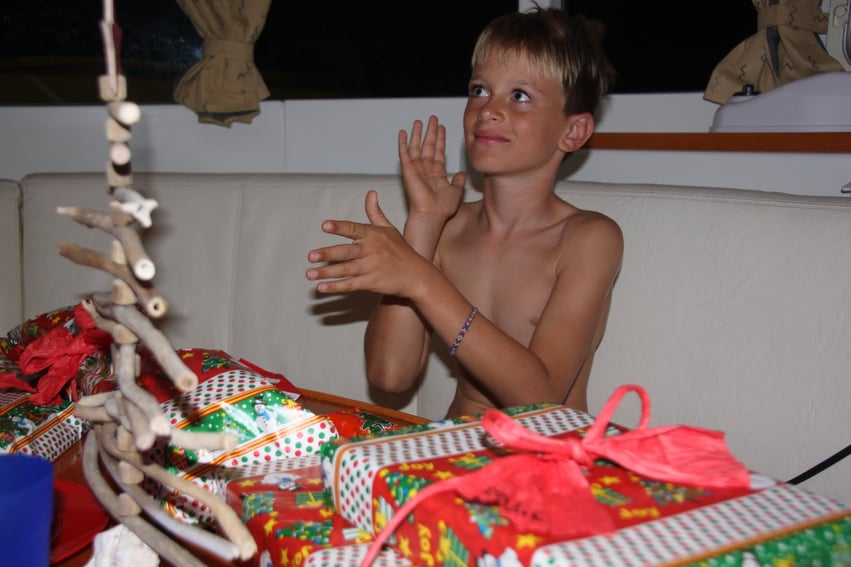 Remaining thankful for their adventure
I didn't have too many expectations about the realities of living aboard. I didn't have much of a boating background, to begin with, aside from what I've witnessed living on the cape and sailing smaller boats, which I think ultimately helped as I was pleasantly surprised by my experience.
My husband had these grand preconceived notions about the lifestyle because it was his dream. He thought it would be magical, so he never anticipated the stress. When your boat is your home, it's hard to feel like it's not all you have and that if something were to happen, like the boat was to sink, our home would be gone. It was incredibly nerve-wracking because we have kids. If it had been just my husband and me, I don't think that fear would have been so prevalent.
Although we couldn't shake this fear and feeling of displacement, it didn't overshadow all the other great things we got to experience as a family. In the end, we learned so much about each other, and we'll never regret any of the decisions we made or our experiences.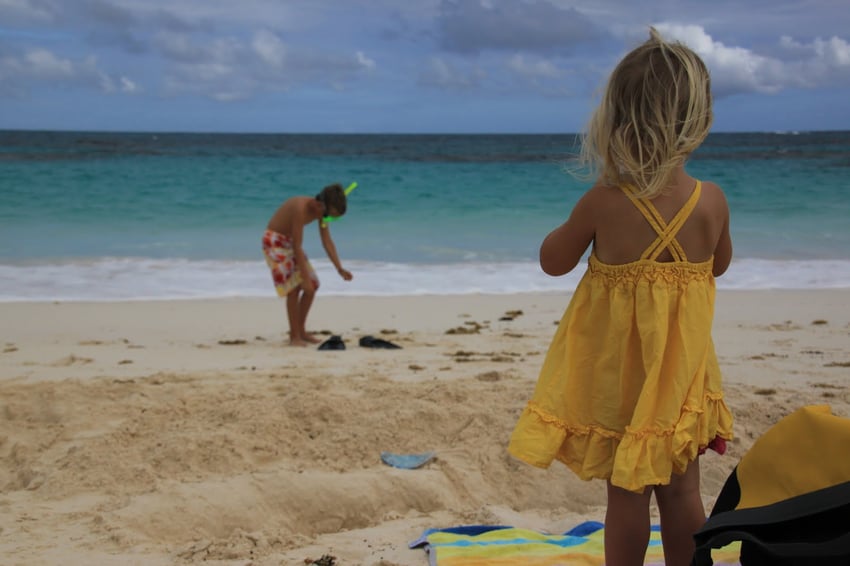 Quotes have been edited for clarity. Be sure to check out our other blog posts to get an inside look at our favorite destinations, marinas, liveaboards, and tips for boaters. Join the conversation on Flipboard, Facebook, Twitter, and Instagram.