Liveaboard: The Valentina's Guide to Buying a Boat and Calling it Home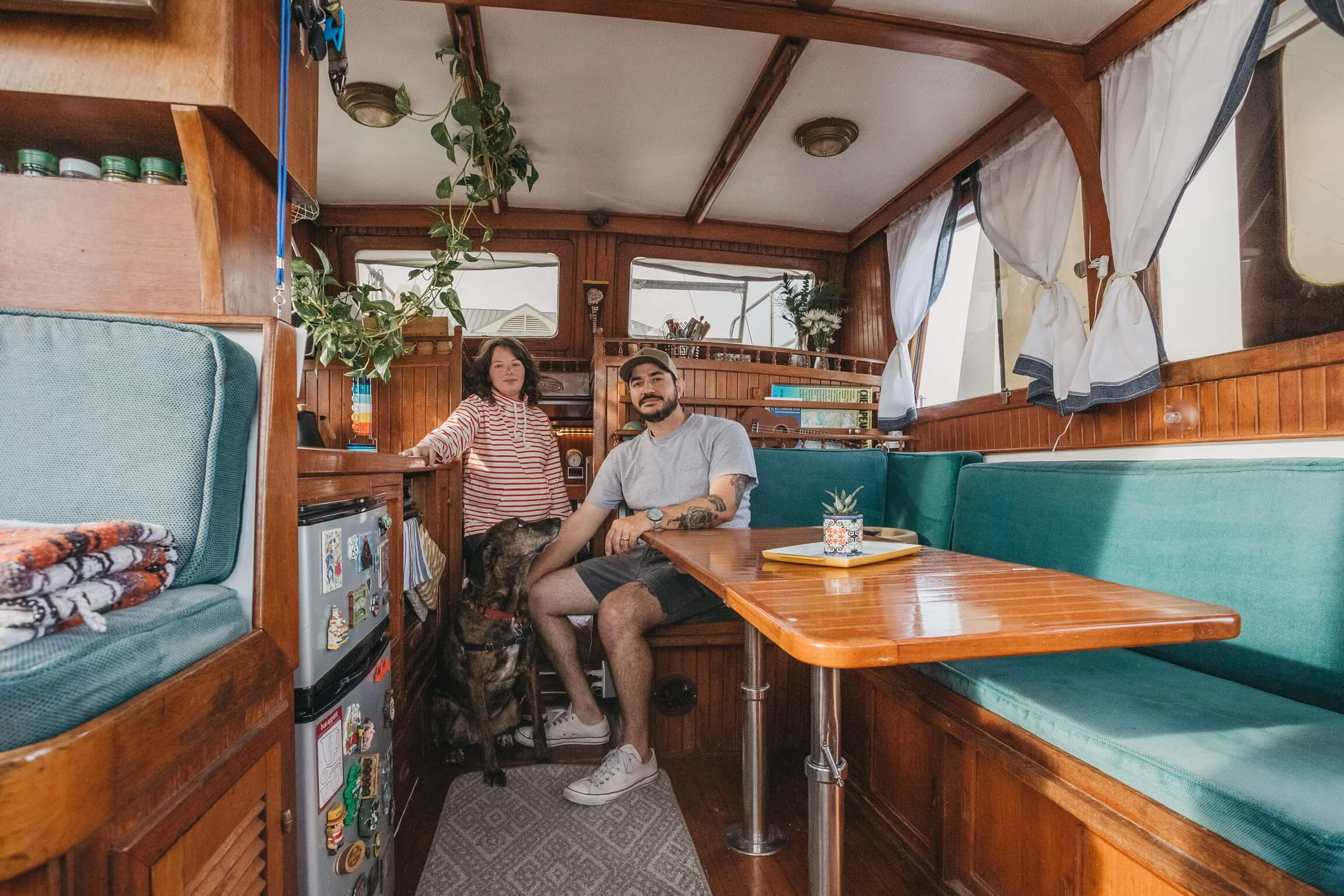 When one thinks about living on a boat full-time, it's often too easy to glamorize a lifestyle that takes a boatload of preparation, execution, and adaptability. But, if you're a new sailor or part-time cruiser, the truth of boat dwelling has probably already presented itself to you. The thought of packing up and shipping out for a life on the water is daunting. You know it can't be all sunsets or calm seas or fruity cocktails out of a coconut. There are many factors to consider, from the climate to the address you jot down for Amazon deliveries and your particular handiness around a toolbox.
However, most liveaboards who've committed to this style of living will tell you though overwhelming, it's thrilling and rewarding all at the same time. It's those in-between moments sitting on the deck of your boat to watch the sunset or peeking out your windows to watch the wildlife swim by that make it all worth it.
In February of 2020, Libby, her husband Raul, their cat Nessie and dog Penny moved onto a 1982 Taiwanese CHB Trawler, which they've named "Valentina," a nod to the fact that the couple moved aboard on Valentine's Day and a longstanding tradition of naming boats after women. They're currently docked in Baltimore's Inner Harbor. If you were to ask Libby how they'd sum up their experience, she would say, "we didn't know what we didn't know, but everything is figure-out-able."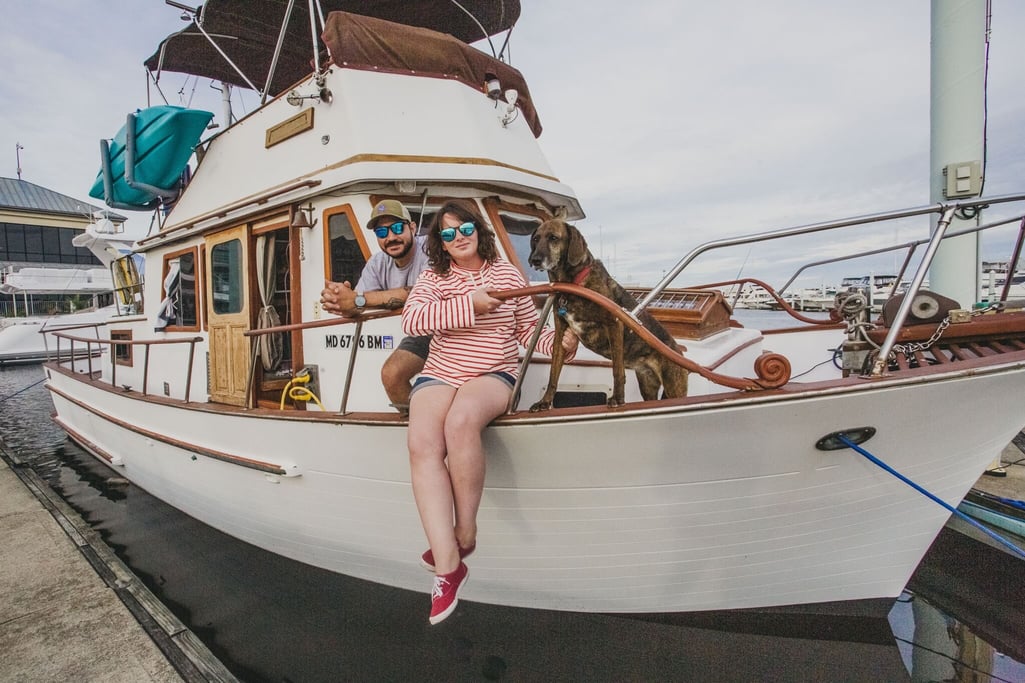 On their decision to live aboard:
The biggest motivator for us, honestly, was saving money so we could travel. We had been renting a house for seven years, essentially paying off someone else's mortgage. We weren't ready to take on our own mortgage, so we started looking into tiny homes. If we wanted to continue living in Baltimore, that wasn't a possibility. Baltimore is compact. It's all row homes, so there's no way you could do a tiny house here. I was watching a show on Netflix called "How to Live Mortgage Free." There I saw these people in Europe living on narrowboats, which are these long boats that navigate canals. I said to myself, "There are all these boats in the harbor. Do people live on them?" That seed planted this idea, and it grew for my husband and me. We knew we'd regret not living on the boat, so we decided to give it a try. My husband and I are adventurous spirits. We'd be seeing the world differently and learning new skills. We're both from Baltimore, but we didn't know the Chesapeake Bay area at all. Now we're getting to know that whole region better.
On finding Valentina:
When we first had the idea to live aboard, we rented an Airbnb boat here in Baltimore to see what it was like and give it a test run. We thought we would live on a houseboat, but we realized we wanted something that could take us out on the water once we started looking at boats. A houseboat is not the best because they're usually boxy. We decided to get a trawler because we wanted something big and comfortable to live in that was also 'seaworthy.' They say we could go to across the Atlantic if we wanted to, though I don't know if we'd ever be ready to do something like that. The possibility is still there if we ever want to.

On their expectations vs. their reality:
We didn't know what we didn't know. We thought that all we needed was somewhere to lay our heads at night. We were moving into a cool neighborhood with all these festivals, great restaurants, and outdoor activities. We thought it would be a lot different, and then the pandemic hit. We were at home on the boat all the time. I think the hardest thing was adjusting to the small space. When we first moved onboard, we always said, "excuse me, excuse me" because there's only one aisle. Now we just look at each other and wait. We've learned to utilize all the space we have. There will be times when I'll just go outside and read a book, and he'll be in the boat playing video games. Many people have had those same challenges with the pandemic, whether you're a couple or a family.
On the difference between a traditional home:
People have said things like, "Oh, do you think it'll be like camping." In the winter, it is, but overall, you have all the amenities you would have in a house, just on a different scale. You have running water and electricity, a shower and bathroom, but smaller. Sometimes we have to be careful with how much of those resources we're using at once. I can't run the AC and our teapot at the same time. I have to choose one or the other.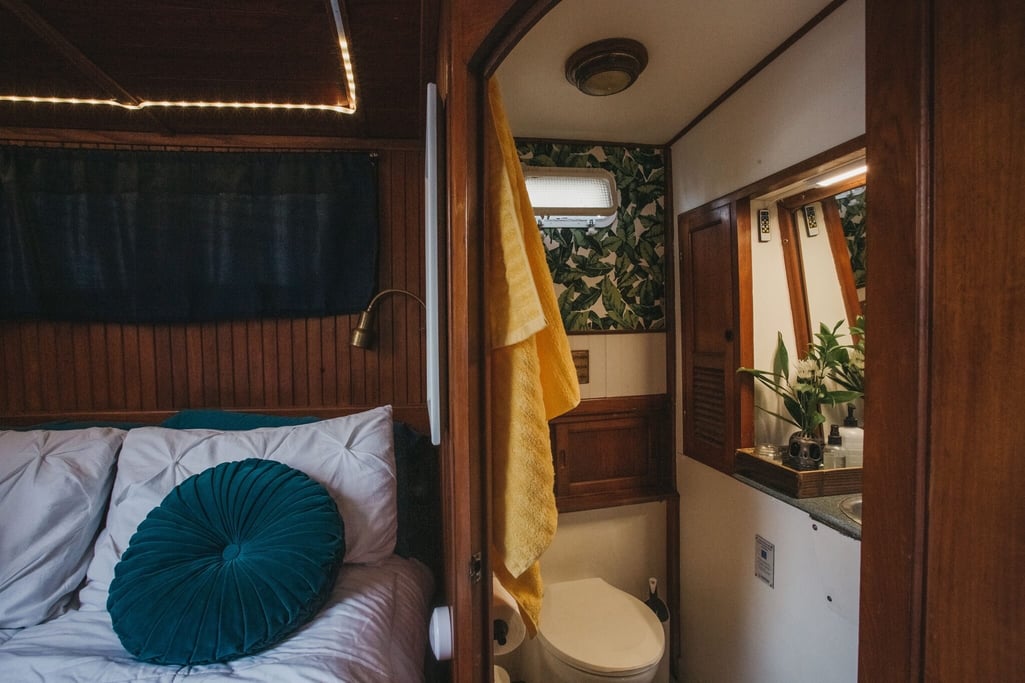 On what their days look like:
The first thing I do in the morning is open the window shade in our kitchen. It sounds super corny, but I take a moment to look at the water and the sky. You have to focus on what you're gaining instead of what you're losing. We used to be people whose nights revolved around watching TV. Now we spend a lot more time, when the weather's good, sitting up on our deck and watching the sunset. We make a point every night that we can, even if it's just peeking out the window to see it.
On Penny and Nessie:
Our dog and cat adjusted remarkably well. We were concerned about the dog, especially when we bought the boat. During that initial period before we lived on it and we were selling all our stuff to prepare for the move, we would bring Penny here all the time to get her adjusted to it. The cat was a little different because we couldn't test it with him. We just brought him on the day we moved in, but Nessie's done great. He's old, like 17, so he's thriving in this small space. He just wants his food in the morning and to sleep, and that's it.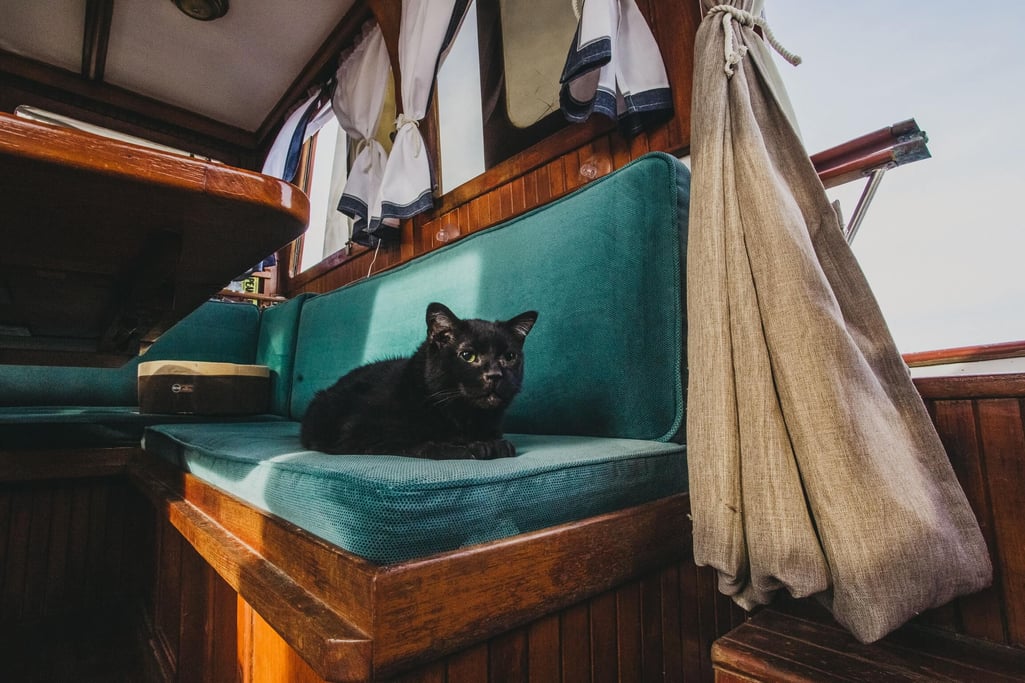 On their future plans:
This summer, we're hoping to start taking the boat out more and explore the Chesapeake Bay. We'd like to take weekend trips and try to make a week-long trip to do what we set out to do initially.
On what it takes to make a liveaboard work:
You have to be willing to learn about plumbing, electricity, and keeping your teak in good shape. For us, that's a big thing because we're on an older boat. You have to have a DIY ethic unless you have a lot of money to pay someone else to fix things. My husband and I bought this boat from a man who had a bumper sticker on his car. We've now made it our mantra. It said, 'Everything is Figure-Out-Able.' No matter what is or how bad, you can figure it out. For us, it's helped because we've had so much figuring out to do. You have to enjoy it, have fun, and don't let the stress get to you. Stay calm and focus on the positive.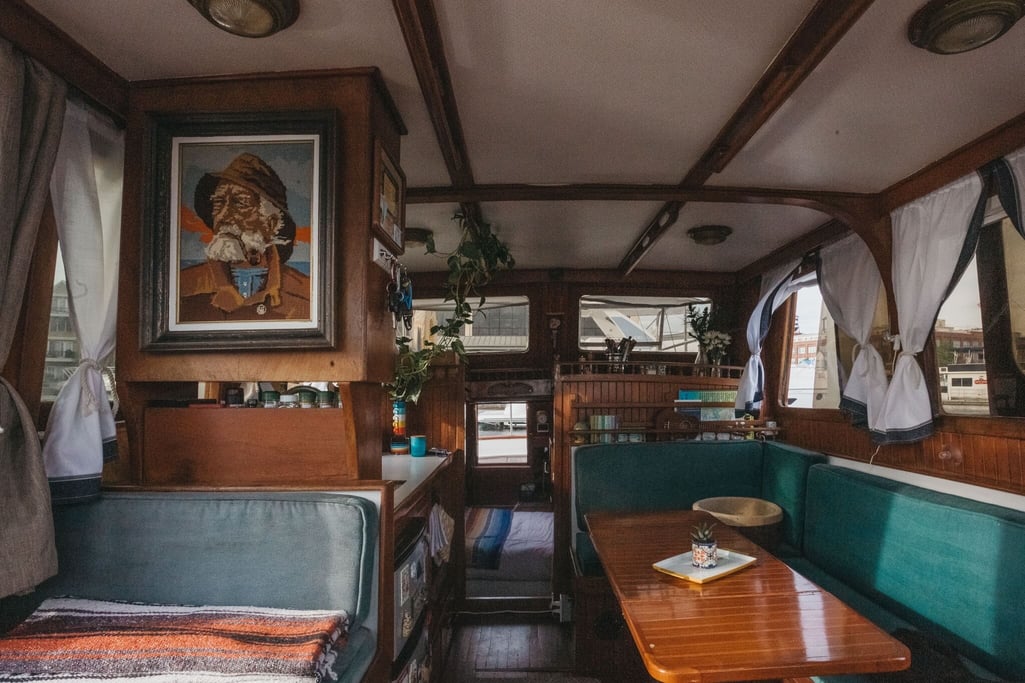 Photography Credit: Megan Elyse Photo
Want to see more of the Valentina? Follow #ValentinaTheTrawler and @libbyzay on Instagram.
Quotes have been edited for clarity. Stay up to date with our liveaboard series and more on our blog and join the conversation on Facebook, Twitter, and Instagram.