Suppose you're buying a boat to reduce stress and to find a way to escape the hustle and bustle of your everyday life. In that case, it may seem redundant to purchase a boat with a list of repairs and projects that'll need your immediate attention and expendable income. However, for newlyweds and liveaboards Nick, Lee, and their dog Cooper, rather than shelling tens of thousands of dollars out on a brand new craft, they saw it as a chance to make something their own.
"You're inheriting a set of problems, but you're able to renovate it and make it your own, which is part of the journey," Nick said." It makes it fun."
This couple is no stranger to the high seas. Lee was an Assault Amphibious Vehicle Officer in the Marine Corps for five years, while Nick is a Surface Warfare Officer, which means he drives naval ships for a living. For these two, the decision to liveaboard was a natural one.
"Lee and I had always discussed doing something extreme," Nick explained. "I wanted to do van life and move into a home, so we'd travel on the weekends without worrying about a hotel or camping. We wanted a mobile lifestyle where we could go wherever we want when we want."
In July of 2020, their family moved onto Orcinius, a 2004 Lagoon 440 F fixer-upper, which they've now officially renamed "Dead Reckoning." They're currently docked in Point Loma, San Diego.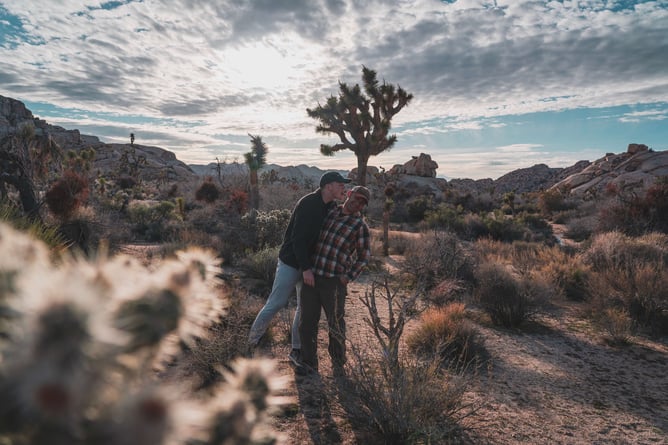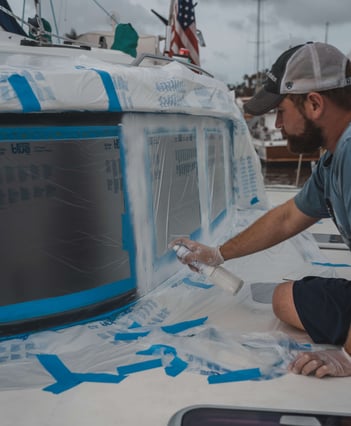 On their decision to live aboard:
Lee grew up boating, so he suggested we investigate liveaboards. We started researching, and I would say in early April, late May, the idea grabbed hold of us. We found a broker and began touring boats, and in early May, we said to ourselves, 'Hey, we could make this a thing.' Later in July, we moved onboard, which was crazy.
The pandemic didn't have a massive impact on whether we would do boat life, but there was a sense of urgency. From what we've heard, there was a boating boom. Since they couldn't be entertaining friends in their backyard, people wanted a way to escape from the pandemic. Like us, they wanted to be out on the water, in the sea doing their own thing.
On the maintenance:
If your boat is going to break down, it's probably going to happen within the first year you're trying to use it. We're about to do what's called a haul out, where we take the boat out of the water and put it on a big platform lift. We'll be able to get a bunch of maintenance done, which has been keeping us from getting underway. We first ran into an issue with our port diesel engine in December, and May was the earliest they could see us. I went into this experience expecting things to go wrong, so it met my reality expect in that aspect. Having to wait to get things fixed has not.
The engine needs repairs that require taking it out of the water; otherwise, it will flood the boat. We'll have to move out for a week, but we're going to knock out many repairs. We're fixing the through-holes, the underwater lights, and the underside will get painted on top of fixing our engines.
Lee's very handy, and he's trying to catch me up to speed. When we first moved onboard, he washed the AC systems, cleansed the water systems, got the generator working, and got all our electrical systems onboard. If it were just me, I wouldn't know what to do when the AC wasn't running, or the refrigerator and plumbing stopped working. If all these things piled up, I would probably give up or be sitting there knee-deep in debt trying to fix everything. He's probably saved us thousands of dollars so far.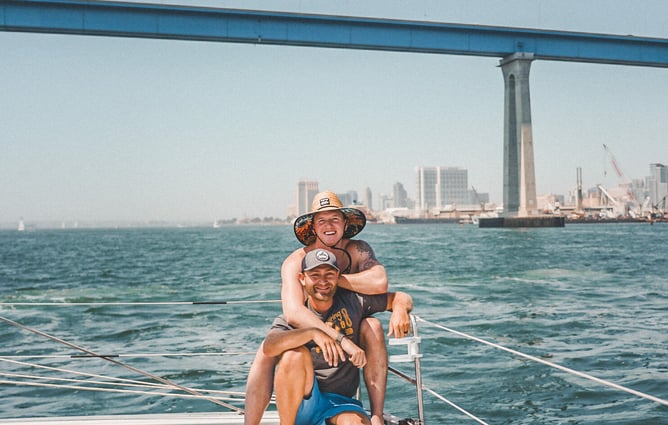 On enlisting help from their community:
It's different when you don't have help, and you're doing it by yourself. It doesn't have to be a spouse. It can be anyone, a sibling, cousin, really anyone in your family, or a friend. You just need someone who's relatively knowledgeable and is willing to help you out.
On the weekends, we're never alone. We're always entertaining. As the saying goes, "it's nice to know someone with a boat, not nice to be the one that owns it." Our friends come over and help us with projects all the time, and afterward, we'll take them out sailing for drinks. They'll exchange labor, and it's worth it because then everyone gets to enjoy the boat.
I'm not a massive fan of social media, but I created an Instagram page for our boating endeavors. It's connected me to many incredible people who've also opted to escape and detach themselves from everything else. Some of our favorite friends and liveaboards in San Diego we met through that page. We've met a community of boaters who've been there and done that. One couple we've met built their boat in a garage in Colorado, and they've been living on it for 20 years. They've seen and done it all. If we ever have any questions, we can turn them and ask, "Have you seen this kind of problem before?" It's good to know that you've got a community of boat lifers around you that are willing to help and do whatever you may need.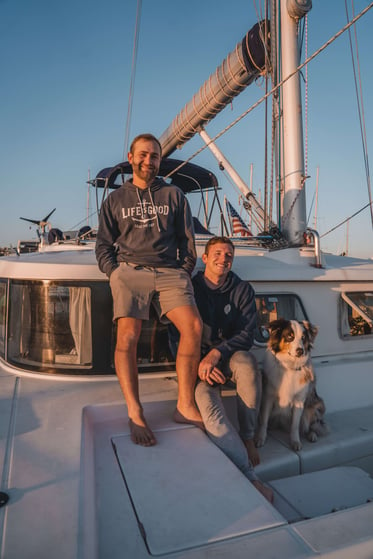 On purchasing a boat and remaining realistic:
If you're looking into buying a boat, have an extremely open mind and don't have your heart set on something specific. We were fortunate in our situation, but it's a new challenge no matter where you are. Southern California only allows 10% of all the marinas to support liveaboards. We investigated potentially getting stationed in Hawaii, but they don't allow liveaboards at all.
Marinas also have waitlists. We're trying to leave our current Marina because it's rather expensive. We've been 52nd on the list since last year for another Marina. So, if the boat your buying isn't already in a Marina, and it doesn't have a liveaboard slip, you might have to live on a mooring ball.
We had looked at three boats before we found this one and luckily, we fell in love with it. We had the boat inspected and appraised, so we knew off the bat we had a bit of a struggle ahead of us to fix it up. But we were willing to take on those problems, and thankfully it's nothing backbreaking. You may find that it's worth starting from scratch and fixing any issues that may arise because you'll get the boat for cheap. When you're purchasing a boat, they say to prepare to spend about 10% of the boats' overall cost every year on maintenance. We kept an open view that something will go wrong or something will need to get replaced. This boat 16 years old, and it was sitting around for a long time, not necessarily being used.
It's a roller coaster. You have all these positives that come with living on a boat, and then by nature, that with comes negatives. For us, it's all the maintenance. If you can afford a brand spanking new boat, it's going to last you about ten years before you need to do a single thing to it. The average person will look at a used boat that's five to 15 to 20 years old. We have a boat on the dock here that's from the 1930s. It's in a league of its own. They've probably spent more than I could ever have to try to refurbish it. You're inheriting a set of problems, but you're able to renovate it and make it your own, which is part of the journey. It makes it fun.
On navigating boat insurance:
Because we're first-time owners and liveaboards of a catamaran, which insurance companies view as a party boat, we must stay in United States territorial waters for the first three years. No one wanted to insure us. It took a long time to find someone that would. The insurance companies didn't consider that I've driven ships ten times bigger than our catamaran for the Navy. You would think that counted for something, but they didn't care. But when you're a first-time boat owner, you must be flexible and willing to jump through all the hoops.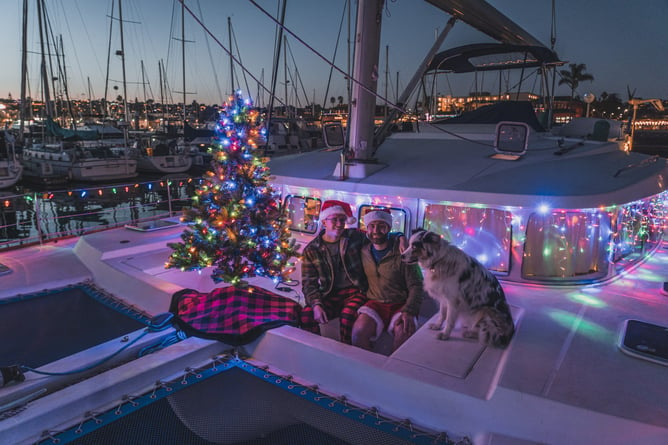 On creating an environment for pets:
Part of the reason we bought a catamaran was because they have a dual haul, which means it's more stable. It was more conducive to having Cooper on board. We didn't want Cooper to have to walk around at an angle while we're underway for extended periods, so catamarans are better for the dog, and it provides more topside space. We'll walk Cooper multiple times a day, so he gets his energy out too.
He's adjusted quite well. Initially, Cooper would only go on the main level, and he wouldn't leave for about a week. Then, he started creeping up and exploring the different floor levels. Now Cooper's like a cat. If there's a surface, he climbs on it. He's all over the boat like it's all his. He even goes out to the trampolines aboard to lie out there. He loves it.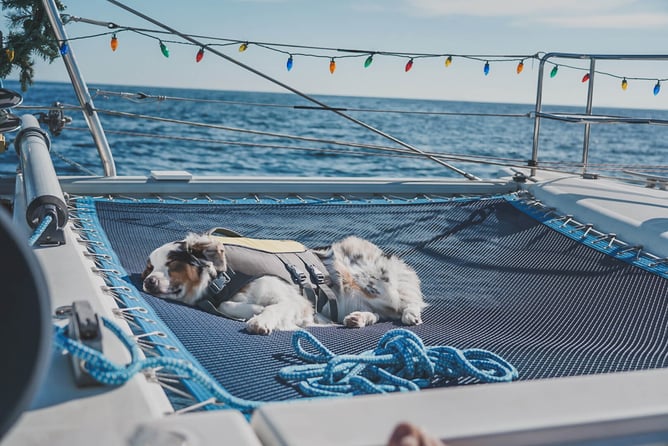 On their favorite memories:
Our favorite memory is going up to Catalina for Christmas. One of the cool things about this community is making connections with people all over the place. We went up to Dana Point with the couple who built their boat in their garage. Everyone made a dish or drinks, so we'd dinghy over to each other's boats to share a meal.
Second, was when we took a trip to Mission Bay and anchored out. Lee and I took our dinghy to the shore and brought drinks and pizza, and then we made a fire on the beach. Everyone was enjoying each other's company on the beach, and once we finished, we came back to the boat to spend the night. It was just it just so relaxing to have almost a vacation away from home. Even though we were home, we were somewhere else, experiencing something new.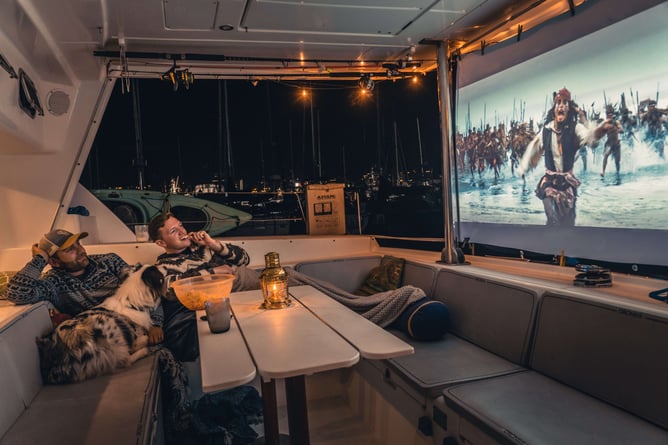 On what it takes to make a liveaboard work:
It's not a lifestyle for everyone unless you're okay with a finite amount of space, downsizing, and tossing out all your furniture. If it comes with a bed, you won't need yours anymore. You won't need a couch, any of your dressers, or a gigantic TV. The simplicity of this lifestyle is what makes it appealing.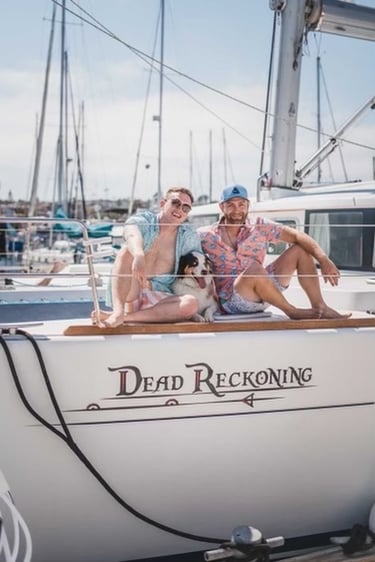 On their future plans:
We're planning a bunch of trips, like going up to San Francisco. Eventually, the insurance company will trust us enough to go to Mexico. Cabo is high up on our list. We'd also love to go to La Paz, Mazatlán, Puerto Vallarta, and maybe Panama. Ultimately, if we still have this boat in 15 years, we're going to try and take this boat around the world once I retire. It's been around the world twice already with previous owners, but we want to take it and make our own story. This boat has some history.
Right now, its name is Orcinius. I'm not sure how the previous owners came up with that name, but it has something to do with orcas because the Latin name for Orca is Orcinus. When we bought the boat, it had colossal plaster orcas on the sides. We still have one 30-foot-tall Orca on our sail. The previous owners love the name so much it's on every pillow four times. It's pretty ridiculous. Orcas are cool but not enough to be everywhere.
We've gone through the renaming process legally with the Coast Guard. We've already technically renamed our vessel, but we have to have the renaming ceremony. We'll take the boat out to sea, say an ancient poem for Poseidon to make an "offering." We'll throw an old piece of metal from the boat with the old name on it into the ocean. Then we toss champagne to Poseidon and the wind gods in each cardinal direction. We still need to have that ceremony because it's technically bad luck to tell you the new name before it, and we don't want to anger Poseidon.
Want to see more of Dead Reckoning? Follow @knot.lost.sailing on Instagram.
Quotes have been edited for clarity. Stay up to date with our liveaboard series and more on our blog and join the conversation on Facebook, Twitter, and Instagram.
What's your story? We're on a mission to highlight the boating world's entrepreneurs, small businesses, community organizations, and solo initiatives – drop us a line here to get the ball rolling.