For some, deciding on a permanent homeport will come down to location, but it's not necessarily a matter of which places are "better" or "nicer" than others. That's subjective. The choice you make will ultimately rely on your wants, needs, and dealbreakers. You might be looking for vibrant city life, a little southern charm, a sunny island escape, or a combination of it all.
If you're all caught up with our liveaboard series, we've seen through the insights of
Marissa and Chris
,
Nick and Lee
, and
Libby and Raul
that owning and living on a boat, though sometimes demanding, provides a certain kind of access not afforded to land lovers. When you commit to the high and low tides of this lifestyle, the possibilities are infinite. In any case, you can't go wrong when you choose to liveaboard at any of the listed marinas on Dockwa's network.
Boston, Massachusetts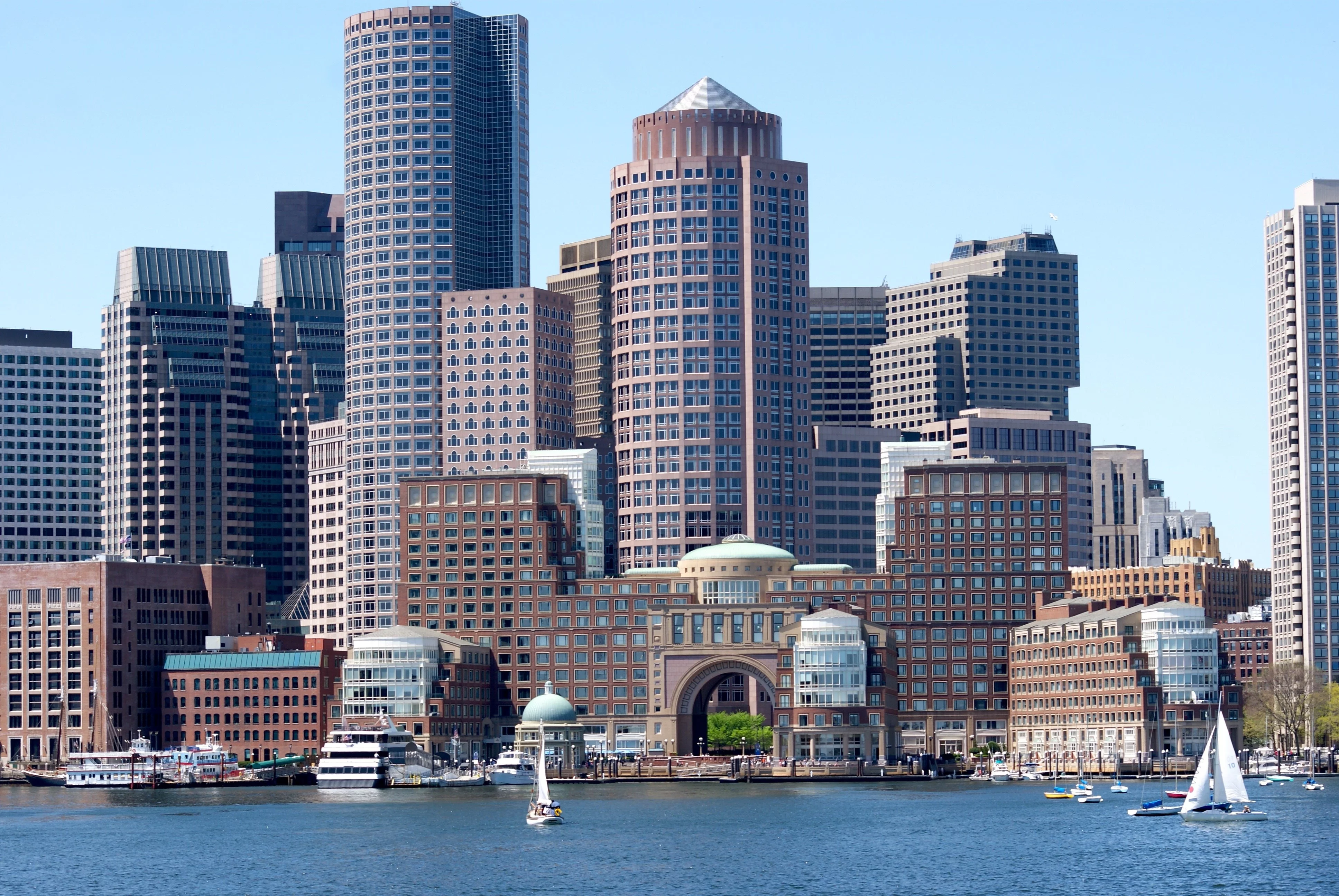 Boston, the "City on the Hill," offers a rich experience for those looking to live on a scenic, city waterfront. You'll find delicious foods, world-class healthcare, history, a wealth of job or higher education opportunities, and dedicated sports fans here. They don't call it "Title-Town" for nothing. More than one-fourth of the historical city's landscape is water, which is why you'll find no trouble finding a place to dock your boat.
Constitution Marina: Located in Boston's Inner Harbor, you're just a 5-minute walk from the Boston Garden and the North Station transit line, which gives you access to the entire city, including Logan Airport and the New Encore Boston Harbor Casino and outer neighborhoods. Each summer, Constitution Marina becomes the destination of choice for boaters from around New England and beyond.
Boston Waterboat Marina: Located on historic Long Wharf in Boston Harbor, Boston Waterboat Marina is just steps from Faneuil Hall, Quincy Market, New England Aquarium, and countless world-class restaurants. Charm and spectacular views punctuate this quiet and safe marina. As the city's oldest continually operating yachting facility, Boston Waterboat Marina prides itself on offering small-town hospitality with big city convenience.
Newport, Rhode Island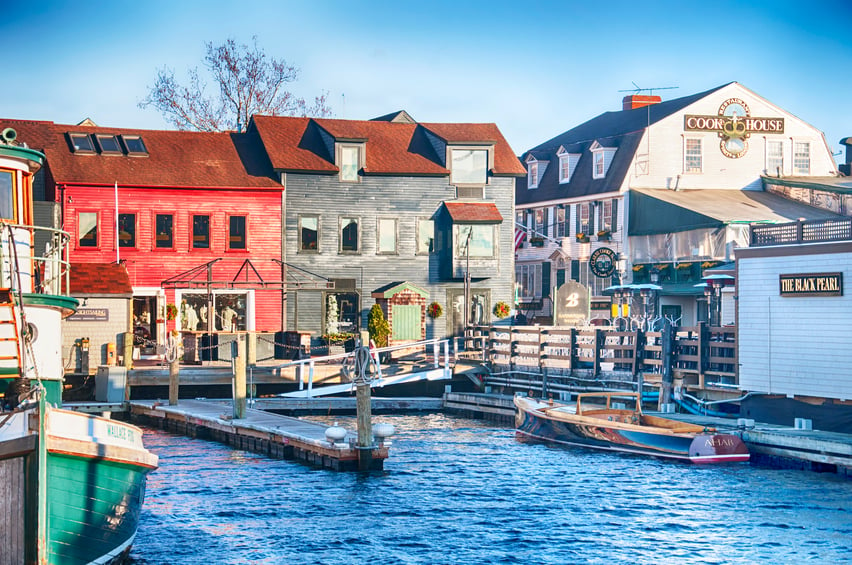 If you've ever been to Newport, it's easy to see why the "City by the Sea" is such a popular destination for boaters. This seaside community is located on the southern end of Aquidneck Island in Narragansett Bay and is known as the world's sailing capital. Not only will you find some of the best beaches in the Northeast, but the town also has a wide array of attractions, from the historic mansions to annual music festivals and the best restaurants and bars.
Safe Harbor Newport Shipyard: In the heart of the celebrated Sailing Capital of the World, Safe Harbor Newport Shipyard surrounds the colonial captains' homes, cozy eateries, and seaside boutiques that line the streets of downtown Newport. The international sailing community makes it the preeminent home port for the most prestigious yachting events in the world.
Bowen's Wharf: This award-winning, first-class marina is conveniently located amidst the bustling downtown area. With shoreside activities, tours, galleries, locally-owned shops, bars, and world-class restaurants, you're steps away from the action.
Chesapeake Bay, Maryland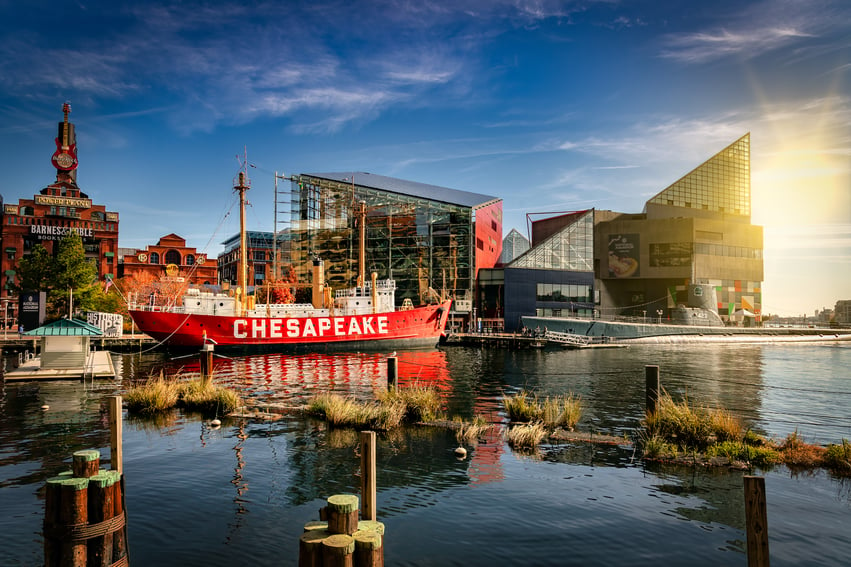 The Chesapeake Bay is known throughout the boating world as a wonderland for boating lovers. As the largest estuary in the United States, you'll have your pick of marinas in the Bay, whether you prefer to live near Baltimore, Annapolis, Virginia Beach, and etc. It's a popular choice and destination for all seasons and year-round living as the Bay also offers protection against lousy winter weather.
Anchorage Marina: Conveniently located in Baltimore City, Anchorage Marina is just minutes from the Inner Harbor, where you'll find restaurants, entertainment, and shopping within walking distance. By water, the Anchorage is situated on the Northwest Harbor of the Patapsco River, just one mile inside of Fort McHenry, one of many historic sites in the area.
Eastport Yacht Center: EYC is a full-service marina located near downtown Annapolis. You're a 10-minute walk, or water taxi ride to all the historic city has to offer.
Miami, Florida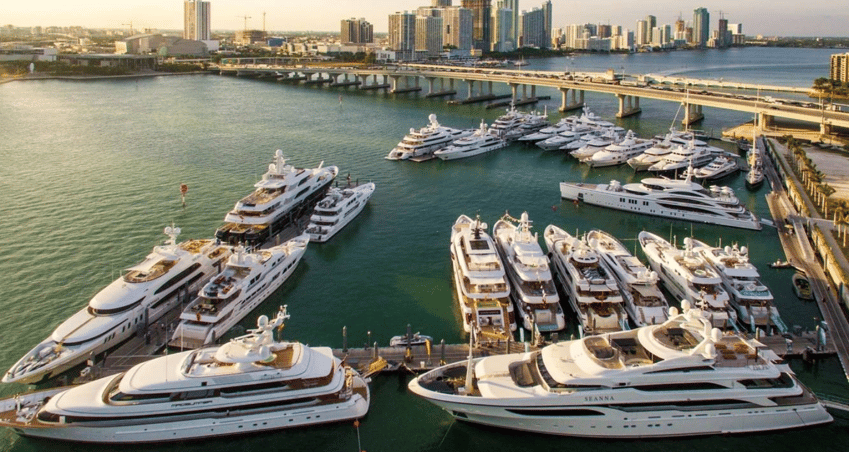 Florida's year-long summer climate makes it an attractive choice for living aboard. The cost of living in Miami may be high, but the taxes remain low, which will help balance out those overhead costs. In addition, you'll never find yourself bored living in this city. From the city's colorful culture, art, food, music, beaches, and nightlife, it's at the very least a great spot to vacation.
Vice City Marina: Vice City Marina is located in the heart of Downtown Miami, just two blocks from Brickell City Center. The Marina boasts the best location in Miami, with numerous hotels and restaurants within walking distance.
Sunset Harbour Yacht Club: SHYC is ideally located in the heart of South Beach, within walking distance to all of the attractions, including Lincoln Road, the Miami Beach Convention Center, the Jackie Gleason Theatre, and Ocean Drive.
Tampa/St. Petersburg, Florida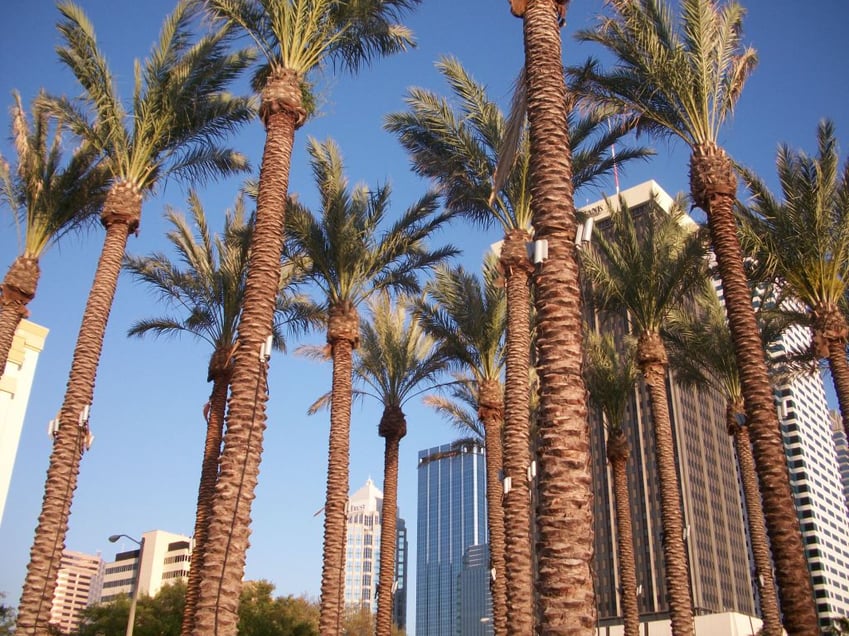 The Tampa Bay and St. Petersburg area is one of the more affordable choices compared to our other coastal city selections. Plus, the consistently sunny weather, local attractions, golf courses, theme parks, and beaches make it a no-brainer amongst liveaboards.
Safe Harbor Harborage Marina: The first and only full-service mega yacht port on Florida's west coast, Harborage Marina combines meticulous personal care with easy access to boundless area attractions. Unwind by the resort-style pool, then meet up with friends for cocktails at their casual Tiki Hut or dine at one of St. Petersburg's many fine restaurants.
Savannah, Georgia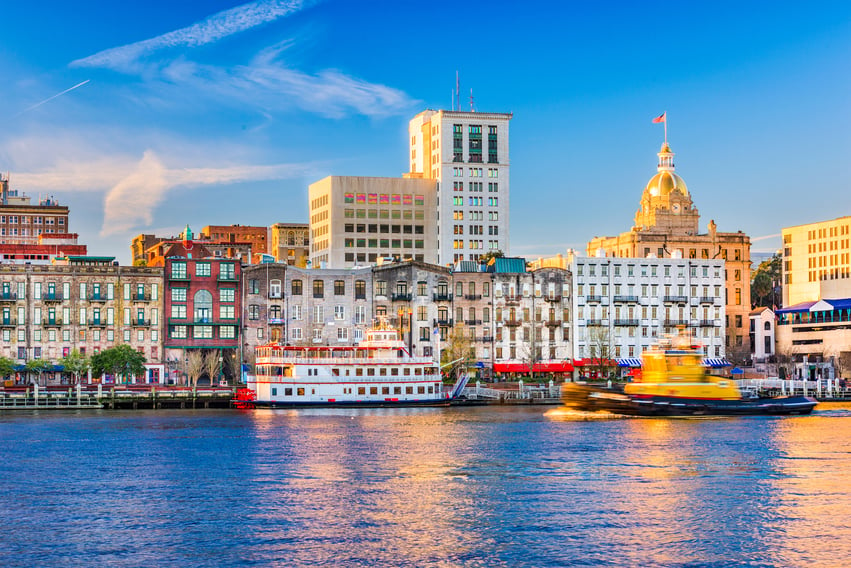 Savannah is where southern hospitality, rich history, and city-dwelling meet. As one of the most affordable cities to live or retire on this list and beyond, it's known for its gorgeous city parks, upcoming food scene, coastal beaches, diverse neighborhoods, and more. You can also expect a temperate climate with warm, humid summers and mild winters.
Bull River Marina: Bull River Marina is in the middle of a boating & fishing paradise. They offer sunset cruises, beach drops, and downtown Savannah tours by water. Their boater's lounge is an excellent place to hang out.
Charleston, South Carolina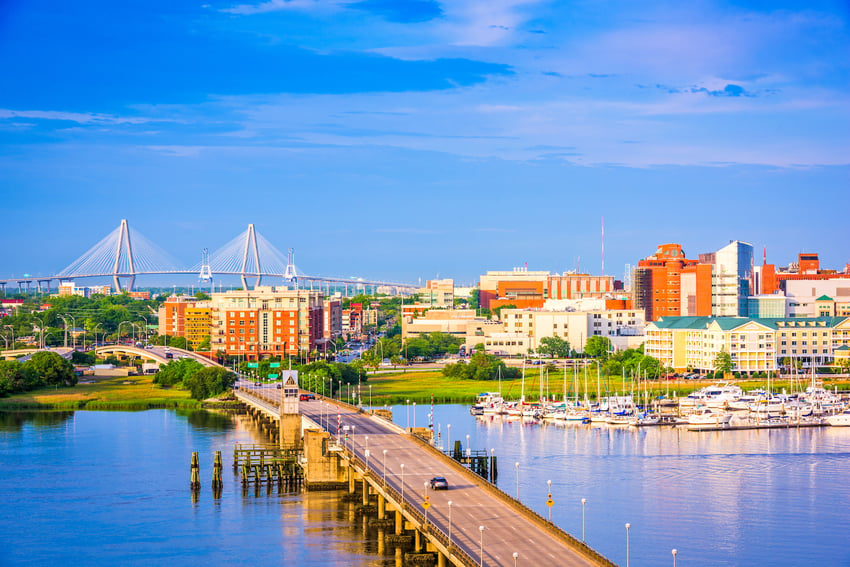 Charleston is walkable and bikeable, with quaint neighborhoods scattered throughout its 17 square miles. This historic city has it all, from the rich history and beautiful architecture to world-class restaurants, nightlife, and stunning beaches.
Safe Harbor Charleston City: Safe Harbor Charleston City is home to the famed Mega Dock, which hosts some of the most prestigious yachts in the world. As a premier boating destination, the marina's state-of-the-art facilities and unmatched southern hospitality are merely the beginning. They also offer van drop-offs and pick-ups to downtown during operating hours.
Cooper River Marina: Just 15-minutes away from the historic downtown Charleston area, the Cooper River Marina is an excellent facility for recreational and transient boaters.
San Diego, California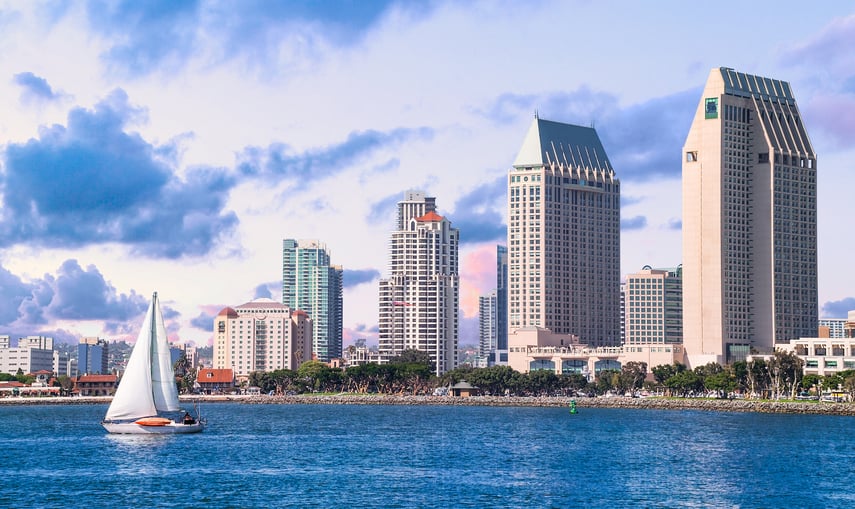 Sunny San Diego is conceivably the best choice for west coast liveaboards. Not only will you find surf and sand, but you'll find scenic nature views across some of the best hiking trails in the United States. You're also a sail away from other hot spot destinations like Catalina, La Paz, Cabo, and more.
Sun Harbor Marina: Sun Harbor Marina is the world's first LEED (Leadership in Energy and Environmental Design) certified marina. At this green marina, boaters enjoy the marina's proximity to the Scott St. maritime district and its marine-based businesses, shops, and restaurants. This San Diego marina boasts beautiful facilities, which are well maintained using ecologically sensitive practices. Boaters also enjoy quick access to San Diego Bay and the open waters of the Pacific Ocean for boating enjoyment.
Harbor Island West Marina: Located less than a mile from the San Diego International Airport and just around the corner from the sites and activities of the beautiful Embarcadero and the action of downtown's Gaslamp District, experience the warm, friendly community of San Diego's Harbor Island West Marina, your gateway to the Bay.

Half Moon Marina: Half Moon Marina is also a short drive from all of San Diego's most popular attractions, including the Downtown Gaslamp Quarter, SeaWorld, San Diego Zoo, and San Diego's famous beaches. Go for their summer concerts or to gain access to the San Diego Bay and the Pacific Ocean. Either way, you know you've landed in a special place when you come to their marina.
The Bahamas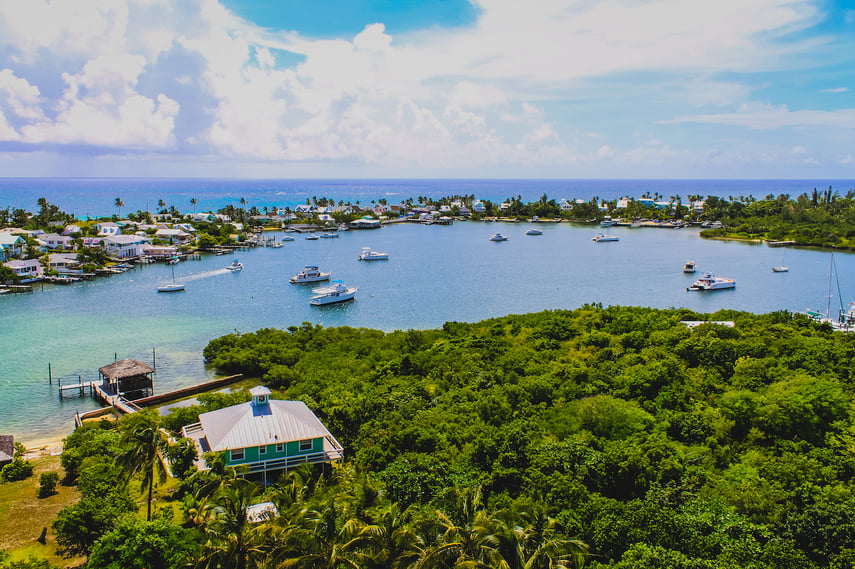 Why you'd take up a permanent residence in the Bahamas requires little to no explanation. Made up of nearly 700 islands, the relaxed lifestyle, white sand beaches, and warm, crystal blue waters make it a dream destination and home for many.
Saint Francis Resort and Marina: Located in a very protected cove of Stocking Island, St Francis Resort and Marina is one of the best hurricane holes of The Bahamas. There is a full-service resort with a restaurant and bar on site.
Cape Eleuthera Resort & Marina: Long favored by cruisers, sailors, divers, and anglers, the Cape Eleuthera Resort & Marina is a destination of choice for Out Island travelers.
Stay up to date with our liveaboard series and more on our blog and join the conversation on Facebook, Twitter, and Instagram.