For any new boaters who may be getting a boat back into the water for the first time, there are a few essential steps you need to take to ensure you're ready to cast off.
Preparation Before Launch
Before you set sail, there are a few things that you should prepare for to make sure your boat is ready, and your launch is easy and stress-free. Here are some steps:
Check Your Trailer: First and foremost, having the right trailer to tow your boat is essential in avoiding damage to your boat – and possible injury. If you're unsure of what trailer to get, make sure to ask your boat salesman for advice ahead of time.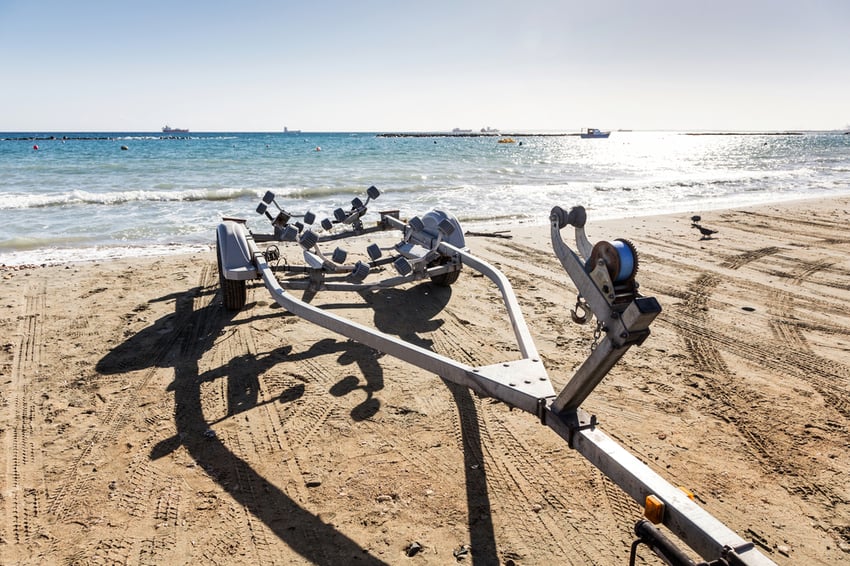 Check Your Batteries and Fuel: This may seem like a no-brainer, but checking your fuel and batteries ahead of time will keep you from getting stuck in the middle of the water.

Don't Forget the Drain Plug: Sailors–check your boat's drain plug before you get to the water. In some places, it's illegal to transport your boat with the plug engaged, as certain areas try to slow the spread of invasive aquatic species.

Make Sure you Have All Equipment: From dock lines, anchors, bumpers, and more, it's essential to have everything needed for launch before you get on your boat. The launch ramp is not a place to spend a lot of time transferring your gear.

Practice Launching: If you're about to use a ramp that you are unfamiliar with, it's best to walk down to inspect the ramp and dock. This way, you'll know how steep the ramp is, how deep the water is and how the dock's condition looks.
If this is your first time launching, practice reversing your vehicle with the trailer and boat attached in an open area. Do NOT do this at the boat launch. You could end up with a car at the bottom of the lake or with damage to your own or someone else's gear. If you need to learn how to attach your car to your boat, you can check out some helpful tips here.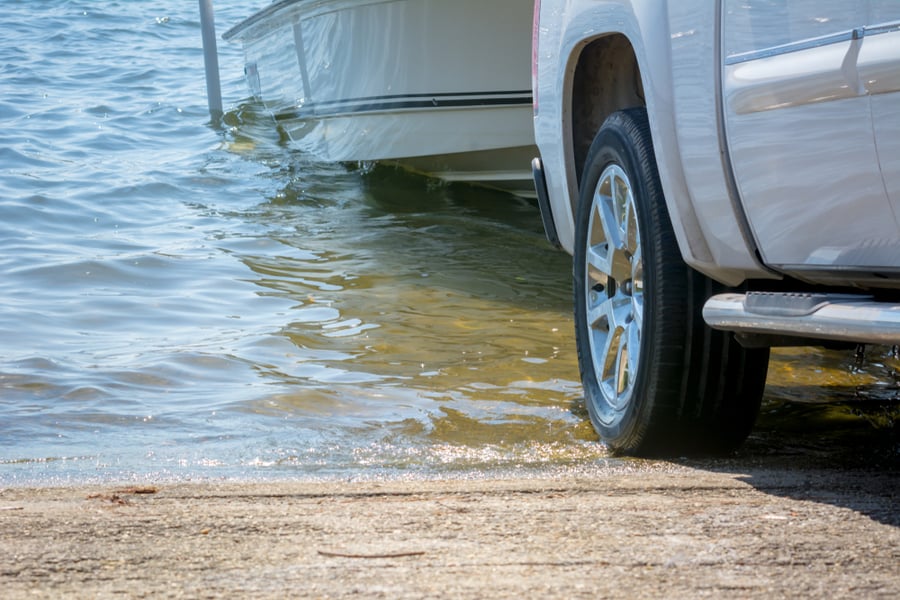 Just remember, the best thing to do before you launch is to keep practicing and prepare, prepare, PREPARE!
Attaching the Boat Trailer to Your Vehicle
Provided you have the right equipment to tow your boat, you're ready to go! To do so, follow this quick and easy step-by-step checklist:
First, ensure the trailer is appropriately balanced and level.

Next, position the vehicle so that the hitch ball is directly below the trailer's coupler and lower the trailer.

Next, securely fasten the tongue coupler and lock the trailer latch using a cotter pin or lock.

Then, using tie-down straps, securely fasten the boat to the trailer.

Finally, attach the winch cable or winch safety chain to the boat's bow eye (if so equipped).

Ensure the trailer's safety chains are securely fastened to the hitch. The chains should be long enough to accommodate tight turns but short enough so that the trailer cannot touch the road if it becomes dislodged from the hitch.

Fasten the trailer's lighting harness to your vehicle and check your lights.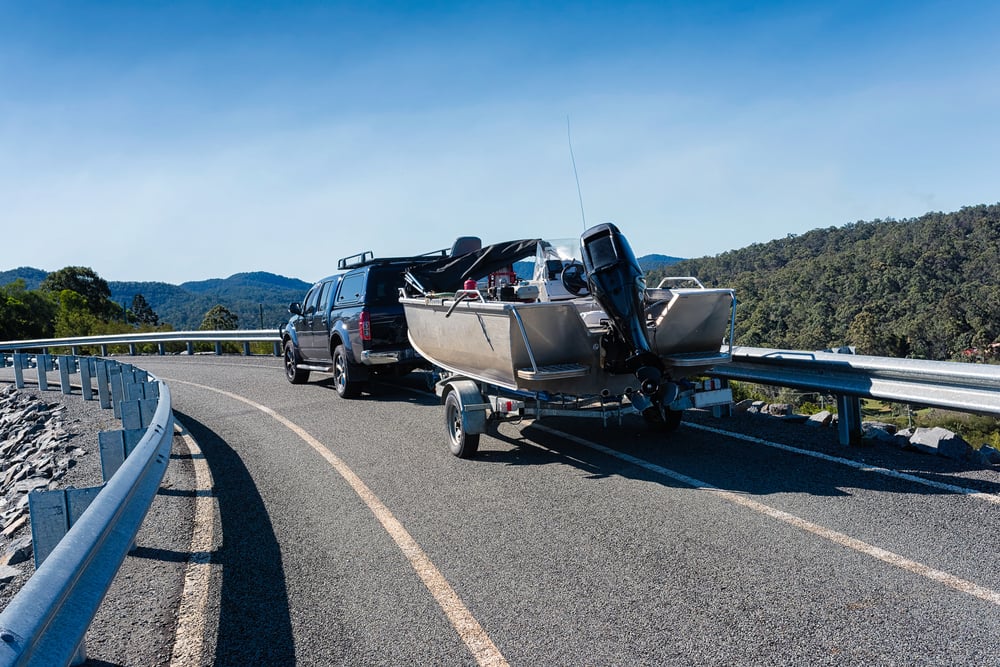 Proper Launch Procedure
Now that you have your boat attached to the trailer, the launching area thoroughly checked, and your gear prepped, you're almost ready to get into the water. You might be waiting on a few other boats to launch before you, so use this time wisely to make any last-minute checks or changes. Remove all covers and tie-down straps, double-check that the boat plug is inserted, and attach any dock lines to the watercraft needed for launch.
Once it's your turn to launch, back down the ramp and into the water using only one lane. Remember to keep your trailer straight. Gently apply the brakes as you back down the boat ramp, and with the tongue and boat winch still out of the water, stop and put the vehicle in park. Back your boat into the water slowly until it just starts to float. Try to avoid backing in too far, or it may damage your vehicle's systems, so be sure to unplug trailer lights and other non-waterproof gear.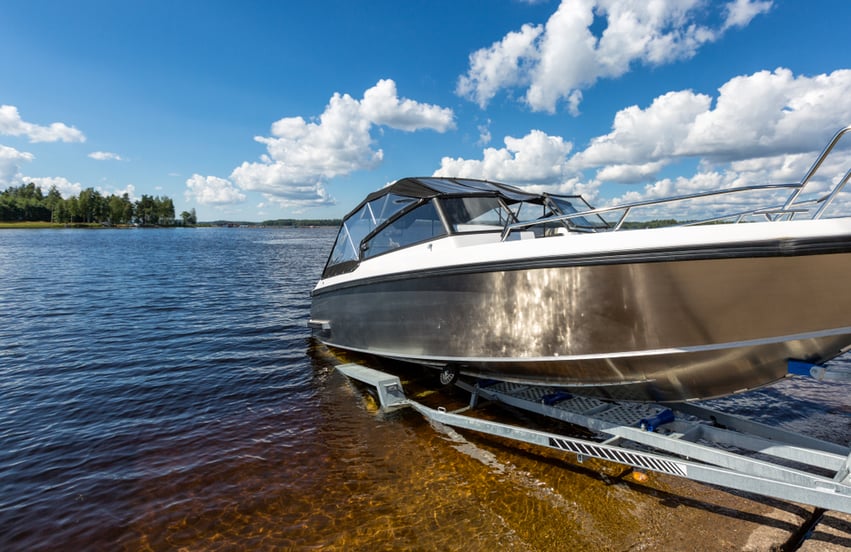 Once in the water, guide your boat out and away from your trailer using the tow rope, then tie the rope to a secure anchoring point. Finally, disengage the emergency brake on your vehicle and slowly drive away from the water. Be sure to find a designated parking space away from others trying to get to the launching ramp.
And just like that, you've successfully launched your boat for the season! Now that you've done the hard part get ready for some much-needed relaxation on the waters. Happy wandering!
Be sure to check out our other blog posts to get an inside look at our favorite destinations, marinas, and tips for boaters. Join the conversation on Flipboard, Facebook, Twitter, and Instagram.