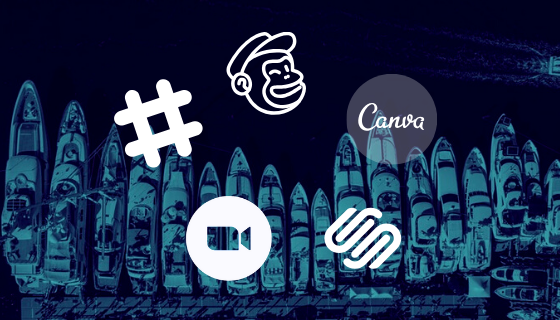 Note: If you're a Dockwa customer, click here to see Dockwa tools that will come in the most handy during quarantine or social distancing.
Managing your business remotely for the first time can seem daunting, but trust us: the brief learning curve is worth it.
This tool is free to use for businesses with fewer than 2,000 email contacts. Click here for our guide on using email messaging – and specifically MailChimp – in your marina.
Like Boston runs on Dunkin', the team at Dockwa runs on Slack. This freemium tool lets you chat with your whole team, certain departments, or individuals, in real-time from anywhere.
Zoom is the world's leading videoconferencing tool – easy to use, from laptop, desktop, or mobile device. Zoom lets you video conference with your marina team members from afar or video chat boaters to help guide them with issues at your marina if the staff is remote.
If you're not able to update your messaging to boaters, you're a bit of a sitting duck. Make sure you have full control over your website and can edit on the fly to get the word out should you need to reduce staff or shelter in place.
Canva is a free online tool with which you/your team can make slick looking guest notices, social posts, and more. Canva gives you free templates, correct image sizes/ratios, and stock images and icons, but also lets you play around creating your own from scratch, and upload your marina logo and images. From there you save your fabulous looking document as a PNG for digital use or a high-res PDF if you're printing it, and blammo: Sweet looking marketing assets that help you get the word out.
What is your marina's plan? Let us know and we'll share best practices with our marina partners – email becky@dockwa.com.
By: Becky at Dockwa
Published on 3/18/20 1:52 AM