COVID-19: The View at Dockwa HQ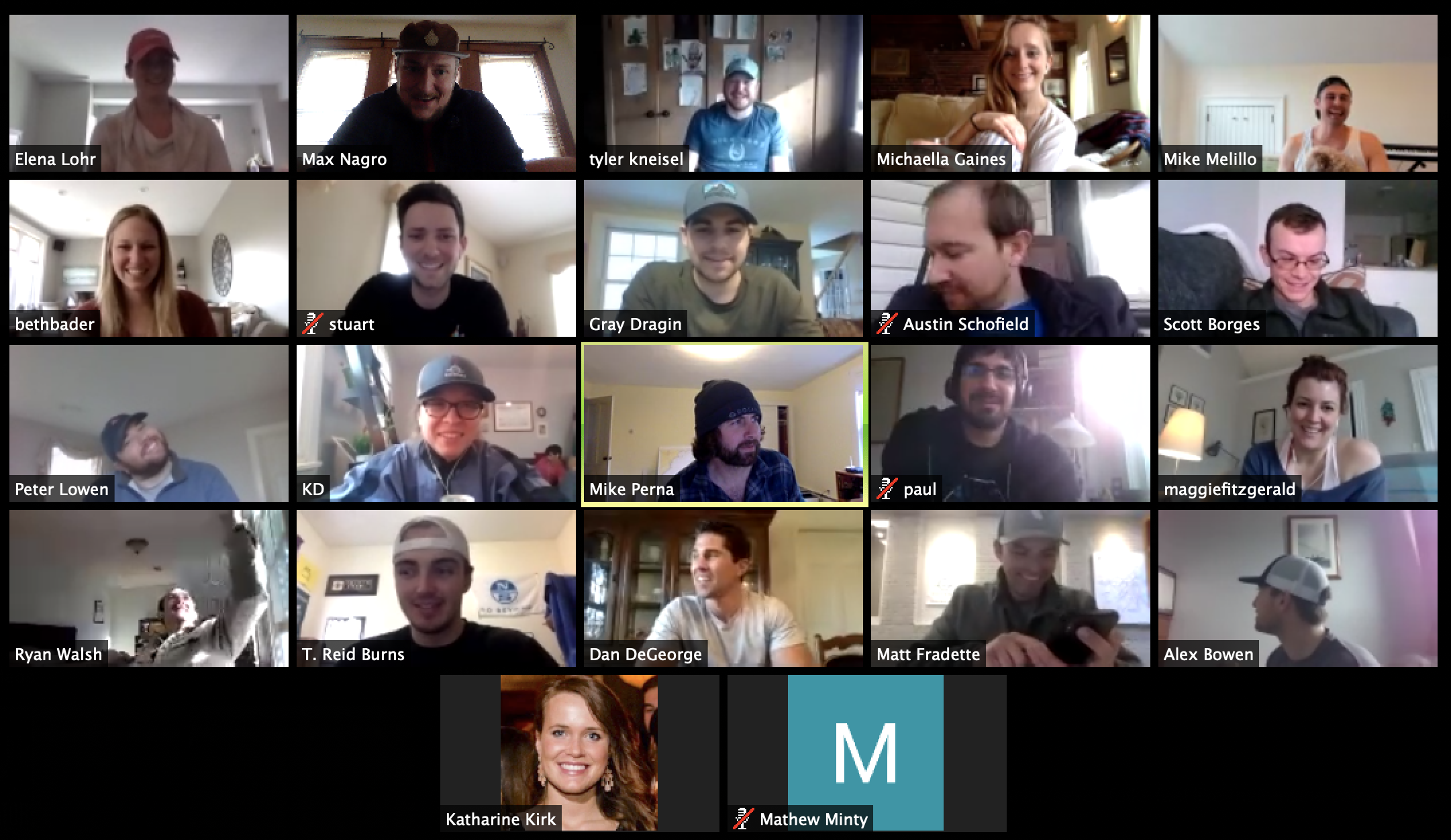 Some boaters and marina teams have asked how the team at Dockwa is doing – here's the quick update, with some WFH tips to help any of you who are in the same boat.

As a software startup made of up of sea-prone people, we've long been equipped to handle remote work on an as-needed basis. In recent weeks have been putting that to the test at scale. Here's how we roll:
Our WFH Tech
Slack: Like America runs on Dunkin', the Dockwa crew runs a million sea-miles an hour on Slack. At any point in the day, we can message a colleague, several colleagues, a department, or the whole company to give an update or regroup on a conversation. It's organized chaos and a delight.

Zoom. We can use Slack to call right in the app, but we often use Zoom for group chats, for a few reasons: because our Slack instance is limited to Dockwa employees with very few exceptions, and it's time-consuming, more expensive, and less secure to invite everyone outside the company to our Slack, we can basically only Slack-call with folks in our Slack. Zoom also has an easy automated integration into our calendars (Google), which makes regular calls with each other and with our partner marinas and boaters much easier.

More: We still use Google for email, some better than others (I'm sorry!), as well as Trello and Monday for group task prioritization and organization. This past week, we used Kahoot! for a 27-person virtual bar trivia, with significant others and pets joining the fun.
Facetime
Humans are visual beings. Being face-to-face, even at least virtually, helps communicate tone and emotion associated with any given message. Here's how we share our lovely mugs:
Facetime on the fly: Anyone can request to take a call or slack chat to a video call at any time. Sometimes typing just doesn't cut it.

Weekly video check-ins: A few teams and individuals have video calls scheduled at regular intervals to replace the in-person check-ins we had in the office.

All-hands meetings: Previously, Dockwa had an all-hands once monthly to review metrics, larger organizational goals, and product releases. With the team spread out, we moved these to weekly and cover those updates as well as Covid-19 related internal and industry changes, check in on each other's WFH, etc.

Happy hours: Dockwa crew, like any group of boaters, works hard and plays hard. We took our happy hours to Zoom like any rational people, so once a week we catch up to shoot the breeze about anything non-work related.
Slack Channels
We've been Slack power users for four+ years, so we know it can be both a blessing and a curse. Imagine if your marina employees could at literally any moment of the day, appear in your kitchen to ask you about an engine part's delivery ETA? No bueno. Here are some of the ways we keep ourselves in check:
We share Covid-19 specific updates in a specific channel, so that people can mute the channel to focus, or to protect their brains from the deluge of updates on any given day. Mental health matters. On the flipside, having a channel specifically dedicated to the topic is helpful for sharing articles, memes to lighten the discourse, and strategies for staying healthy and WFH.

We've long had the "#dockw_aww" channel set up for random acts of Dockwa doggo photos. They brighten our days at home, and have many appearances in the Dockwa offices, so it helps things feel a bit more normal to see our furry friends' faces.

We try to stick to working hours. Not only do we want everyone at Dockwa to spend time with family, getting fresh air, and working out at home or whatever they need to maintain self-care, but off-hours stress impacts the immune system and in our current situation, we need all the immune boost we can get.

Slackout: Roughly once a week we'll have an mid-day (typically) company-wide Slackout, during which we avoid posting in public channels – if there's an urgent matter we can call each other, but use private slacks as a last resort.