If you're planning to set course for this vibrant island, you'll find our top choices for marinas, restaurants, and entertainment in this article. With hundreds of attractions for travelers of all types and creeds, we thought we might help you narrow it down.
Marinas
At Dockwa, we host five marinas in Puerto Rico. Two are located in San Juan. While this travel guide will mainly cover the country's capital, locals will tell you that seeing the entire island is necessary.
With its unique ambiance reminiscent of a traditional European yacht club, Club Náutico de San Juan is a rich and one-of-a-kind experience. It provides the most accessible entry to San Juan's vibrant social life, restaurants, shops, casinos, beaches, airports, and more.
For over 60 years, the San Juan Bay Marina has strived to provide the best service and facilities. As a result, it's the only marina with haul facilities for yachts up to 65 feet and the only dry stack facility in all the metropolitan area of San Juan.
Restaurants
With different cultures and traditions influencing Puerto Rican cuisine, it has quickly become another foodie paradise. I sampled the best foods, cocktails, and desserts I've ever had the pleasure of trying on this island. I've listed my preferred picks for your consideration below.
Lote 23 is a gastronomic park located in the heart of Santurce that highlights the culinary and cultural contributions of Puerto Rico. Lote 23 has become the entertainment center of the capital city. If you're a lover of food and good drinks or someone who appreciates the culture, music, and art of San Juan and beyond, this is the place to be.
Go For: Lunch

Menu Highlights: Chicken Tenders, A Chicken Call Tinga and The Belly of the Pork Sings al Pastor, Bayoan
Come hungry because this is a food truck heaven. You're going to want to sample a little bit of everything. With that in mind, there are three spots you should plan to hit. First, I'd recommend Hen's House. I ordered their chicken tenders, which came with one of seven house-made dipping sauces. My favorites were the Chipotle Aioli, Sriracha Mayo, and traditional BBQ. The tenders were unbelievably crispy and juicy throughout.
Next, I headed to La Neta for tacos. I had their A Chicken Call Tinga taco, marinated shredded chicken, Fresno chilies, and crispy onions, and The Belly of the Pork Sings al Pastor taco, pork belly, and roasted pineapple with honey and cinnamon. La Neta serves both on fresh, homemade corn tortillas. Finally, I finished with Pernilería Los Próceres' Bayoan sandwich. The sandwich featured juicy, slow-cooked pernil, with mayo, lettuce, and tomato on a buttery, soft brioche bun. It was easily the best bite of the night.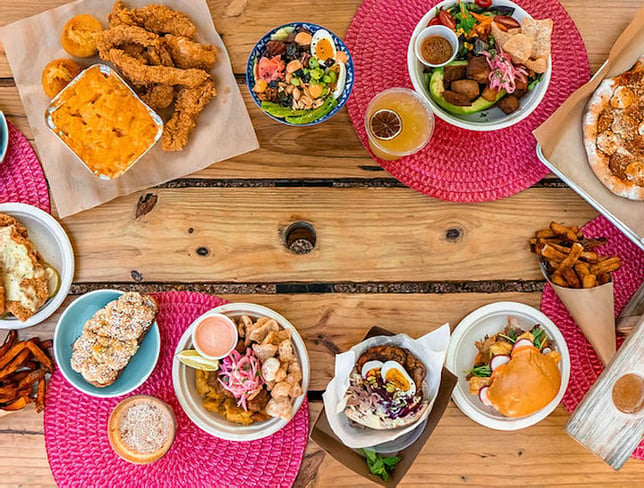 This Caribbean restaurant serves some of the most delicious tropical foods and inventive craft cocktails in Puerto Rico. Casita Miramar is a cozy, vibrant venue that feels like you're visiting your friend's city villa for a fancy dinner party.
Go For: Dinner, Dessert

Menu Highlights: Coconut Arepas with Shredded Beef, Ribs in Coffee and Guava Sauce, Tres Leches Cake
I watched about 15-20 people get turned away at the door while waiting for a table. Casita Miramar is the restaurant you visit when you want authentic Puerto Rican cuisine, so it was truly unfortunate for the unlucky patrons that didn't plan ahead. I've never been more thankful for a reservation.
Start your dinner with the Coconut Arepas with Shredded Beef. If you've never had an arepa, it's a pastry or fried dough stuffed with meats and vegetables. Casita Miramar deconstructs their version as they serve the meat on the side. By doing this, the arepa itself doesn't get soggy but remains ultra-flaky and chewy.
Next, I ordered the Ribs in Coffee and Guava Sauce. I don't always like a wet sauce on my ribs, but I literally ate my words. I don't think I've ever had ribs whose meat wasn't just falling of the bones but melting in my mouth. I was never a fan of Tres Leches Cake, but Casita Miramar made a believer out of me. It was rich yet light and airy, with tiny flecks of coconut that added the right amount of textural contrast to the soaked sponge cake. I want, no need, that recipe.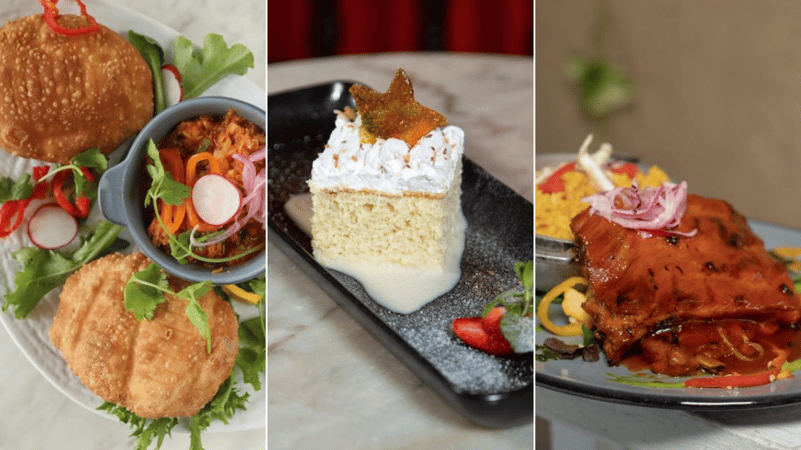 What happens when you mix the iconic tastes of Puerto Rico with thousands of years of Japanese culinary techniques? Take the spice and punch of the Americas, combine it with meticulously crafted Japanese dishes, then add the freshest local ingredients around. What you get is more than just Nikkei cuisine; it's a meeting of traditions with an injection of flavor, plenty of zest, and a dash of "Así mismito está perfecto."
Go For: Dinner, Drinks

Menu Highlights: Duck Gyoza, Azalea Roll, Agemono, Nozomu Roll, Kona Pop
I've never visited Japan, so I think it's fair to say my view on sushi is mostly limited. Still, what if I told you the best sushi in the world resides in San Juan, Puerto Rico? Azalea is, at least, a top contender. I began my meal with their Kona Pop cocktail and Duck Gyoza, which they stuff with umami-rich duck confit and topped with roasted garlic oil. After one taste, I knew I was in for a delectable evening.
When I order sushi, three rolls are the minimum. Each was incredible, but of the three, the Nozomu Roll was my favorite. It's a smoked and fresh salmon, halibut, scallion, and avocado roll topped with crab, mango, and spicy honey. I would have licked the plate clean if no one was watching.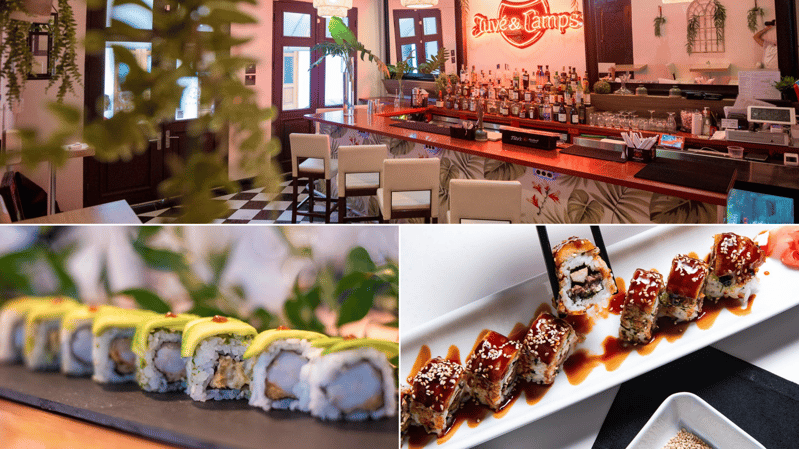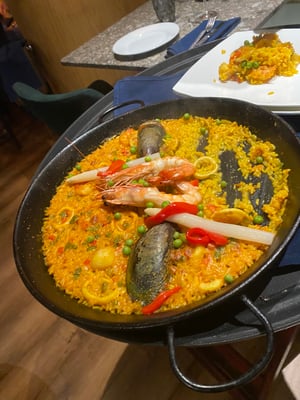 Luisa is an upscale, contemporary restaurant with beautiful décor and an elegant yet urban ambiance in the heart of Condado. They serve a variety of international dishes, creative signature cocktails, and decadent desserts.
Go For: Appetizers, Dinner, Drinks

Menu Highlights: Sepias al Ajillo, Paella Marinera, Luisa Sour, Corazón Púrpura
Dinner at Luisa was a luxurious experience from the moment you walk in the door. The myriad of global dishes means there is something for everyone's preferred taste and flavor. When the waiter asks for your drinks, try the Luisa Sour or Corazón Púrpura.
Luisa is most known for its seafood, so begin with the Sepias al Ajillo, cuttlefish with garlic. I never had cuttlefish before Luisa, but I'll be searching for it from now on. The texture is like octopus or squid, but it's a touch superior.
Luisa was the highlight of my trip to San Juan for the paella alone. The dish, which would easily serve a party of 2-3, was the creamiest, almost risotto-like seasoned rice with calamari, shrimp, and mussels. It was the definition of indulgent, and I don't think I've experienced a meal quite like it.
Exploring
In San Juan, and if you're willing a little ways outside the city, an invigorating experience or a hidden gem is always just around the corner. So, whether you plan to enjoy a local rum tasting, expand your worldview, or dance the night away, Puerto Rico is a destination like no other.
In this fun and interactive class, you will learn how to create the perfect Mojito and Shaken Piña Colada while learning about the history of these cocktails and some cool bar tricks and skills! You'll start with a welcome cocktail at the Pavilion, visit the Bacardi Family Museum and discover their history and the craft of making the world's most awarded rum. Then, a Bacardi specialist will lead you through mixing two classic rum cocktails.
Pro Tip: Hold the bottom of the shaker if you want to avoid a spill…

Designed by following the strictest and most modern standards of contemporary museum design, the Museo de Arte de Puerto Rico (MAPR) is composed of 130,000 square feet of modern spaces. MAPR has 24 exhibition galleries distributed between the historical building in the west wing and the addition in the east wing. For $6, you have the option to view the permanent installations or temporary exhibitions.
You'll find Fajardo Bio Bay inside a natural reserve. You have to kayak through a beautiful mangrove forest, but it provides excellent natural scenery as you make your way to the main show. El Yunque National Forest is minutes away if you want to plan a full-day trip on the island's east coast.
Pro Tip: The tour is in Fajardo, which is an hour away from San Juan. As it's one of five bioluminescent bays in the world, it's worth the trip.

La Placita de Santurce is a must-stop for anyone visiting Puerto Rico. The location was founded more than 100 years ago as a two-tiered market square. Nowadays, during the day, it functions as a marketplace with some open restaurants. In the evening, Placita de Santurce comes to life. The atmosphere is livelier from Thursday through Sunday, when locals and visitors alike flock here to hang out, have drinks, and dance.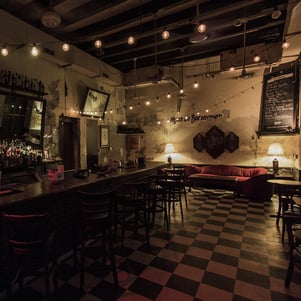 The moment you enter the doors of La Factoría, you immediately realize it's not your ordinary bar. It's at an unmarked location in San Juan, so if you're not looking, you'll miss it. La Factoría is a collection of six bars, each curated with a different ambiance and drink menu. So whether you seek to enjoy craft cocktails, dance the night away to live music, or simply relax in good company, they got you.
Pro Tip: There are secret passages in the bar that lead to other sections. Explore!
Stay up to date with our blog and join the conversation on Facebook, Twitter, and Instagram.