Maximizing Your Marina Docking With Marina Maps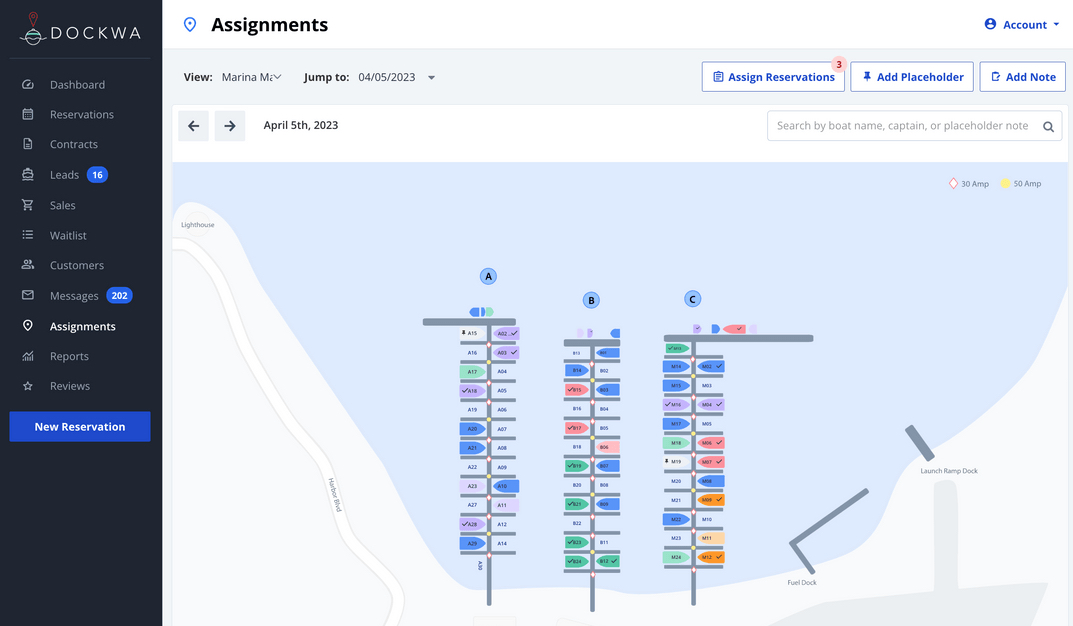 If you're dealing with boats coming and going from your dock frequently, you may not have had a moment to consider how you can maximize your dock layout to fit more customers safely.

Factors such as the layout of your property, total available space, and location of your dock will play a role in determining how many boats you can fit, and ultimately how much revenue you can bring in with your marina.

Visualizing your marina with at-scale representations is one of the best ways to determine how to maximize your docking.
What's the Difference Between a Marina and a Dock?
Before we dive into how you can maximize your marina docking, let's define a marina and a dock.
A dock is a structure built along the water that provides a place for boats or ships to be temporarily tied up or docked. Docks can be floating or anchored to the shore and can be used for a variety of purposes, such as loading and unloading cargo, repairing boats, or mooring vessels.

A marina is a more extensive facility that typically includes a dock as well as other services and amenities for boat owners and enthusiasts. Marinas offer services such as boat storage, fueling, maintenance, repair, launching, and rentals. They may also feature amenities such as restaurants, shops, showers, restrooms, and Wi-Fi access.
To Maximize your Marina Docking, Consider How Boats are Docked

Boats are docked in a marina in several ways, depending on the type and size of the boat.
Stern-to-dock: The most common way to dock a boat in a marina is a stern-to-dock. In this process, boats are backed into the slip with the stern facing the dock.
Bow-to dock: In a bow-to dock, the boat enters the slip bow first and is held in position by forward lines and sometimes by a center guide rail. This method is commonly used for larger boats.
Med mooring: Med mooring is common in Europe and is typically seen in smaller marinas with space limitations. In this method, boats are moored parallel to the dock using bow and stern lines. The boat is set at a safe distance from other boats and vessels by attaching two or three mooring lines to the dock.
Side-tie dock: In this method, the boat is moored parallel to the dock with lines securing the boat to the dock.
Knowing this, consider which of the ways boats are currently docked at your marina.

Is it the most efficient way to safely fit as many boats as possible? With your current process, can you make game-time decisions for last-minute new boaters or boaters who want to extend their stay?
Now Visualize your Marina with at-scale Representation
Leveraging marina software like Dockwa with a visual marina map can give you more confidence that you're maximizing the layout and size of your dock for both the safety of your customers and your marina's bottom line.
With Dockwa's Marina Map, you can:
See the real-time location of every marina guest
Access critical reservation information or add customer notes
Customize the visual layout unique to your marina to include ramps, fuel docks, or restaurants
Add your own custom color coding and labels
Watch a demo of Dockwa's Marina Map and learn how you can maximize your marina docking.