East Coast snowbirds may have some fancy throttlework ahead of them this fall, thanks to proposed closure schedules of a key ICW bridge.
Update as of 9/29/21 1130: The proposed schedule remains up for discussion, and boaters should attend the meeting tomorrow (9/30) to weigh in.
Meeting ID: 859 2530 1872
Passcode: 158697
Join the USCG Town Hall call this Thursday, September 30, 2021 from 11AM to 12:30PM to discuss the proposed fall closure schedule of Norfolk Southern Railroad Bridge #7 in Chesapeake, Virginia. More details from the USCG, as well as meeting information below.
For any questions or concerns regarding this closure, please contact the United States Coast Guard Sector Virginia Waterways Management Division duty officer at 757-374-3408 or by email at VirginiaWaterways@uscg.mil.
Why Join the Call?
A proposed closure – albeit an intermittent one – could be coming to a major bridge along the ICW in Norfolk for this fall. The schedule would force much of the southbound transient traffic to divert off the ICW, endure delays, and/or work through a fairly significant waterway traffic jam. This Thursday is your chance to make your voice heard, and ask Norfolk Southern Railroad and the U.S. Coast Guard to conduct this maintenance after the peak of the season to avoid creating havoc with fall traffic patterns.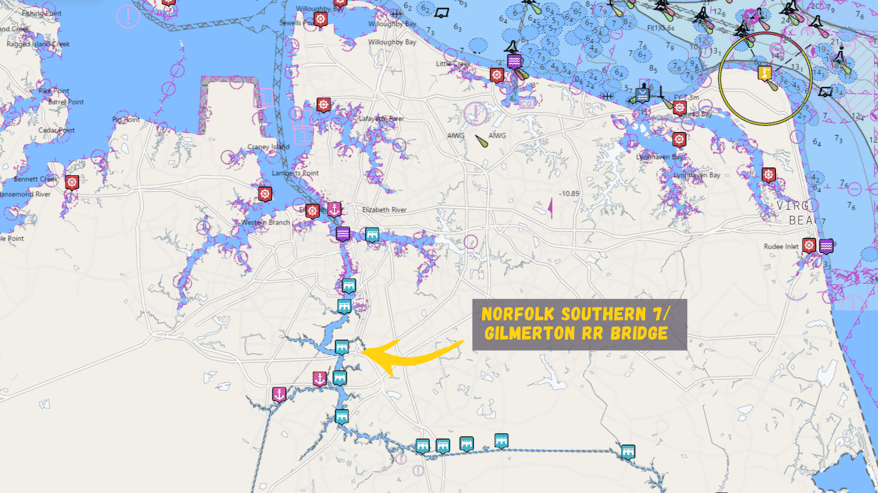 Boating Shop Talk: Louis Davis from Coinjock Marina
I caught up with Louis from Coinjock Marina, who helped illustrate a few reasons this schedule could be bad news for south-bound boaters.
Help us picture it – how would a partial closure during this time play out for boaters/commerce along the ICW?
This proposal talks about closing the intercostal waterway, in an area where most boats do not transit offshore – it'd be different this was between Lockwood's Folly and Charleston where a lot of boaters go outside anyway, but this is an area where everybody goes inside because no one wants to go around Hatteras. The traffic already bottlenecks between Norfolk and Beaufort at the height of the season. And when I say this is the height of the season that they're trying to do this... this is the height of the season.
Who will this closure effect? The impact isn't limited to recreational boaters – who will recreational boaters be contending with?
The proposed closure does impact recreational boaters, but for the hired delivery captains and crew it's even harder to adjust their floatplans. Insurance companies dictate when these boats can move because of hurricane season. Many of them cannot transit south of a particular longitude before a certain date, so they have those regulations they have to work within.
It's not just the total number of days the bridge will be closed, but the timing overall.
Quite honestly, it's just the absolute height of the season here. And: It's hurricane season! When you start talking about closing for three-day periods at this time of the year, it's not like August or July when you have long periods of stable weather. You've got fronts, storms, Nor'easters, hurricanes – October and November throw everything at you as far as weather goes. So now these guys are gonna be chasing the weather, chasing a bridge closure, chasing a schedule, just to get there. – And only half of the boaters are going to even know that this was happening, so half of them aren't even going to plan for it; they're going to get to the bridge and it's going to be closed for two days and then they're not going to be able to find dockage anywhere – everything's going to be full and they'll have nowhere to go.

If this schedule gets approved, boaters are going to be stuck having to make some tough decisions. Is the weather good enough to go around Hatteras? Is the inlet at Oregon Inlet in good enough shape to get through this one time? This schedule would put property and personnel in peril. People are going to go around and try Oregon Inlet who have never done it, don't need to do it, in conditions that it shouldn't be done in.
How would this schedule impact ICW marinas?
From a revenue standpoint, we're going to be fine either way. It'll probably be difficult to manage, it will be dangerous because I'll have these boats running to me in the dark the night before. With a three-day closure, the boats that run late to get here are going to stay over the next day, so I'm going to wind up with one day of each 3-day closure that's a little bit slack. It's more about the boats that can't get here or can't find space where they are. It's just completely unsafe.
What should boaters share on the call this Thursday?
Remember: this is commerce. These are not pleasure boaters in the normal sense of the word. When they're transiting from north to south, it's not a pleasure cruise; they're delivering their own boats or they're hired captains.

The big boats especially have to have reservations along the way. There are more boats than there's ever been, but there's not more slips than there's ever been, so they have to plan accordingly. If they show up and that bridge is closed, where are you gonna put 150' boat? There's nowhere to anchor. It's not like this is a huge harbor – Norfolk harbor is not an anchorage. So there are a lot of things to contend with.
Huge thanks to Louis for sharing his perspective on this issue.
Join the Call
Join the meeting remotely via Zoom (download Zoom free here):
Meeting ID: 859 2530 1872
Passcode: 158697
Read the full notice from the United States Coast Guard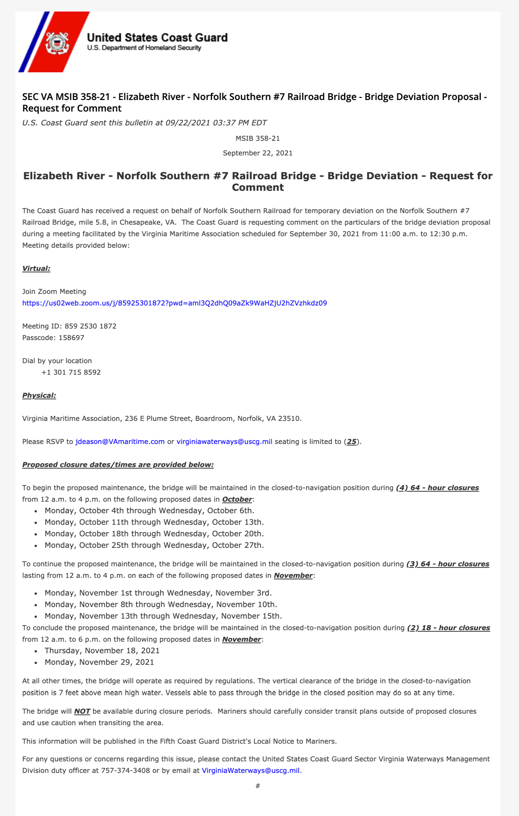 Thank you to the U.S. Coast Guard for their work facilitating the maintenance of waterway structures with consideration for waterway traffic, and for communicating with the boating community.
About the Bridge
It's worth noting: The RR #7 bridge is 113 years old – built in 1908 and refurbished once since then, in 1956. (To save you the math: that's 65 years.) A lot of infrastructure relies on this bridge, and there's no bypass route. This bridge maintenance is imperative – if it were to go without due maintenance/repairs, we could see the waterway closed for much longer than a few days a week for two months.
We'll update this post with further updates as we have them. Read on for the edited version of the original post, with a quick Q&A with Louis Davis from Coinjock Marina. That interview has been edited for clarity, specifically a handful of instances in which I understood him to be referring to the USCG, which was not the case.