For Your Salty Sea Pets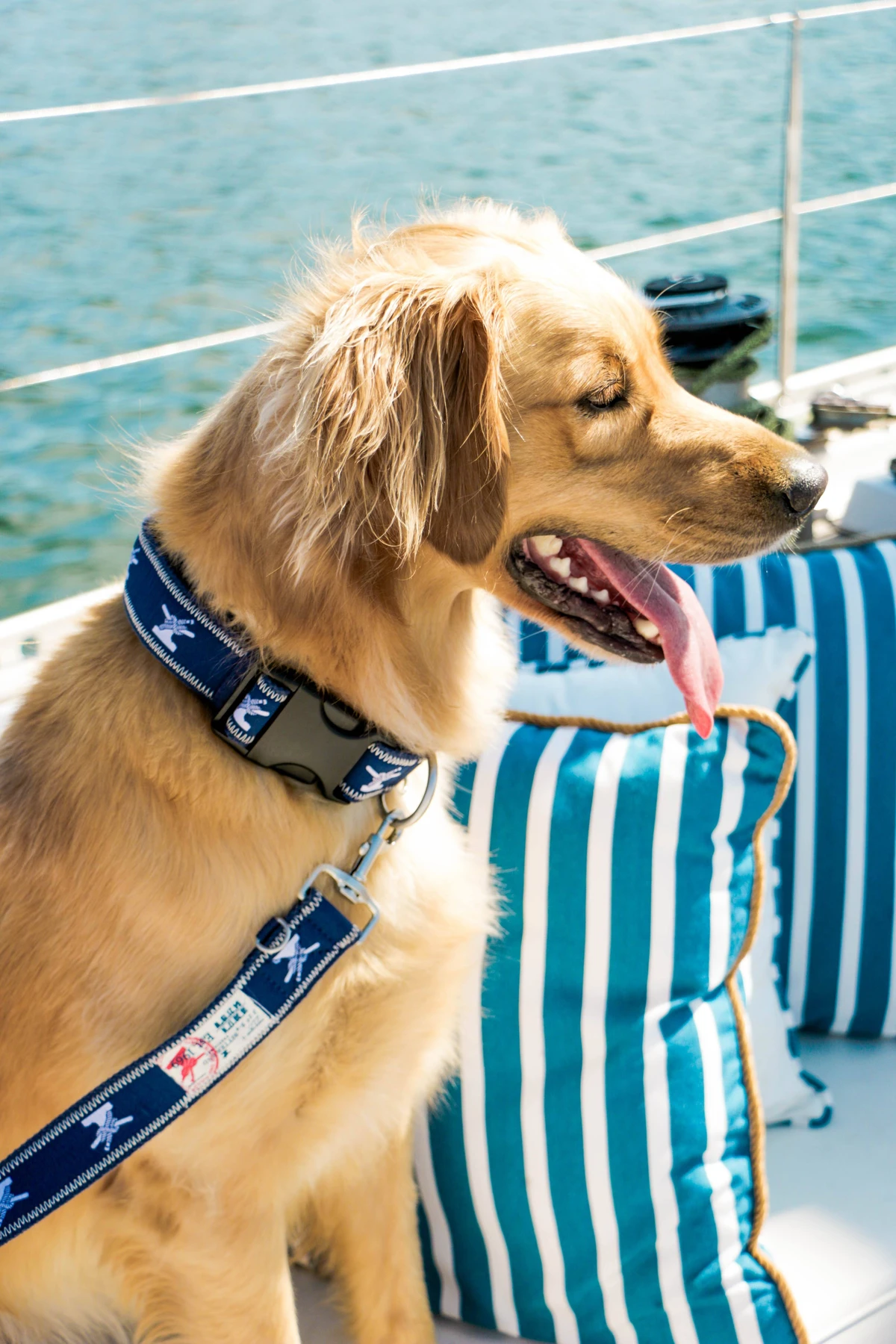 Sound Hound Leash
Don't forget about your furry friends this holiday season! Bitter End Provisions zig-zag stitched leash is made from sturdy nylon is the perfect accessory for the fur baby in your life. The leash is available for $32; the matching collar is $36.
Keep your dog entertained for hours with a toy that encourages healthy play activity. The rugged rope, designed and made in Maine to secure lobster traps to buoys, will stand up to even the most energetic playmates. You can purchase this pup pleaser for $15 on SeaBags.com
This nautical knot toy makes the perfect minimalist cat toy. It's handmade with un-dyed cotton rope wrapped around a cork ball. Get it on Etsy for $12.
For Your First Mate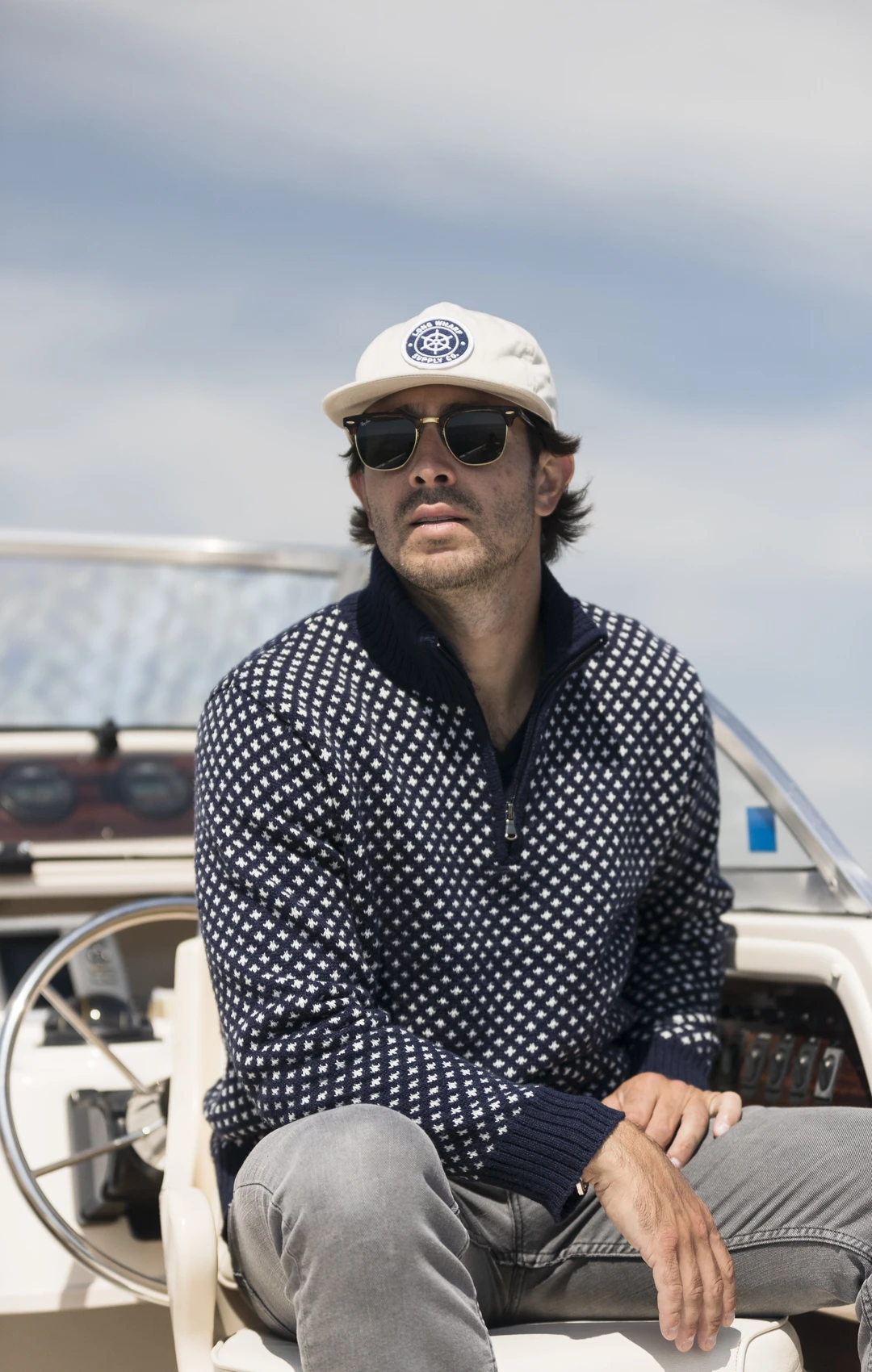 These are the first fisherman's sweaters made from a soft blend of recycled oyster shells, recycled water bottles, and natural lambswool. Each SeaWell™ Sweater reseeds up to 30 oysters & naturally filters up to 1,500 gallons of seawater every day. You can purchase these ultra-thick and warm-toasty sweaters in navy, cream, grey, or pine from Long Wharf Supply Co. for $158.
It's always sweater weather on Nantucket. Donning an iconic sailor stripe pattern, Long Wharf Supply Co.'s 'Sconset SeaWell™ Sweater pairs well with an early morning bluff walk or a trip into town for dinner. Get it in navy, cream, or grey for $128.
When the weather calls for added protection, Helly Hansen's go-to marine all-purpose jacket is a waterproof, breathable jacket that will keep you warm and dry all season long. It's fully fleece lined with a warming collar, and pockets for added comfort offer a little extra insulation. It's available to purchase for $165.
Helly Hansen's Crew Jacket is a marine style for all your sailing adventures. In sea spray or strong wind, Helly Tech® Protection fabric keeps you dry and comfortable. Sealed seams and a high collar up your protection level. You can purchase it for $155
After a long day of water, sun, and sand, you'll be reaching for this hoodie. Relaxing by a fire is recommended but not necessary. Get it from Pier 37 Clothing Co. for $45.00
"Seas The Day" in these nautical inspired Rock 'Em Socks! For $65 you get 5 pairs all bundled into one pack!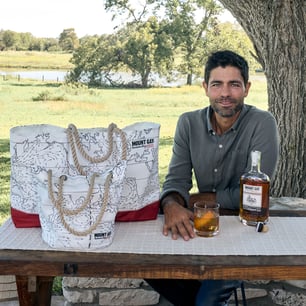 Authentic Original Float Boat Shoe
Finally, the perfect shoe for play on land and sea! This reimagined classic is made to go out on the water. Its bold colors and buoyant construction give the Float Boat Shoe a play-all-day look and feel. Featuring strategically placed "gills" and "portholes" for drainage and breathability, it's the ideal boat shoe for rough chop and wet weather. Get it in a variety of colors from Sperry for $44.95.
Every Ocean Currents Tote purchased funds the removal of two pounds of trash from the ocean and coastlines. The weather-resistant fabric and sturdy construction are set for any journey and ready to go aboard. This gift is available for $230 on Sea Bags.
For Boat and Home Decor Lovers
These wooden map serving boards from HullSpeed Designs are perfect for your boat's galley or inside your home. Use the engraved side as a serving board and the reverse side as a work surface. It's available for $59.95.
Build Your Own Newport Sea Salt Gift Box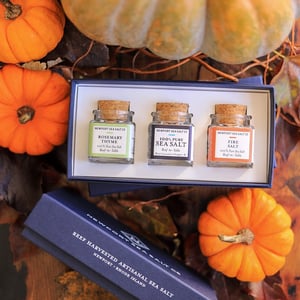 Choose 3 from 5 of Newport Sea Salt Co. blends ranging from Pure, Rosemary and Thyme, Bella Napoli, Butcher's Blend, and Fire Salt. Each box arrives with a card to let your giftee get familiarized with Newport Sea Salt as well as information about each blend and dish pairings. You can get this gift for $40.
Sea Bags Wine Bags are made of recycled sail cloth that has been retired after many voyages. When you need a gift for the hostess of your holiday party, consider this one-of-a-kind "green" alternative. This wine bag and others are available for $40.
Give your home a nautical touch while protecting your tables with these Nautical Sailor Knot Coasters from Sea Bags. This set of 4 is available for $25 in natural or navy.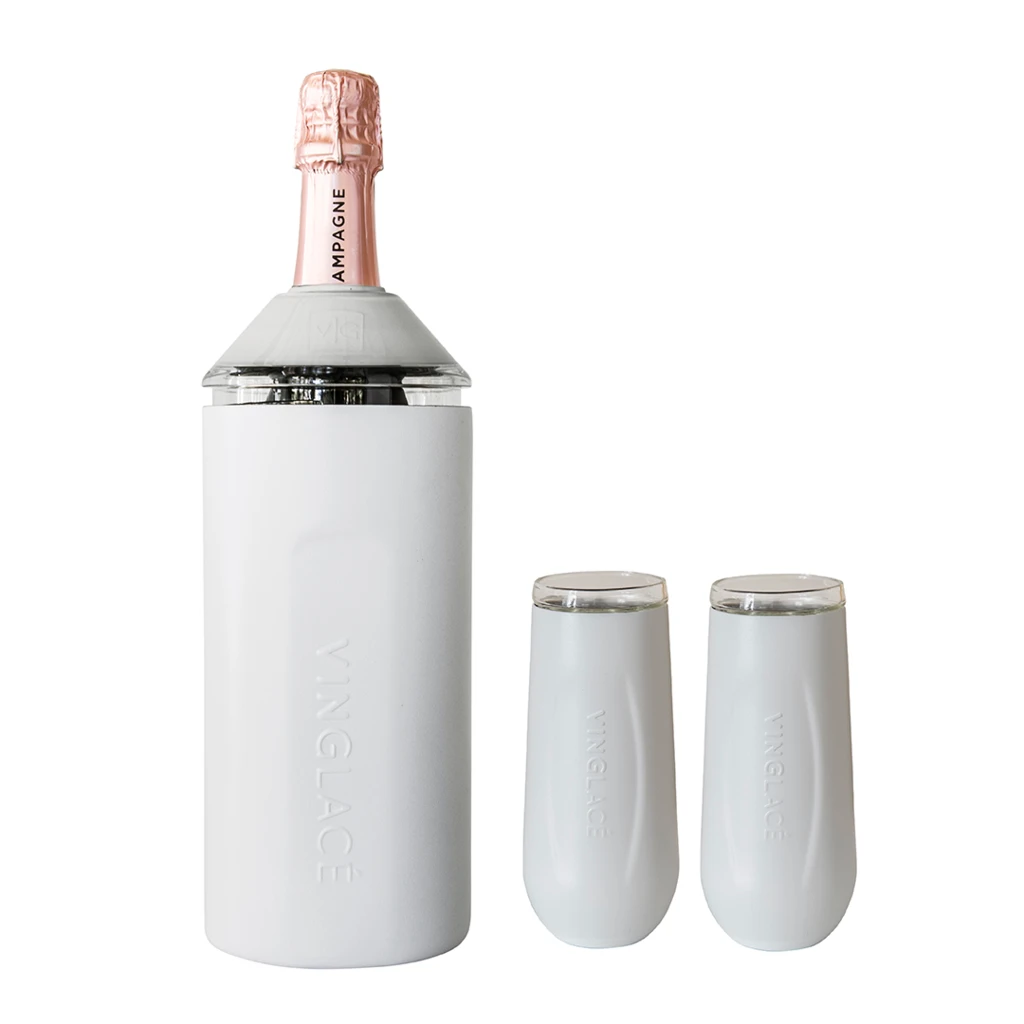 Champagne Gift Set
Sip your champagne and toast to the good times while enjoying your Champagne chilled to the last drop without the mess of ice in the Vinglacé portable bottle insulator. There Original Wine Chiller is made of stainless steel, double walled, and vacuum insulated. This $114.95 gift set comes complete with 2 Champagne Flutes.
Whiskey Decanter with Antique Ship
Sail the seas and drink your spirits with this whisky decanter, a novelty for any table or bar. This Handmade decanter will make anyone admire the artfully detailed antique ship, beautifully set in the Cylinder Ship decanter. The decanter and glass set is available on Amazon for $119.95
You can never have too many pillows! These soft recycled sail cloth pillows from Sea Bags are durable and water resistant, bringing living room comfort to any outdoor space. $85.00
Designed to withstand several years of heavy foot traffic, SternLines lobster rope doormats stand the test of time! If lobster rope can last years of wear and tear in the Atlantic Ocean, these authentic doormats will hold up at your home. They're available in a variety of colors to purchase for $48.
For Party Planners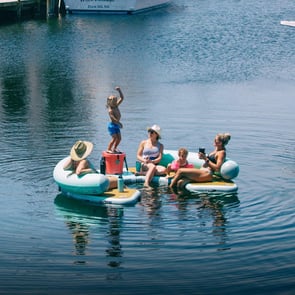 Inflatable Dock Hangout
Meet the Dock Hangout by Bote. Whether you're floating down a lazy river, chilling on the lake, or rafting up for a party, the patent-pending Dock Hangout is guaranteed to be your new all-time favorite way to kick back and relax. You can purchase this item for $1304.10.
Take the spirit of Bitter End Yacht Club to your backyard or beach house with this classic Ring Toss game with a bonus bottle opener feature and handy magnetic bottle cap catch. You can get this gift for $55.
2x4 Retro Elakai Cornhole Boards
Nothing gets a party started better than a round of corn hole. Carefully crafted from the finest materials, this two-by-four-foot regulation cornhole board set features a premium grade plywood deck with a beautiful mahogany frame.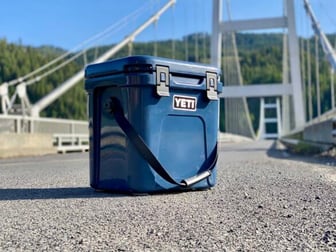 YETI Roadie 24 Cooler
Keep your spirits and brews cold with the new-and-improved Roadie 24 Hard Cooler. YETI Hard Coolers are over-engineered to outperform and sized for all adventures. The Roadie 24 is 10% lighter in weight and holds 20% more than a Roadie 20, it even performs 30% better thermally. Get it on Amazon in a variety of colors for $199.98.
In an exciting collaboration with designer Vicious Venom, the Bitter End Crew has created the perfect combo of dry bag meets classic canvas tote meets cooler. Bitter End's City-to-Sea Dry Tote will take you from the launch to lunch in style. You can purchase this gift for $185.
For Tech Junkies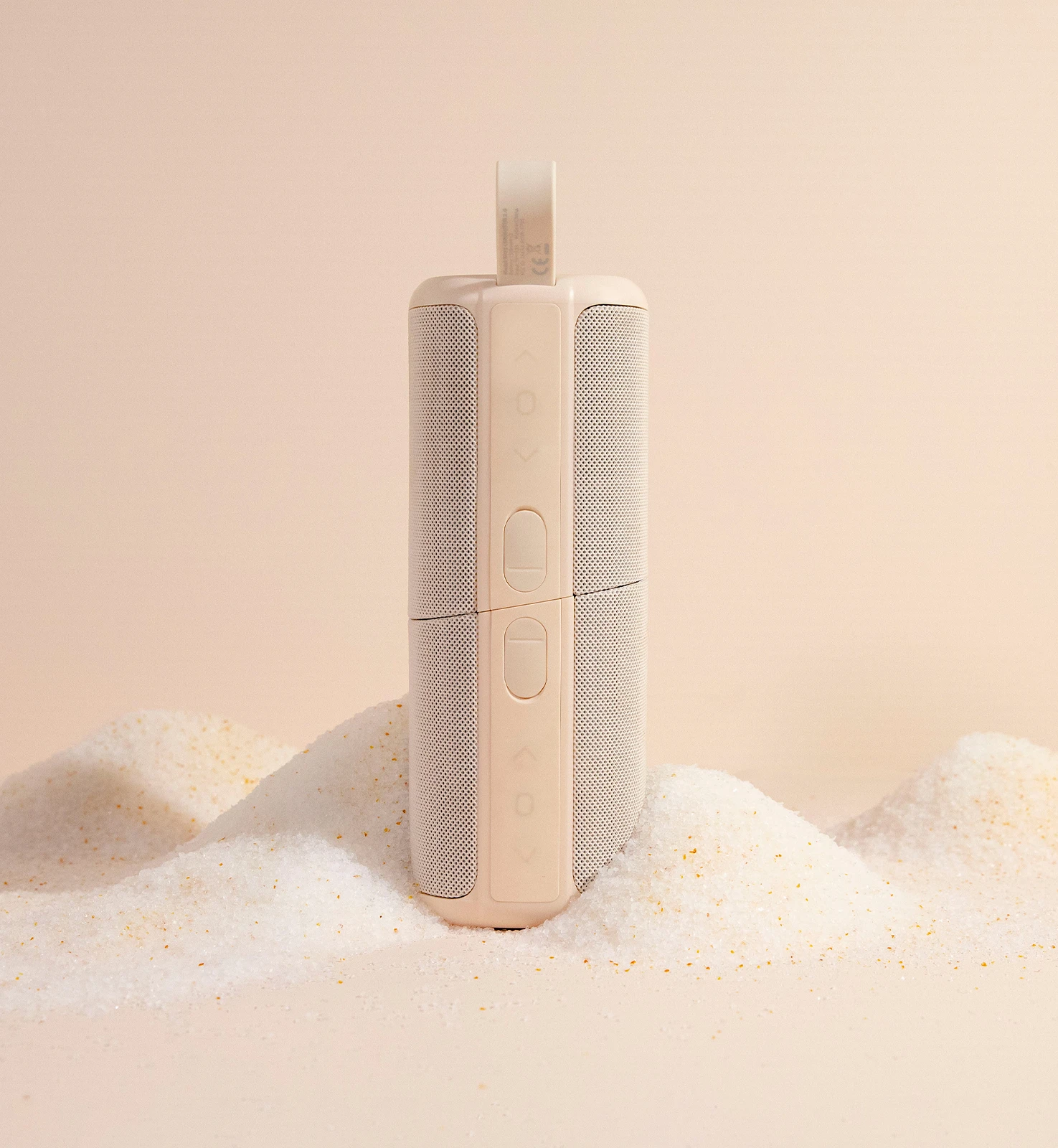 Commuter 2 Bluetooth Split Speaker
Inspired by travel, Kove's speaker system is designed with your active lifestyle in mind. Whether you're using the split-speaker sets to share music with friends or combining the halves to create a 360° surrounding sound effect to get away from it all, cruising just got an upgrade. It's available for $87 in colors ranging from sand, black, concrete, stone, and terracotta.
Kicker Premium Marine Media Center
Add serious sound to your boat with Kicker's KMC5 marine digital media receiver. Kicker gives you six channels of power if you want to add a slew of speakers to your party barge. Stream your favorite radio stations and music with SiriusXM and Bluetooth connectivity. It's available to purchase on Amazon for $569.95
Surf the web at sea, up to approximately 15 miles from the coast, and in marginal signal areas on land. The system provides the perfect balance between small dimensions and great performance, ensuring stable and high-speed connections. Find yours on Amazon for $371.47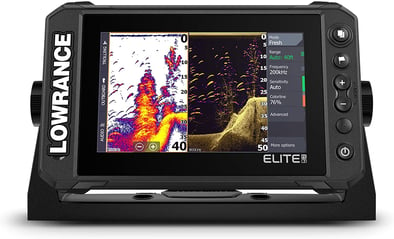 Lowrance Elite FS Series MFDs
This is a must-buy for fishing enthusiasts! The new Elite™ Fishing System (FS) gives you access to the full line-up of Lowrance fish-finding tools for $949 on Amazon.
Don't get stuck on the water with a low battery charge. This cordless, mini portable charger is small enough to fit in your pocket, making it perfect for iPhone users on the go. Find it on Amazon for $34.99 in colors ranging from black, blue, pink, red, and white.
Did we miss anything? Send us an email and we'll update this list.
Stay up to date with our blog and join the conversation on Facebook, Twitter, and Instagram.