As a hub for maritime activities, San Diego's harbors are filled with boaters looking to enjoy the California sunshine and beautiful waters of the Pacific. From long-range sport fishing to cruising to Catalina, you're sure to find your next adventure in San Diego.
Seven Best Rated Marinas in San Diego, CA
Check out these top seven San Diego marinas for your next SoCal adventure. All are available to book through Dockwa:
Star rating: ⭐⭐⭐⭐⭐
Overview: Safe Harbor Cabrillo Isle is Harbor Island's go-to marina for outstanding personalized service and meticulously maintained docks. Located on the man-made peninsula of Harbor Island, in the San Diego Bay, Safe Harbor Cabrillo is an excellent destination for boaters looking to explore the San Diego waters. The marina is centrally located in the heart of San Diego, and is a hub for boating enthusiasts and offers vibrant social activities.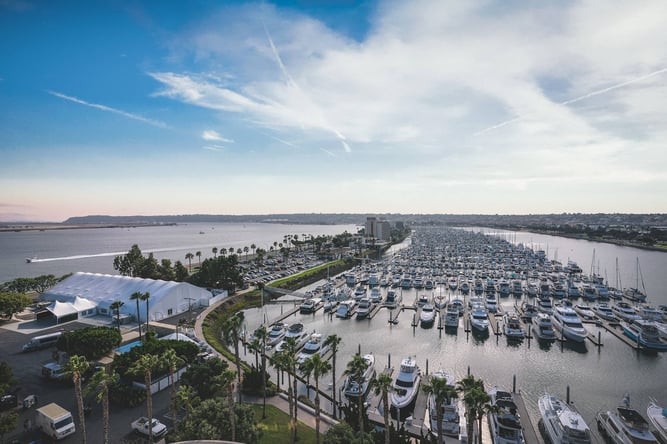 Star rating: ⭐⭐⭐⭐⭐
Overview: Experience the warm, friendly community of Harbor Island West Marina; your gateway to the Bay. Situated at the west end of Harbor Island, guests have immediate access to the bay and are just a few minutes voyage to the Pacific Ocean. This marina offers 620 slips ranging in size from 21 to 100 feet, a full-service fuel dock, deli, chandlery, sailing academy, pool, jacuzzi, laundry facilities, and restrooms along with a management philosophy that has forty years of experience in understanding how to take care of all types of boaters.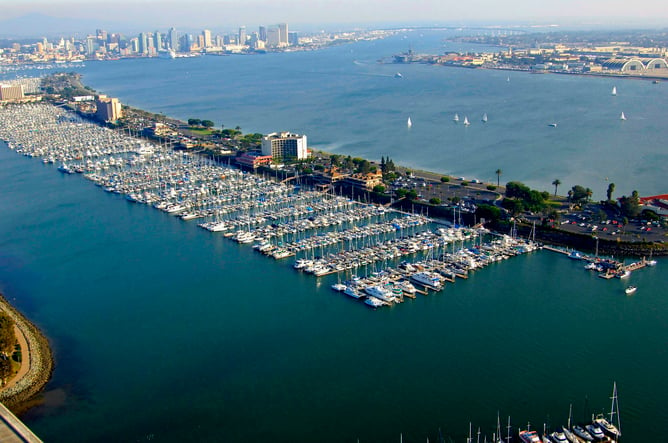 Star rating ⭐⭐⭐⭐⭐
Overview: Sun Harbor Marina is the world's first LEED (Leadership in Energy and Environmental Design) certified marina. This San Diego marina boasts beautiful facilities, which are well maintained using ecologically sensitive practices. Boaters also enjoy quick access to San Diego Bay and the open waters of the Pacific Ocean for boating enjoyment. Marina management prides itself on personalized service, and tenants are proud to be part of a friendly and supportive marina community.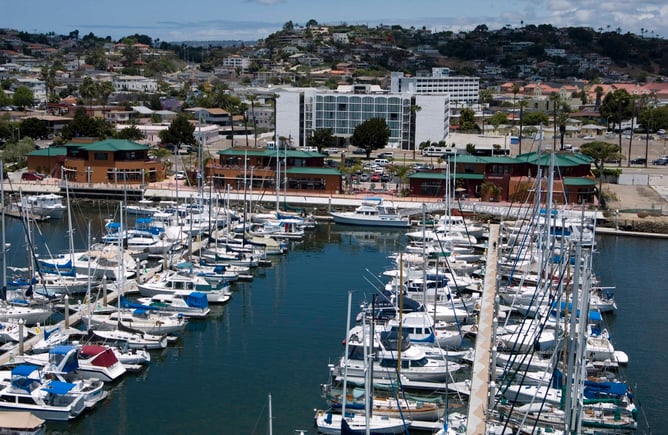 Star rating ⭐⭐⭐⭐⭐
Overview: The Loews Crown Isle Marina is a private collection of 80 slips to accommodate vessels up to 140 feet in length. This first-class retreat provides both high-tech features and access to all the Loews San Diego Bay Hotel resort has to offer. The marina is located near enough to downtown San Diego to enjoy the city yet far enough to feel you're away from it all, the marina is easily accessible by bridge, freeway, or boat.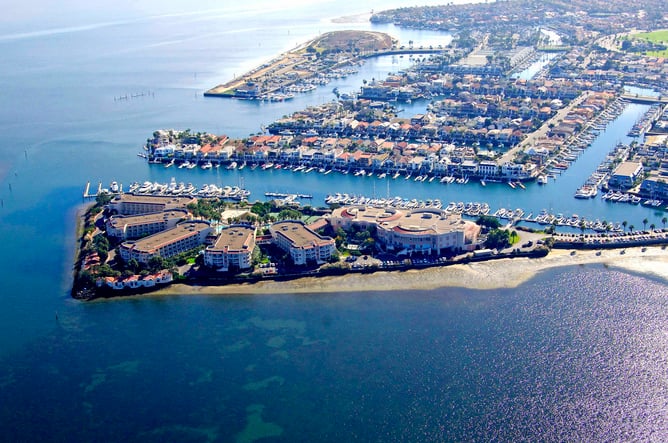 Star rating ⭐⭐⭐⭐⭐
Overview: Safe Harbor South Bay is an exclusive marina catered to boaters and families who appreciate a quality lifestyle, superior customer care, and attention to detail in a serene and calm environment. This marina features over 350 single slips ranging from 25' to 65' and up to 100' end-ties, along with comprehensive amenities. Safe Harbor South Bay's mission is to provide boaters in Southern California the best experience possible- marinas that are maintained in a first-class manner with true pride of ownership. It is the perfect location for berthing recreational vessels and offers visitors a full range of leisure activities and conveniences.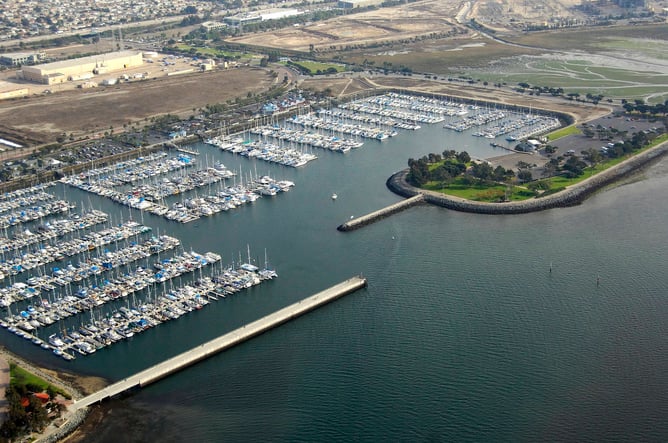 Star rating ⭐⭐⭐⭐
Overview: Unlike any other San Diego marina, this marina offers free-of-charge electric, water, and Wi-Fi to its slips. In addition, this marina has the only underground parking area on Shelter Island and is the first "green" marina on the West Coast, with beautiful docks and adjustable cleats. The boat slips range in size from 10 to 80 feet and includes 30-amp power, with 50-amp power available at some of the larger slips. Discounted room rates are also available along with discounts at the hotel's gift shop, bar, and Quarterdeck Restaurant.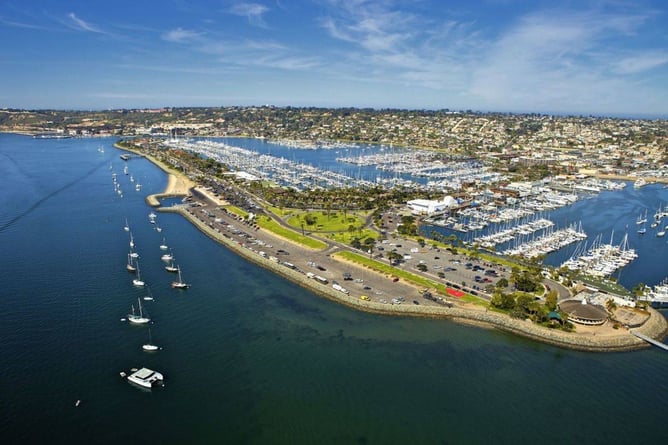 Star rating ⭐⭐⭐⭐
Overview: Established in 1987 Safe Harbor Sunroad Marina attracts boat owners from all over the country. Centrally located on Harbor Island in north San Diego Bay, Safe Harbor Sunroad marina is within walking distance of the Island Prime and Coasterra restaurants as well as the International Airport. This marina offers exceptional amenities and over 600 single slips ranging from 30' to 65' and up to 10' end-ties. Safe Harbor Sunroad Marina is an exclusive marina catered to boaters and families who appreciate a quality lifestyle, superior customer care, and attention to detail.

Which San Diego Marina Are You Going to Try?
It's no surprise that San Diego is a premier boating destination. With its gorgeous coastline and vibrant culinary scene, San Diego has a little bit of everything for everyone. Ready to visit this SoCal gem? This summer, create your float plan by booking with Dockwa to find popular marinas for docking and mooring all along the San Diego coast. Happy wandering!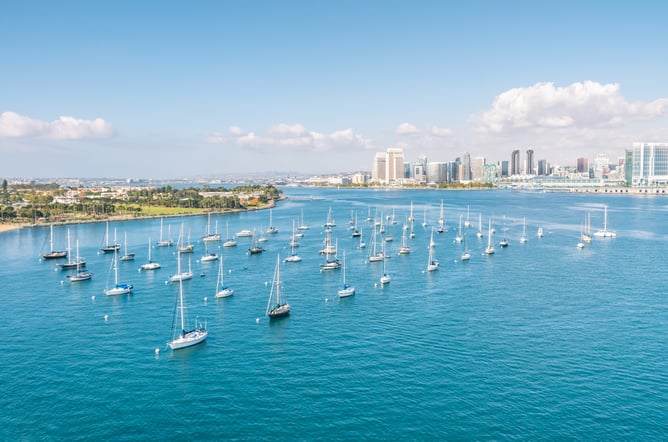 Check out our other blog posts to get an inside look at our favorite destinations, marinas, liveaboards, and tips for boaters. Then, join the conversation on Flipboard, Facebook, Twitter, and Instagram.