Make sure you follow Dockwa on Facebook for updates, and enter to win the official NIBS2016 giveaway tote bag full of Sebago boat shoes, Helly Hansen jacket, VIP Thursday tickets, and more! ($500 value)
Last week we posted our Dockwa Boaters' Top 5 Most Popular Sailboats, so this week we've crunched the numbers again for the most popular powerboat makes among our discerning & tech-savvy crowd.

That's the summary! Boating magazines, blogs, and freelance writers will be at boat shows in the next few months sharing their expert (and amateur) opinions on the thousands of boats they bring in each year, so stay tuned as we head to #NIBS2016, #ABS2016 and more to scope them out. Below, read more about the Top 5 Powerboats on Dockwa.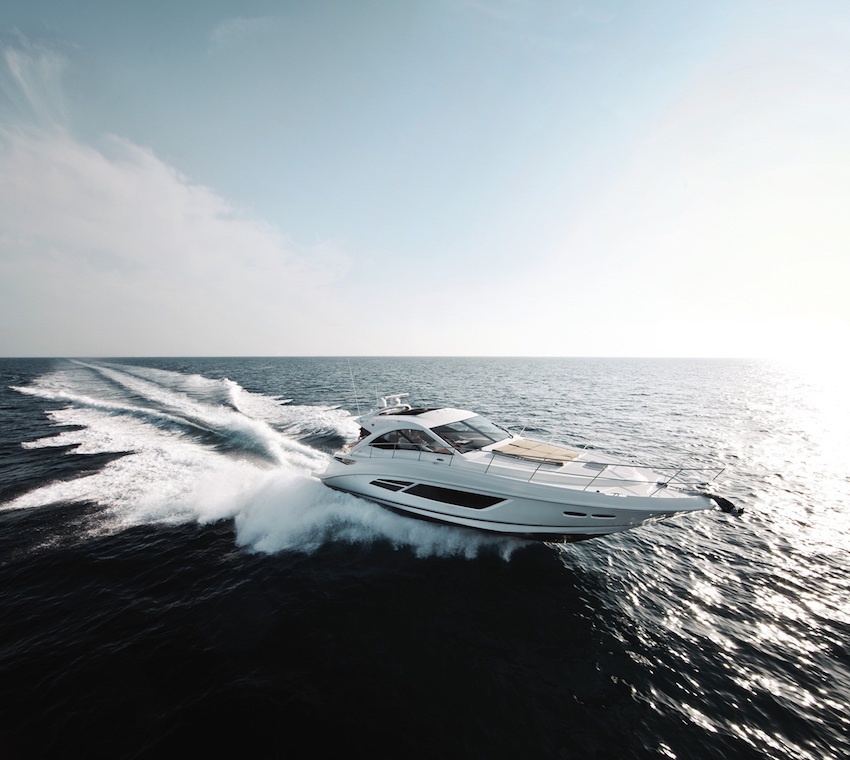 #1: Sea Ray
Number one with a bullet! It seems like Sea Ray boaters are everywhere, often traveling en masse to flotillas and bringing the best of the floaty toys to every event, rain or shine. The Sea Ray 310 SLX may have been born to party, but it keeps unwanted noise on the down low according to Boating Magazine:
"Underway, Sea Ray's Quiet Ride technology, a system of acoustic insulation, vibration-dampening materials and careful design choices, kept noise levels to 80 decibels at an economical 28 mph cruise, never drowning out the guests."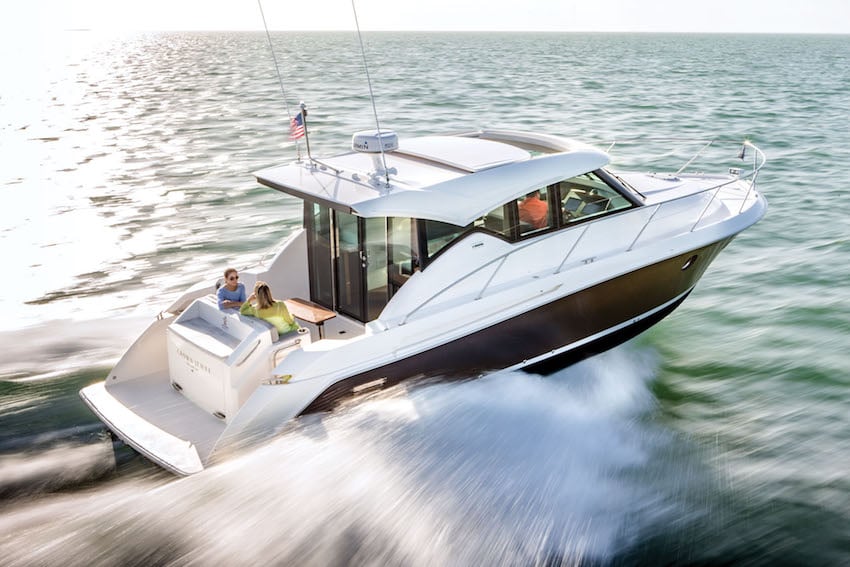 #2: Tiara
Matching form and function, Tiara's boat building history began in 1955, after one of the co-founders left his position at Chris-Craft. The influence remains, as you can see in the 2016 Tiara 39 Coupe, pictured above. According to Tom Serio in Sea Magazine, "The 39 did not disappoint. Expect 11.5 mph at 2000 rpm, 30 mph at 3000 rpm and 40 mph at WOT, 3625 rpm. Additionally, it was a very quiet ride. Not bad at all."
Swing by Oyster Harbors Marine at the Newport Boat Show to hop aboard this model, as well as the Tiara 31 Coronet, Tiara 44 Q, and Tiara 50 Coupe.

#3: Grand Banks

#4: Formula
Formula's an expert in the biz, as well they should be after building fiberglass powerboats for more than 60 years. (Click here to read the Formula company history.)
Pictured above is the Formula 34 Performance Cruiser, which made quite a splash in 2003. Boating nearly swooned – read their review here. If you're in New England, try one on for size at the Newport Boat Show; this model will be on display at the Newport Yachting Center Dock S-4 E, along with the 350 Crossover Bowrider, the 37 Performance Cruiser, and the 40 Performance Cruiser.
#5: Viking
Fun, right? Pictured above is the Viking 54 Convertible, which looks sporty as all get-out and has a decade of rave reviews under its belt. We're told that Vikings will be on display at NIBS2016 thanks to Oyster Harbors Marine, but we're not sure which model. This one first came to market in 2007 – read the in-depth study in Yachting Magazine, who dubbed this model "close to perfection."
After you've run amok at the boat show, sign up for Dockwa to take your new gear for a spin! If you're already signed up, you know what to do:
What other Dockwa stats are you curious to see? Email becky@dockwa.com or comment below to share your thoughts.