With thousands of boaters using Dockwa to plan their weeks-long cruises and weekend getaways, we've seen some loads of boats reserving and chatting with dockmasters through the Dockwa app this summer. As the cruises, daytrips and weekend getaway reservations kept streaming in, we started to see some trends among our boaters. We thought we'd crack open the data and see what boats are the most popular within our boater community. See which boats made the Top 5!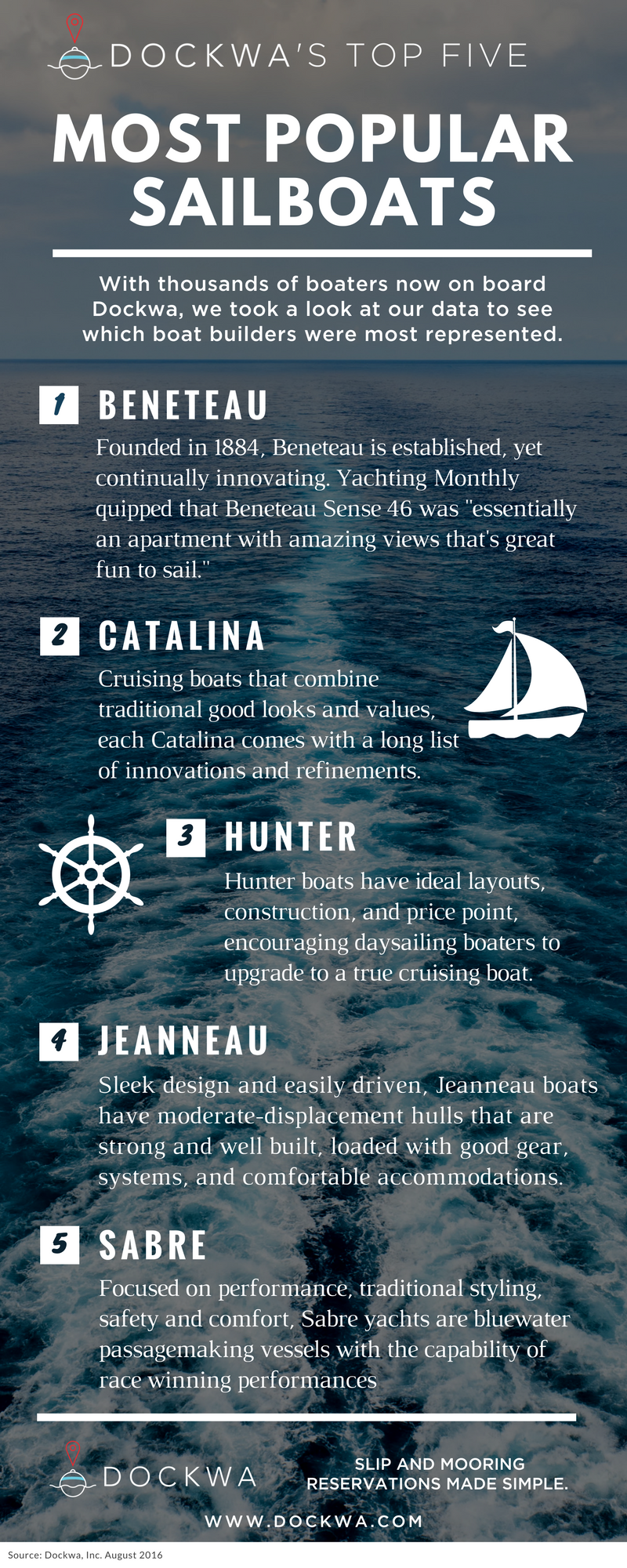 We'll be digging into the data a little more over the next few months to see which models stand out as boats that Dockwa sailors are particularly fond of. For now, check out the top five boat makers represented within the ranks of Dockwa sailors!
#1: Beneteau
It's no surprise that Beneteau is one of the most favored boats in the Dockwa system. Founded in 1884 to build sailing trawlers and branching out into fiberglass boats in the mid-sixties, the Beneteau brand is established, yet continually innovates and updates its aesthetic. Pictured above is a 2013 Beneteau Sense 46 underway at dusk, a boat Yachting Monthly dubbed "essentially an apartment with amazing views that's great fun to sail." Check out a Beneteau Sense 46 video tour here to get a... er, sense (sorry) of Beneteau's lines. Then head over to the official Beneteau website to see the latest designs.
Beneteaus in general, while sleek, don't skimp on space. We're looking forward to hopping aboard the roomy Beneteau Oceanis 55 at the Newport Boat Show next month, along with a personal favorite, the First 35, which just looks sporty as all get-out.
#2: Catalina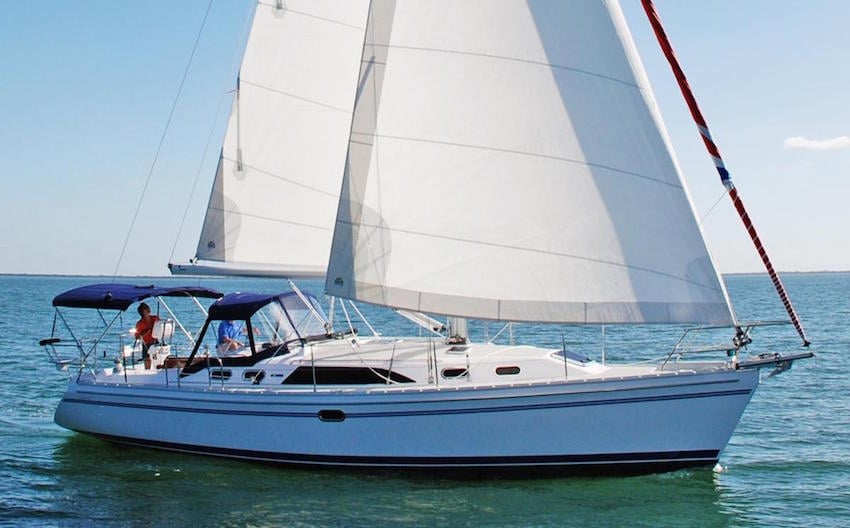 Catalinas, like the the Catalina 385 pictured above, are great boats for those looking to do some cruising. Blue Water Sailing loved the 385, a "mid-size family cruiser that combines traditional good looks (and values) with a long list of innovations and refinements." In 2012 the Catalina 445 was dubbed Cruising World Magazine's "Boat of the Year" and SAIL Magazine's "Best Cruising Monohull Under 50 ft." The most recent review of a Catalina we found was in SAIL Magazine, of the Catalina 34 from Captain Robert Beringer,
"They sail well, and you get a lot of boat for your money," the avuncular salesman kept repeating. "And," he added with a wry smile, "they're very forgiving." Fourteen years and 30,000 miles later, I couldn't agree with him more.
We're looking forward to checking out the Catalina 355, 385, and 445 at this year's Annapolis Boat Show in October!
#3: Hunter
#4: Jeanneau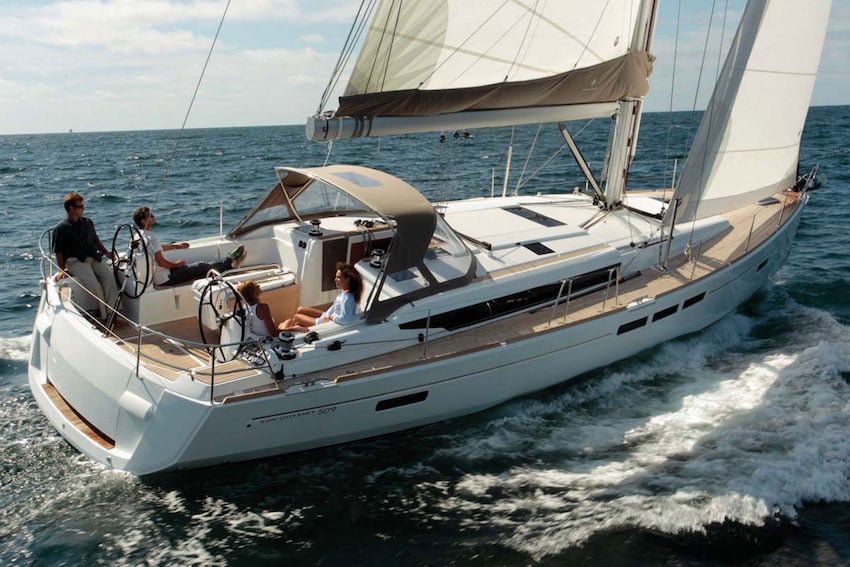 As one Cruising World review put it so eloquently,
"There's nothing revolutionary about the Sun Odyssey formula: Design a sleek, easily driven, moderate-displacement hull that's strong and well built, then load it up with good gear and systems and comfortable accommodations."
That type of non-revolution seems to go over well with Dockwa boaters, as the Jeanneau brand is well represented in every region we have marinas.
Pictured above: the Jeanneau Sun Odyssey 509, to give you an idea of the lines. We're looking forward to scoping out the Sun Odyssey 349, 389, 419, and others at the Annapolis Boat Show!
#5: Sabre
Voted "Best Daysailer" by Sailing World's Boat of the Year judges in 2008, the Sabre Spirit 37 (pictured above) is a prime example of why Dockwa boaters appreciate Sabre-built boats. While Sabre Yachts has stopped its sailboat-building operations, citing a shift of focus to their motor yacht production, a return to the sailing side isn't off the table.
We're glad to hear it. Self-described as "evolutionary rather than revolutionary... consistently focused on performance, traditional styling, safety and comfort" which resulted in a bluewater passagemaking vessel with the capability of race winning performances, we'd love to see Sabre sailing yachts make a return.
...
Does your boat fall into one of the above builders? You're in good company! Share out this post or infographic on Facebook to let the world know. Then go see some new parts of the world:
What other Dockwa stats do you want to see? Email becky@dockwa.com or comment below to share your thoughts.