The annual sock burning began in the Spring of 1978, when, after a snowy winter, boatbuilder Bob Turner bid his oppressive sock-wearing days farewell for the summer by throwing them into a campfire.
A Brief History of the Burning of the Socks
What was an act of defiance turned into a tradition, and soon marinas and yacht clubs around the country will celebrate the return of Spring, Sperry topsiders, flip flops, and best of all, boating season. Turner stated to Baltimore Magazine that he was amazed at the lasting impression he's made.
"It was never meant to be taken seriously. It just says, 'Enough with the socks! Time to go sailing!'"
Fast-forward to 2022, where the sock-burning represents a time to clear out the yacht club cobwebs and embrace spring. In years past, we've spotted events from coast to coast with everything from cookouts and bonfires to golf-cart parades, boatyard clean-ups, yard sales, and polar bear plunges. At the Annapolis Maritime Museum, the origin site of this tradition, they celebrate with live music, an oyster roast, and a recitation of the poem "Ode to Equinox," written by the museum's former executive director, Jeff Holland, which you'll find below.
Jump to: The Ode to the Sock Burners | Burning of the Socks Events | Hosting a Virtual Sock-Burning
Note: This post was originally published March 16, 2016 and as of 3/04/22 is being updated to include 2022 events.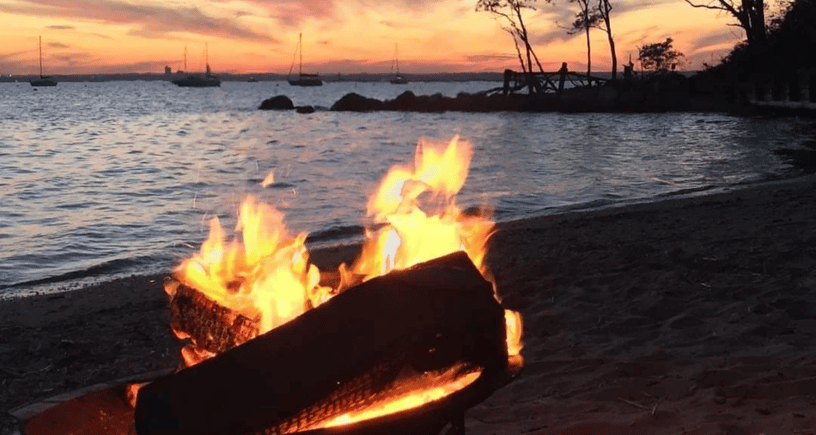 Sock-Burning Etiquette
Feet, amirite? Whether you see them as worship-worthy or foul, these basic guidelines keep things upbeat in a public arena instead of uncouth. A few quick pro-tips to help you toe the line:
Prettying Up
Pedicures are not just for dames! The local press attends some sock-burning events, so pamper your ten minor lords or ladies before those high-res photos come back to haunt you in the daily paper.
Defining "Socks"
The term can be confusing, so under no circumstances should you attempt to burn stockings, panties, boxers, briefs, Spanx, Crocs, bras, belts, garters, suspenders, or thermal underwear. In addition, should you attempt to cross the Burning of the Socks with a Viking Funeral, leave your ex's belongings or correspondence at home so a bunch of barefoot sailors aren't left bewildered as you cry into the stinky flames. Finally, socks made of synthetic materials are frowned upon, so keep it to cotton or wool and refrain from fleece or other tech materials.
The Ceremony
As you remove your socks, you may be invited to address the crowd, which should be no problem after several ciders. This address should not include deeply personal revelations about yourself or others, your terrible poetry, or a garbage rendition of Wonderwall.
Remaining Barefoot
Once you've burned your socks, putting on new ones is frowned upon. Either head to your car, away from crowds to sneak on clean socks, or put your shoes on sockless. Do not remove additional clothing.
Ode to the Sock Burners
By Jefferson Holland, Poet Laureate of Eastport, 1995
Them Eastport boys got an odd tradition
When the sun swings to its Equinoxical position,
They build a little fire down along the docks,
They doff their shoes and they burn their winter socks.
Yes, they burn their socks at the Equinox;
You might think that's peculiar, but I think it's not,
See, they're the same socks they put on last fall,
And they never took 'em off to wash 'em, not at all…
So they burn their socks at the Equinox
In a little ol' fire burning nice and hot.
Some think incineration is the only solution,
'Cause washin' 'em contributes to the Chesapeake's pollution.
Through the spring and the summer and into the fall,
They go around not wearin' any socks at all,
Whether out on the water or sippin' on a brew.
So if you sail into the Harbor on the 20th of March,
And you smell a smell like Limburger sauteed with laundry starch,
You'll know you're downwind of the Eastport docks
Where they're burning their socks for the Equinox.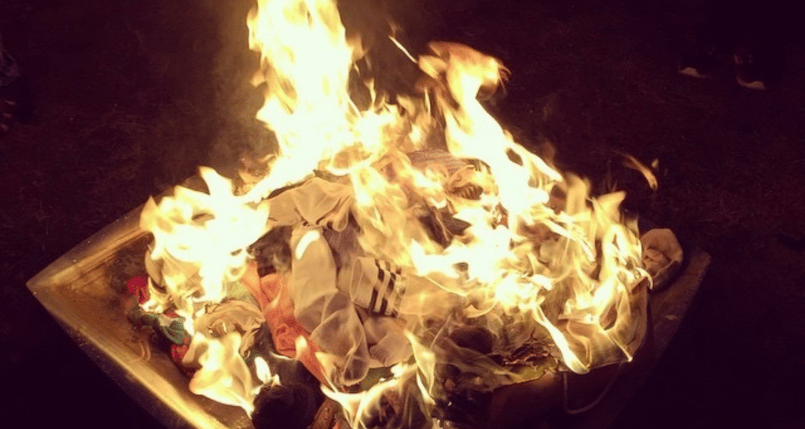 Burning of the Socks Events
Social events are still be in flux this early on in 2021, and we're seeing just a handful of BotS events online. This event seems like one that's easy to make socially-distanced as it's outdoors and no one really wants to be within six feet of newly-naked feet or their burning coverings. If your marina or harbor is hosting, let us know and we'll add to the list!
Maryland
Virginia
South Carolina
Texas
Florida
Ohio
How to Host a Virtual Burning of the Socks Event
Are there no events near you? Boaters are nothing if not resourceful. You need to burn some socks, so there must be a solution. And lo, the internet provides. Here's a step-by-step guide and some tips for hosting your very own virtual sock-burning:
Step 1: Choose Your Burn Format
Sock-burning in person in the good ol' days was a matter of locating a firepit and taking your socks off (and a little more behind-the-scenes magic from marina/harbor event planners). Unfortunately, sock burning live over the world wide web may be a bit more cat-herding than you bargained for, depending on the size of the crew, but you have some options!
Virtual Live Event: Pick a date and a livestream app, ship the invites, and get ready for a wild virtually-stinky time!

Virtual Staggered Event: Pick a timeframe, like one full day or one weekend. Post the details in your Facebook Group, and your BotS guests can then burn their socks with their crew-bubble on their schedule and have photos or video to share with the Group on your BotS day/weekend.

Virtual Staggered Moving Target: Where I went to college, we had a memorable holiday, the date of which is unknown to the students, faculty, and most of the staff until about 7:30 AM the morning of. The powers that be wake up one day in the spring, see that it's a completely gorgeous day outside, and ring the college bells to let the campus know to get out of dodge, play outside, climb a mountain (seriously). So if you want to have your virtual guests together in spirit on the same day, but you want to make sure its a nice day, you can set aside a few dates, everyone can prep their fire pits and lighter fluid in advance, and, on the morning of, you or your group can make the call.
Step 2: Pick a burn-date, any burn-date
For a non-work live stream event, the weekend seems a natural choice, and the months of March and April are typical BotS months in years past. However, if you plan to have a marina or harbor involved, make sure the dates are precise on their end so they can prepare for fire training or have an extra staff on hand to check in on you.
Step 3: Pick Your Virtual Platform
Zoom, Facebook Messenger Rooms, and GoogleMeet are the most popular and foolproof for attempting a feat of tech savviness in front of a crowd.
Zoom: Free to use, up to 100 participants

Facebook Messenger Rooms: Free to use, up to 50 participants

GoogleMeet: Anyone with a Google Account can create a video meeting, invite up to 100 participants, and meet for up to 60 minutes per meeting for free.
Step 4: Set the Stage
Let your guests know to get prepped! I love this write-up from NC3Sailing, a group of boaters based in the northern Chesapeake: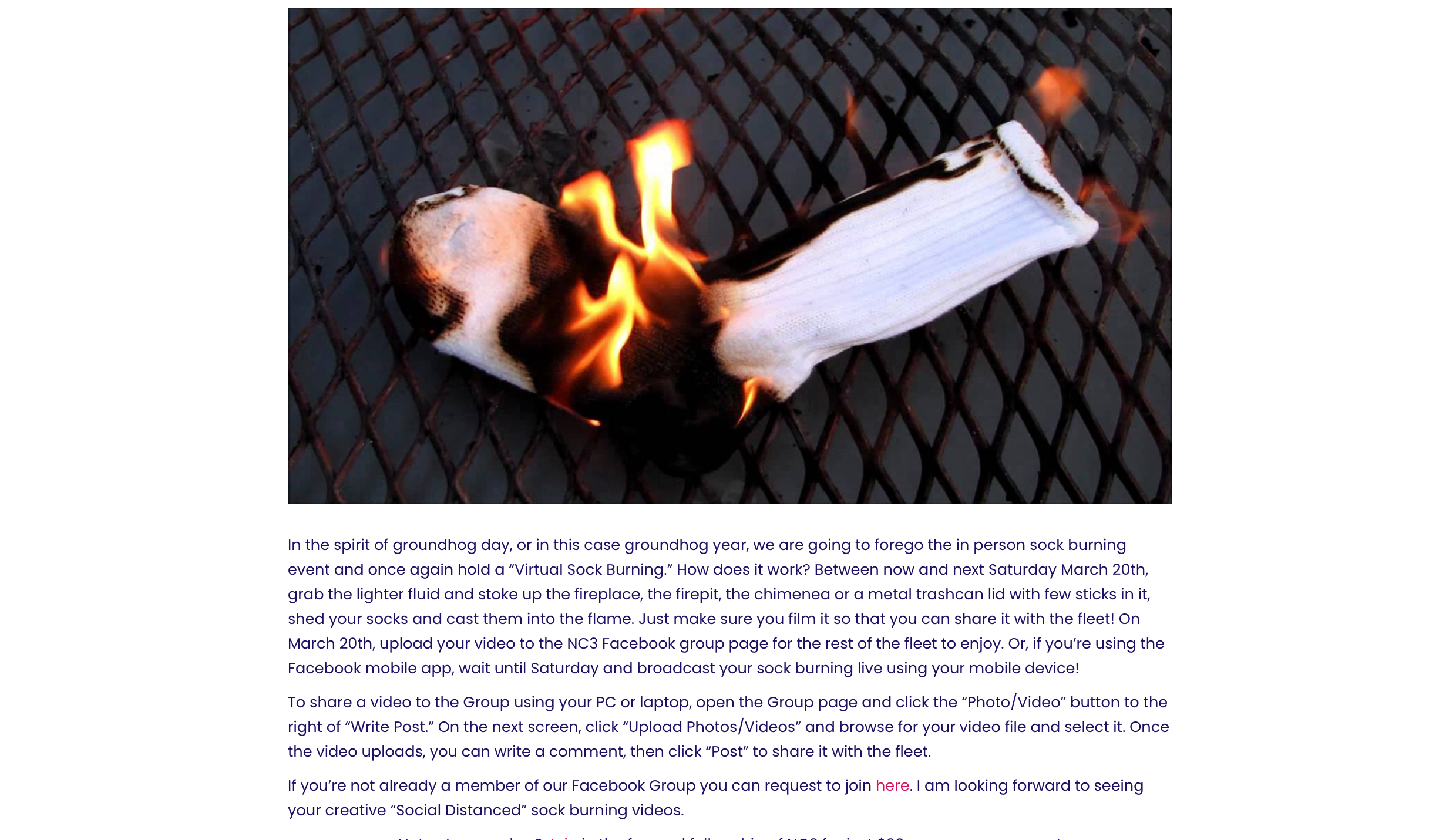 So much helpful guidance to pull from this, and it gives attendees both options of a live and staggered event!
Between now and [Day/Date], grab the lighter fluid and stoke up the fireplace, the firepit, the chiminea or a metal trashcan lid with few sticks in it, then shed your socks and cast them into the flame.

Make sure you film it so that you can share it with the fleet!

On [Day/Date], upload your video to the Facebook group for the rest of the fleet to enjoy.

Or, if you're using the Facebook mobile app, wait until [Day/Date] and broadcast your sock burning live using your mobile device!

To share a video with the Group using your PC or laptop, open the Group page and click the "Photo/Video" button to the right of "Write Post." Next, click "Upload Photos/Videos" on the next screen and browse for your video file and select it. Once the video uploads, you can write a comment, then click "Post" to share it with the fleet.

If you're not already a member of our Facebook Group you can request to join here. I am looking forward to seeing your creative socially-distanced sock burning videos.
Step 5: Host!
Prep your firepit, select your socks, send an invite reminder ahead of time and get ready to see all the smiling faces of your boating pals returned from hibernation.
Easy-breezy, right? Tag us in your BotS event or email me your deets at becky@dockwa.com and we'll add to the list of virtual events!
Know of an odd boating tradition we should write about? Email becky@dockwa.com. Happy Spring!
C​​heck out our other blog posts to get an inside look at our favorite destinations, marinas, liveaboards, and tips for boaters. Join the conversation on Flipboard, Facebook, Twitter, and Instagram.