Bert, my Red Fox English Labrador, loves the water just as much as I do. In my recent transition to "professional dog dad," I have quickly realized the importance of maintaining my pup's health and safety, especially during our time on the water.
For those looking to begin boating with their furry first mates, I'm sharing a few tips I've learned to get your furry first mate prepped for their first trip on the water.
Get Them Acclimated
The first time boating with your dog is exhilarating, but it's essential to do the research ahead of time. First, you want to ensure your pup's first experience is positive, setting the tone for future boating days. Then, spend a few hours getting your dog comfortable with being onboard. This may even mean just sitting together on the boat while docked, letting them sniff around and explore. It's all about getting them used to the feeling of being on the water.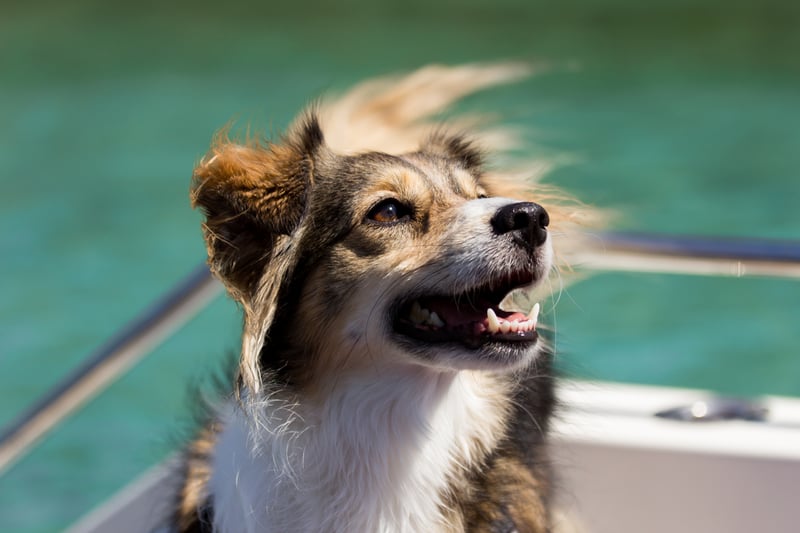 Man…er, Dog Overboard!
Life jackets are always a must to maintain the safety of all passengers onboard. The same rings true for furry travelers. Even if your dog is a good swimmer, a strong current, weather conditions, and fatigue could put them at risk. Luckily, there are various options when choosing a life jacket for your pup.
Here's what to keep in mind:
First, ensure your dog's life jacket is correct for its size and weight.

Consider purchasing a life jacket with a handle or hook on the back, making it easy to clip on a leash when necessary.

Head and neck support is needed–ensure your dog's head always remains above water.

Choose life jackets made of durable fabrics such as nylon, which offers easy clean-up and extra durability.

Finally, prioritize life jackets that are breathable and lightweight for those hot days on the boat.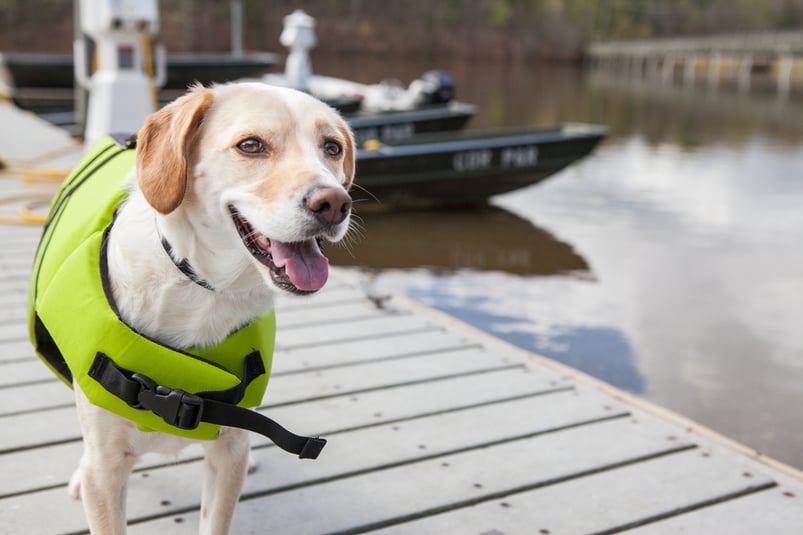 Pack Sunscreen and Insect Repellent
Humans aren't the only ones who need to protect their skin from the sun's rays. Dogs can get sunburned, too, so on sunny summer days, pack pet-friendly sunscreen for them. Also, bugs and mosquitos may buzz around depending on where you're boating. An insect repellant can be a great addition to your travel bag to keep pets bite-free and safe from mosquito-carried diseases.
Keep Fido Hydrated and In the Shade
Even if you're just headed out for a quick ride, always ensure clean drinking water is accessible for your dog. Pupils on the fluffier side are especially prone to dehydration, meaning clean, cool water is essential to keeping them happy and healthy. Don't let them drink ocean salt water or lake water; it can make them sick.
When Nature Calls: Plan for Potty Breaks
Bathroom breaks are going to be inevitable for everyone on board. So make a plan before your boat day to ensure your pup has a place to handle their business, whether by making periodical stops throughout the day or setting up a specific area for them on your boat with puppy pads or Astroturf.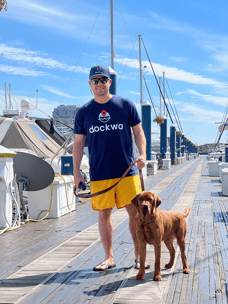 Bring a Leash
On the off chance of an emergency, it's crucial to have a leash handy to ensure the safety of your pet. In addition, having a leash on hand is vital for handling a pup who may be overly excited when it comes time to dock or is excited to meet another fur friend at your favorite
No Distractions
Lastly, you should always be aware of where your dog is onboard and what they are doing, but don't let them become a distraction that takes your eyes off the water. The safety of your passengers is always the number one priority!
If you are boating with other people, it is always a great practice to have a passenger keeping an eye on the pup's activities and whereabouts so that the driver can remain focused.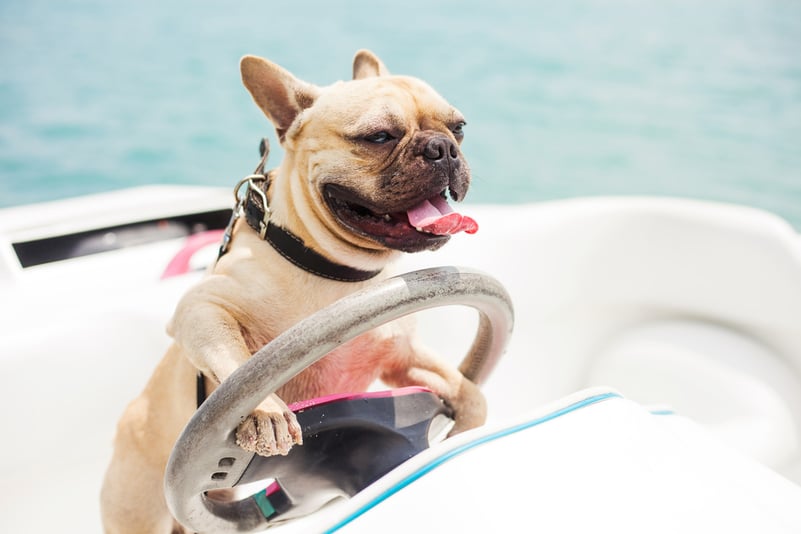 Days spent on the water have always been my favorite days, and since having Bert join the family, they've become even more fun. Going into a day of boating knowing your dog will be safe makes it easier to sit back, relax and make some great memories with family, friends, and, of course, your pup! Remember, the most convenient and efficient way to book a marina dock slip or mooring is through Dockwa.com!
Be sure to check out our other blog posts to get an inside look at our favorite destinations, marinas, and tips for first-time boaters. Join the conversation on Flipboard, Facebook, Twitter, and Instagram.