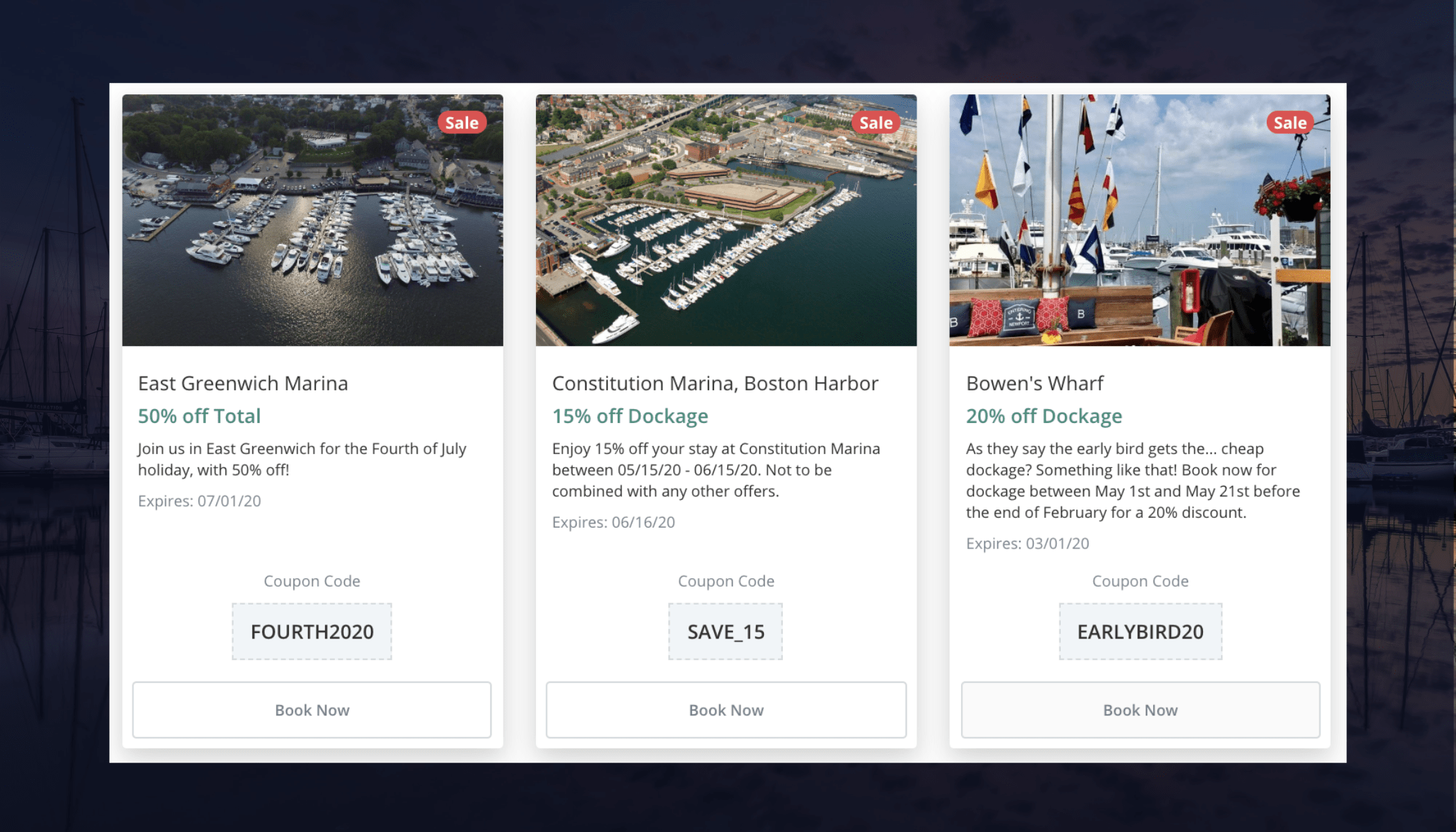 Each year, millions of consumers visit sites like Groupon, RetailMeNot, and Gilt
with the goal of discovering new brands, products, and services, while paying the best price possible.
And each year, millions of businesses list offers and products on such sites, with the goal of efficiently clearing inventory (of products, appointments, reservations, etc.) and acquiring new customers.
The Dockwa Deals marketplace is the marine industry's answer to this dynamic, satisfying a boater's desire to discover new destinations at great prices and a marina operator's desire to keep the docks full year-round and reach new customers.
Read on to discover how you can learn and benefit from the success of other Dockwa marina partners using Dockwa Deals. Need a refresher on how to create a deal in your Dashboard? Check out our step-by-step walk-through of how to post a coupon code to Dockwa Deals.

Dockwa Deals fill your marina during slow periods.
One of the most common ways our marina partners use the Dockwa Deals marketplace is to incentivize boaters to visit during periods of low occupancy.

Hyatt River Marsh Marina generated 44 new customers in 48 hours with Dockwa Deals.
When Hyatt River Marsh Marina in Cambridge, MD was experiencing lower-than-average occupancy in Summer 2019, they ran a limited-time Dockwa Deal for 50% off. Within 72 hours, they had generated 60 new reservations, 44 of which were brand-new customers.
Need help understanding your marina's occupancy before you run a Dockwa Deal? Dockwa Pro customers have access to advanced asset reporting, including the Occupancy Report. Head to the "Reports" section of your Dockwa Dashboard to export an occupancy report for any custom time period.
Dockwa Deals fill up your marina early in the season.
There are several benefits to booking up your marina early in (or even before!) your season, but the two that stand out to us are:
Cash. You get a quick injection of capital from payments for future reservations. That's additional cash on-hand to prepare your marina for the busiest parts of your boating season.
Information. You'll get a pulse on which dates are the most covetable of the season. That means you'll have more time to prepare for smoothly handling busy days and generating interest for slower days.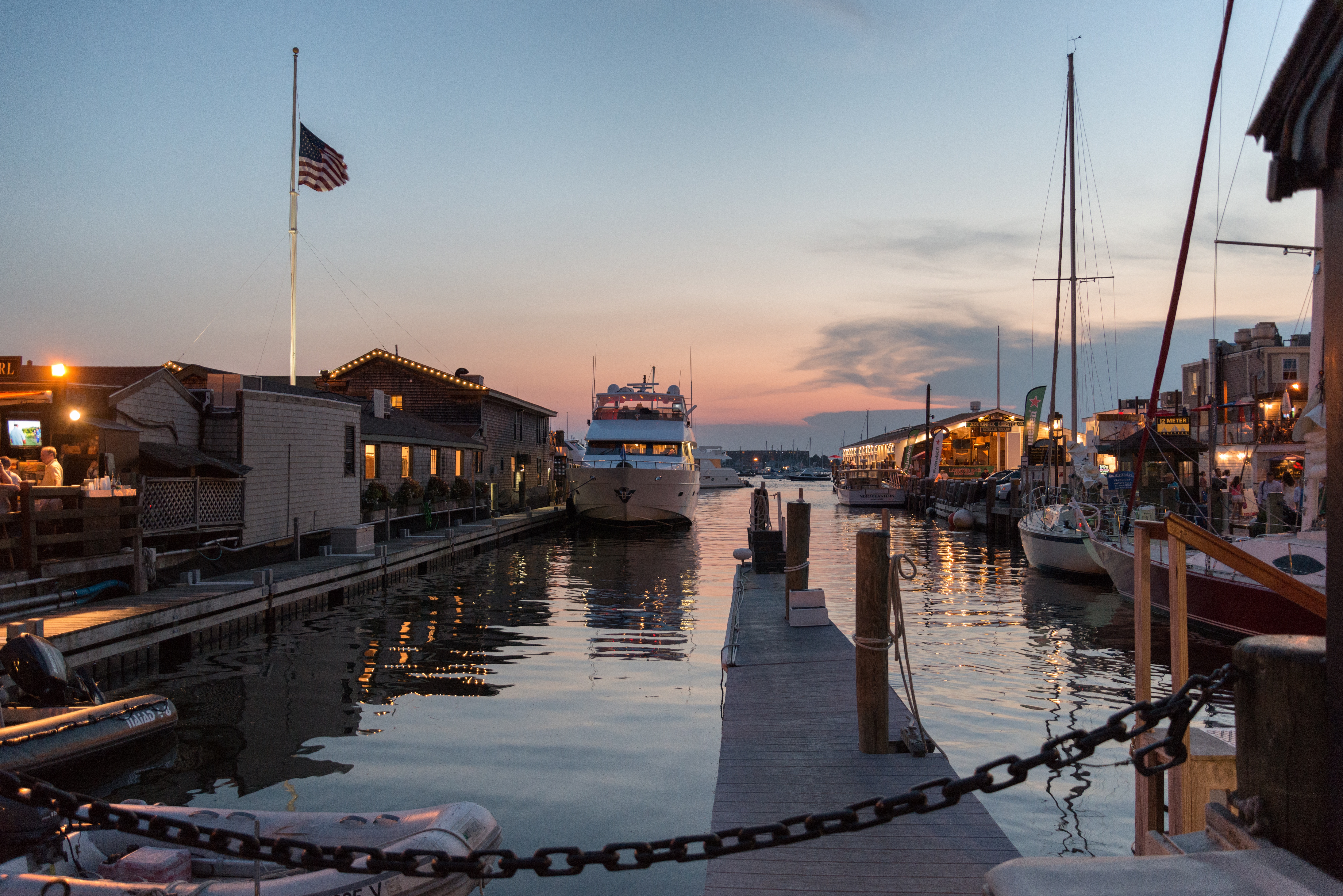 Bowen's Wharf is filling up Summer 2020 dockage ahead of time with Dockwa Deals.
Bowen's Wharf, in Newport, RI, started filling Summer 2020 dockage in January, offering 20% off to boaters who booked before March 1. This allowed the Bowen's staff to collect thousands of dollars ahead of their May 1 season start date, and invest in pre-season prep to provide the best in-season experience to boaters.
Dockwa Deals generate interest in events at your marina.
Whether you're hosting a rendezvous, a Fourth of July celebration, you name it, consider Dockwa Deals a viable channel for getting the word out about events at your marina.
Each time you post an offer to Dockwa Deals, we'll share the details of your offer directly with the Dockwa boater network via our Dockwa Deals email and Dockwa social channels.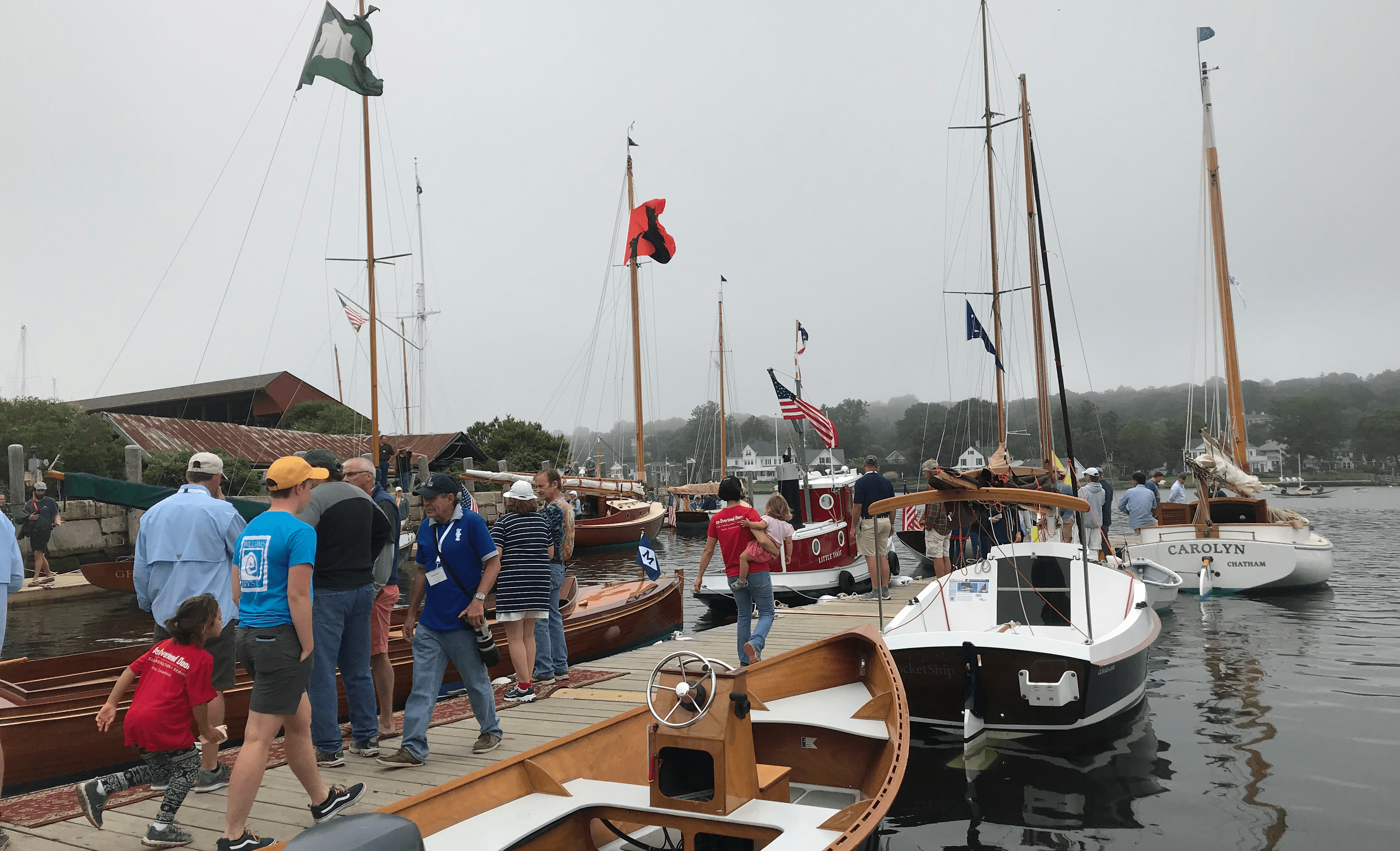 Mystic Seaport Museum sold out dockage for its annual WoodenBoat Show with Dockwa Deals.
When the Mystic Seaport Museum wanted to get the word out about the dock space available during their annual WoodenBoat Show, they ran a Dockwa Deal. Within 3 hours of the Dockwa Deals digest email being sent to nearby boaters, the dockage available during the show sold out.
TL;DR: Dockwa Deals is your best tool to proactively incentivize boaters to visit your marina.
As Dockwa has increasingly become a boater's preferred method of booking dockage, Dockwa Deals has increasingly become a boater's preferred source for finding offers on dockage. Listing an offer on Dockwa Deals elevates your marina's visibility and attractiveness, by putting your offer front-and-center of thousands of boaters looking to discover the best deals on dockage. Whether your goal is to increase occupancy or incentivize potential new customers try visit your marina, get started with Dockwa Deals today.
Not a Dockwa customer? Get in touch with us to see a demo and learn more about what running a Dockwa Deal can do for your business.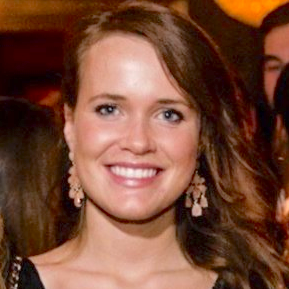 By: Katharine Kirk
Published on 2/14/20 2:30 PM