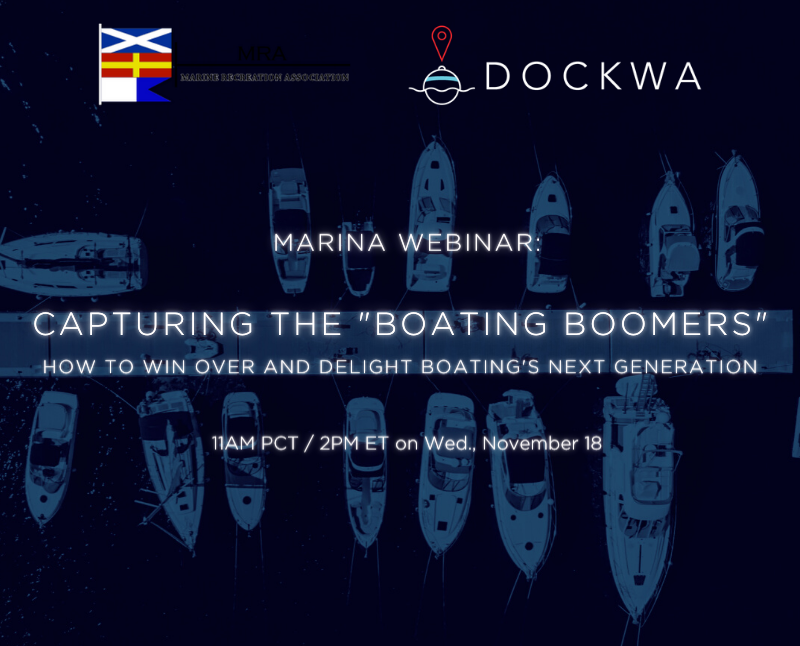 In the wake of Covid-19, more people than ever before are taking to the water for recreational and social activity. While this is an absolute win for the boating industry, it won't be "business as usual" attracting these boaters to your business.
In MRA's next webinar, members of the Dockwa team will share strategies on how to cater to younger and less-experienced boaters to ensure they become both lifelong boaters and, hopefully, lifelong customers.
Capturing the "Boating Boomers" - How to Win Over and Delight the Next Generation of Boaters
November 18, 2020 | 11:00 AM - 12:00 PM
About your hosts, Matt and Becky:
Matt Fradette is Co-founder of Dockwa where his primary role as Chief Revenue Officer consists of overseeing their Go-to-Market efforts for both their marine industry products, Dockwa and Marinas.com. Matt brings more than 10 years of tech sales and marketing experience to the industry and has served in sales leadership roles in both early-stage and high growth software as a service (SaaS) startups. Prior to founding Dockwa, Matt spent five years at HubSpot where he became an expert in inbound marketing, consulting businesses of all sizes on how to increase their ability to get found online to grow sales. Matt has taken that experience to the marine industry, building a team that helps marine operators use Dockwa to improve operations and increase online visibility.
A sailor, tuglife fanatic, racer/cruiser, and aspiring Looper, Becky Pineo brings more than 10 years of marketing and boat life to her roles at Dockwa. In the past four years with the team, her work has encompassed content creation, social media management, paid advertising, public relations, event planning, and community building. Prior to Dockwa, she ran social media and built content for dual communities at an MIT-Harvard education startup, and marketed/supported software startups in the travel, health, and reputation management industries.
Since its launch in 2015, the platform has grown to be used by more than 300,000 boaters, and its marina management software has become the most widely used tool in marina offices across the country.
By: Becky at Dockwa
Published on 11/13/20 9:37 AM