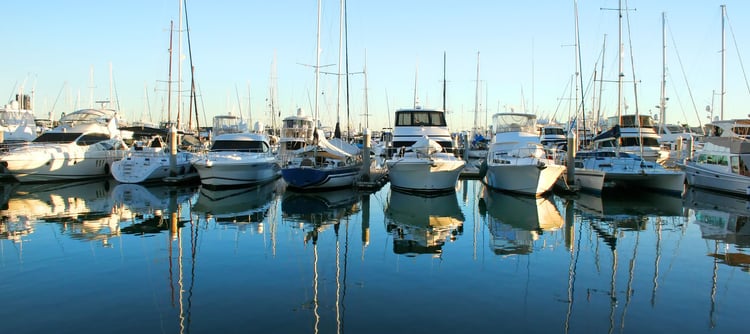 I've spent the better part of the last 7 years talking to businesses of all kinds about how to improve their presence online. Since we started Dockwa, I've had the pleasure of speaking to hundreds of marinas, and can say with certainty that many of these businesses need a lot of help when it comes to online marketing and improving their customers' online experience.
Improving your online marketing efforts, websites, and social media can seem like a daunting task for many marina owners and operators, especially when very few have a background in technology or marketing. It can seem like there is never enough time in a day. The goods news for these folks is that there are several small tweaks that you can make to your website that won't break the bank, and will have an immediate impact on your business.
Below is a summary of some of the advice that we provide to marina operators on a daily basis. If you're looking for more help, don't hesitate to reach out to our team here at Dockwa.
Mobile Optimization
Like it or not, mobile is here to stay. Around 65% of Americans now own a smart phone and in 2014, for the first time ever, there were more mobile online searches performed than desktop searches. Basically, people are using their phones more every day and the trend has no signs of stopping.
What does this mean for marina businesses? Ultimately, you need to have a mobile-friendly website for two main reasons.
1) Your customers expect it. Based on general consumer trends we can infer that more people are visiting your marina website and researching your products or services from their phones. If you are worried about being competitive and delivering a positive customer experience, you should offer a mobile friendly website and make it easy for your customers to find what they need, regardless of the device that they are visiting your site on.
2) Google will reward you. Last year Google made a change to their search algorithm that rewards websites that are mobile optimized. I won't bore you with all the details, or pretend to know everything about how the algorithms score websites (no one other than Google really knows). What we do know is that Google is in the business of providing the most relevant search results to their end users. If someone is searching on a mobile device, Google wants to list the websites that are optimized to display on that device. Thus, giving preferential treatment on the search engine results pages to those sites that will adjust to a mobile screen and provide higher quality content and a more enjoyable experience for their end user. So, better results on a search engine results page = more traffic and more potential customers for you.
Pro tip: Make sure you have a "responsive" website. This does not mean you have to have separate websites designed for each device. This means the design of your website will automatically adjust to the device the user is on (i.e desktop, tablet, or mobile). Example below:
Desktop Mobile

Calls to Action (CTAs)
Research has shown that 96% of all website traffic is not ready to buy when they first visit a website. Not surprisingly, customers will research multiple websites when it comes to making a purchasing decision. So, whether your marina is focused on selling seasonal slips/moorings, transient reservations, fuel, or boat service, make it easy for your end users to get what they need on your website. They are certainly checking out the competition.
Having clear "calls to actions" or "CTAs" on your website is a great first step to helping your customers quickly find what they need. Research has also shown that 55% of website traffic spends 15 seconds or less on your website, so it's important to catch a customer's attention quickly.
One way to do this is by placing multiple CTAs on your site for the actions you're trying to encourage. Examples of clear CTAs for your marina could be; "Make a Reservation", "Get a Service Quote", or "Save 15% on a seasonal slip today."
Pro tip: Make sure you have clear CTAs on all the highly trafficked pages of your website and make it easy for your customers to take action. Upon clicking the CTA, a customer would be taken to the page on your website where they can take action.
Example below is a marina that is interested in driving transient reservations.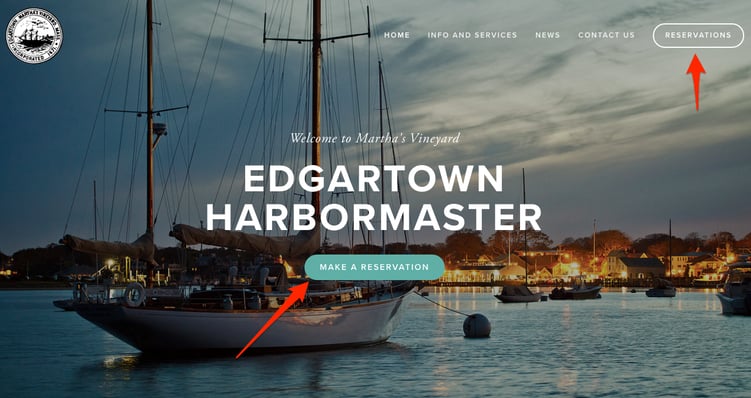 Social Sharing Buttons
We spend a lot of time at marine industry conferences and trade shows. At these events it has become apparent that there is a lot of uncertainty in the industry around social media and how to be effective with this marketing channel. This topic is certainly deserving of its own post and we'll be writing more helpful content on this in the weeks to come. To start, there is one basic update you can make to your website today that will help on the path to a successful social strategy. Installing social sharing buttons.
What are social sharing buttons? These buttons make it easy for visitors to find your pages on social media and engage with your brand. (you're likely seeing them on the left column of this page as you read this.) By having these buttons embedded on your website it acts as a conduit to your social media pages on the various outlets that you post on (Twitter, Facebook, Instagram, etc.) and makes it easier for people to like or share the content that you post. If you have been looking for ways to grow your following this is a best practice you should not overlook.
Pro tip: If you don't already have these buttons installed, you can use a tool like Add This. It is free and easy to install.
Example: The marina featured below has social sharing buttons installed on the left margin of their website.
The three tips above are basic in nature, but can have an immediate impact on your overall web presence. Feel free to contact Dockwa today with any questions regarding your marina's web presence.
We'd love to chat with you about helping you with your marina's marketing and operations, why not setup a time for a quick call with us? Click here: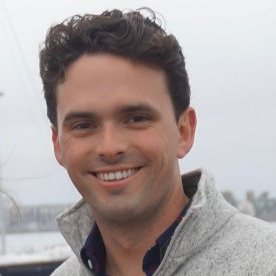 By: Matt Fradette
Published on 4/1/16 8:00 AM