It's Friday. Take a minute to read some stories that will lift your spirits, and maybe even spark you to join the cause. Whether a donation of one mask or one thousand, boaters and boating businesses can – and are – helping save lives.
Got a story to add to the list? Good, keep'em coming – becky@dockwa.com.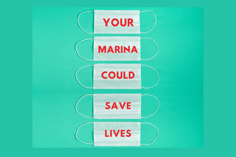 Get started with tips on how marinas and boaters can donate masks and other supplies.
THANK YOU to every marina, boatyard, sail loft, boating enthusiast, and industry professional who has donated, crafted, or completely upended their business to help in the face of this outbreak.
Here are some of the boating industry heroes we're hearing about thus far:
Pasadena Boat Works, a service shop and dealer of Carolina Skiffs and other new and used powerboats, donated two large truckloads containing 14,000 N95 respirator masks to the Maryland Department of Health that they'd had in storage as part of an initiative to support child cancer patients.
Source: Chesapeake Bay Magazine
Weaver Boat Works, a custom fishing boat builder, saw the story of Pasadena Boat Works and decided to donate its own supply of 7,000 N95 masks, usually worn by the 40 boat shop employees. The owner and employees agreed to give up the disposable N95 masks for donations, switching to a permanent-type mask instead. They also donated 1,050 boxes of nitrile gloves, typically worn by boatyard employees when handling epoxy. Ashley Hangliter, a manager at Weaver Boat Works, adds, "There is no point in life more vulnerable than when you need to call upon first responders. if there is anything we can do to help those who stand in harm's way, it is the least we can do to put community before profit."
Source: Chesapeake Bay Magazine
Doc's Canvas Loft –

Bluffton-Hilton Head, South Carolina
Doc's Canvas Loft, which creates covers and enclosures for boats, noticed that the clear vinyl material used for boat window protection can also be used to make 10-inch long face shields, which prevent splatter and protect more of the health care worker's face from coughs and sneezes. They've made ~150 masks so far, donated them to Volunteers in Medicine and Hilton Head Island Fire Rescue. Each shield takes about 10 minutes to make using an industrial sewing machine in their workshop. Currently, operations are on hold as the pair wait for more vinyl to arrive.
Source: The Island Packet
A boat cover company is shifting its manufacturing to make face shields. After retrofitting the company's factory floor, employees started mass producing the face shields and hopes to produce 1,000 or more a day. The shields are made from marine-grade clear vinyl, which is usually used to make boat canopies, and sheets of black foam plastic used in boat upholstery, and the same snaps that attach a canopy to a boat help form a headband.
SugarHouse Industries is also making reusable face masks, using waterproof canvas — the kind usually used for boat covers — lined with flannel. The machine washable masks, Humphries said, can be used as a protective cover over the N95 masks health care workers use to help increase the life of the scarce hospital-grade masks. (The company isn't making N95 masks, which require special materials and approval from federal health agencies.)
SugarHouse has shared their templates with awning manufacturers in other states so they can start making face shields. The face shields sell for ~$4 each — just enough to cover supplies and labor. While not making a profit, the products keep 50 employees working at a time when many of the company's regular boating customers have been canceling or putting off orders because of the pandemic.
Source: The Salt Lake Tribune
Sailworks – Hood River, Oregon
A small manufacturer of windsurfing sails, Sailworks has retasked its staff and sail loft to produce protective medical face shields using the plastic originally intended for sail windows. It took a week to stock up on materials and set up the ten-step cutting and production line, but they can now make 400-500 shields per day.
Read more: Oregon Humanities
Tige Boats began producing 500 face shields per day out of its boat manufacturing facility today, along with other high-demand PPE equipment as materials are available, will continue to produce as long as they remain in high demand, and has also donated more than 2,000 protective suits to local hospitals. The 200+ skilled employees who make up the Tige team transitioned their efforts from building inboard surf/wake boats to making PPE necessities.
Tige Boats has also created a training video and provided templates to several other boats manufacturers so that they may begin mass-producing shields – if your business is capable of producing PPE and design specifications and instructions would be helpful, contact Jean Wagner at jwagner@tige.com.
Source: Boating Industry
A day in the life of Eric Baldwin and his two-person sail loft staff typically involves selling or repairing sails, or upcycling used and extra sail cloth into tote bags to bring in extra money. In response to the coronavirus outbreak, they're now using their industrial sewing machines to make cotton masks for caregivers, shipping to recipients as far away as Arizona after word spread on social media that masks were available.
Read more: Bangor Daily News / AP