The town is a short cruise from Maryland and Chesapeake Bay. It is 1.5 hours to Richmond and 2.5 hours to Washington DC, Charlottesville, and Norfolk by car.
From the 1880s to the 1940s, The Slips property was owned by Annie's ancestors and here they operated a tomato canning factory, a common occurrence along the Yeocomico River at the time. More than a decade after the factory closed, in 1956, Annie's grandfather, Harry Lee Arnest Jr., converted the property into a marina after coming home from World War II.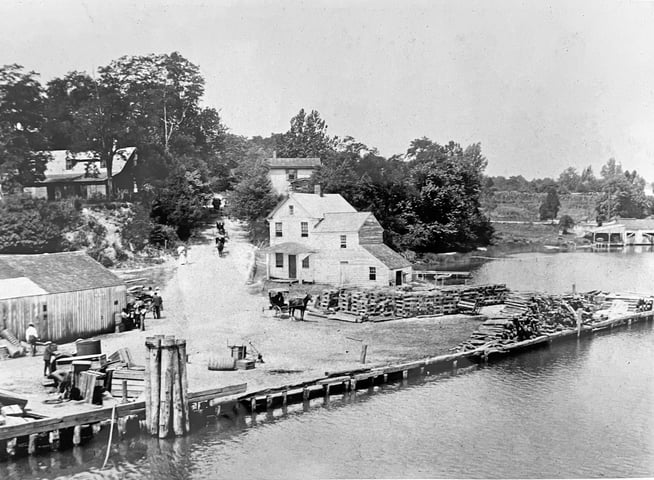 "My grandfather would sell just about anything he enjoyed. Boats, motors, guns, cars, milkshakes–he dealt in it all. It became a busy waterfront community center at the time," Annie said.
Harry Lee sold the marina in 1985, and Annie was born two years later in 1987. Although the marina wasn't in her family during her childhood, she knew the property well growing up just up the hill from it. Annie's father passed away in 1988, and she spent most days by her grandfather's side, picking up his love of the water and tinkering with him on projects. After Annie graduated from college, she spent nearly a decade away from Kinsale, living in Maine then Philadelphia then New York City, and only heading back to Virginia for long weekends and holidays.
"New York was never going to be a long-term thing and after four years there I was ready for something else," she explained. "I've had the opportunity to travel and experience new places through my past job in Retail Real Estate. I helped put stores like Anthropologie and Urban Outfitters all over the country and abroad, but I've always felt like Kinsale was a particularly special place."
Annie eventually found her way back home with not only a greater appreciation for the community that raised her but the skills to enrich it. As the new owner of "The Slips," the marina once owned by her grandfather, she took all that she had learned while away and applied it to her family's old business.
"Kinsale has a long history of attracting people from all over, like NYC, and that's what keeps it entertaining," Annie said. "As a sailing village and historic port, there are always people coming and going. It's a shift from the hustle of the big city, but it's never dull, and there's a lot of opportunity for adventure in both."
Returning to Kinsale and Restoring a Legacy
Annie returned to Kinsale in May of 2019 with hopes of repurchasing what had been her family's marina. At the time, the marina wasn't for sale but was quickly falling into disrepair. She continued to work remotely in retail real estate and helped take care of her 98-year-old grandmother. It wasn't until the following January that the marina went on the market.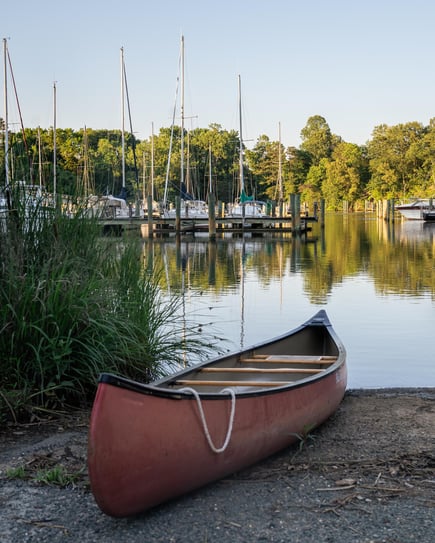 "It was just a dream at that point. There had been rumors of it potentially going up for sale, but nothing was for certain. But, in the end, it all worked out," Annie said. "It's been great to reconnect with the people that live here and to have a project that can make a difference."
When Annie's grandfather owned the marina, it was known as the "Kinsale Marina," but she decided to rename to give it an updated feel and avoid confusion between the past owners and other marinas in the area.
"I kept going back to 'The Slips' because it was simple and traditional yet also modern," she explained. "Many marinas tend to feel exclusive, like you have to own a boat and really know what you're doing. We want people to feel comfortable hanging out and enjoye the waterfront here, bringing all levels of experience with them."
This past year, Annie began her first round of renovations, focusing on the docks, bulkheads, landscaping and updating amenities for her slip holders and transient visitors. Fully updated bathrooms and the pool are now open. She'll tackle the bar, restaurant, and roof deck next.
"It's been a big adventure for us," Annie said. "With my background in real estate development and investment, I've always wanted to do a hands-on project like this."
With the name change and updates, Annie's noticed a younger crowd visiting the marina who've helped create a more dynamic scene. Though they're open to motorboats, The Slips is primarily a sailboat marina, and they're working on ways to encourage new sailors as well.
"There are a lot of people stopping in who want to learn more about the area, boating and the Yeocomico River."
This past summer, with the help of Dockwa, the marina saw an uptick in their transient visitors cruising down from Annapolis and the Chesapeake Bay.
"We've enjoyed the energy and attitude they bring," Annie said. "They've been so understanding while we're still renovating, and they've really embraced what's happening here and want to be a part of what we're building."
Leading The Slips Marina into the Future
With more updates to come, Annie, like her grandfather, thinks the marina can become a community center once more. Her plans include revitalizing the bar and restaurant space so that they can host large events. Currently, the marina serves coffee and snacks out of a shed by the water on the weekends.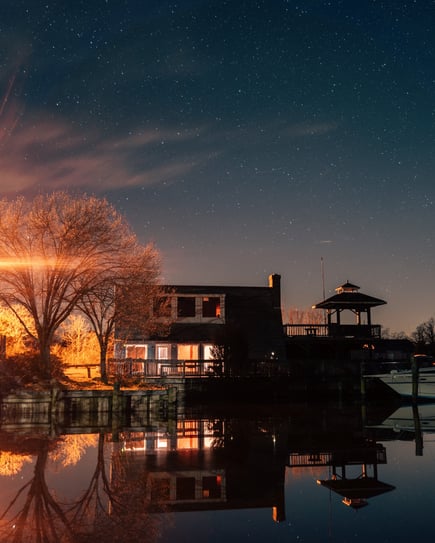 "We have music playing all day, fast wi-fi, and lots of outdoor seating," Annie explained. "It's like an outdoor café – with plenty of boats and endless projects that keep it entertaining, too."
Additionally, Annie's noticed a boom in the local Airbnb- and VRBO-style rentals industry and believes this is something she can capitalize on in the next few years. By Spring of 2022, she hopes the completion of the renovations will draw more people towards the water because The Slips is located right in the heart of it all.
"Kinsale is walkable, so we're pretty accessible and have that in-town feel. Most marinas around here are miles down the country road."
Despite the pandemic, the past two summers were the busiest she has ever seen the river. Plus, it's helped many other businesses in the area, with more and more people coming from surrounding cities like Fredericksburg, Richmond, and Washington DC. Providing kayak rentals has been a great way to introduce these visitors to the river.
"People want to get out on the water," Annie said. "They might not have experience with boats, so putting them in a kayak has been a fun way to do that. There's a lot of wildlife and a beach just a 20-minute paddle away, so it's easy to spend the day on the river."
Eventually, Annie would love to add a hospitality component to her marina as there aren't many hotels or lodging options in the area besides the growing Airbnb business.
"There's an old general store and some additional buildings up the hill my grandmother still owns. We're going to create an Airbnb apartment up there this Fall," Annie said. "We also have an acre that's attached to the marina property we would love to develop rental options on someday."
She aims to encourage as many people as possible to come to Kinsale because Annie believes it's a must-see destination.
"Many of our guests are either staying in local Airbnb's or coming from Richmond to spend the afternoon. I think there are so many draws to Kinsale, and love encouraging it as a destination."
A Dream Realized
Wanderlusters would all agree, to some extent, that moving away from home, even if it's down the street, a few hours away, or across the country, is necessary for growth. Annie and I can concur once you remove yourself from familiar surroundings, the knowledge, independence, and experiences you gain are invaluable.
Around the same time as Annie, I was undergoing a similar metamorphosis. Technically, I graduated college in May of 2017, but I like to tell people it was December of 2016, four days after my 21st birthday. I went to Fitchburg State University and studied Communications Media with a concentration in Film and Video Production and a minor in English. For as long as I can remember, my dream was to tell stories. I wanted to author something–articles, books, screenplays, it didn't matter.
At the time, because of my youth and general naivety, I thought Los Angeles was the only place I could do it, despite never been there or having any family or friends in the area. Every student in my department was required to complete a semester-long internship to graduate. Through this program, I was able to take my first steps towards that aspiration.
In the poem Harlem by Langston Hughes, he asks, "What happens to a dream deferred?" It's a question that used to keep me tossing and turning at night. I moved to California thinking that was my dream until it wasn't. Today, I acknowledge this short era of my life as my "first failure," but I recognize that I came home a better person because of it.
Ultimately, Annie nor I would be the people we are today without that experience, as it's shaped our values, ambitions, and identity well into adulthood. Sometimes our dreams must defer for this change to occur, and it's okay. We live to dream again.
Want to see more of The Slips? Visit their website! Follow The Slips on Instagram and Facebook.
Quotes have been edited for clarity. Stay up to date with our First Mates series and more on our blog and join the conversation on Facebook, Twitter, and Instagram.
What's your story? We're on a mission to highlight the boating world's entrepreneurs, small businesses, community organizations, and solo initiatives – drop us a line here to get the ball rolling.