Against my better wishes, I participated in my elementary school's summer robotics program for about a month. During that time, we programed Legos to drive, spin, play music, and, of course, destroy other robots. At the end of the program, we had the robots we had spent the month creating fight to the death. Unfortunately, my robot came in second place, though to this day, they didn't destroy my robot, so I'll dispute that loss.
Elementary and middle school programs like these took me out of my element in the best way. Brooklyn Boatworks (BKBW) is another educational organization with a similar goal of broadening kids' perspectives. Their school-year-long program utilizes boat building, waterfront adventures, and exploration to teach New York City students STEM skills, develop their social and emotional learning, and establish comfort in the waterways of New York City. Their co-founders, Carl Persak and Jeremy Wurmfeld, are naval architects who've sought to share their knowledge of boat building and project-based learning with young New Yorkers.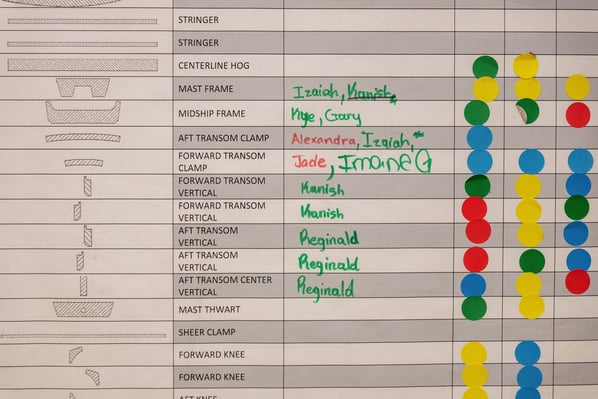 Brooklyn Boatworks' mission is to harness "the unique craft of wooden boat building and maritime-centered exploration" to "inspire young people to uncover the confidence, skills, and courage to chart pathways to success in and outside the classroom." To achieve its mission, BKBW brings programs into schools and local communities and provides a unique and supportive learning environment. In addition, they prioritize serving Title 1 schools, introduce students to the breadth of their urban environments, and design programs that integrate STEM skills and healthy social-emotional development. We spoke with Marjorie Schulman, the Executive Director, to hear more about their initiative.
Building boats to gain critical STEM and social skills
The program runs from September through June, culminating in a boat launch, Student Spirit Boat Launch & Regatta.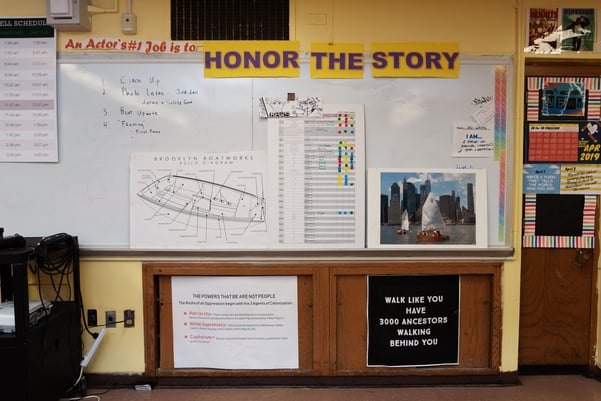 "It's a lengthy process, and for most of our students, it's the longest single project they've ever participated in," Schulman explained. "Our founders created a guide, which lays out the specifics of the boat build. BKBW could work with students to construct the boat, an Optimist pram or Dory, in a much shorter period, but for us, it's not just about building the vessel. It's about all the other skills students develop through the process."
For example, BKBW's curriculum includes STEM, which covers concepts like buoyancy, learning measurements, and the physics of sailing. They also learn a great deal about teamwork, leadership, and persistence.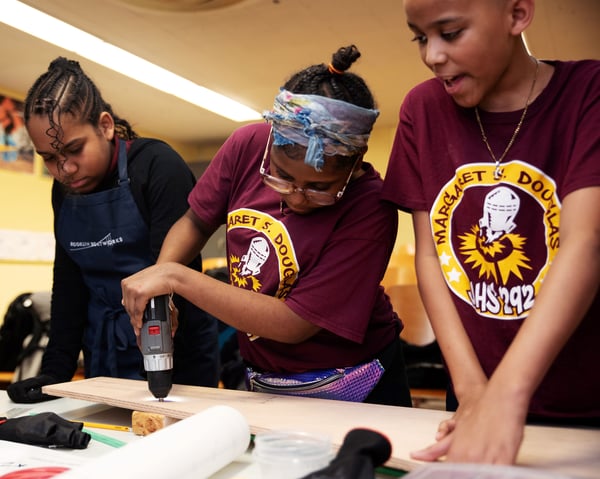 "They feel accomplished after having spent such an extended amount of time building their boats. They're doing something that they've never done before," Schulman said. "It's difficult for them to imagine participating in a regatta, sitting in the boat, and trusting it's going to float in the water. Most of BKBW's students don't know how to swim, yet they still showcase their bravery and confidence when they're finally on the water."
In the process, the students also gain an appreciation for the city and the environment around them. Some students may have ridden the ferry or gone fishing with a parent, but otherwise, Schulman explained that many of her students don't get a lot of interaction with the water despite being surrounded by it living on an island.
"At the Student Spirit Boat Launch, we have observed the parents who attend are so proud of their children's newfound confidence and skill set," Schulman said. "Parents can see this joy in their child through their work constructing the boat and sticking with the project from beginning to end. So, there's a visible and physical payoff for all the hard work that went into it. In addition, the students are thinking, 'I did this thing that I couldn't even imagine. What can I accomplish next?'"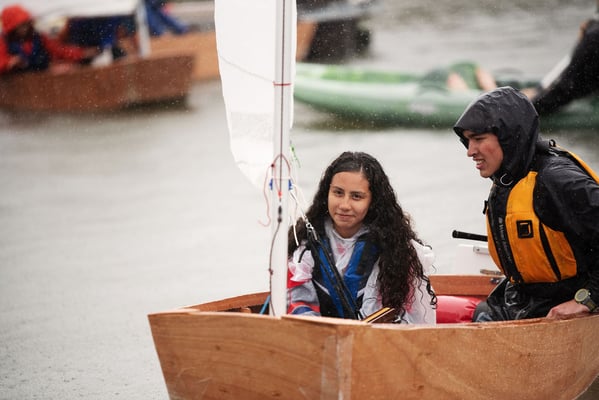 Schulman also indicates that BKBW's purpose is not to inspire a thousand future yacht builders.
"We want our students to take the hard and soft skills they learn and utilize them with their families, in school, their community, and ultimately the world," Schulman explained. "Our program exists to support our students' pursuits and interests on their path to adulthood."
Expanding the program during the height of the global pandemic
"BKBW went from an in-person, hands-on learning program to a fully remote one from one day to the next," Schulman said. "It was a challenge to figure out how to make an intentionally hands-on program into one that could be hands-on but remote."
Like many teachers during this time, Schulman and her staff had to get creative. So they created kits to send to participating students to do other activities and run experiments at home virtually. For example, the kits included supplies that enabled students to do nautical knot tying, build model paper boats, build vessels for buoyancy testing, and learn to loft while participating in BKBW's weekly virtual classrooms. As a result, Brooklyn Boatworks established 12 different programs since March 2020, including a leadership development program for alumni, drop-in STEM sessions, and Instagram Live field trips.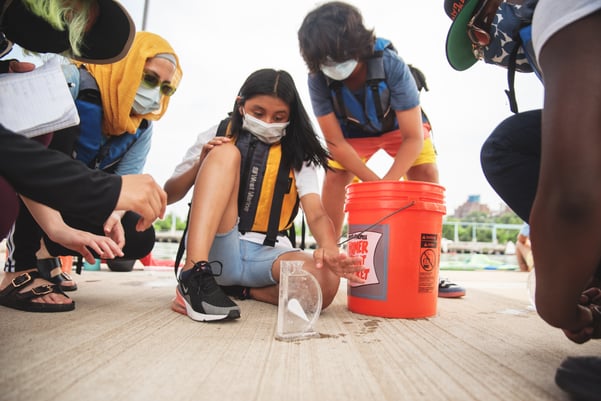 "Eventually, BKBW was able to bring back outdoor in-person, pod-based programming," Schulman continued. "Last August, BKBW started an outdoor family-based boat building project enabling entire families to learn the craft of wooden boat construction. We're also holding summer sailing with our alumni and other school and camp partners. Then, when school returns in September and October, BKBW will be back inside the schools."
Advocating for all types of learners in and out of the classroom
"The waterfront has not always been accessible to everybody," Schulman said. "Hence, part of Brooklyn Boatworks' goal is to provide that access to young people, particularly young people who have not had access to it before."
Schulman and BKBW believe it's critical to provide support early in their students' academic careers, which is why they work with kids as young as 9-years-old. And unlike the traditional classroom space, they're project-based and emphasize experiential learning. As a result, students are not listening to lectures or studying out of textbooks.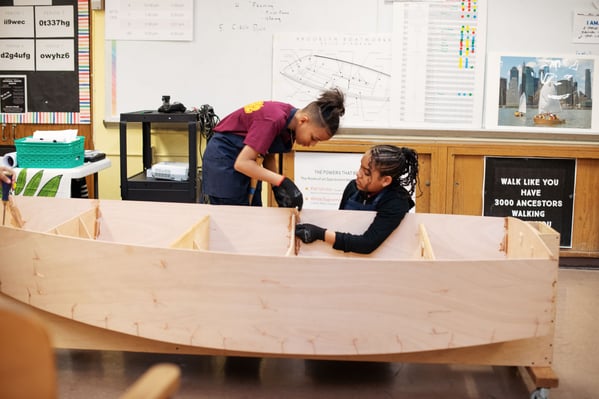 "We're encouraging students to pick up tools, move around when working on the boat, or to look for a flag on top of a building to see which direction the wind is blowing," Schulman explained. "In this way, our curriculum encourages every type of learner to participate and succeed."
BKBW suggests that schools offer the program to mixed groups of students who succeed in a typical class setting with students who don't.
"It enables interactions between students who don't necessarily share classes otherwise." Schulman continued. "There can be a great benefit to all students when those who traditionally excel see students who generally don't thrive in a different learning environment. Similarly, when principals and teachers see that students who they've deemed "difficult" or "hard to reach" are successful in the BKBW classroom, opportunities offered to those students may expand."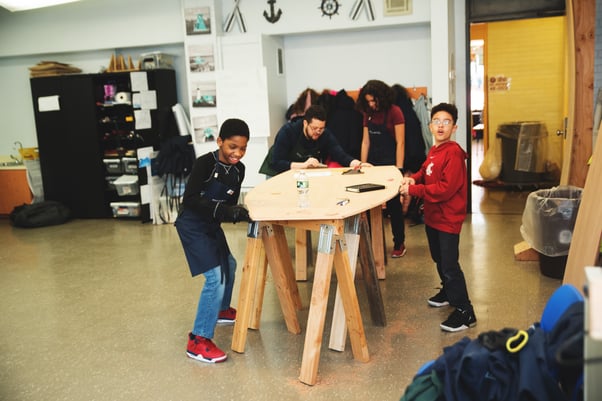 Brooklyn Boatworks has committed to cultural competency training and ensuring their board reflects the communities they serve at an organizational level.
"We bring in expert trainers to facilitate conversations around how race, class, ethnicity, language, gender identity, birth county, and etc., show up in classrooms and influence instructors' perspectives and reactions. Our goal is to make sure we're creating affirming environments for the students we're serving," Schulman said. "Classrooms are microcosms of what's going on in the world. We seek to affirm and acknowledge the experiences of our students."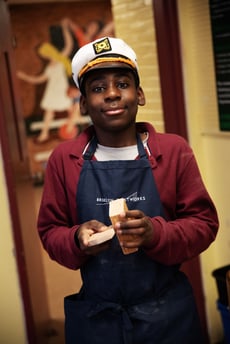 Supporting the continued success of their students and alumni
Once students graduate from any one of BKBW's programs, they become part of BKBW's Alumni Leadership Program, which gives them access to unique, ongoing activities, like meeting with potential employers or doing an advanced boat build. BKBW also takes students on field trips and offers opportunities to become instructors. They also host Boatcast, a student-centered podcast.
Most recently, BKBW has formed an Alumni Council, which provides input about programs and changes they want to see in the future. In December, the Alumni Council will participate in its first BKBW Board meeting. Thanks to the Alumni Leadership Program, Brooklyn Boatworks can work with and follow alumni through college and beyond. As a result, their students go on to do a variety of things, including college and careers.
Want to see more of Brooklyn Boatworks? Visit their website and donate! Follow Brooklyn Boatworks on Instagram, Facebook, Twitter, or LinkedIn.
Quotes have been edited for clarity. Stay up to date with our First Mates series and more on our blog and join the conversation on Facebook, Twitter, and Instagram.
What's your story? We're on a mission to highlight the boating world's entrepreneurs, small businesses, community organizations, and solo initiatives – drop us a line here to get the ball rolling.