According to the New York Times, after the Biden administration announced that vaccinated foreign travelers would be allowed to enter the United States starting November 8, Skyscanner, a travel booking site, saw an 800 percent spike in bookings. Experts believe the announcement has signaled it's safer to travel this holiday season, both domestically and abroad.
With more people traveling this year, traveling during the holidays comes with ease not afforded to others if your home doubles as transportation. Liveaboards don't have to deal with the stress and finances of booking travel, crowded airports, hotels, etc. At least that was the case for Sydney, her fiancé Dalton, and their dog Ipa when the global pandemic spoiled their usual holiday plans in 2020. Instead, they took the inconvenience as an opportunity for a new experience and decided to celebrate Christmas in Catalina with their family on their newly purchased boat, Mihaly.

Although the trip wasn't exactly smooth sailing, Sydney believes, in the end, it's worth it because "a holiday on the water isn't likely to be one that you forget!"
Dockwa: What's your location?
Mihaly: We're based in San Diego, California and live aboard in America's Cup Harbor in the San Diego Bay.
Dockwa: How long have you lived on the boat?
Mihaly: Exactly one year! We purchased our boat on October 1, 2020 and spent about a month re-finishing and deep cleaning the v-berth before moving aboard.
Dockwa: How did you decide on which or what kind of boat to buy?
Mihaly: When the inspiration struck to move from land to sea, we began to consume any resources we could to make the transition a reality without a big budget. Thankfully we stumbled on the book "Get Real Get Gone: How to Become a Modern Sea Gypsy and Sail Away Forever..." by Rick Page. The book not only aligned with our values as to why we wanted to embrace a watery lifestyle but gave us a practical how-to guide on identifying, purchasing & surveying a boat that could make our dream a reality.
Based on his advice alongside others, we settled on a 1976 33' Morgan Out Island–fiberglass, excellent structural condition, safe, sea-worthy, comfortable and within our budget. We did compromise on a few things; no separate aft cabin, lack of roller furling & she would need some upgrades to be able to long-term cruise. However, based on her price & structural integrity, we've gotten to put our money into the fun projects you get to see, like re-finishing the interior, creating more usable storage spaces, learning to sew canvas & installing solar.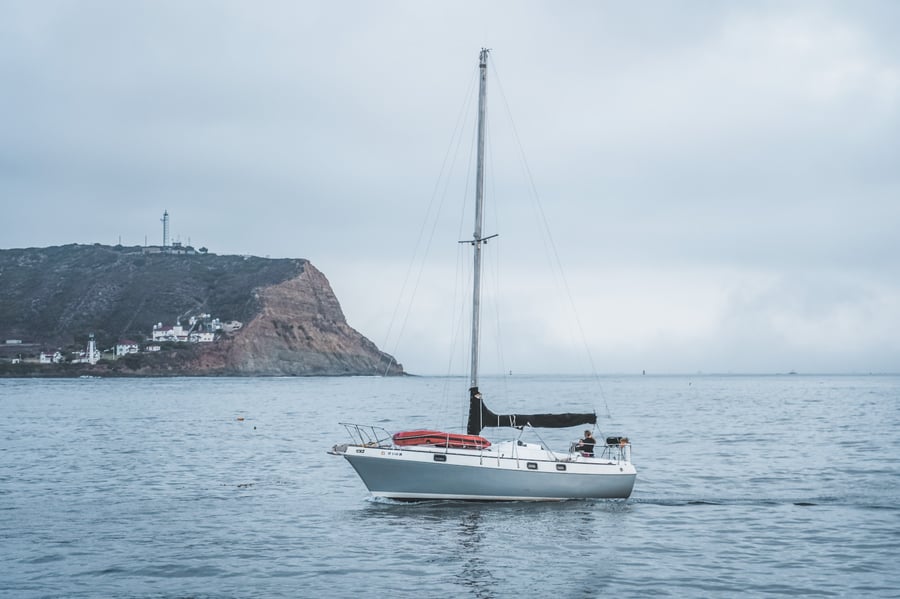 Dockwa: How did your boat get its name?
Mihaly: Our boat is named after Mihaly Csikszentmihalyi, the psychologist who recognized and named the concept of flow and flow states and how they contribute to happiness and well-being. Her name, Mihaly, reminds us to stay present, challenge ourselves, and embrace the flow of life.
Dockwa: Some people would find your lifestyle extreme; at the very least, it's unique. So, what made you decide to spend your life out on the water?
Mihaly: A few years back, we watched a TED talk that broke down the work week and precisely what each hour of your working day pays for. Of the 45+ hours per week we spend working hard, only about 10 of those hours (if we're lucky) go towards savings and the fun things that ultimately define our lives and identity. Living in London with astronomical rent prices, it dawned on us that instead of making more money, what if we spent less money? The difference in our bank account at the end of the day would be the same.
While we were contemplating this internal mindset shift, my father made an off-hand comment about a sailboat and how we could purchase it for $3,000 (which I know now was an underestimate). These two colliding events planted the seed; what if we could drastically reduce our costs by living on a sailboat, explore the world on our home, learn an exciting new set of skills, find a way to take a break from the rat race, and embark on the adventure of a lifetime? So now, here we are 2 years later, living on our sailboat in San Diego & gearing up to head South in January to start a year of cruising!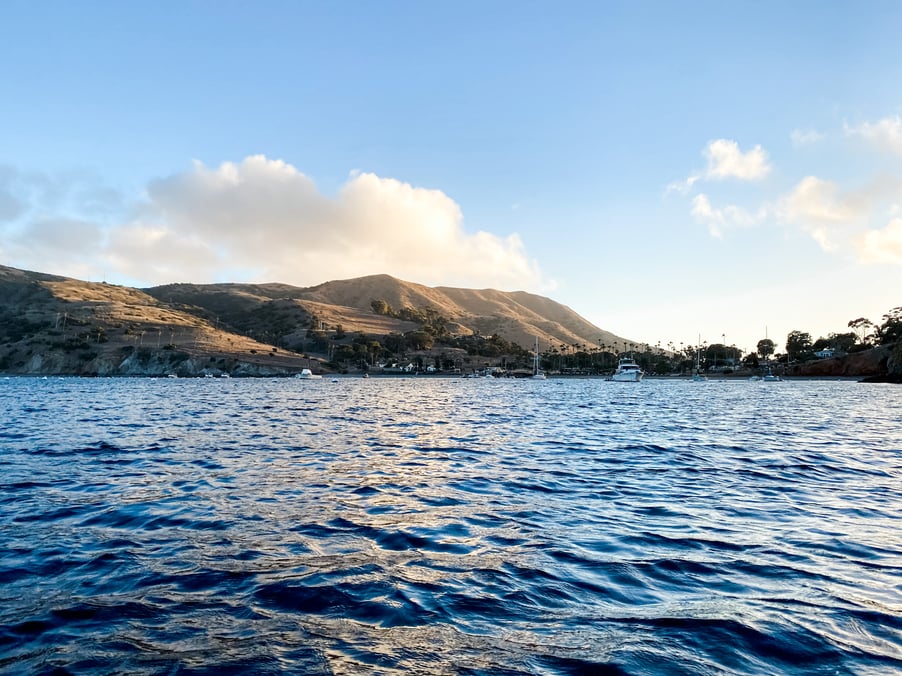 Dockwa: Last year, you spent Christmas in Catalina. What made you decide to spend your holiday boating?
Mihaly: Covid made for a spontaneous 2020 Christmas, and as plans with our extended family got canceled, we opted for a unique Christmas. We set sail for Catalina with my parents, who live on 1968 42' Grand Banks, and my sister & her boyfriend, both dive instructors who previously worked on the island. We were (and still are) new sailors that had only owned our boat for a few months, so it was our first 'big' passage on our own and the perfect challenge to take us out of our comfort zones. A Catalina boating Christmas enabled us to turn a bummer Christmas of canceled plans into a memory we will never forget!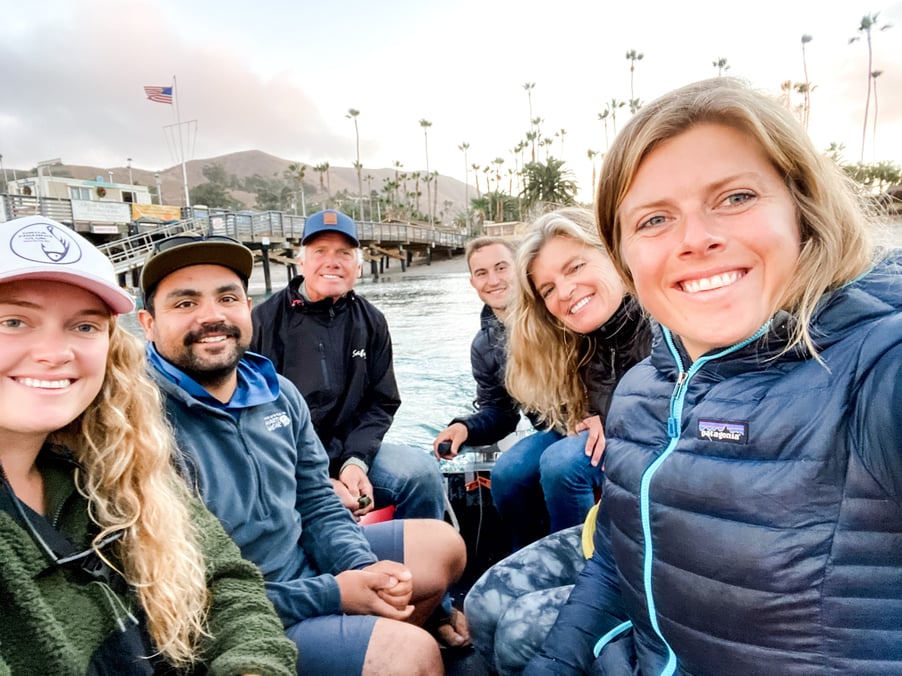 Dockwa: Was there anything you did to make your boat festive?
Mihaly: Yes! We ran LED Christmas lights up the mast and halyards, hung a wreath from our anchor, and decorated inside with a mini Christmas tree (tree clippings from Trader Joe's in a vase), complete with a few tiny ornaments and battery-powered twinkle lights. We also found a place to hang up our stockings!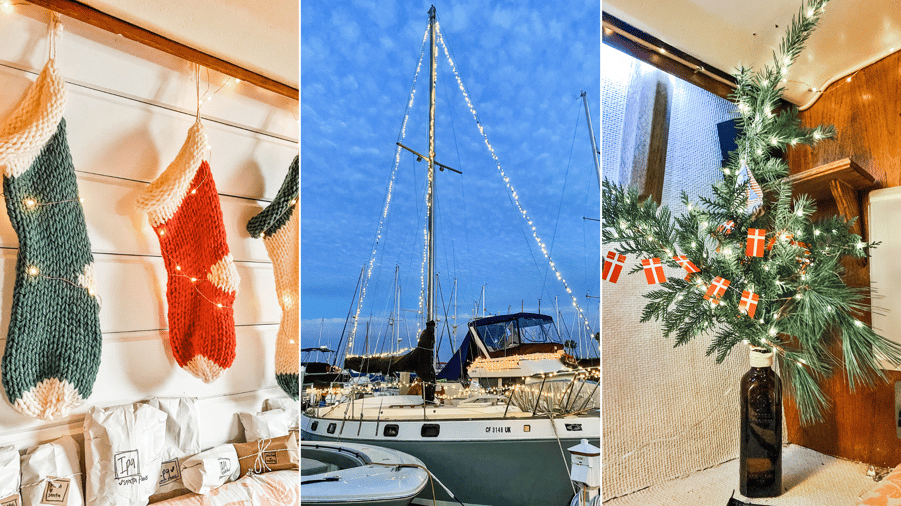 Dockwa: What was the best part of your trip?
Mihaly: We stayed in Cherry Cove and had the entire mooring field to ourselves. If you've been to Catalina in the madness of summer, you know how special and eerie it is to be there without anyone else. We got our pick of mooring ball and had 360º of stunning views. We dove Bird Rock on Christmas Day as a family, which was an extraordinary experience.
Dockwa: Did you face any obstacles on your trip? If so, what were some of the challenges you faced?
Mihaly: New sailors venture to Catalina over Christmas on the boat they've owned for two months with weak batteries, no solar panels, and have only just installed a Dometic fridge-freezer–what could go wrong? On our way to the island, we stayed in Dana Point for two nights, and by the time we got to Catalina, there wasn't enough juice in our batteries to run our fridge-freezer (even with the engine running). So with lots of precious Christmas meats in the freezer, we loaded it into my parents' wooden dinghy off our ridiculously high-free board and plugged it in on their boat. It was quite the scene. Too bad there weren't other boaters there to laugh!
Being in Catalina over the winter, you have to keep a close eye on the weather unless you want to get caught in a Santa Ana (you don't). The biggest bummer was that the weather turned faster than we anticipated, and we ended up having to cut our trip short by a few days to avoid some nasty weather rolling in. We spent the last few days on anchor in Mission Bay, which was great, but leaving earlier than anticipated or having to scratch plans due to weather is always a bit disappointing. Still, that's far better than the terror of being caught out in a bad storm!
Dockwa: Would you recommend spending your holidays' boating? Why or why not?
Mihaly: Boating can be an entertaining, rewarding, and exciting way to spend the holidays. It adds a unique twist and novelty that elevates the experience and the memory. More importantly, it's necessary to think about what you want to get out of a holiday. Is it being comfortable, relaxing, eating, and focusing on spending time with your family? It might be a better idea to rent a cabin, and there's nothing wrong with that! However, being on the water and spending time aboard will always have an element of challenge and discomfort. It's a small space, and things or systems typically don't end up working out entirely as you anticipate. You are also much more exposed to the weather and elements. Needless to say, a holiday on the water isn't likely to be one that you forget!
Dockwa: If you were, to sum up, your experience living aboard in one sentence, what would you say?
Mihaly: Boat work! Just kidding. Living aboard forces us to be present and find harmony with nature, teaches us how we can begin to own our impact on this planet and enables new fantastic, grand adventures.
Want to see more of Mihaly? Follow their blog and connect with Mihaly on Instagram and Youtube.
Quotes have been edited for clarity. Stay up to date with our liveaboard series and more on our blog and join the conversation on Facebook, Twitter, and Instagram.
What's your story? We're on a mission to highlight the boating world's entrepreneurs, small businesses, community organizations, and solo initiatives – drop us a line here to get the ball rolling.