What Type of Boat Should I Buy? Dockwa's Top 10!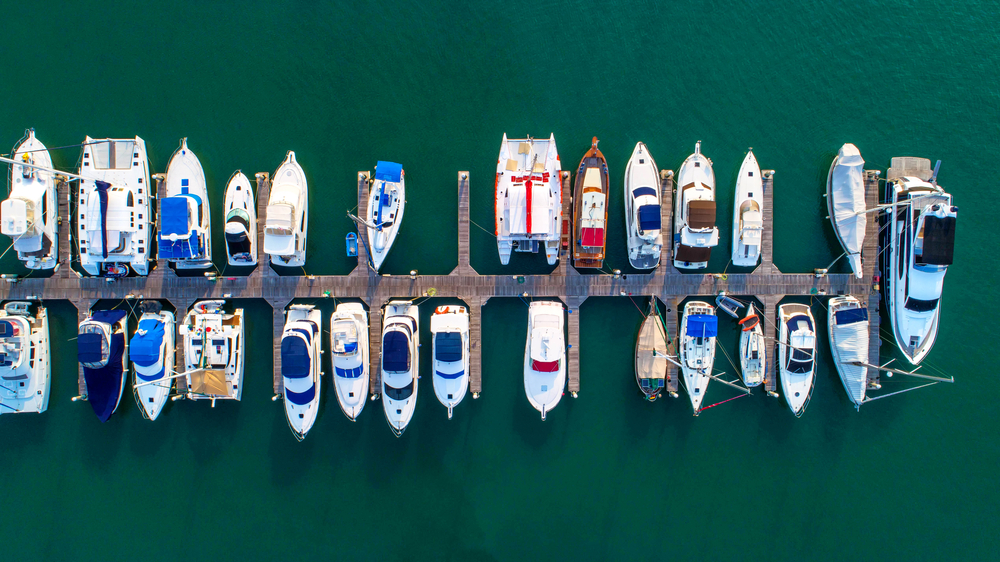 Read on to learn more about 10 of the most popular boat models and what you can expect when making your big purchase.
All-Purpose Fishing Boats
All-purpose fishing boats provide ultimate flexibility. If you're looking for an exciting fishing experience, they hold up to five passengers, range from 15-20 feet long, and can be used on rivers, lakes, or out on the bay. Plus, they offer fishers the convenience of integrated tackle boxes and baitwells. Another bonus? Most modern models can be used for water skiing or tubing. So after a busy morning casting, the whole family can enjoy a few hours of watersport activities.


Bowriders
Bowriders are one of the most popular boats on the market, holding up to nine passengers ranging from 16-28 feet long. This type of boat is the ideal option for families looking to do it all. Kids can enjoy sunny days full of water sports, fishing, fun; then, parents can take the family on a sunset cruise to enjoy the views.


Cabin Cruisers
Looking for a boat where you can comfortably spend a little more time out on the water? A cabin cruiser offers the amenities of a home out on the water for weekend getaways or extended trips. These boats include sleeping spaces, a kitchen area, and bathrooms. Cabin cruisers can hold up to 10 passengers and range in size from 20-40 feet long.
Motor Yachts & Power Cruisers
Motor yachts and power cruisers offer the ultimate luxury getaway experience. Spend days, weeks, or months island hopping and cruising along the beautiful coastline. Motor yachts and cruisers are available in a wide array of 26-100 feet long and can hold up to 20 passengers.

High-Performance Boats
If you have a need for speed, look no further than a high-performance boat. Made to travel at high speeds, these boats are perfect for saltwater fishing, and you'll even find events across the country for owners to show off their boats. These boats range from 16-24 feet long and can hold a maximum of 8 passengers.


Jet Boats
Name a better way to spend a day out on the water than water skiing, wakeboarding, or tubing on your jet boat? Jet boats range in size from 14-25 feet long and are the best option for watersport lovers looking to soak in the sun and experience the thrill of sharp turns and maneuvers. So with room for up to 10 people, grab your friends and get out on the water.
Pontoon Boats
Commonly referred to as a "party barge," pontoon boats range from 16-30 feet long and are a favorite boat type amongst those who want to entertain out on the water. Additionally, pontoon boats are an excellent option for spending the day fishing or swimming around the lake. The large platform is every fisherman's dream, and many pontoon boats have added storage for things like water skis and kneeboards. Invite up to 15 of your closest friends and have a day of (responsible) fun on the water.


Trawlers
We've written countless posts about people opting for the liveaboard lifestyle, and trawlers are designed with these folks in mind. Built for long-distance cruising from port to port, they offer spacious layouts with private bedrooms, galleys, and living rooms, with some even featuring multiple decks. Trawlers can host up to 10 guests and range in size from 26-50 feet long.
Walkarounds
Walkaround boats or walkaround cuddies are primarily used for fishing. With a small center cabin or "cuddy" cabin, the boat offers 360 degrees of fishing access. Larger models can also be great for day cruising with friends and range from 18-30 feet long, holding no more than seven passengers.


Sailboats
Our personal favorite, sailboats, are a true classic. Enjoy a day sailing with a few close friends, spend the weekend out at sea with family, and even join a larger crew for a race. Sailboats come in various sizes ranging from 7 feet to 70 feet long, and are suitable for up to 14 passengers (depending on size and activity).

While these are just a handful of the most popular boats available, there are more out there to pick from. All it takes is a little bit of research. Once you make your purchase, there's no time like the present to start planning your first trip on the water.
Be sure to check out our other blog posts to get an inside look at our favorite destinations, marinas, and tips for first-time boaters. Join the conversation on Flipboard, Facebook, Twitter, and Instagram.