However, with work landscapes changing and becoming more friendly toward remote and hybrid styles, we wonder if you're doing the same or at least eager to try! So, to get the scoop, we reached out to the Dockwa boaters to ask, "would you work from a boat?" The resounding answer:
Hell yes.
"Could I 'work from anchor' this summer?" Yes, said Josh Klar, a Senior Software Engineer. "By unplugging the USB-C power cable, tossing the hotspot in a bag, and plugging it in on the boat. Do I plan to do exactly that this summer? Also, yes."
While hard to imagine a few years ago, it turns out that almost everyone we asked echoed that sentiment and had contemplated working from their boat. Many had taken steps to set up their floating office. That's about the best office perk we can think of.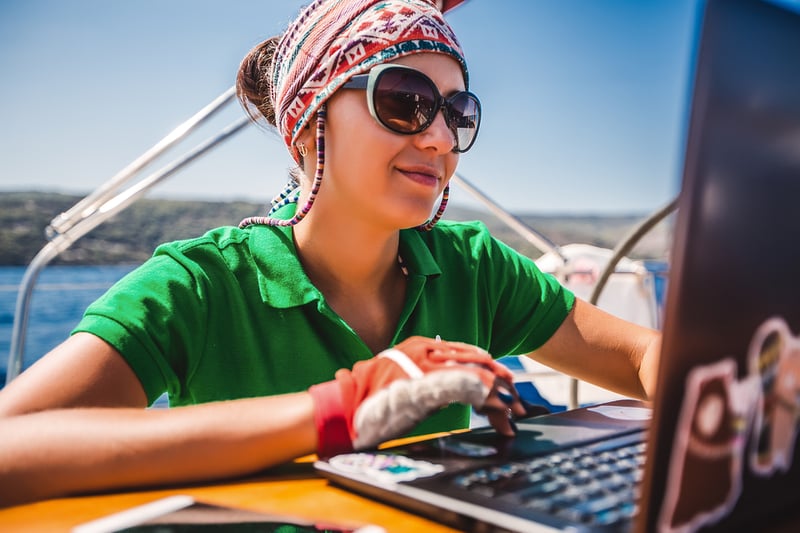 Some of us are already doing it.
Whether working full time from the boat or part-time when you can get the chance, we all know a view from the water beats a view from the office.
"I love working from the boat! I've done it for 11 years, a mix of full-time, part-time, and self-employed consulting." -Leah K.
"My husband and I worked remotely from our boat every Monday and most Fridays during boating season last year and planned to do so this year. I got for a swim whenever I took a lunch break during the day for a swim." -Kera S.
"I do it now! Best office location(s) and amenities!" -Rick M.
"I've worked aboard for 10 yrs! I get the best view from the 'office.' I wouldn't trade it for the world." -Russ C.
Thankfully, the boaters we talked with who had worked from their boats were quick to share their experiences with everything from wifi to the time when they're most productive. First, the most common question we've encountered:
How to Set Up Wi-Fi on Your Boat
The options we heard for setting up Wifi to support screen-based jobs were, but if you boil it all down, there are really two paths: "quick and affordable" or "powerful and reliable anywhere."
Most of the people we asked only occasionally worked from their boats. Instead, they would take to their crafts on lighter meeting days or during certain months while in the same harbor. For them, a simple hotspot and router set-up worked best.
"I'm planning to get a hotspot for my boat and work on it this summer. I can't think of a better office!" said Jennifer O.
"Using either a tether to your cell phone, a mobile hot spot, or the best solution, a wifi router with a SIM card, you can do anything! In addition, you have the added benefit of using the signal to hook up to your streaming box or smart TV for Netflix, Hulu, Prime, or local channels," said Michael C.
"We've been working from our sailboat in Long Island Sound for the last two summers. We use a Wi-Fi router with T-Mobile Data Sim Card and an iPad hotspot as a backup," echoed Keith L.
This set-up will run you around $60 for an unlimited sim card plan and $50 for a WiFi router.
That quick and affordable solution could be all you need if you're working from a mooring close to a harbor with good service or, even better, if you're at a marina with wifi and using the hotspot as a backup. Tip: Did you know you can search for marinas with wifi right on Dockwa?
You may need a more serious setup for those who like to work on the move. For liveaboards like Heather Brewer and Paul Bultema aboard their boat, Gratitude, a satellite wifi setup for your boat might be a more reliable setup. These can run tens of thousands in cost, but they can allow you to work remotely on your vessel from almost anywhere.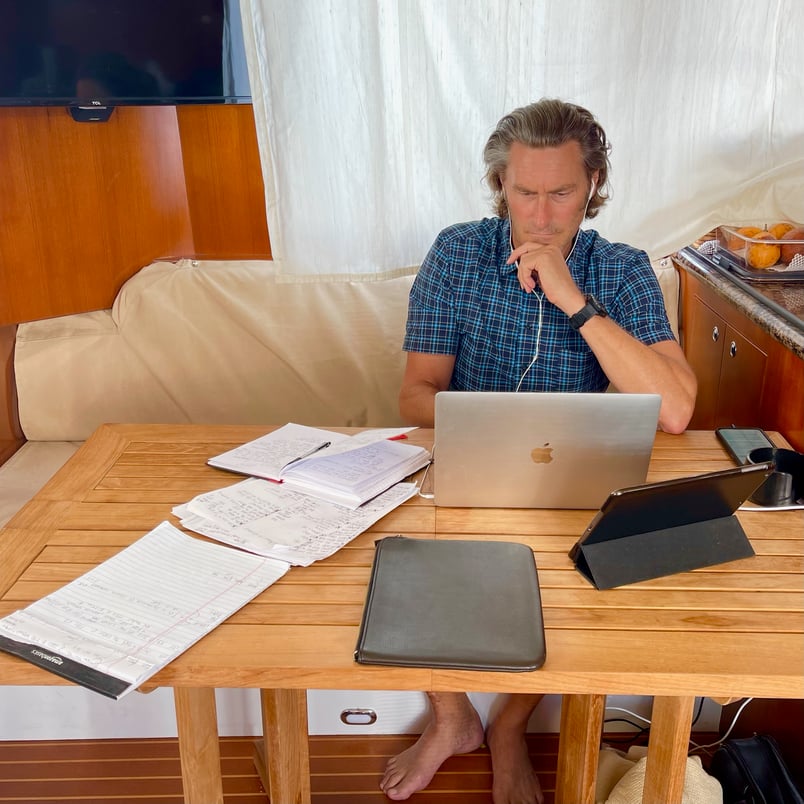 Catamaran Boater BJ Knapp gave us some of the best details we heard on finding the optimal internet set-ups when in a bay or on the move.
"I have a laptop and an external monitor that I use to have two screens. For wifi, we either use a Verizon hotspot. We also have a Wifi Ranger antenna that we put up on the mast to pick up marinas' signals. So if we're ever at a marina, we use their wifi. I cannot wait until Starlink has a dish for marina applications–that will be a game-changer. We have a Starlink dish, but the problem is as the boat moves, it loses connection. Starlink isn't ready for dishes that move with the breeze and current. We have an Iridium Go when we're offshore and away from land-based cell and wifi. We reserve this for emergency use and weather checks because we find it rather pricey."
The take-away? Outfit your boat with wifi to match your travel plans and work needs. Maybe start small with a hotspot or marina wifi to test the waters, so to speak. Then as working from a boat becomes more of a regular habit, expand into satellite options.
There are drawbacks, of course.
Boaters were quick to tell us the upside of working from the water, but they also shared some of the trade-offs for some time.
"I'd say the biggest struggle I have with working from a boat is finding a comfortable enough spot to sit all day. While my boat is super comfortable, sitting in one spot for an entire workday cause backaches," said BJ Knapp. "At home, I've got a sweet Tempurpedic cushioned chair, but aboard, I've had to get a little more creative with using a collapsable deck chair with many cushions."
And, of course, not all work translates well to the water. Particular roles and responsibilities just can't be done from a boat.
So, it might not be for everyone.
There's no argument that we love boating and cherish our time on the water, but not all of us can work from the boat, and that's okay.
"Every job I've had required me to be there, touch things, turn knobs and switches, replace parts, or install things." -Ron W.
Fair point, Ron. Not every job aligns with remote work.
"I wish, but it's hard to work a crane or other construction machines from my boat. It'd be nice, though. 👍🏼" -John S.
We hear you, John, and we agree. A crane would take up a lot of space on your boat, so it's best to leave it on land.
Want to work from your boat?
If your job is a fit for working remotely, the best place to start is to find a marina near you that has wifi internet for guests. Book a slip there and see if the work-from-boat life is for you. Can you focus? Are the harbor breezes good for your creativity? Then take it to the next level and invest in a wifi set-up of your own. And if you do, join the boater community and and tell us how it went! Post a picture to your Facebook, Instagram, or Twitter account using the hashtag #TWGNomads and tagging Dockwa. If we reshare your post, we'll send a Wanderlust Journal as a souvenir!
And because we know the water is your favorite playground, regardless of if your job allows you to spend more time on your boat, we still expect to see you out on the water before, during, or after your 9-5!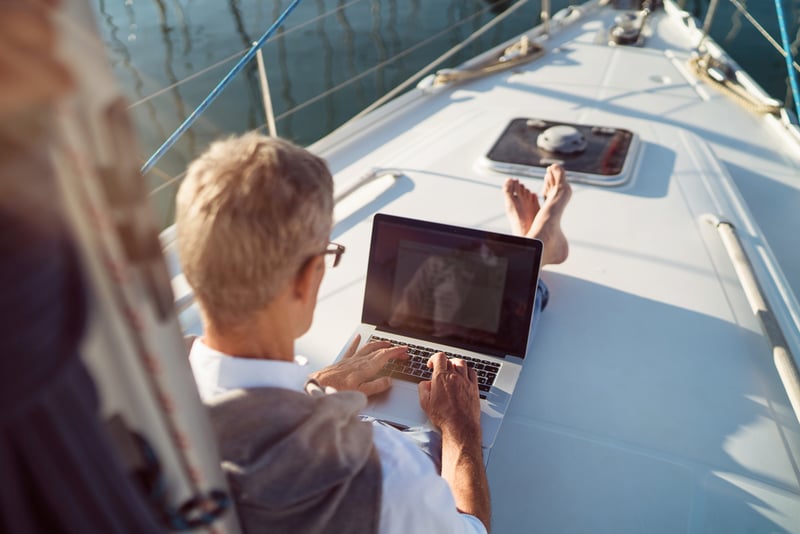 Check out our other blog posts to get an inside look at our favorite destinations, marinas, liveaboards, and tips for boaters. Then, join the conversation on Flipboard, Facebook, Twitter, and Instagram. Rely on Dockwa to book your next slip or mooring and plan your next adventure.