Part of the beauty of boating is that you don't need to wake up at the break of dawn, stuff the kids in the car, and drive for three hours to enjoy nature. You can take your time, and make a weekend or week-long cruise of the adventure to see some of our country's most pristine wilderness, and wake up at the break of dawn to the fresh air, sunrise, and gently rocking waves.
If you're not yet a cruiser, we'll be putting some suggestions together for you regarding how to get started, so stay tuned. For those boaters ready to make wake to some gorgeous scenery: We've put together our recommendations for National Parks you can visit by boat, so you can spend some time ashore enjoying the most historic and pristine places in the country.
Acadia National Park – Bar Harbor, Maine
Now in its 100th year, Acadia National Park in Bar Harbor, is situated on Mount Desert Island, the largest island off the coast of Maine and the second largest on the eastern seaboard. Southwest Harbor – home to the legendary Hinckley boatbuilders – and Northeast Harbor both lie at the foot of the mountain and are bustling with boater activity. ActiveCaptain's site and forum members provide some great intel about transportation from the harbor to the park, provisioning, and more. If you're planning on cruising to Acadia from points south, book a night at Front Street Shipyard in Belfast, ME on your way!
The Boston Harbor Islands – Boston, MA
If you're flying into Logan Airport or ferrying over from Provincetown, the Boston Harbor Islands are a beautiful blur – Boston boaters are truly lucky to get up close and personal from the comfort of our city's back yard. Boaters can overnight on a mooring or ashore at Spectacle Island for a quiet night in the islands, with ferry access to the city and plenty of nearby Boston Harbor marinas on Dockwa for when you're ready to fuel up and provision. Don't head into the city from there – first make sure you check out Fort Warren on Georges Island and Boston Light, America's oldest light station.
New Bedford Whaling National Historical Park - New Bedford, MA
Nicknamed "The Whaling City" during the 19th century, New Bedford was one of the most important, if not the most important, whaling ports in the world. Now you can visit this historical site and still-bustling boater community for tours of the New Bedford Whaling Historical Park starting Memorial Day weekend through August 31. Staying aboard nearby is easy: Pope's Island Marina in New Bedford, MA is just a 15-minute walk over the Fairhaven Bridge. While in town, check out the nearby Whaling Museum, which hosts events such as the annual Moby Dock Read-a-thon and is home to the longest painting in the world.
Fire Island National Seashore – New York
Fire Island, a barrier island south of Long Island, is a 30-mile long sliver of land and home to the 26 miles that make up Fire Island National Seashore. While there, check out Sailor's Haven, a popular 1.5 mile boardwalk trail through an area known as the Sunken Forest, and the Fire Island Lighthouse, a 180-foot stone tower that began operation in 1858, and was decommissioned in 1974. Whether camping ashore or staying aboard, you can reserve dock space on Fire Island at Seaview Boat Basin.
Great Egg Harbor River – New Jersey
Great Egg Harbor River is roughly 55 miles of protected river that runs through New Jersey's pristine pinelands, wetlands, and empties into the Atlantic Ocean. This park is more remote than some other destinations, making it perfect for boaters who prefer to get far off the beaten path for their hiking and fishing. Stay aboard nearby: Reserve dock space in Atlantic City at Kammerman's Marina, roughly 10 miles Northeast of the river's mouth.
Assateague Island National Seashore – Maryland/Virginia
Life on the edge! With constantly-changing coastlines and wild ponies prancing about, we're already enchanted by the Assateague Island National Seashore. Another barrier island, this park offers sightseeing cruises, kayak tours, 37 miles of beach and events throughout the season. This is a great spot to explore for boaters taking the outer route to head north from Norfolk to Delaware Bay. – That's 160 miles total as the crow flies, so reserve dock space in Delaware Bay at South Jersey Marina in Cape May to refuel on the other end of it.
Cape Hatteras National Seashore – North Carolina
Fort Sumter National Monument – South Carolina
Fort Sumter, smack in the center of Charleston's popular harbor entrance, is only accessible by boat. The Fort Sumter museum has exhibits that tell the story of the construction of the fort and island, the events leading to the 1861 battle that began the Civil War, and more. Staying the weekend? Try these sights to see in Charleston. Extend your stay by reserving dock space in Charleston at Charleston City Marina or The Harborage at Ashley Marina on Dockwa.
Florida
Florida's got the lion's share when it comes to national parks! Here are a handful of the parks to get close to by boat, and their closest Dockwa marinas to make finding safe harbor a breeze:
Everglades National Park - If you're familiar with Florida's geography, we don't need to tell you that the Everglades are comprised of an enormous expanse of wetlands real estate on the southern tip of the state. Stay in the thick of it: Reserve dock space in the Florida Everglades at Everglades Isle Marina.
Canaveral National Seashore offers beaches, primitive camping, surf fishing, pontoon boat cruises, and more. As for wildlife, keep an eye out for loggerhead, green and leatherback sea turtles, West Indian Manatees, peregrine falcons, Southern bald eagles, and more. Extend your stay by booking dock space at Kennedy Point Yacht Club or Titusville Marina, and don't miss your chance to tour NASA's Kennedy Space Center.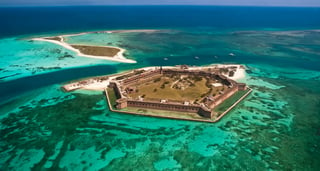 Dry Tortugas National Park – One of the more remote National Parks, Dry Tortugas is 70 miles west of Key West, situated in pristine waters known for their coral reefs, sea life and shipwrecks. Private boats must first obtain a permit at Garden Key headquarters located inside Fort Jefferson – the largest masonry structure in the Western Hemisphere – before recreating within the park, but the paperwork seems a small price to pay for the view. Reserve dock space in Key West at Conch Harbor Marina, Key West Harbor Club, or Oceanside Key West Marina.
---
The National Park Service encourages fans to show their support and join in the Centennial celebration all year long by visiting FindYourPark.com, using #FindYourPark on social media, and planning and sharing your outings with others!
If you've made the trek to a national park by boat, or are planning to, we'd love to hear about your trip! Email becky@dockwa.com.