If you've registered your boat online, you're already with the program – just make sure you document your route to the race, and tag the Charleston Race Week social feeds (namely Facebook, Twitter, and Instagram) so they can cheer you on!
If you've found yourself in Charleston without a ride, don't panic: get on the Crew List and head to the opening night beach party to make friends and get the word out.
Schedule
Thursday evening kicks off the regatta with dock talks, a skipper's meeting, and the Opening Beach Party at 4PM – after that, it's off to the races. Friday, Saturday and Sunday all have similar schedules – see below. The one crucial exception: the party starts early on Sunday. See the complete Charleston Race Week schedule here.
8:30AM – Harbor Start for Offshore Circles 4 & 5
9AM – Quantum Daily Weather Briefing on the beach
9:30AM – First Warning Signal for Pursuit Class
10:30AM – First Warning Signal for Offshore Circles 4 & 5
11AM – First Warning Signal for Inshore Circles 1, 2, 3
6 - 9PM – Debrief, daily awards, party (starts at 2PM on Sunday)
Things to do in Charleston (beyond CRW)
Charleston is walkable and bikable, with quaint neighborhoods scattered throughout its 17 square miles. To take in some of its rich history and beautiful architecture, head South of Broad to check out the most historic homes, or visit the gardens participating in Charleston's 69th Annual Festival of Houses & Gardens, happening now through April 24. For an in-depth look at military life, visit Patriots Point, which hosts several living museums, featuring active aircraft carrier USS Yorktown, destroyer USS Laffey, and submarine USS Clamagore, all of which are open for tours.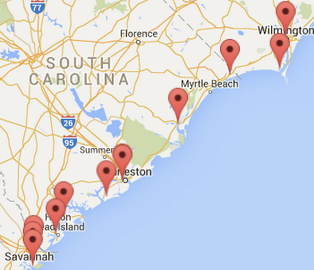 Once you've sailed, raced, partied, walked, and biked, perhaps it's time to get out of dodge. If you're heading south, stop by Kiawah Island and visit the Kiawah Conservancy (driving should get you there in under an hour). On your way out of the harbor, stop for an overnight at Bohicket Marina, located in the middle of Kiawah and the Seabrook Islands. Cruising north? Stop by Georgetown Landing Marina – tell'em Dockwa sent you.
Will you be visiting Charleston? Let us know on Facebook, Twitter and Instagram, and we'll support you on your travels!
Full disclosure: We haven't raced in CRW! And we still tried to write a blog post about it, because we're excited for this awesome event. Did we miss the mark? What else should we include? Let us know - email becky@dockwa.com.