Now the second-largest seaport in the Mid-Atlantic, Baltimore was founded almost three hundred years ago. Today, Baltimore Harbor holds home to dozens of pristine facilities and marinas for visiting boaters, sailors, and yachters alike.
Marinas
Over 40 marinas in Baltimore, Annapolis, and the general Chesapeake Bay area appear on Dockwa's network. Below are a few of our favorites.
Anchorage Marina is Baltimore's premier yachting center with the highest quality facilities and services available in the Chesapeake Bay. Located just minutes away from the Inner Harbor, you'll be minutes away from shopping, restaurants, and entertainment hotspots.
Tucked at the end of Fairview Beach Road in Pasadena, Maryland, Maryland Yacht Club covers over eight acres of a beautiful waterfront. Visiting boats from yacht clubs of CBYCA or the Yachting Club of America are welcome here.
Located in the charming bayside village of Rock Hall, Osprey Point Marina is one of the finest marinas in the Chesapeake Bay area. The marina features 160-slip floating docks, wide access channels, full-length finger piers, dock boxes, power posts equipped with electric and water hook-ups, and so much more.
Restaurants
Yelp named Baltimore one of the top 10 U.S. cities for food lovers, and it's no surprise as to why. Baltimore's culinary scene is a melting pot of cultural cuisines and regional favorites, so even the pickiest eaters won't have a hard time finding a spot to dine.
Spoons is a breakfast and lunch restaurant specializing in fresh ingredients and good, old-fashioned cooking. Discover the delicious offerings they serve any day of the week.
Go For: Brunch

Menu Highlights: Mimosa Carafe, Hot Hen Biscuits, Cinnamon Roll Pancakes with Maple Coffee Glaze
My father, a 53- but 35-year-old looking Jamaican immigrant, isn't the brunching type. The closest he gets is whatever five-star breakfast my mother graciously whips up for him on Saturday morning. So, our family's trip to Baltimore became the perfect opportunity to introduce my dad to the joys of a proper brunch. More accurately, the joys of mimosas, which have since become a brunch staple in the Cox household. When you head to the Spoons, the first thing you should order for the table is a mimosa carafe, which comes with your choice of classic orange, apple cider, or pineapple-jalapeño juice. The food will taste better; that's just science.
Spoons' selection of "Damn Good Biscuits" is just that, damn good. The restaurant claims to have the best biscuits in Baltimore, and although my knowledge is limited in that respect, I can't disagree. The Hot Hen, which serves the fresh, house-made biscuits with crispy fried chicken, sweet-spicy sriracha honey, and tangy dill pickles, made a believer out of me.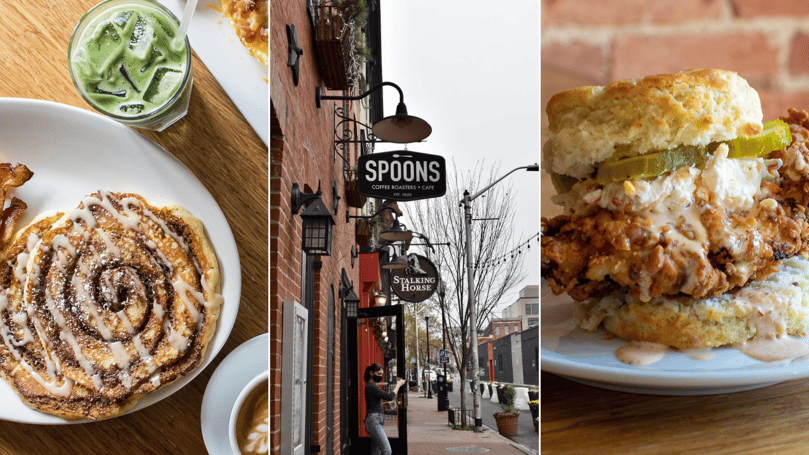 Charming Elephant is the first Lao restaurant in Baltimore. This family-run business brings Lao food to the streets of Baltimore, embodying Lao culture through their authentic cuisine, one warm sticky rice basket at a time.
Go For: Lunch

Menu Highlights: Lao Bahn Mi, Grilled Spare Ribs
Baltimore's historic public markers are the oldest continuously operating public market system in the United States. Long before the cafeteria-style food markets became trendy, they served farm-fresh produce, local treats, and exotic foods. Established in the late 1700s, Lexington Market is the oldest public market.
Go For: Lunch

Menu Highlights: Faidley's Crab Cakes, Park's Fried Chicken

With over 40 vendors, it's near impossible to find a meal you won't enjoy at Lexington Market. Your first stop should be at Faidley's Seafood. Faidley's is a world-famous Baltimore institution with a history starching back to the markets opening days. Locals and visitors flock to Faidley's for the golden-brown, softball-sized crab cakes. Second, head to Park's Fried Chicken. Many other stalls are serving fried chicken, but none will match what you'll get here. Don't forget to ask for extra hot sauce.
Located on the historic waterfront of Fells Point, locals and visitors alike frequent Thames Street Oyster House. Executive Chef Eric Houseknecht creates impeccably authentic and inspired Maryland, Mid-Atlantic, and New England seafood dishes.
Go For: Dinner, Drinks

Menu Highlights: Braised Middleneck Clams, Block Island Scallops, New England Fish & Chips, Blueberry Pisco Sour
You can't go to Baltimore and not have seafood, the best of which you'll find at Thames Street Oyster House. To start, try the Braised Middleneck Clams, which comes in a sauce of grilled linguiça, a type of Portuguese smoke-cured pork sausage, local tomato, sweet corn, charred onion, and basil. It's the perfect bite to get you prepared for whatever you choose for your main course. Go with the Block Island Scallops or New England Fish & Chips. It will transport you to the streets of Boston and Newport.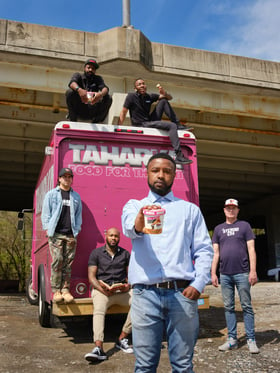 Well known for serving up classic flavors along with a constantly evolving roster of delightful, small-batch flavors beloved in Baltimore, Taharka Brothers offers an award-winning ice cream lineup. Taharka Brothers are also widely known for their unique social mission, focused on creating an impactful, profitable business managed and operated by young adults from some of Baltimore's most troubled neighborhoods.
Go For: Dessert

Menu Highlights: Key Lime Pie, Caramel Crunch, Cookie Dough
A stop at Taharka Brothers Ice Cream is a must. Truthfully, if it's not bubblegum ice cream, I'm not usually a fan, but their cookie dough ice cream was an extremely close second. The ice cream base is brown sugar. Caramel Crunch, a salted caramel ice cream with chocolate-covered honeycomb toffee, and Key Lime Pie, key lime ice cream with a graham cracker swirl, were also good.

Exploring
Whether you plan to head to the ballpark, take a hike, or explore the depths of our oceans, you'll find what you need in Baltimore.
If you're looking to escape the city, this ten-mile hiking and biking trail that follows its namesake Jones Falls waterway is the place for you.
Pro Tip: There are many sites along the trail to stop at, like Maryland Zoo, Druid Hill Park, or Baltimore Farmers Market on Sunday mornings, so plan accordingly.
Located at steel mills and shipbuilding sites, Baltimore's Inner Harbor is now a bustling, must-see destination for all. Here, you'll find the National Aquarium, Historic Ships in Baltimore floating museum, Maryland Science Center, MECU Pavilion, and more! If you prefer the views from the water, hop on one of Baltimore's water taxis or a Chessie Dragon paddle boat.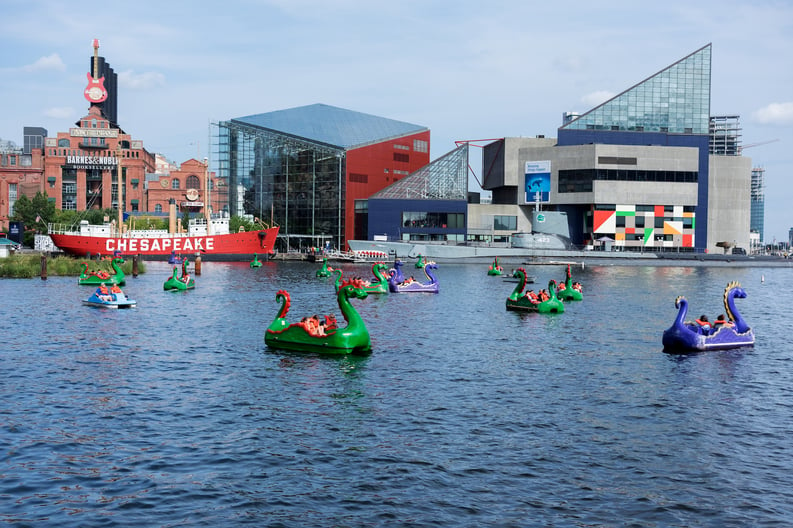 Discover the animals of our blue planet—from the depths of the ocean to the canopy of the rain forest—and discover the connection they share with water. Pet a stingray at their interactive exhibit, see North America's first dolphin sanctuary, and get up close and personal with the residents of Shark Alley.
Become the ultimate fan and show your competitive spirit at an Orioles' game. Whether you are a sports fan or not, Camden Yards is a must-see landmark. But, before you head to the stands, be sure to stop for a pregame beer or meal at one of the many concessions stands for some local bites.
Pro Tip: You're allowed to bring food and drinks into the park (but you won't want to).

Stay up to date with our blog and join the conversation on Facebook, Twitter, and Instagram.