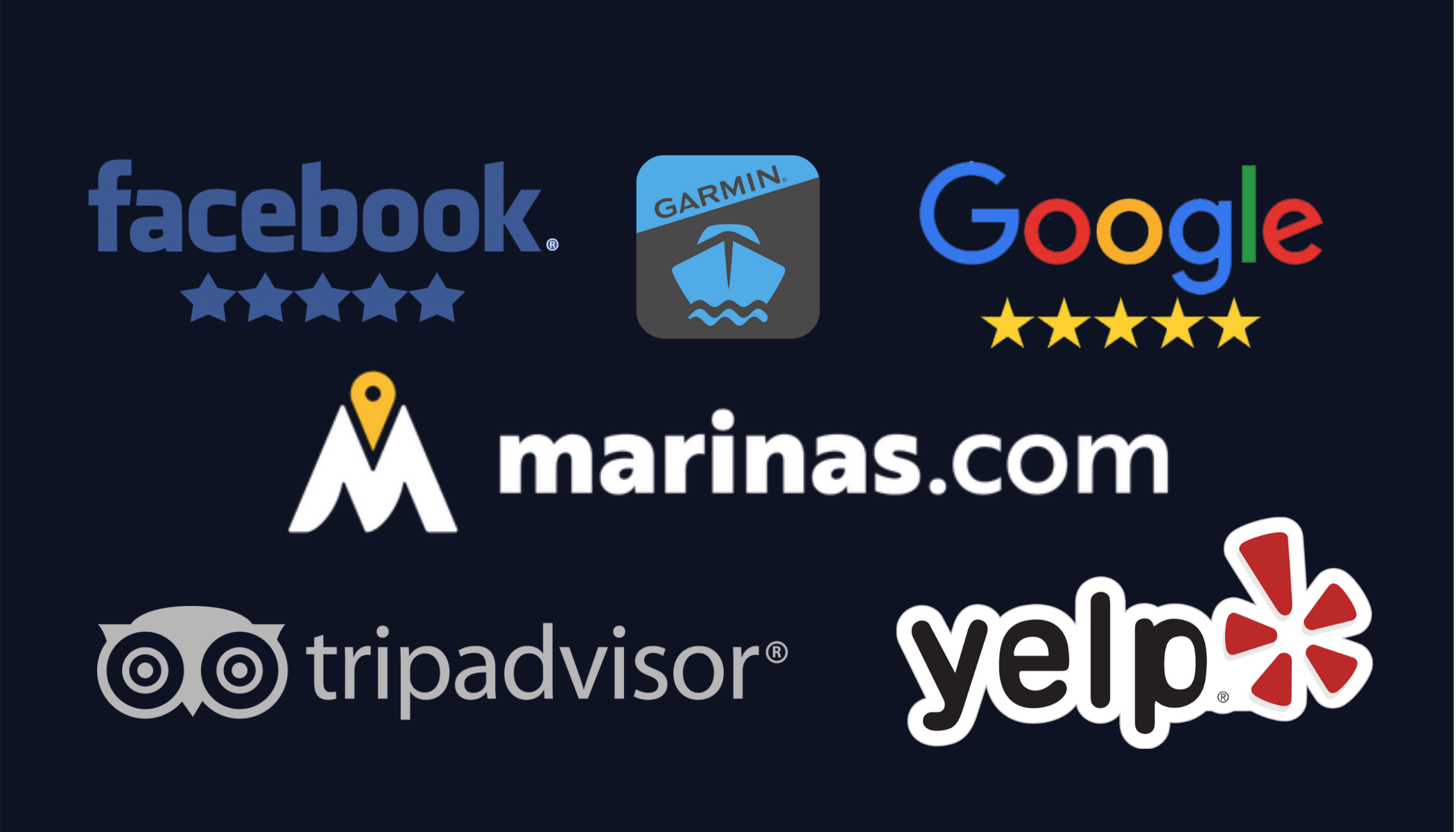 Business reviews are one of the most influential mechanisms your customers have today to make their opinions known and sway the opinions of others.
When managed properly, business reviews can also be one of the most influential mechanisms you have to simultaneously strengthen relationships with existing customers and attract new ones.
Below, we'll show you how to approach reviews - both positive and negative - as opportunities to develop the best-possible customer experience and ultimately grow your business.
1. Consistently collect reviews all season long.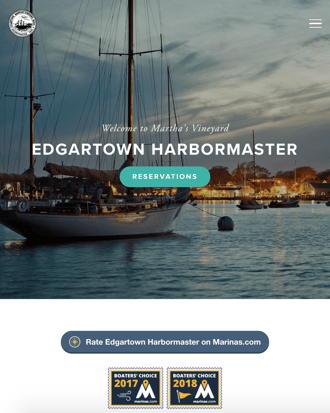 Collecting reviews from boaters throughout the year is the best way to ensure your reviews are working their hardest to earn you new customers.
By collecting reviews from your boaters all season long, you'll build a well-rounded picture of your business online, which potential customers will consult ahead of booking your marina.
Oftentimes, your most "average" (read: happy) customer is not inclined to leave reviews if the avenue to do so isn't obvious. However, those whose experience did not match their expectations are inclined. That's why when you don't make efforts to gather reviews from all of your boaters, your online ratings can be skewed downward by a small sample of individuals that don't reflect the most common experience at your marina.
To mitigate this risk, make it easy and obvious for all of your customers to leave you a review (according to a 2016 study by marketing platform, BrightLocal, 70% of consumers will leave a review when asked to do so!).
Whenever a guest checks out, suggest that they leave you a review on Marinas.com, Facebook, or wherever else your marina collects reviews. For these interactions, it's helpful to have "Reviews us on _____" business cards handy as a reminder!
Dockwa user tip: Did you know that all boaters that request your dockage through Dockwa are automatically prompted via email to leave a review for your marina on Marinas.com after checkout? To help get more Marinas.com reviews for your marina, consider adding the Dockwa web booking form or "Book Now" button to your website.
If you're consistently meeting or exceeding customer expectations, increasing the pool of reviews for your business will help keep your online ratings high and, in turn, attract more boaters to your business.
If you're consistently underperforming in the eyes of the boater, increasing the pool of reviews for your business will keep your own assessment of your marina honest, and provide direction for you to improve your business practices.
2. Read your reviews.
This may seem like a no-brainer, but you may be unaware of just how many places boaters are leaving reviews for your business! To fully understand how boaters are talking about your business online, and what you can do to turn those reviews into a marina marketing machine, take survey of where your reviews live and read them thoroughly.
Common websites where your marina is likely collecting reviews include:
Marinas.com
Facebook
Google
Yelp
TripAdvisor
ActiveCaptain
Be sure to flag your business's listings on the websites above and check back frequently for new reviews. One-better: sign up for a free business account with each to get notified whenever you receive a new review.
3. Consider your reviews - and take appropriate action.
Reading your marina's reviews on its own won't help you grow your business. It's important that you actively consider how to incorporate the feedback in each review into future customer interactions or business operations.
When considering a positive review, it's easy to pat yourself on the back, and call it a day. However, you'll get the most benefit out of positive reviews if you take appropriate action. Identify what impressed the boater and whether it's something you can repeat or apply to another aspect of your business. Was it something a specific employee did and should be shared with the rest of your staff as a positive example? Did one particular amenity impress, and should positive boater feedback justify investing more money into its upkeep?
When considering a negative review, you'll likely arrive at one of two conclusions.
Agree that the boater's experience was poor, and accept responsibility.
Disagree that the boater's experience was poor, and deem the review unfair.
Conclusion #1 provides a relatively straightforward path for you to improve customer service. Conclusion #2 - not so much. In many cases, business owners would ignore this type review and make no changes to their operation. Rather than taking no action at all, be proactive and assume that a similar scenario will happen again. Talk to your employees about how to handle such a situation moving forward, and equip them with the skills needed to relate to an irate customer, compensate a boater for expectations unmet, whatever the scenario may entail. Turning negative experiences into positive ones in real time is one of the best way to create an enthusiastic return-customer.
Moral of the story: always consider how you can learn from feedback, positive or negative, and what steps you can take, however small, to steer your operation toward the positive and away from the negative.
4. Respond to your reviews.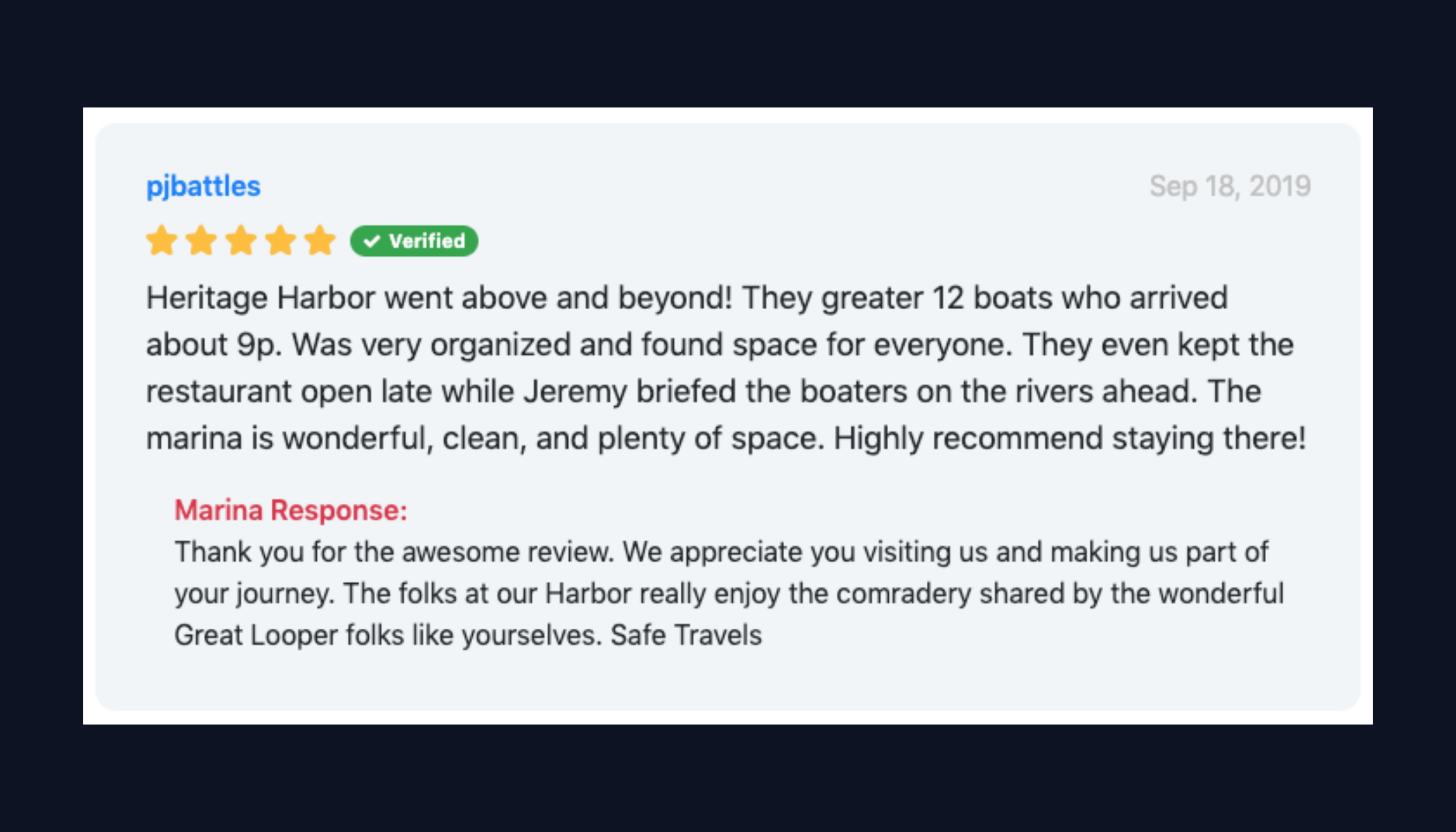 A great way to publicly show compassion for your customers is to respond to reviews, both positive and negative.
For your current customer/reviewer, you'll magnify their appreciation of your service in the case of a positive review, and help repair their impression of your business in the case of a negative review.
For potential new customers, you'll positively signal your dedication to customer service, in the cases of both positive and negative reviews.
Responding to reviews also provides you an effective tool to reflect on how a customer's feedback can influence an operational decision, as discussed in section 3. Outlining a simple plan of action in your response - particularly in the case of a negative review - can put current and future customers at ease, and feel more genuine than a simple apology.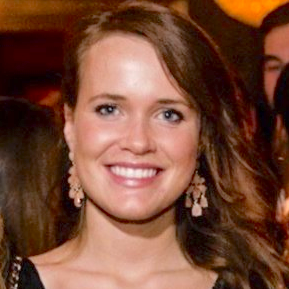 By: Katharine Kirk
Published on 1/6/20 4:38 PM