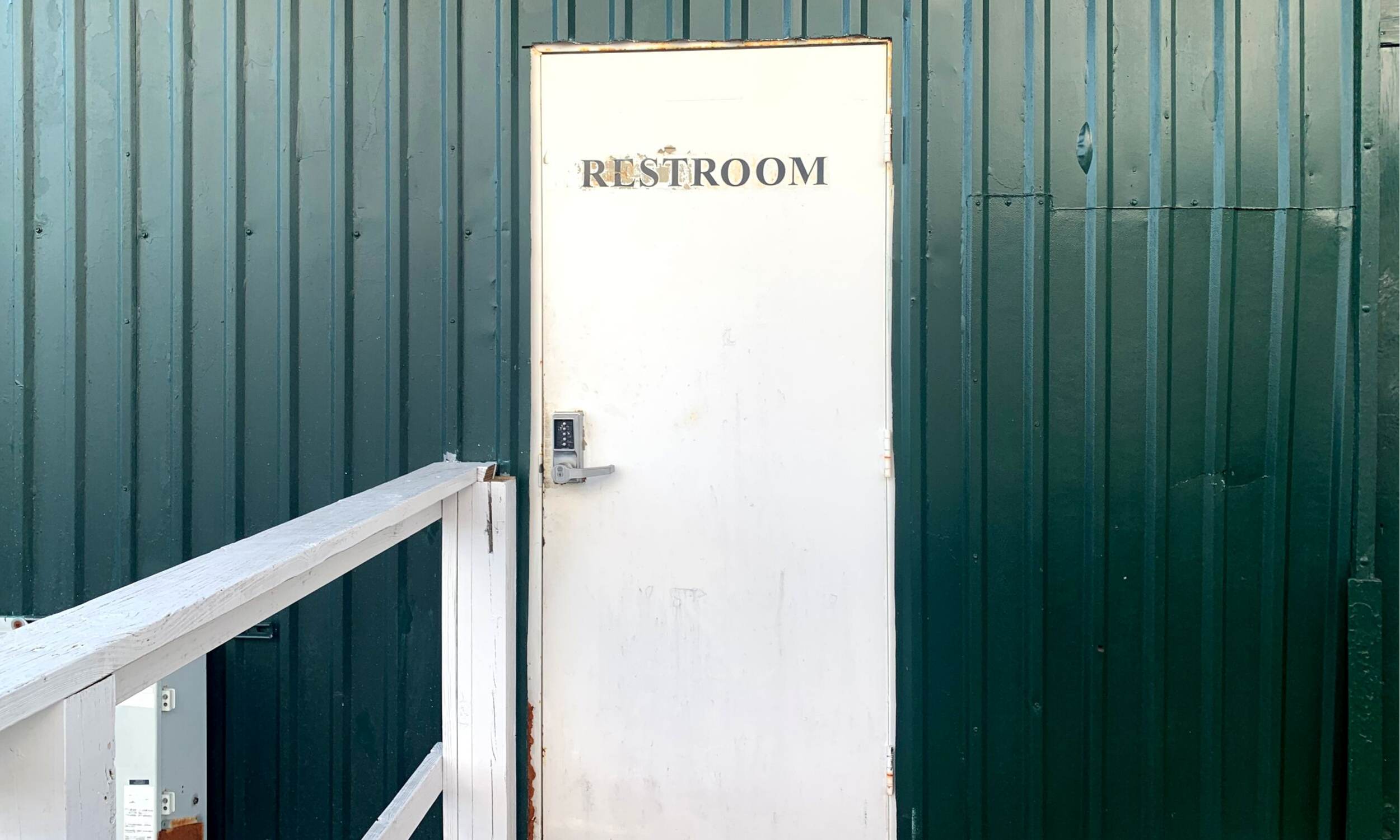 In my day to day chats with boaters, one topic that comes up a ton is the highs and lows of various marina bathrooms and showers. With good reason, as this is a common cruising moment of truth: A boater's been out all day, approaches a new marina, ties up, maybe has a docktail, and then ventures off to find their well-earned shower. They open the door to the showers, wondering, "Will it be a disaster or a dream come true?" A lot rides on this moment, and it's an easy win for most marinas.
It'd be fascinating if it wasn't so obvious: humans don't love being grossed out, and the feeling of being grossed out is an easy one to remember. What's more, our brains tend to recall information better when we're in a heightened state of stress, i.e., when we're in unfamiliar territory, such as a new marina.
What is fascinating is that many marinas, despite seeing comments in reviews or seeing the bathrooms for themselves when they go to clean them, still miss the mark when it comes to keeping their bathrooms up to snuff.

The long story short of this article is that your bathrooms have to be clean, which means cleaning them daily if not more. We also share a few relatively quick and inexpensive bathroom modifications you can make to help ensure that what your boating guests remember their time at your marina, not their time hustling to get out of your marina's shower as fast as possible.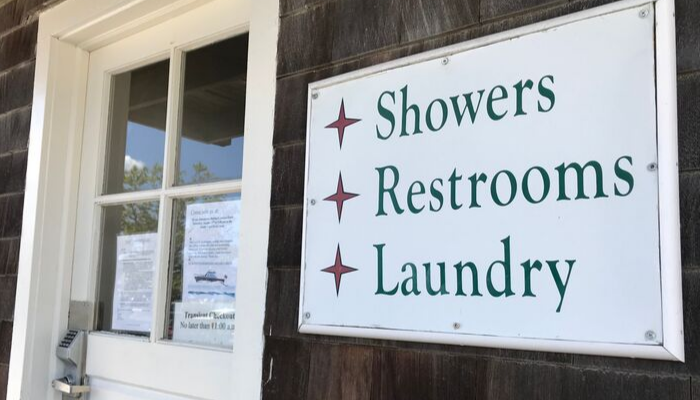 Marina Bathroom Best Practices
Security
Making your bathrooms private and safe for your guests is not up for discussion. If you don't have key cards or a key code on your door (and know how to change it frequently), you're behind the times. Installing new locks shouldn't break the bank, and the investment is well worth it for your boaters' peace of mind.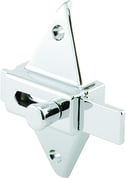 Note: multiple shower stalls behind one coded door seems a standard practice – you do not need to put key codes/card entry on individual shower stalls, but should have locks on the stall doors. Ten bucks for the lock pictured plus a half hour of installation time, is, again, well worth it. From boater Gail S.:
We're grateful to have the facilities we have at our marina, but my one gripe is that you use a key to get into the building but there are no locks on the showers themselves in the ladies bathroom, just a curtain. When I'm the only one in there, I'd like a lock so no one comes barging in on me.
Privacy
Within the bathroom: privacy. If any windows open to the outside, make sure you have curtains up or, if the window isn't open, you could employ window cling to obscure the view in.

If you're thinking of installing new shower stalls, make sure you spring for the ones that don't have 1" gaps in the door. If you have shower curtains instead of doors, don't skimp; I've been in some marina showers that buy curtains too short width-wise and it got me wondering where else they were cutting corners.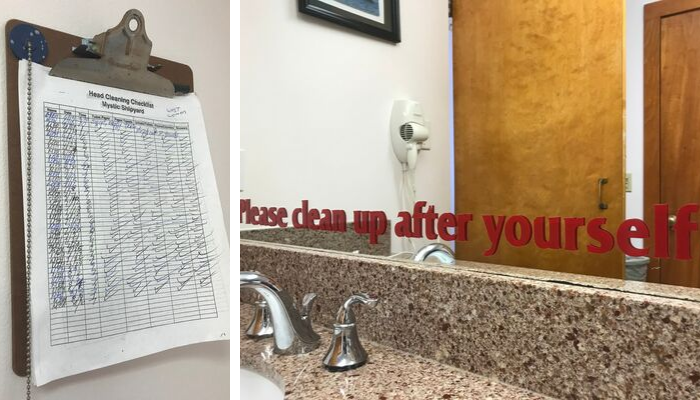 Cleanliness
Bathrooms aren't anyone's favorite, but they're way worse to deal with after they've been... festering... for a while. Check your marina bathroom throughout each day. Give it at least a quick wipe down in the morning, and a deeper clean in the late morning or afternoon. When your whole team helps and it gets done frequently, it'll be easier to clean in the long run.
One marina in Mystic, CT, posts what time they'll be doing their deep clean so that guests can plan around it — always in the afternoon, as they noticed their guests like to shower in the morning. Once they clean it, the staff member who cleaned initials the schedule so all involved know it's done and see a history of maintenance.
Know Your Rotation
Cleaning also means knowing when a shower curtain has lived its best life and needs to be put out of its misery. At the first sign of funk, throw it in the wash or give it a scrub – but if the funk or any visual signs of it remain, it's time to let go. Boaters will see mildew and register the detail as "this marina is understaffed or cheap." Also in the rotation: repotting any plants, stocking up supplies, checking fire alarms and light bulbs, etc.
Pro-tip: Once you've gone through one rotation, add a reoccurring meeting to your calendar for one week sooner than the length of time it took the funk to take hold, so you're proactive instead of reactive, and less likely to be caught off guard.
Smells like Clean Spirit
Empty the trash every night. Marina showers get warm and soggy, and then some marinas let the garbage in the head sit for 14 hours. Yikes.
Keep it Stocked
On the cleaning checklist should also be to check the TP, paper towels, and hand soap, and replace at the first sign that they're getting low. If you need a little Ikea shelf under the sink to stow extra so you don't forget or to cut down your runnin' around time, no one will think less of you.

Ventilation Station
If your showers have poor or no (!) ventilation, you'll be making maintaining cleanliness harder on yourself. TP and paper towels always seem to stay longer on a soggy floor, bugs fly in and can't fly out even they wanted to, and mildew grows faster. It may be the largest project on our list, but if you're looking to make an upgrade without a total rebuild, this is one line item to size up.
Mind the Drain
If your drain or shower plumbing is anything other than flawless – ie, if shower water is backing up and puddling on the floor, that definitely carries a gross-out factor for some boaters. If you know you're dealing with a serious plumbing issue, get it dealt with! If it's a minor clog, pouring a gallon of white vinegar down the drain and letting it sit for 30 minutes may do the trick in helping break up any nastiness.
Go above and beyond on the floor with this tip from boater Craig D. who chimed in on our Facebook group :
I'm a fan of when they have the dry tiles outside the shower, those colorful mesh interlocking tiles that keeps everything 1/4" off the floor and wetness.
Marina Shower Basics
Shower Hooks
The thing that makes me personally bonkers about a marina shower is when there are no hooks in and just outside the shower, so I can hang my dop kit and towel. The towel hook should be within close arms reach, not four feet away. If your marina bathrooms have a wire rack hanging from the shower head, that counts as an in-shower hook so long as if when you hang something on it the rack doesn't come crashing to the ground.
I love when marinas have a second hook ~1/2 foot away from the towel hook, because I tend to pack my post-shower routine and fresh set of clothes and in a tote bag, and hate setting it down on a wet shower floor.
When you're buying hooks, remember: every little change you make at your marina is an opportunity for classing up the joint. You could buy the 50-cent plastic off-white hooks from Staples, or you could swing by Home Depot or your local hardware store and find some more durable (and nicer-looking) stainless steel.
Shower Bench or Shelf
Not a dealbreaker, but step up from the hooks: a little shelf or bench inside and outside the shower or a bench for me to stow my shower gear so I don't have to keep rifling through my shower tote is pretty cool.

Above and Beyond
Shampoo/Conditioner/Soap
I tend to bring my own shower gear with me, but that one time when I forgot and the marina had community shampoo/conditioner/soap, I was much obliged and still think of it anytime they come up in conversation five years later. (Shout-out to Biddeford Pool Yacht Club!) In that scenario they tucked the bottles just above the shower, but I've also seen quite a few marinas install refillable dispensers as a courtesy to guests.
Flip-flop Dispenser
I saw this once at a marina and it definitely caught my attention! I've also seen marinas sell them right at the nearby marina check-in desk or at the ship's store. Pretty slick.
For the Ladies Room
I mentioned BPYC above – one of their members shared that they now also stock feminine products in the women's bathroom, and transients and members always comment of how much they appreciate it.
"Last cleaned on ___" status sheet
As mentioned earlier, I've seen marinas post a sheet for use by the employees to denote that they've ticked off a to-do list item, but posting it publicly also puts boaters minds at ease.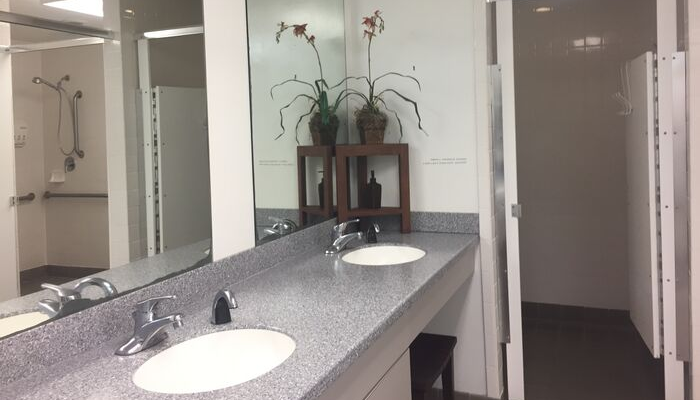 Optimizing Facilities Layouts
I don't expect any marina to go tearing down out buildings because of a blog post, but a shout-out to marinas who thought through the boater experience as they were laying out their facilities' blueprints. Here are a few of my favorites:
Bathroom separate from shower so non-showerers don't have to wait 20 minutes

Main room/area outside of showers for sinks, mirrors, outlets to blow-dry

Bench/Adirondack chairs nearby the facilities for friends/crew waiting for each other

An overhang outside the shower in case of a line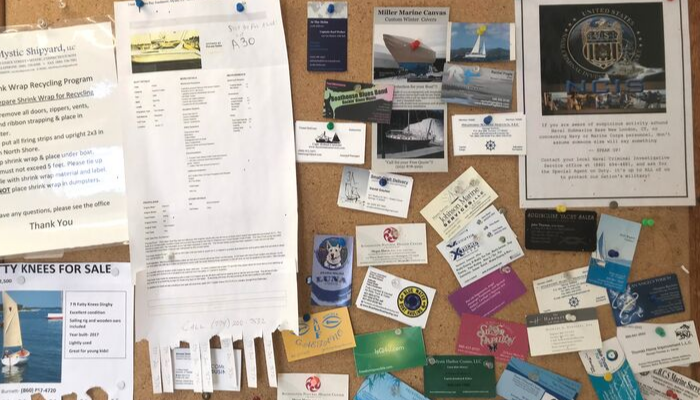 I also love when marinas take advantage of the captive audience that can tend to mill about while waiting for a shower to free up. A few of the clever uses I've seen marina shower room bulletin boards employed:
Fliers for upcoming marina or town events

Marina notices: policy reminders, security alerts, facilities updates, new offerings

Event photos

Marina Facebook & Instagram handles & invitation to tag the marina

Listing lost & found items (items themselves stowed in the marina office)

Fliers from the on-site boat service or daytrip community

Marina/town history
Boater Rants & Raves
From boater Stacy E.:
One of the best showers and facilities is at MacDougalls in Falmouth MA. In a well kept building with a security code to get in . Sitting area, library, coffee and 3 men's and ladies rooms each with a shower and lockable doors.
Boater Ron W. chimed in on our Facebook group singing his praises about his home marina:
The men's room heads are tile, there are five urinals with dividing walls, five toilets in separate rooms, and five showers with locking doors and changing areas. The rooms are cleaned daily by a professional and are climate controlled and well lit. Water pressure and volume in the showers is good. As for "bad" showers at other marinas: run down, filthy, non climate controlled, filled with insects, and often just a trickle of lukewarm water.

If I could say one thing to marina owners and managers it would be; Grab a towel, washcloth and soap and a change of clothes and go take a shower like you were a boater. Write down your experience and change what you can.
Has your marina's bathroom recently made some upgrades? Let me know: email becky@dockwa.com.
By: Becky at Dockwa
Published on 9/30/19 9:47 AM