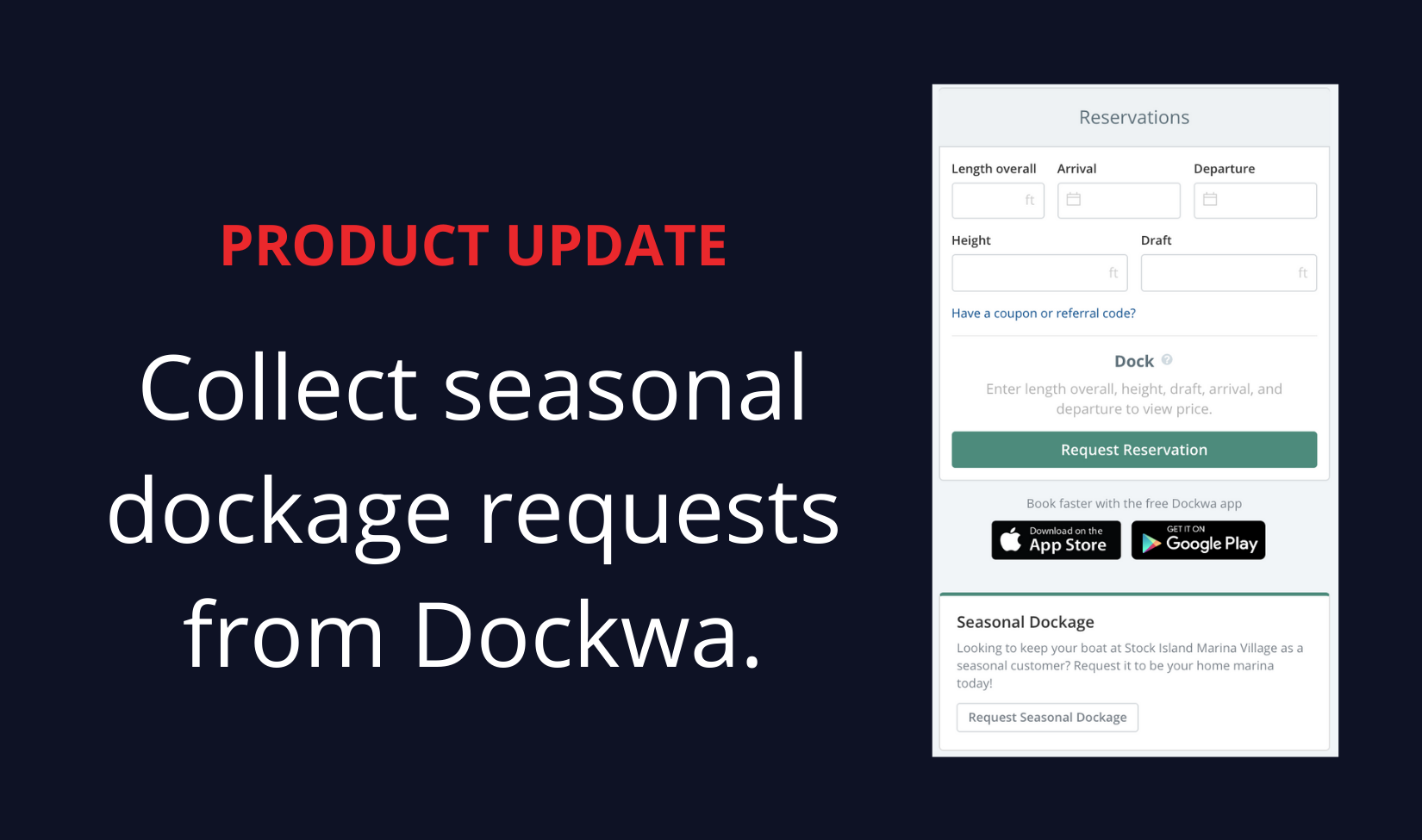 Everything we do as a company is in the service of growing the boating industry. We do this, in part, by connecting more boaters with more marinas through the Dockwa marketplace for transient dockage.
To even better serve and grow the boating industry, we expanded our marketplace to facilitate the connection between boaters researching seasonal/annual dockage and marinas looking for new seasonal/annual customers.
Have questions about how to handle seasonal and annual inquiries? Find details on how to contact Dockwa Support here.
Here's how it works.
Each Dockwa marina has a Seasonal Dockage Inquiry button on its web profile.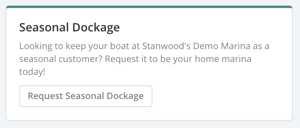 This button brings boaters to the marina's dedicated Seasonal Dockage Inquiry landing page.
Boaters in the market for long-term dockage express their interest in your marina by completing the inquiry form on the page with their:
Name
Contact information
Vessel dimensions
Insurance and registration information
Storage request details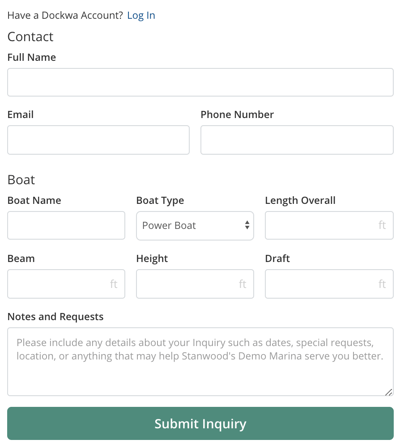 Note that when a boater submits a long term inquiry, they do not secure space at your marina in the same way they do when requesting a short term reservation through Dockwa.
You do not collect a boater's payment in this instance, nor do you see a reservation request in your Dockwa dashboard.
You do

get an email, alerting you of the boater inquiry, and a detailed view of the inquiry on the /Contracts page of your Dockwa Dashboard.

Here's what else you should know.
If nothing else - respond to the boater within 48 hours! To ensure the boater has a positive experience and isn't "left hanging," Dockwa will expire any inquiry that goes untouched for an extended period of time. In many cases, these inquiries are worth thousands of dollar so be sure to follow up ASAP!
If you receive a seasonal inquiry request and have space to accommodate the boater:
Respond to the boater ASAP via phone or email to confirm their request.

When the boater is ready to sign and pay for their dockage, click "Create Contract" on the inquiry to create and send a digital contract to your boater in minutes.

Need help creating a digital contract? Send us an email at success@dockwa.com, and we'll show you how or do it for you.
Still sending contracts and billing customers the old-fashioned way? Click "Decline" on the inquiry to let us know you contacted your boater but will not be sending a contract through Dockwa.

If you receive a seasonal inquiry request and do not have space to accommodate the boater:
Click "Decline" on the inquiry within 48 hours. Again, Dockwa will expire any inquiry that stays untouched.

If you want to receive more seasonal inquiries:
Put a link to your long term inquiry landing page on your website! We can even build you a custom Dockwa-branded button to make it stand out on your page.

If you do not want to receive seasonal inquiries:
Let us know, and we can remove it from our page. Send us an email at success@dockwa.com and we will be in touch shortly!
Interested in learning more about how Dockwa can facilitate how you manage your seasonal/annual customer contracts and billing? Let us know here to start a conversation!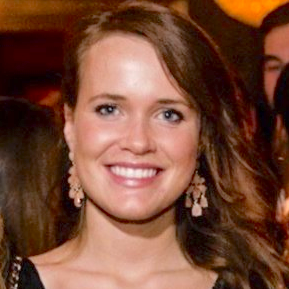 By: Katharine Kirk
Published on 1/16/20 4:03 PM