Gratitude's Guide to Falling In Love, Traveling the World, and Working Reboatly!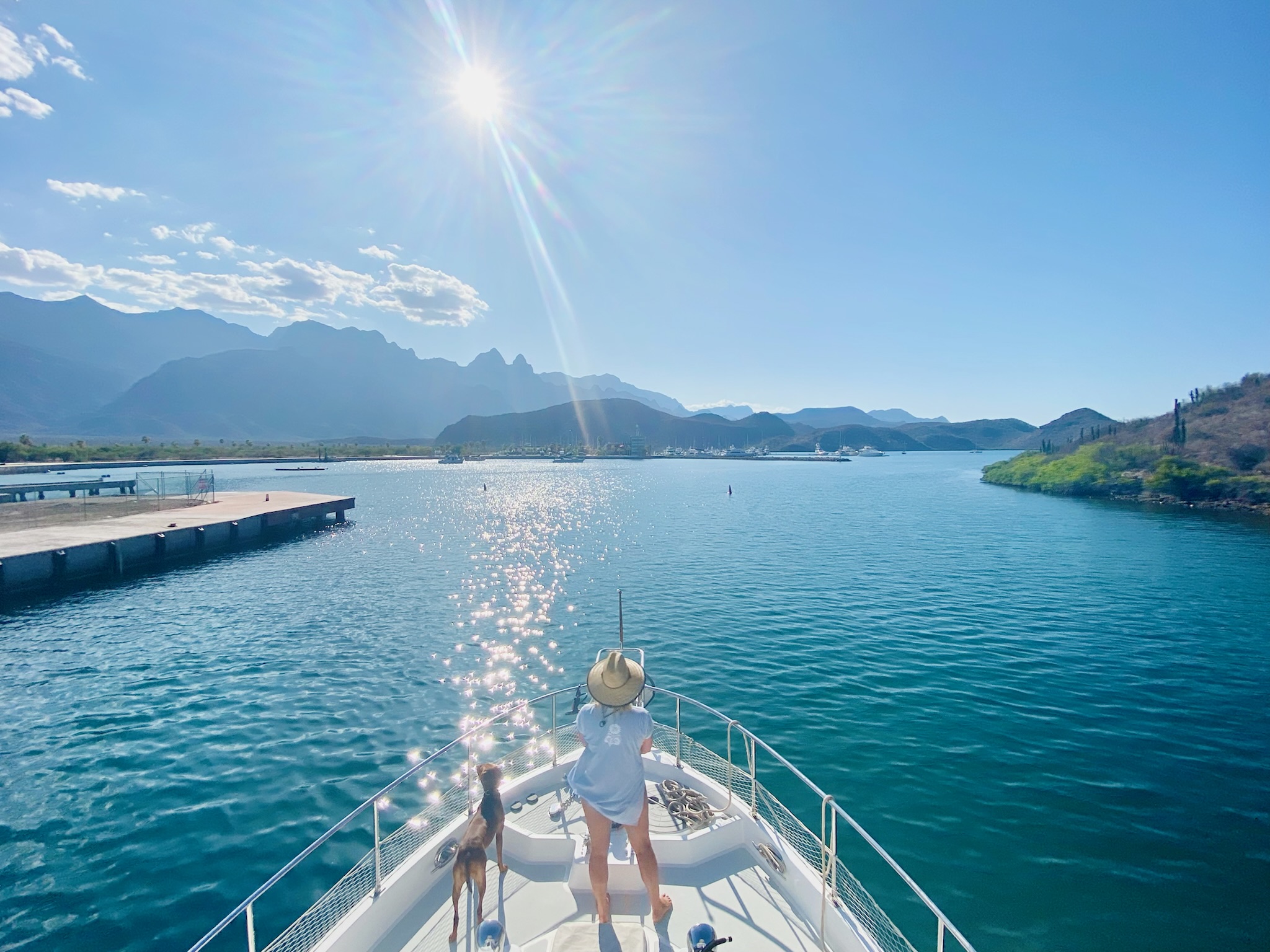 As a result of the global pandemic, we've seen a significant shift in our working culture. With the worldwide adoption, acceptance, and increase of remote and hybrid working opportunities, the "digital nomad" phenomenon has increased opportunities to work, play, and travel in ways we've never seen before. Under these circumstances, Heather Brewer, Paul Bultema, and their dog Mira adopted a digitally nomadic, liveaboard lifestyle.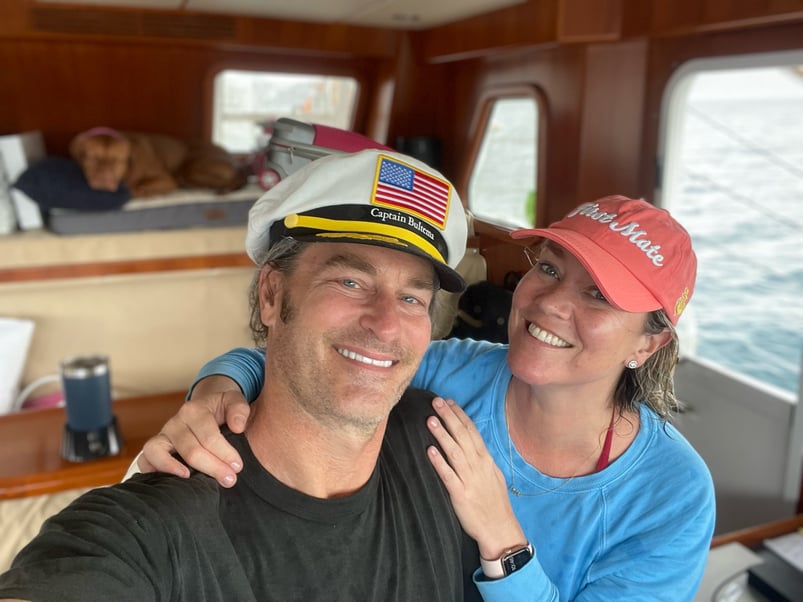 Within months of meeting on the dating app, Bumble in March 2020, the couple decided to ride out the pandemic and quarantine together, first on a 2012 Sea Ray 310 Sundancer and then later on "Gratitude," a 2007 Nordhavn 43.
"We purchased the boat on December 4th, 2020, and flew from Seattle to Florida on Christmas Day of 2020. We've been living full-time on it since January 2021," Heather explained.
"I didn't have too much boating experience beyond waterskiing and one longer trip during childhood, but when COVID hit, I got excited about the possibility of living and working from a boat," Paul added.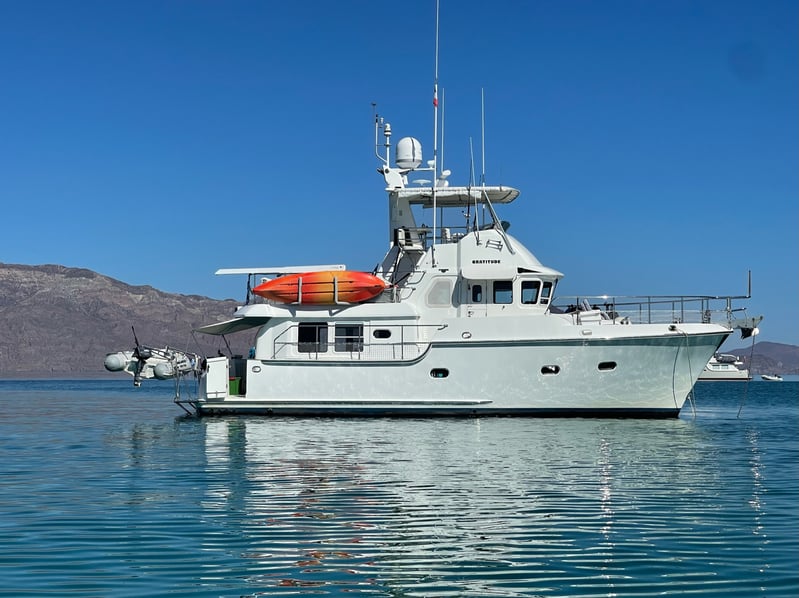 "After Heather and I successfully worked from the Sea Ray from May–September 2020, I started looking at larger boats, but there weren't many available. We were going back and forth between a few different types of trawlers, but then the opportunity to get our current boat popped up, and it was just perfect. The Nordhavn 43 was everything we were looking for, so we purchased it sight unseen."
"We love its stability; it's classy and seaworthy. The Nordhavn community is incredible, "Heather said.
Two weeks later they were off to Florida to finalize the survey and outfit their boat for the adventure above.
Paul is a Director at Amazon, while Heather works as a Director at PWC. They stressed that their work had to come first to sustain this style of living. Once they settled on and purchased their boat, they outfitted it with the necessary technical equipment so they could work reliably while underway. It proved to be essential as finding marinas with working Wi-Fi was rare and working off hotspot devices was not possible while offshore.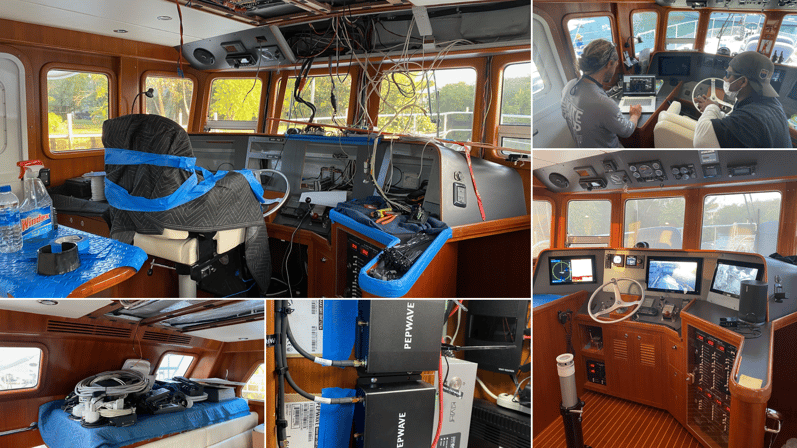 "The number one thing was to have a strong enough connection for two simultaneous video calls," Heather said.
"We had to purchase and install both a cellular and a satellite system," Paul explained. "Together, they are a costly solution, but it was the only option when you're consistently offshore and moving between different countries. We spent about six weeks upgrading the communications and new electronics, and they all worked together well."
(If you're curious or want to do the same, see the image below for a more detailed description of the telecommunication specs and cost.)
Check out the rest of our interview and Q&A with Heather and Paul below!
Dockwa: Would you say the pandemic pushed you both to pursue a digitally nomadic, liveaboard lifestyle?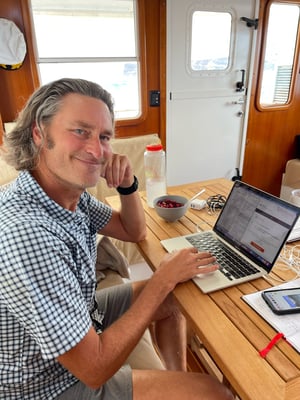 Paul: For me, the pandemic was a super unique opportunity that encouraged me to undertake this adventure. One of our mantras is to live intentionally, so when covid hit, we couldn't let this opportunity pass by.
When I was 8 years old, my parents, four siblings, and I sailed from Michigan to the Bahamas, and ever since then, I've wanted to do something like it again. Unfortunately, I've had siblings pass away who wanted to do something similar. Many people spend years or decades planning a trip like this and never go. It's important to seize these windows of opportunity once they come because life is short, and you never know what will happen down the road.
Heather: We just went for it. A week into the pandemic, on our third date, we met at the airport with a one-way ticket to Guatemala. Our goal was to travel while working remotely. We made it to 5 countries in Central and South America until we flew back to the US. Back in Seattle as countries were heading into lockdown because of the pandemic. We decided to take Paul's 31' Sea Ray to the San Juan Islands, armed with a hotspot to try working remotely. Since we met over two years ago, we've been almost 24/7, living and working from our boats, and having the time of our lives.
Dockwa: How do you balance work and travel?
Paul: Work takes priority. We are realistic, there was no way we could do this trip on our own, with our level of boating experience and having to work full time. We hired a captain to help us plan and cruise during the day because we're on a trawler, a notoriously slow boat. He safely pilots our vessel while Heather and I are working. We have separate workspaces but will trade off on the bigger space depending on our meetings or our needs for the day.
When we have breaks, it's easy to immediately go fishing, snorkeling, diving, and exploring, and we are both studying for our captain's license and getting our hours in real-time.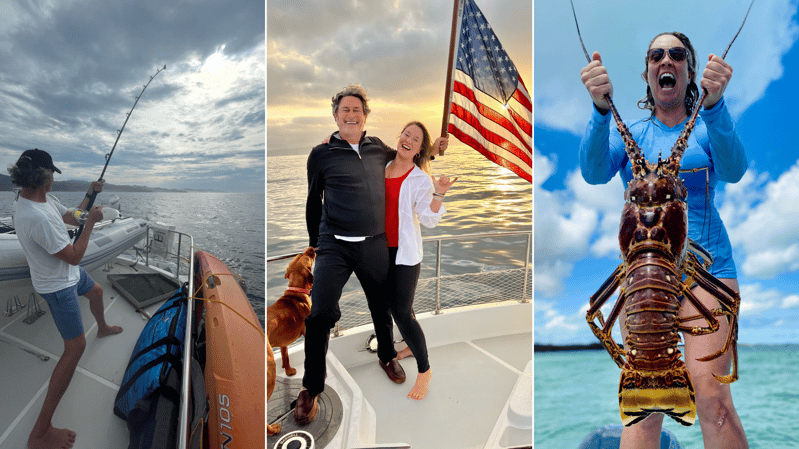 Dockwa: How does someone prepare for a life change like this?
Paul: People often talk about fear and how that prevents them from taking risks, so this trip forced us to identify those fears and overcome them. We had to overcome fears about work, judgment, finances, safety, and relationships to do this trip. We went into this with our eyes wide open, but we were not naive.
Heather: Paul and I are risk-takers. During COVID, we asked ourselves, why should we stay home if the mandate is to work remotely? We didn't know how this would ultimately unfold, so we took calculated steps, like getting a captain, setting up the boat for telecommunications, and ensuring our safety. This was a significant investment, and we don't take it lightly. We were confident that we could do it with the appropriate planning, but we were humbly aware of our limitations.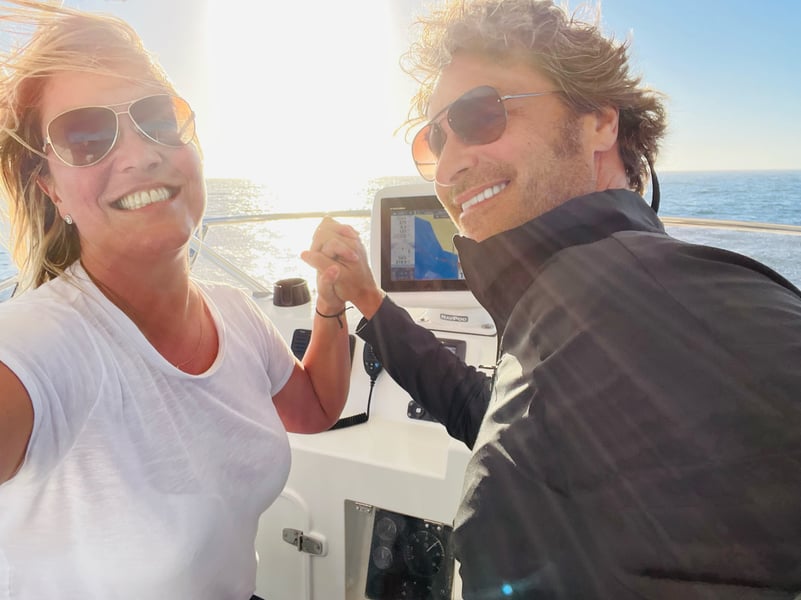 Now, after a year, we're entirely comfortable living aboard and open water cruising by ourselves. It was a process, but we consider ourselves to be lifetime learners. As Paul stated, we want to live our lives intentionally, so this is our way of doing so.
Dockwa: What advice would you give to potential digital nomads?
Heather: When I make these kinds of life decisions, I'll think, would I rather do it, realize down the line it wasn't what I wanted, and then return to where I was, or sit there with regret and wish that I had done it? That thought process has never steered me wrong.
Flexibility is key. Managing work and this nomadic lifestyle can be challenging, and things always come up. Losing power, spotty Wi-Fi, fish on the line, a hurricane coming your way, tropical beach calling, you name it. But overall, I'd say take risks and be open to how life happens.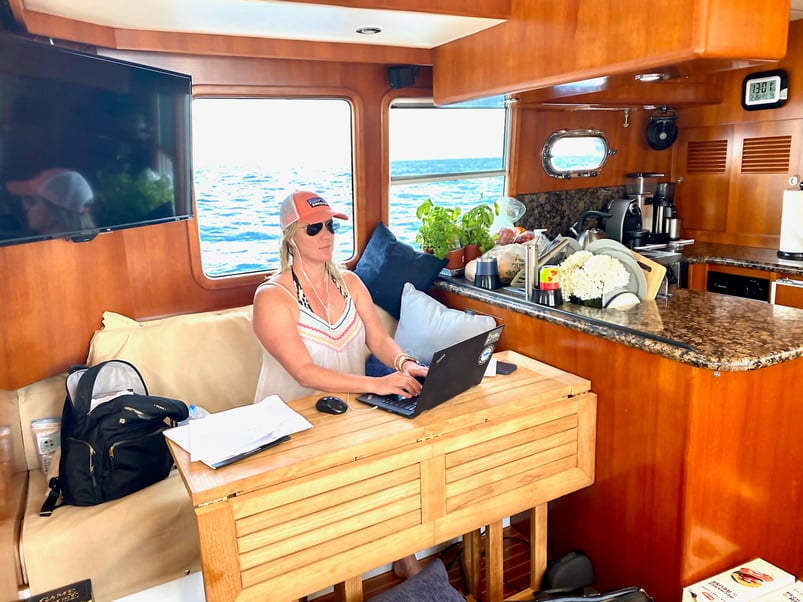 Paul: I think we're redefining what it means to be a digital nomad. We aren't independently wealthy, retired, or able to just drop out of society. We both work very hard in demanding jobs.
We want to show people that they can still have professional jobs and perform while living their best lives and traveling worldwide. Of course, it takes a lot of planning, and you got to push through your fears, but you can do it for sure. Covid has opened the aperture of remote work possibilities and redefined what is possible.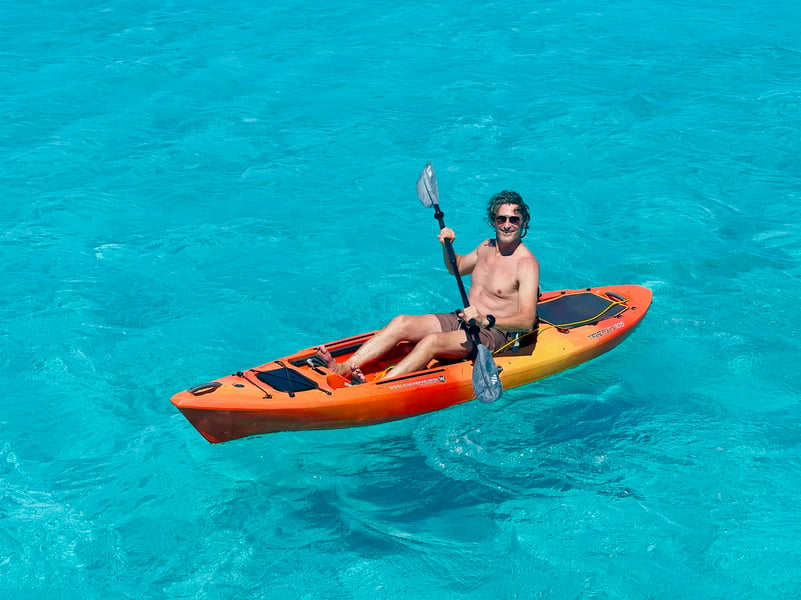 Dockwa: What's your favorite memory living onboard?
Heather: It was June 18, 2021, and about 50 miles off the Northwest coast of Nicaragua, just passing the Gulf de Fonseca, and it was incredible! I was upstairs fishing, and Paul was on a conference call for work when suddenly we saw thousands, and I mean thousands, of dolphins jumping in the water, for as far as you could see. The water looked like it was boiling.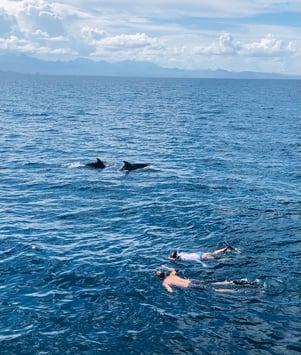 Our captain, JC, told us he was going in, and at first, I was shocked. We were in open water, about 5,600 feet deep! Are you kidding me? Nothing but ocean in sight. However, Paul and I decided to go for it, take a leap of faith, and jump in.
I ran by Paul, who literally dropped his conference call, grabbed a mask, and jumped in too, which I've never seen him do. Paul and I hung onto a rope tied to the stern while wild dolphins swam above, below, and in between us. We could hear them communicating. It was truly magical.
Once we got out of the water, JC jumped in and swam along the starboard side of the boat. As Paul and I watched, a blue whale surfaced about 100 yards in front of our boat. It was beyond incredible. We could not even imagine this day to put it on our bucket list. The beauty of the ocean is magic. That was my best day.
Paul: A surprising fact that we replay all the time is the astounding amount of wildlife in the Pacific Ocean versus the Atlantic. It is unbelievable. The Pacific has exponentially more sea life than we saw in the Atlantic. Every day, we saw dolphins, green turtles, and manta rays popping out of the water like champagne bubbles from Panama to Mexico. Our journeys in the Pacific were my favorite part of our experience. The second would be going through the Panama Canal. It's cool when you're behind these massive, eight-story tall, 1,000-foot tankers. Third, might be going under the Golden Gate Bridge in our boat this past Easter morning.
Dockwa: What would you say if you summed up your entire experience in one sentence?
Heather: Honestly, I think it's to have gratitude every day for each other and this beautiful world. Gratitude is the name of our boat, and I think it encapsulates everything.
Paul: I agree with Heather. I say, define your best life and go live it. If you plan, are humble, and push yourself, what you can accomplish is absolutely incredible. Gratitude indeed.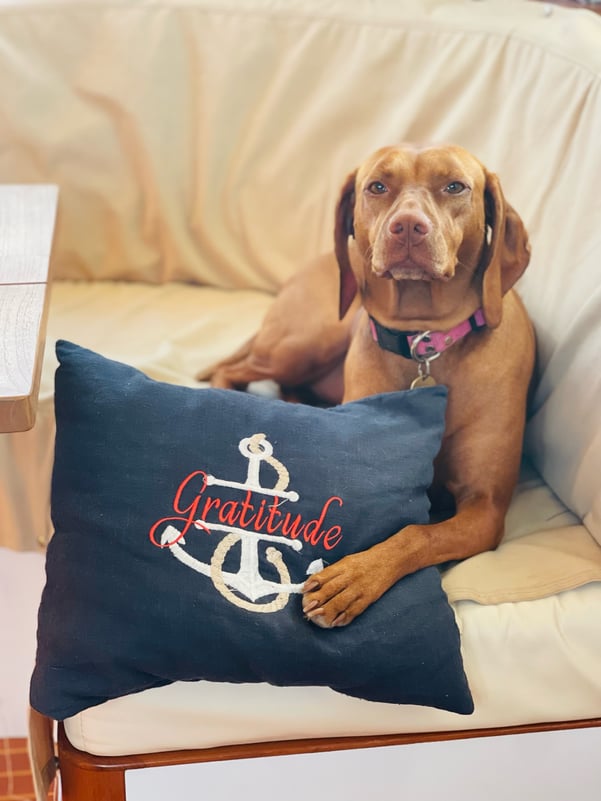 Want to see more of Gratitude? Follow @workingreboatly on Instagram!
Quotes have been edited for clarity. Be sure to check out our other blog posts to get an inside look at our favorite destinations, marinas, liveaboards, and tips for boaters. Join the conversation on Flipboard, Facebook, Twitter, and Instagram.