Get ready for the 2nd Annual Dockwa Day: the year's biggest 24 hours of slip and mooring discounts, loaded with Dockwa Deals on overnights, weekends, long-term contracts, fuel, and more.
Imagine if Amazon held their annual "Prime Day" just for cruisers looking to book at marinas, yacht clubs, and boat yards?
As the tourism industry ramps up for a banner year, we're working with our partner marinas to help make your 2021 one for the captain's log. Read on for the scoop on Dockwa Deals, Dockwa Day, and a preview of just a handful of the deals you should plan to hop on bright and early on 6/24, before they sell out.
What are Dockwa Deals?
Each of the marinas that use Dockwa to manage their operations can also offer boaters discounts anytime – visit dockwa.com/deals to see which marinas are running deals right this very moment. Boaters can save a dollar amount or percentage just by copying the coupon code and entering it on the reservation form when you reserve. But think fast – some coupons are so big, they're limited in how many boaters can claim.
How Does Dockwa Day Work?
For boaters: Sit tight and spread the word as Dockwa Day 2021 approaches – when the Dockwa Deal floodgates open on 6/24. Tune into our social channels for hints at what some of them may be – follow us on Facebook, Instagram, and Twitter, and join our Facebook Group.
For marinas: If you're a Dockwa partner already, hoo-boy will this be easy as heck. Click here to submit your Deal and you'll be well on your way. Submit another Deal to bring in boaters while you're eagerly awaiting Dockwa Day, to help get the word out and keep the dock party rockin'.
And if you're not a Dockwa partner marina already? We'd be psyched to help you figure out how Dockwa can help you and your team blow this summer out of the water. Start learning more here, or get in touch now to get the ball rolling by emailing becky@dockwa.com.
Upcoming Dockwa Day Deals
Our 2021 preview is in the works for later this week! Here's a reminder of the huge savings boaters scored in 2020:
The Marina at Dana Point - Dana Point, CA
25% off weekday dockage through 2020 (July 1-5 excluded).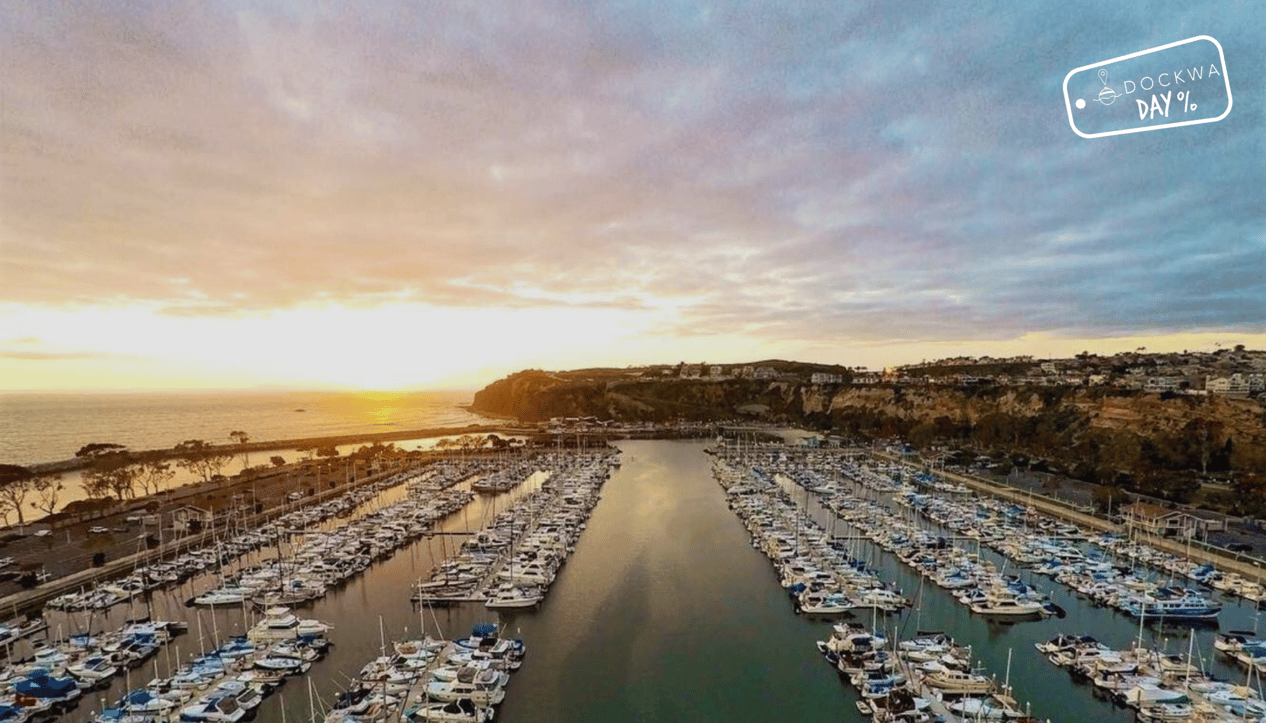 Island Party Hut - Chicago, IL
The first 25 boaters to book will get 50% off weekday dockage.
Tenants Harbor Boat Yard - Tenants Harbor, ME
Get 25% off 2020 dockage (2 night maximum).
Constitution Marina - Boston, MA
Get 25% off 2020 dockage.
ONE°15 Brooklyn Marina - Brooklyn, NY
Get 20% off any 2-6 night stay all summer for all boats under 60 feet (July 2-6 and September 5-7 excluded).
As always, you can book dozens of other great deals on dockage in your area leading up to and after Dockwa Day through our Dockwa Deals page.