The Best Of Chesapeake Harbour Marina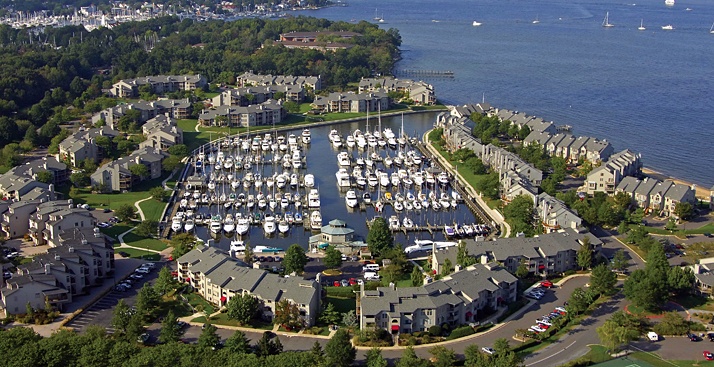 Chesapeake Harbour Marina is a convenient, centrally located docking choice in Chesapeake Bay. The marina can accommodate boats from 15' to 110' in length, and the protected, current free basin allows you to dock worry free.
Featured Amenities:
Two large pools to relax and enjoy the sun

A fitness facility
Four tennis courts
Fishing piers located within the mouth of the Severn River
A private 1,000 foot beach
A shuttle van to take you downtown
Showers (Two bathhouse facilities)
Laundry (Do it yourself facilities, or utilize the complete laundry service)
The on-site restaurant, Sam's on the Waterfront, makes it hard to want to leave the marina! Sam's offers great weekly specials, happy hour deals, and Sunday brunch!
The on-site bar, Proud Mary's Dock Bar, provides live music, creative plates and beverages, and a relaxing way to end the day!
Services:
"Yacht Butler" –Services for pretty much any boating need! From laundry, provisioning, and topping off tanks, let "Yacht Butler" help you relax and unwind!

Detailing- coordinate any level of cleaning

Highly skilled, ABYC Certified Mechanic

On-site repairs and maintenance

Boat lifts available for boats ranging from 1,500 to 15,000 pounds

Every slip is equipped with electricity, cable TV, wireless internet, and fresh water
Dining:
Things To Do:
Visit the US Naval Academy! This undergraduate college for the Navy was established in 1845. Don't miss the guided tour of the beautiful grounds and historic buildings.

Take the shuttle to Historic Annapolis! Explore the local shops, cafes, and local bars by foot in this 18th century seaport.

Annapolis, the self-proclaimed, "Sailing Capital of the World," also possesses the oldest State House in operation. Visit the Maryland State House to learn more about the only State House that once served as the nation's capitol!
The next time you're planning a trip to Chesapeake Harbour Marina, consult the Dockwa app to eliminate the headaches of making slip and mooring reservations!