Happy August! This balmy month is prime time for a brisk-aired cruise through Maine. With thousands of protected inlets complete with epic landscapes, friendly locals, and plenty of room for peace and quiet, Maine is as close to perfect as you can get.
We recently blogged about Things to do in Harpswell, Maine, but got some additional intel from locals so decided to expand our scope! If you're in the neighborhood, don't miss a chance to explore Quahog Bay, one of the lesser-known bays compared to Casco and Penobscot Bays. Read on for some of our favorite destinations and activities in the area.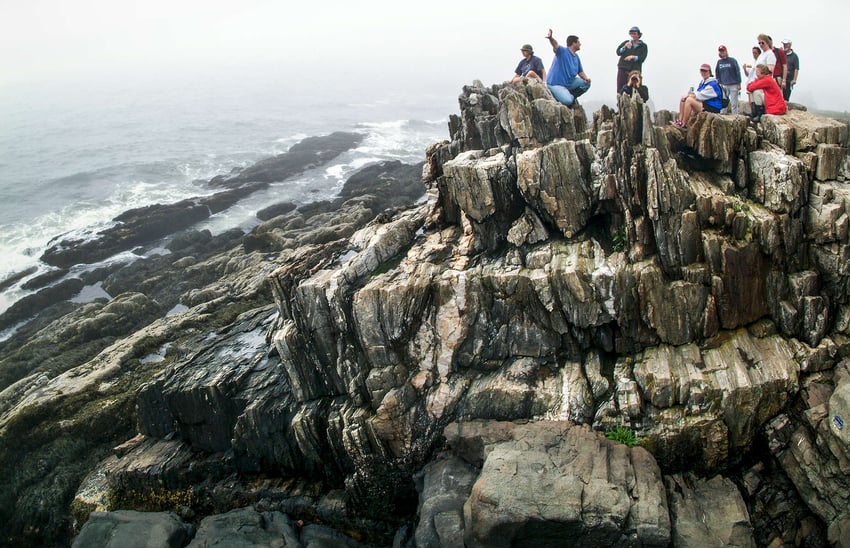 First up: Check out the Giant Stairs (or Steps, depending on who you talk to) on Bailey Island. Owned and maintained by the Town of Harpswell since 1910, from this vantage point you'll likely see ducks, harbor seals, lobster boats and other Maine wildlife. From the Harpswell, Maine official site:
The gigantic forces that shaped this coastline going back 500 million years. Layers of mud formed the original sedimentary rock, along with deposits of minerals that later crystallized into quartz and garnet. Movements in the Earth's crust pushed the rock layers upward, causing massive buckling and cracking. Gradually, hot magma from deep below the surface flowed into one large crack and formed a vertical seam of dark basalt rock, known to scientists as an "intrusive volcanic dike."
While there, visit Lands End Gifts, which features goods from more than 70 local vendors and crafters, and pay homage to Maine lobstermen with a visit to the statue on premises. As Maine. magazine reports,
The dignified lobsterman is actually one of several replicas of Portland sculptor Victor Kahill's original piece, created in 1939 for the New York World's Fair. Other lobstermen stand watch in locations as far flung as Washington D.C., and as close to home as Casco Square in Portland. But the Bailey Island Lobsterman is uniquely suited to Harpswell; the model for this sculpture, H. Elroy Johnson, learned his trade off the shores of Bailey Island. He spent the rest of his life as a fisherman, earning his living from the waters of Casco Bay until his death at the age of 79 in 1973.

According to documents from the time, Johnson was a proud lobsterman and an outspoken advocate for fishermen's interests. Once well known throughout the state, Johnson is now immortalized in a proud act of labor: putting a plug in the claw of a freshly caught lobster. On the base below, a plaque reads, "A memorial to all Maine fishermen who have devoted their lives to the sea."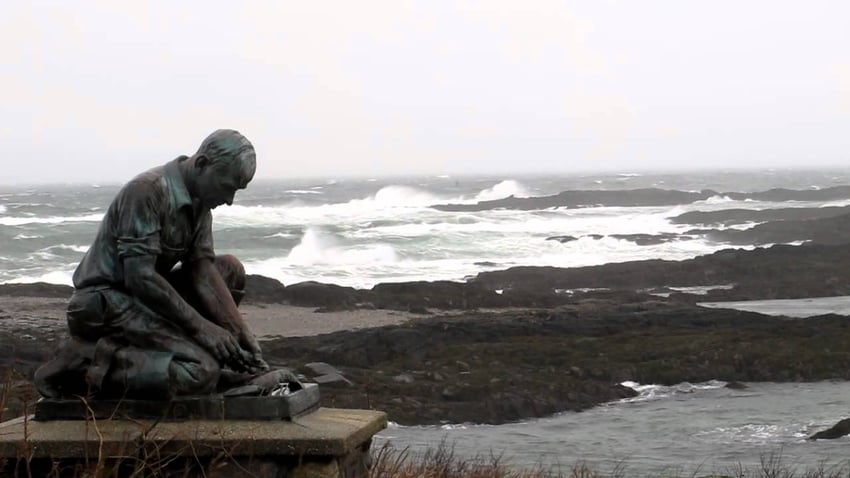 Looking for the perfect lunch or dinner spot? Head to the Cribstone Bridge between Orr's and Bailey Island. This unique bridge was built in the 1920s and spans Will's Gut to connect Orr's Island and Bailey Island, while allowing for the strong tides and current to flow freely. Gravity alone holds the stacked granite blocks – quarried in Yarmouth and Pownal, Maine – atop one another. It is the only bridge like it in the world, and it was added to the National Register of Historic Places in 1975.
The bridge is an American Society of Civil Engineers Historic Civil Engineering Landmark, one of only 74 bridges in the world to earn the designation.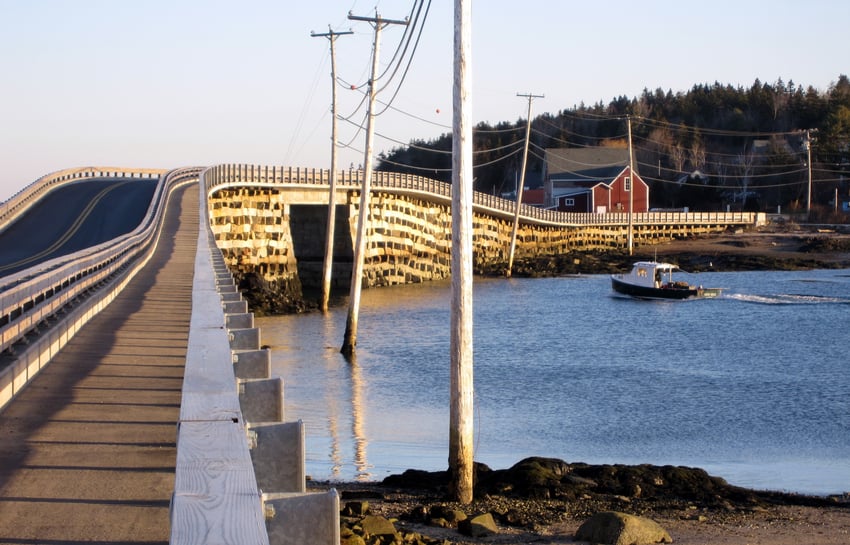 Daysails within striking distance
We're still learning our way around Harpswell, so turned to our new friends at Great Island Boat Yard for some advice on the best daysails in the area.
Head 15.3NM southeast to Sequin Island, pick up a coast guard mooring (no anchoring allowed), have a picnic lunch with breathtaking views and climb to the top of the lighthouse with the keeper! The trails on island will bring you to the rocky south beach, so opt for water shoes instead of flip-flops for an extra excursion. Pro-tip: the dinghy landing on Sequin can be an adventure in itself, so be prepared to get wet.
9.1NM south of Quahog Bay is Small Point Harbor. Navigating the harbor entrance can be tricky, made easier if you take it slow and veer to the north of the island that protects the entrance. Dinghy ashore and walk the trail around Hermit Island, just note that there is only 5′ to a sandy bottom at low tide.
11.7NM to the southwest, you'll find Eagle Island, with free day moorings provided by the Park Service and a free launch to land. Pro-tip: Stay north of the the monument on Little Mark Island, as it can quickly get choppy to the south. Once ashore, explore Admiral Peary's house, a Maine historical site (open June 15 – Labor Day weekend).
7.8NM to the east, you'll find the warmest water in Maine at The Basin, a well-protected harbor. While it may look dauntingly narrow, The Basin is actually very navigable. The Basin Preserve that surrounds it provides coastal access for clamming, fishing and miles of hiking trails.
Join the Community
The folks in the Quahog Bay area provide locals and visitors with fun ways to pass the time in their idyllic setting. From the Annual Orr's Island Book Sale & Fair (this week!) to the Holbrook Community Foundation's annual dinghy and lobster crate races (this weekend!), there's always a way to join this historic maritime community. Check out the full community calendar published in the Harpswell Anchor.
Study Up
If the thought of cruising through Maine has sparked your intellectual curiosity, you might want to plan a stop by Bowdoin College's Coastal Studies Center at the end of Bayview Road. (Read some of their research on the aforementioned Cribstone Bridge.) Also at Bowdoin, the Peary MacMillan Artic Museum & Artic Studies Center, named for the pioneering Arctic explorer Robert E. Peary, has some excellent ongoing exhibits and collections. You can get an online preview of the thousands of images they have via their Bowdoin Arctic Museum web portal.
Making the leap from Quahog Bay, around the corner and up the Kennebec River (26NM away) will bring you to Bath, Maine, and the Maine Maritime Museum, which is chock-full of cool maritime relics, paintings, and histories on everything from boatbuilding and lobstering to steamships and shanties. If visiting by boat, from late-May to mid-October the Museum offers moorings, floating dock space, and a 75' pier that can accommodate vessels from 60 to 300 feet in length. Make a day of it, and schedule time for a Bath Iron Works Trolley Tour, Lighthouse Tour, and – if you're looking for a break from cooking aboard – Brunch on the Bay!
If you enjoy reading up on architectural history and local politics, you might also enjoy this post commemorating the 40th anniversary of the Ewing Narrow Bridge.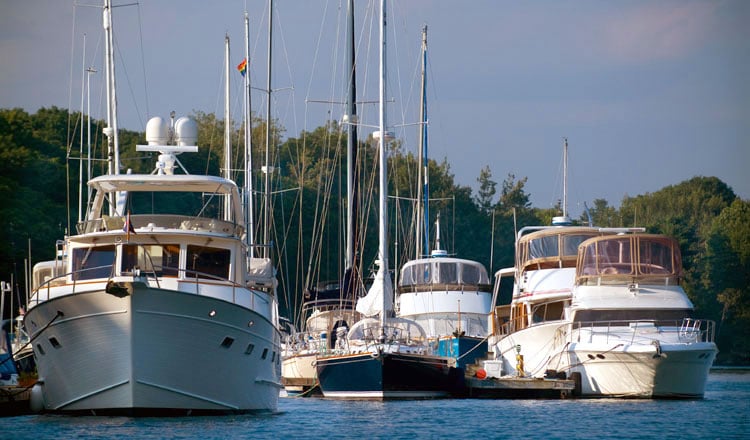 Great Island Boat Yard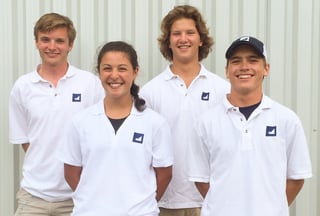 While on your cruise through Casco and Quahog Bays, make a point to plan a stay at Great Island Boat Yard & Marina! Just 40 minutes north of Portland, Great Island is a family-run operation situated in a naturally protected cove. This marina goes above and beyond, with full-service capabilities, shore-side amenities, a ship's store, and on-site eatery.
Great Island Eatery offers a menu of homemade baked goods, breakfast and lunch sandwiches, salads, soups, chowders, and features a juice and smoothie bar, gluten-free items, as well as single-serve dinners, and beer and wine to-go.
Just around the corner from GIBY is a favorite anchorage between Snow and Little Snow Island. This is a great overnight stop on your way in or out of Orr's Cove.