BoatUS Celebrates 50 Years of Safe Boating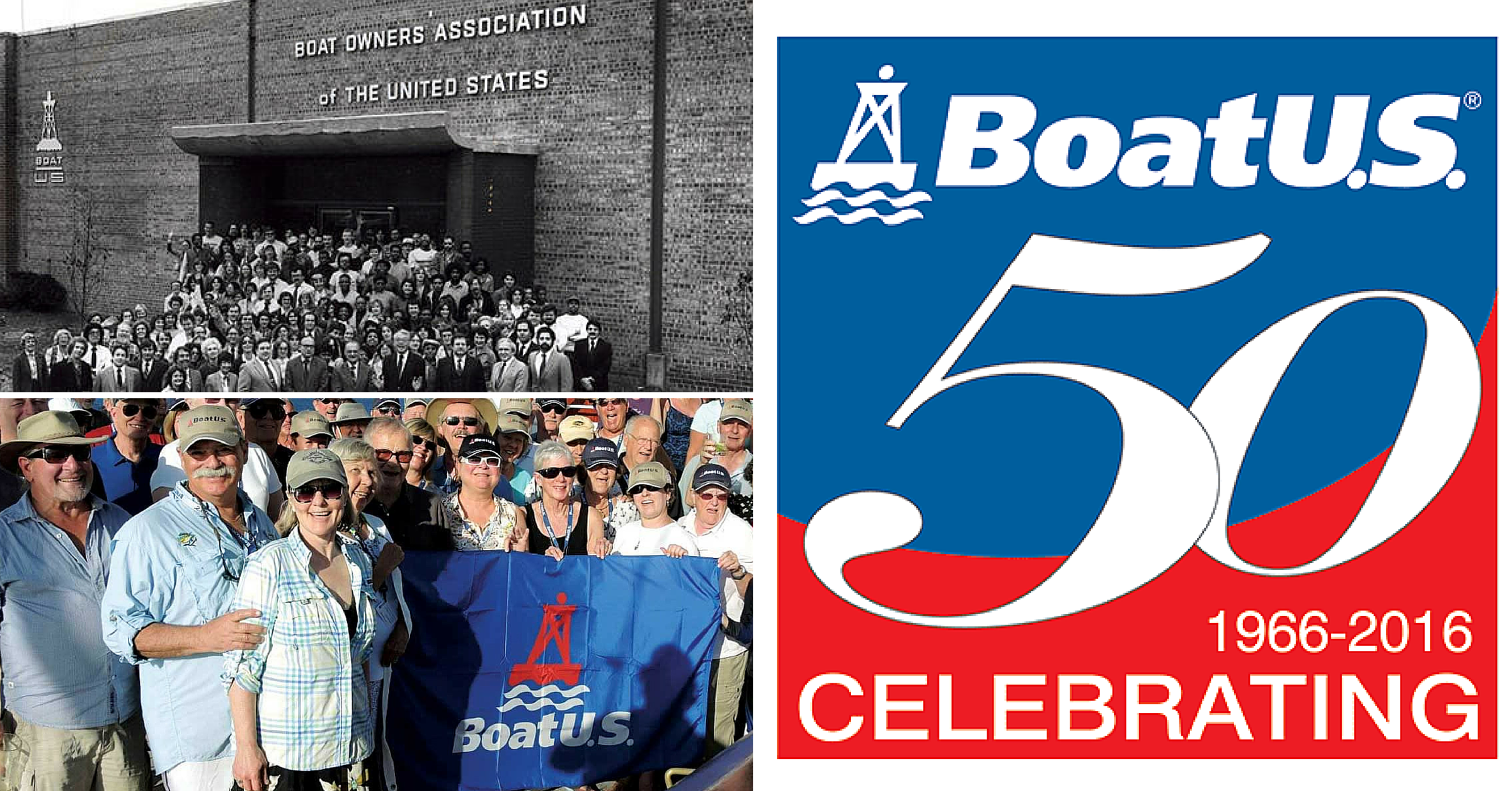 BoatUS: Making boating better.
Since its founding in 1966, BoatUS (the Boat Owners Association of The United States) has become a one-stop shop for boater resources for its 500,000+ members. For everything from boat insurance, loans, and towing, to fighting for boat owners' rights on Capitol Hill, BoatUS has lived up to its mission to make boating better – and then some.
In many ways, BoatUS and its nonprofit, the BoatUS Foundation, have worked to make boating less daunting as well as less costly. They also work to provide educational materials on boating, such as online boating safety courses and resources specifically geared to new boaters, making boating more accessible and safe for everyone on the water.

BoatUS throughout History
The BoatUS story is a fascinating read from the get-go, sparked by an anecdote to which many boaters may relate:
"Princeton University and Yale Law School graduate Richard Schwartz heads out on the Chesapeake Bay with a friend who had just bought a new boat. The boat is quickly boarded by the U.S. Coast Guard, who cites the boat owner for having a faulty engine-compartment ventilation system. Schwartz is stunned to discover that boat manufacturers have no liability for meeting government safety regulations, and the U.S. Coast Guard has no jurisdiction over the manufacturers to make sure they build safe boats – so the Coast Guard was going after boat owners. Schwartz asks his boating friends if there was anyone fighting for their interests – and the answer was no."
Dick Ellison then joined Schwartz to found BoatUS based on "a vision of service, savings and representation for the nation's boat owners." From there BoatUS made its fair share of enemies, but made plenty more friends by working tirelessly to bridge the gap between boaters and boat manufacturers, creating a new lexicon of consumer-friendly boat insurance language, and ushering in the Federal Boat Safety Act of 1971, among other achievements.
Some more of our favorite highlights from BoatUS archives: In 1986, BoatUS launched a Graphics Department to offer affordable boat lettering and graphics, at the time offering just 12 letter colors and seven font styles. (We feel a bit spoiled now!) Then in the 90s, BoatUS lobbied to eliminate the FCC VHF radio marine radio license requirement for recreational boats less than 65 feet operating in US waters.
Read the full BoatUS history.
BoatUS and Dockwa
The BoatUS mission to make boating better is clearly in line with Dockwa's goal to take the stress out of booking slip and mooring reservations. When we announced our partnership with BoatUS last October, the positive feedback from our users was loud and clear: Dockwa boaters loved the ability to seamlessly reserve dock space at marinas, yacht clubs, and shipyards all over the United States, and see their BoatUS membership discounts automatically applied. (Are you a BoatUS member? Add your membership number to your Dockwa account.)


Join in BoatUS' 50th Anniversary Festivities!
BoatUS has planned events throughout the summer to thank its members, staff, and supporters. Boaters in the Annapolis, New York, Cleveland and San Diego areas can meet the BoatUS family in person at one of their 50th Anniversary events.
Another way to join in the celebration: challenge yourself! Knowing that you're in good hands as a BoatUS member, so you can explore new harbors with peace of mind. Need a confidence boost? BoatUS offers an online course specifically for boaters new to cruising, Boating Beyond the Day Trip. You'll learn course planning, provisioning, emergency preparedness, how to charter a boat, and more. After all, a ship in the harbor is safe, but that's not what ships are built for!
Thank you, BoatUS, for all that you do. The team at Dockwa wishes you a very happy 50th Anniversary!