Block Island, situated 13 miles off of the southern coast of Rhode Island, is a popular summer spot for New England locals looking for a weekend getaway. It offers the coastal charm and stunning scenery of better know destinations like Nantucket and Martha's Vineyard, without the overwhelming crowds (or quite as sky-high prices)
At just shy of 10 square miles, the island may be tiny, but it offers plenty to do between its shores. Here are a few must-see places to visit on Block Island.
1. Mohegan Bluffs
Mohegan Trail, Block Island, RI
This stretch of clay cliffs rises up to 150 feet above sea level at some points. Not only are the bluffs themselves a sight to behold, but, from the top, they offer an eagle-eye view of the coastline and the Atlantic Ocean. If you plan to climb down the stairs to the beach, pack light, and bring sneakers, since there are 147 steps to the bottom, and rocky stretch between the stairs and the beach.
2. Mansion Beach
Mansion Rd, Block Island, RI
Named for the old Searles Mansion which once stood on the site, Mansion Beach is now a popular spot for those looking for a restful day by the water. Mansion Beach is less accessible than other beaches on Block Island, but if you're looking for thinner crowds or a spot to surf, it's worth the trek.
3. Sandy Point
Corn Neck Rd, Block Island, RI
Sandy Point, at the Northern tip of Block Island, is home to the island's historic North Lighthouse (or North Light), built in 1867. Today, the lighthouse is on the National Register of Historic Places, and the ground floor serves as a museum. Sandy Point is also a popular spot for walks, since the area is the site of a wildlife refuge.
4. South East Lighthouse
122 Mohegan Trail, Block Island, RI
The South East Light is unlike any New England lighthouse you've seen. Built is the late 1800s, the lighthouse was designed in Gothic Revival style, and features a red brick facade, and a keeper's cottage with a dramatically gabled roof. In the summer, the lighthouse museum and gift shop are open to the public.
5. Rodmans Hollow
Cooneymus Road, Block Island, RI
Varied terrain and beautiful scenery make this 230-acre nature preserve--formed by glacial meltwater some 22,000 years ago--a popular spot with hikers, bikers, geologists, birdwatchers and more. Its proximity to the shore means you can start your day meandering through its many trails, and finish if off relaxing on the beach.
6. Fred Benson Town Beach
Corn Neck Road, Block Island, RI
If you're looking for a fun, safe place for the kids to swim, try Fred Benson Town Beach. It's the only beach on the island that offers on-duty lifeguards, and a pavilion with changing rooms, showers, and concessions. Those added conveniences mean that the beach can get crowded, so go early to secure your spot.
7. Water Street
Water Street, Block Island, RI
Planning to do some shopping or looking for a spot to roam before dinner? Head to Water Street, which has the island's largest concentration of boutiques and shops. You'll find art galleries, local souvenir shops, clothing stores, book shops, specialty food stores, and more.
8. Block Island Farmer's Market
On Saturdays and Wednesdays, the island hosts a farmer's market featuring freshly made baked goods, and locally-made jams, pickles, honey, pasta, and more. The market also offers crafts and art like quilts, painted buoys, photography, and sculpture from local artisans.
Wednesdays 9am - 11:30am, June 11 through Labor Day
Spring House Hotel
Saturdays 9am - 11:30am, June 11 through Columbus Day
Veteran's Park in New Harbor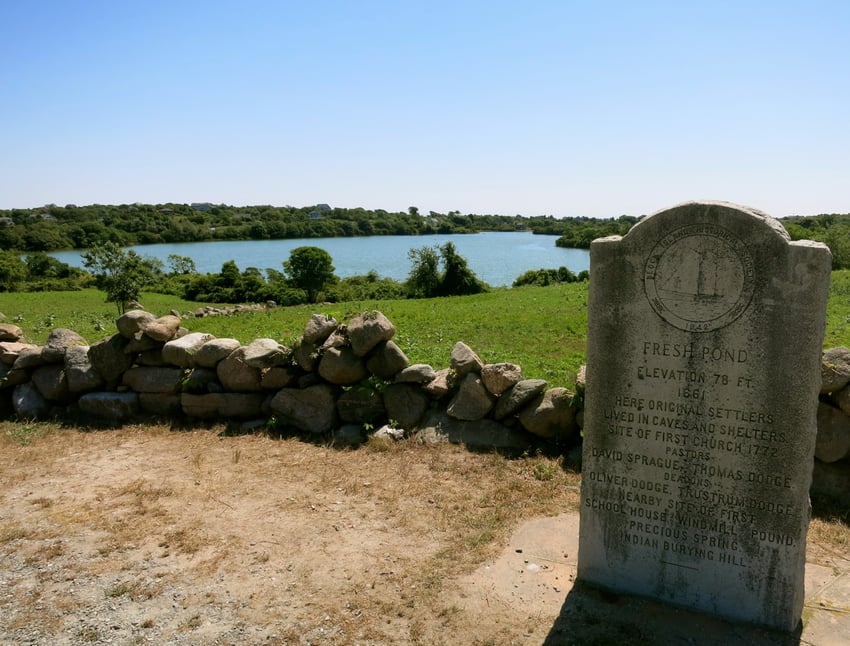 Bonus To-Do:

Swimming in Fresh Pond
We love when our boaters chime in to share their experiences. Thanks to Jason Hollis commenting on our Facebook post, we're adding a 9th To-do: Take a dip! You can choose from several trails varying in length, and if you challenge yourself the view once you reach the pond is well worth the effort. We've since learned that if you rent a bike, there's a hidden place to park right on Lakeside Drive. Thanks Jason!

Want to share your floatplan or harbor town favorites? Email becky@dockwa.com!