Score Sweet Swag
No need to be coy: everyone loves boat show swag. Visit the Dockwa booth at Gate 2 or come by our office at 1 Commercial Wharf, show us the free Dockwa app on your iPhone or Android smartphone, and you'll get Dockwa swag and high-fives all around. Dockwa belts, t-shirts, and tank tops will be available for purchase, with all proceeds benefiting Vs. Cancer.
For the sports fans in the crowd on Sunday, we invite you to swing by and cheer on the Pats with us at our office, which may or may not be stocked with Heineken.
#NIBS2016 Photo Booth
Get your free #NIBS2016 memento by snapping a pic with your boat show buddies at our free photo booth! We'll provide the nautical props, all you have to do is embrace your inner pirate and strike a pose.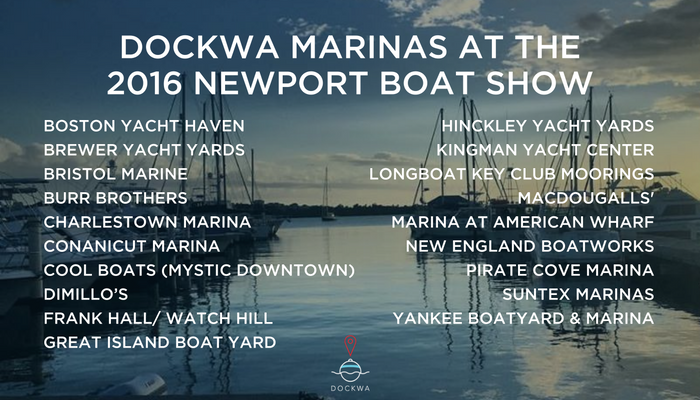 Talk Shop with the Dockwa team!
This is the real highlight of the party, right? Stop by our booth or office to meet Dockwa team members all weekend long. We're a pretty fun group, but we're not just playing dinghy-flingy here: be ready to tell us what you like about Dockwa, and what feedback you have for us! Interested in learning what makes the Dockwa site & apps tick, and what new features are in the hopper? Come by Saturday and meet our brilliant engineers, Stuart and Christian.
We'll also be attending the Thursday night industry cocktail hour, joining the industry panel at the Newport Shipyard (more info below), popping into a few workshops, and cruising around town after hours to catch up with boaters, marina managers, and other industry friends. Hoping to chat with someone in particular? Drop us a line to info@dockwa.com and we'll coordinate a rendezvous. Media, please email press@dockwa.com.

Industry Roundtable: Cuba, Comanche, and Dockwa
We're delighted to be included in the U.S. Super Yacht Association's Industry Roundtable this Thursday at 8:30am. We'll be in fantastic company with industry leaders to discuss Comanche's epic year and the changing marine landscape of Cuba. Dockwa CEO Mike Melillo will join the panel to discuss Dockwa's impact on the marine industry, our history and current initiatives, as well as the industry trends we've noted since embarking on our endeavor.
Will you be coming by to say hello? Let us know on Facebook!